AFC East:

2011 Camp Confidential AFC
August, 20, 2011
8/20/11
12:45
PM ET
FLORHAM PARK, N.J. -- Rex Ryan said it his first day on the job, and he'll keep saying it until it actually happens -- the
New York Jets
are going to the Super Bowl.
Early on, Ryan's bravado was a breath of fresh air. Now, after two consecutive losses in the AFC Championship Game, the brash coach will be perceived as a windbag if the Jets don't get it done in 2011.

One more miss and the honeymoon is over.
"This is the best roster we've had since we've been here," Ryan said.
That's debatable. The Jets are older and slower at wide receiver, depth is a concern at some key spots, and they have middle-of-the-field issues in pass coverage. That said, they have a young quarterback on the ascent --
Mark Sanchez
-- and improvement in his play could compensate for other deficiencies.
Win or lose, the Jets are a marquee team. HBO's "Hard Knocks" show isn't around this summer to record every word and action, but the team still is generating national news -- Sanchez's GQ cover,
Plaxico Burress
' return to football, Ryan's bold quotes, etc.
You're just not hearing the R-rated language.
THREE HOT ISSUES
1. Can Mark Sanchez become a four-quarter quarterback?
He already has won four playoff games in two seasons -- impressive stuff -- so you know he can win big games. His problem is consistency, playing well from week-to-week and quarter-to-quarter in the regular season.
Yes, quarter-to-quarter. The Jets didn't score an offensive touchdown in the first quarter over their final 15 games (counting playoffs), and a lot of that falls on Sanchez. Part of it could be attributed to inexperience, needing time to adjust to defensive wrinkles, but a lot of it stemmed from his inaccuracy. He completed only 55 percent of his pass attempts, about six or seven points below where the Jets want him to be.
[+] Enlarge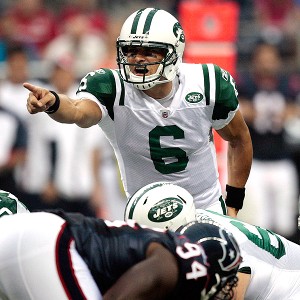 Bob Levey/Getty ImagesThe Jets need to see more consistency from quarterback Mark Sanchez.
If Sanchez can eliminate the inconsistencies and settle down -- he led the league in dropped interceptions -- the Jets will have a real chance to do something special. We already know he can make plays in the fourth quarter, but now he has to play the first like the fourth. Problem is, he lost 75 percent of his receiving corps before camp opened, putting the onus on him to familiarize himself with a new group. That takes time.
2. Can the Three Amigos (Egos?) co-exist?
On paper, the Jets have one of the best receiving corps in the league:
Santonio Holmes
,
Plaxico Burress
and
Derrick Mason
. They've combined for more than 1,700 receptions and 24,000 yards, not to mention two Super Bowl-winning catches (Holmes and Burress). But now there will be a transition period, especially for Burress and Mason.
Not only are they learning a new system, they're adjusting to life as secondary options. That's not always easy for a receiver accustomed to being No. 1. Naturally, they're all saying the right things, insisting they're in it for the team, not themselves. We'll see. Holmes is the No. 1 guy in these parts, and his new teammates will have to deal with that. If not, it will put a lot of pressure on Sanchez, who realizes he has a lot of mouths to feed.
The fact that Burress missed two weeks with a sprained ankle really slowed the process.
3. Do the Jets have a pass rush?
This question really bugs Ryan because, as he likes to point out, the Jets finished eighth in sacks (40). Not bad, right? But sacks don't mean everything, as coaches like to point out when it benefits their agenda. For instance: The Jets led the league in most big plays allowed on third down, and the primary reason was the lack of a consistent pass rush.
The Jets didn't acquire anyone to help the pass rush, unless you count first-round defensive end
Muhammad Wilkerson
, but he's really not an edge rusher. He'll be more of a first- and second-down run defender than a pass-rusher in the sub packages. If anything, the Jets lost some pass rush because they released
Jason Taylor
and didn't replace his five sacks.
What to do? Ryan and defensive coordinator Mike Pettine are masters of the blitz, designing clever pressure packages that confuse quarterbacks. They manufacture pressure, and sometimes simulate pressure, to rattle quarterbacks. For the most part, it works, but it's a dangerous way to live, as the Jets discovered last season. They have fantastic cover corners in
Darrelle Revis
and
Antonio Cromartie
, which makes it possible to employ that kind of scheme, but sooner or later the lack of a big-time rusher will catch up to them.
The Jets took a flyer on former Bills No. 1 pick
Aaron Maybin
, signing him to a minimum contract, but let's be honest: He's not the answer. It'll be an upset if he makes the team.
BIGGEST SURPRISE
The Jets parted ways with two of their longest-tenured players, defensive end
Shaun Ellis
(Patriots) and wide receiver
Jerricho Cotchery
(Steelers). They were two of the most respected players in the locker room, players you always figured would retire as Jets.
Cotchery, unhappy in his role as the No. 3 receiver, requested his release. The Jets didn't handle it well, cutting Cotchery before securing Mason, but it worked out in the end. They offered Ellis a one-year deal for the minimum salary, which he found insulting. He wound up signing with the rival Patriots, a PR hit for the Jets.
[+] Enlarge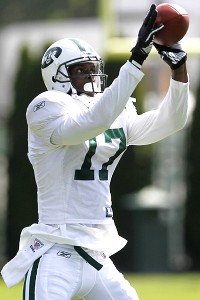 AP Photo/Julio CortezA sprained ankle has slowed Plaxico Burress since the start of training camp.
It makes them look cold, but the Jets evidently felt it was time to move on. The Cotchery decision could come back to bite them because he's 29 and still can be an effective player.
BIGGEST DISAPPOINTMENT
After a 20-month prison sentence that cost him two seasons, Burress needs practice more than anyone. But he missed the first two weeks of camp and the first preseason game with a sprained ankle, a significant setback as he attempts to regain his form and learn the Jets' offense.
The Jets hope that the 6-foot-5 Burress can cure their red zone issues, but he and Sanchez are having trouble connecting in practice. This is going to take time. Don't be surprised if Burress is a part-time player in the first month of the season.
OBSERVATION DECK
Revis is having the best camp of his career. Yes, it's true: This is only his third holdout-free training camp. But know this: He's locking down receivers with the same determination he did in 2009, when he shut down No. 1 receivers on a weekly basis. This bodes well for the 10 players around him.

Burress is making most of the headlines -- Plax this, Plax that -- but the real prize of the offseason shopping spree is Mason. Ryan gets excited about reclamation projects, but let's be honest: Burress hasn't played in two seasons because he was in prison, and now he expects to come back to the pre-prison Plaxico. Whoa, let's hold everything. Burress might turn out to be a good pickup, but it's going to take time. Give him a few games into the season. In the meantime, they'll ride Holmes and Mason.

You may not know this name -- Rob Turner -- but the Jets will miss him. He backs up at center and guard, plays tight end in the "jumbo" package, lines up on defense in goal line and blocks from the wedge on kickoff returns. In short, he does everything but mop the floors. Unfortunately for the Jets, Turner broke his leg in the preseason opener and will be lost for at least two months. It's a big loss, even though the average fan might not think so.

The Jets are going to be vulnerable in the middle of the field in pass coverage. The safeties have suspect speed and the front seven also is short on the quicks. Opponents with athletic tight ends and crafty slot receivers are going to cause major issues for the Jets.

The run defense could be vulnerable up the middle. Dependable nose tackle Sione Pouha is hobbled by a sprained knee (not serious, but a nuisance), and inside linebacker Bart Scott is taking some time off with what's believed to be a high-ankle sprain. Again, it's not serious, but when two of your inside guys are hurting, it's never a good thing.

Aside from Sanchez, the key player is running back Shonn Greene, the new feature back. No doubt, Greene has the talent to be the No. 1 tailback -- and he is -- but what about his durability? That always has been a question that dogs Greene. He'll have to bring his A-game every week -- assuming he recovers soon from a skin infection on his right foot. When you're a ground-and-pound team, you need a workhorse -- and LaDainian Tomlinson, 32, probably is too old to be that guy.

Remember this name: Jeremy Kerley. He's a diminutive receiver/kick returner from TCU, and he will bring a lot of electricity. He's only 5-9, if that, but he has tremendous acceleration and change of direction. He'll be an immediate factor on punt returns and, if needed at receiver, he has the ability to make plays from the slot.
August, 19, 2011
8/19/11
11:37
AM ET
By
Brian Biggane, Special to ESPN.com
| ESPN.com
The one major question about the
Miami Dolphins
the entire offseason was never sufficiently answered.
So what is the deal at quarterback, anyway?

Chad Henne
was the unequivocal choice of general manager Jeff Ireland and coach Tony Sparano at this time last year. There was boundless confidence that the team's second-round pick in 2008 was ready to take the reins of an offense that was expected to be made more proficient by the addition of wide receiver
Brandon Marshall
.
The results were not pretty. On five occasions, all at home, Henne had the opportunity to win or tie a close game with a fourth-quarter scoring drive, and on all five he failed. Three of the subsequent losses were to also-rans Buffalo, Detroit and Cleveland, leaving Miami with a second straight 7-9 finish.
The failures almost cost Sparano his job, as owner Stephen Ross took a run at Jim Harbaugh, and for a time it seemed Henne might be replaced when Ireland engaged in negotiations for Denver's
Kyle Orton
that ultimately came up empty. When the dust settled, former Carolina Panthers QB
Matt Moore
had been brought in as a backup, but nothing had really changed. Henne was still the one.
The team around him does appear to have gotten better. Coordinator Mike Nolan's defense, sixth in the league a year ago, has remarkable depth on the defensive line and is better at linebacker with the additions of
Kevin Burnett
and
Jason Taylor
. Ireland addressed a deficiency in speed at the skill positions with the acquisitions of
Reggie Bush
and fourth-round wideout
Clyde Gates
. First-round pick
Mike Pouncey
, a center, has brought stability to the offensive line.
But in the 12 years since
Dan Marino
retired, it has always come back to the quarterback. This year is no different.
Even Marshall, who at one point late last season said he was "not sure" he and Henne could coexist, had good things to say about his beleaguered quarterback, who was actually booed at one preseason practice at Sun Life Stadium.
"Chad has been amazing this summer, getting the guys together," Marshall said. "He's been the face of leadership."
Sparano was even more forthcoming.
"I've seen more people going to Chad for answers," he said. "You would have to envision when you're at Indianapolis or a place like that people are going to Peyton [Manning] for the answers. Well, more people are going to Chad for the answers now, and that's a direct reflection of what this young man has done."
Henne and
Peyton Manning
in the same sentence … now that's a stretch for even the most loyal Dolphins fan.
Five days after Sparano made those comments, Henne started the first preseason game at Atlanta and was intercepted twice in five throws while Moore, playing with and against second-teamers, was solid.
It may or may not happen, but certainly all the pieces for a year of quarterback controversy are in place.
THREE HOT ISSUES
[+] Enlarge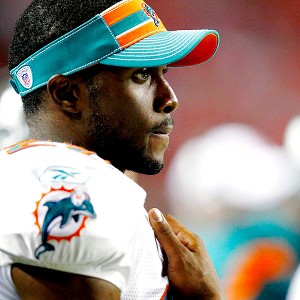 Josh D. Weiss/US PresswireWill Reggie Bush be able to revitalize a stagnant running game?
1. Can Bush and rookie Daniel Thomas make people forget Ronnie Brown and Ricky Williams?
From 2005-10 either Brown or Williams led the Dolphins in rushing, and four of those six years they finished 1-2. Both are getting older -- Williams is 34, Brown 29 -- and the running game ranked 30th in yards per carry (3.7) and 21st in yards per game (102.7) last season. Ireland decided it was time to move on. Thomas, a second-round pick, led the Big 12 in rushing at Kansas State the past two seasons and at 6 feet and 230 pounds, he can pound the middle. Bush, who has missed 20 games to injury the past two seasons, expressed a desire to be the feature back upon his arrival but seems more likely to line up all over the field. "The lack of experience is definitely a concern," admitted Sparano, whose stable of backs also includes unproven
Kory Sheets
and
Lex Hilliard
.
2. How will the season unfold for Marshall?
The simple fact that Marshall was perceived to have a down year when he had 86 catches last season -- tied for second in franchise history behind O.J. McDuffie's 90 in 1998 -- demonstrates how high the expectations are for the man known as "The Beast." Marshall's off-field problems, which included the arrest of his wife after Marshall was found stabbed at his home in April, culminated with him being diagnosed and treated for borderline personality disorder this offseason. In camp this summer, it seemed every time Marshall went out for a pass, Henne was the one throwing it. If Gates can be the home run threat Miami lacked after trading
Ted Ginn
Jr. last season, Marshall could benefit greatly.
3. Will new offensive coordinator Brian Daboll bring spice to a boring offense?
Miami's top two receivers last season, Marshall and
Davone Bess
, averaged 11.8 and 10.4 yards per catch, respectively. No wonder Henne came to be known as "Checkdown Chad." But in the Dolphins' first scrimmage this year, Daboll unveiled four-receiver sets and had Bush lined up everywhere from the backfield to wideout. Despite having
Josh Cribbs
, Daboll's offense didn't exactly light up the scoreboard in Cleveland, finishing 29th in total offense and 25th in yards per play. Sparano prefers the ground-and-pound, but Henne and Daboll must demonstrate they can keep up with prolific offensive units, such as New England, San Diego and Houston -- which happen to be Miami's first three opponents.
BIGGEST SURPRISE
If a former first-round pick can qualify as a surprise, second-year defensive end
Jared Odrick
has earned that distinction. Odrick was lost early in the opener against Buffalo last season with a broken leg. His comeback was then stopped six weeks later by a broken ankle, ending his season. Worse, it turned out his first injury was eerily similar to one he suffered as a sophomore at Penn State, raising questions as to whether he could remain healthy enough to be counted upon. But in the early weeks of camp, Odrick was a force, as he and partner
Tony McDaniel
moved ahead of last season's starters,
Randy Starks
and
Kendall Langford
, in team drills. That quartet, as well as
Phillip Merling
and
Ryan Baker
, give Miami inordinate depth at defensive end.
BIGGEST DISAPPOINTMENT
After losing
Justin Smiley
to chronic shoulder injuries, the Dolphins had a vacancy at right guard in 2010 and drafted
John Jerry
out of Mississippi in the third round. Jerry, the younger brother of Atlanta defensive tackle
Peria Jerry
, got 10 starts but struggled to beat out journeyman
Pat McQuistan
. When Miami selected Pouncey in the first round of this year's draft,
Richie Incognito
, who played both guard spots at times last season, was put on the left side and John Jerry was given the opportunity to win the right guard spot. After seeing unsatisfactory results in the first two weeks of camp, Sparano moved
Vernon Carey
over from right tackle and brought in free-agent
Marc Colombo
, who had been let go by Dallas.
OBSERVATION DECK
[+] Enlarge

Scott Cunningham/Getty ImagesThe Dolphins hope that pick Clyde Gates will be able to stretch the field like Ted Ginn Jr. did.

Two relatively obscure rookies provided two of the more intriguing storylines of training camp. Gates, of Abilene Christian, whose father was released from prison last fall after serving a lengthy sentence for first-degree murder, was one. Seventh-rounder Jimmy Wilson of Montana, who spent 26 months in jail before being acquitted of a first-degree murder charge, was the other. Gates, who ran the 40-yard dash in 4.37 at the combine despite nursing a sore groin, provides needed speed at wide receiver, and Wilson is a big hitter and ball hawk in the secondary.

While first-round pick Pouncey was drawing favorable comparisons to his Steelers All-Pro twin brother, Maurkice, for his blocking and intelligence, his struggles snapping the ball were an ongoing concern as camp progressed. Mike Pouncey, who moved to center as a senior at Florida after his brother left early, had some nightmarish games on shotgun snaps with the Gators and clearly doesn't have the technique down yet.

Marshall isn't known for being shy around a microphone, but he wasn't in a talkative mood the first three weeks of camp. He spoke only once, to reveal his diagnosis for borderline personality disorder, and took only a handful of questions. Of course, Marshall was in the middle of the Henne soap opera last season, so there was speculation he didn't want to stir up the water this year as he continues to undergo treatment for his disorder.

The only real battle for a starting job in camp has been at free safety. Third-year man Chris Clemons, last season's starter, was trying to hold off Reshad Jones, who made a favorable impression in limited opportunities as a rookie in 2010. Jones had a sack and an interception against Tennessee in one of his two starts and seems to be more of a playmaker.

The biggest mystery in camp surrounded the status of Pro Bowl tackle Jake Long, who was put on the physically unable to perform list early and did not work at all the first three weeks. Sparano said Long's injury did not involve his knee, which along with his shoulder required surgery after last season.ÿ
August, 18, 2011
8/18/11
12:51
PM ET
By
Mike Reiss, ESPNBoston.com
| ESPN.com
FOXBOROUGH, Mass. -- Now in his 37th season, Bill Belichick owns the distinction of having the most NFL experience among current head coaches. That gives him a unique perspective on the evolution of the NFL.

"It's changed through the years, a lot of things are different from when I started coaching, on a lot of levels -- players, technology, the equipment we use," he said. "That's the way it is for all of us. Bob Dylan talked about that 50 years ago."
For Belichick and his fellow coaches, Dylan's "The Times They Are A-Changin'" is a perfect theme song for the 2011 season.
Coaches must adjust to new rules as part of the new collective bargaining agreement, which means there are no more two-a-day practices, fewer full-pad practices and expanded training-camp rosters. And when it comes to Belichick's
New England Patriots
club, which he leads for a 12th season, another year has brought unexpected change.
Few saw the acquisitions of controversial defensive lineman
Albert Haynesworth
and high-profile wide receiver
Chad Ochocinco
coming. Their arrivals made the start of 2011 training camp different from the norm in New England.
Usually the focus would be squarely on quarterback
Tom Brady
as camp opened, but in this unusual year, the NFL's 2010 Most Valuable Player was on the back burner as he returned from January surgery on his right foot.
Indeed, things have changed.
THREE HOT ISSUES
[+] Enlarge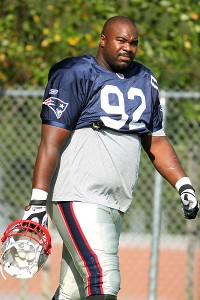 Stew Milne/US PresswireWith a low price tag and modest salary, aquiring Albert Haynesworth was a low-risk move for the Patriots.
1. How does Haynesworth fit in?
All eyes were on Haynesworth when he took the field for the first time July 31, and he didn't disappoint.
The crowd cheered his arrival, which he acknowledged with a wave (almost like a baseball pitcher tipping his cap). Then he dominated a running drill. On the first play, he exploded through the line to blow up the play, which led to an eruption from the crowd. Haynesworth had a few other disruptive plays.
"It's going to be awesome. It's a refresher, and it kind of revived me, playing football again," said Haynesworth, who was acquired for a fifth-round draft choice after two tumultuous seasons with the Redskins.
Haynesworth's arrival could change the way the Patriots, who used a 3-4 alignment about 40 percent of the time last season, play defense. There have been more traditional four-man lines used in training camp, with linemen attacking more rather than controlling two gaps. Haynesworth would line up at tackle next to Pro Bowler
Vince Wilfork
in that type of plan.
The Patriots have managed Haynesworth's health closely in camp, keeping him out of practice since Aug. 3. Although the reason Haynesworth is not practicing is not clear -- speculation is it's simply maintenance of his troublesome knee -- Belichick doesn't sound concerned.
"I think Albert has been great since he's been here," he told WEEI sports radio Aug. 15. "He's worked hard. He's done more than really what we've asked him to do. He's put in a lot of extra time and a lot of extra effort to get back on the field, to study, to catch up on things from a playbook standpoint that's he a little behind on."
As for Haynesworth's off-field issues, owner Robert Kraft explained how the organization developed a comfort level in acquiring him.
"I met with him, and I like the guy," Kraft said. "He didn't come here for the money. He came here to be part of a team and win [and] I think in some ways to improve his reputation. So it's like a lot of meetings I have with these guys, I found him to be genuine and sincere. Now I hope he gets out on the field and does his thing."
Haynesworth agreed to restructure his contract to consummate the trade. His new deal calls for him to earn a base salary of $1.5 million this season (he can earn more in incentives) before the salary spikes to $6.7 million in 2012. There was no signing bonus as part of the pact, making it a low-risk acquisition for the Patriots.
2. Will Ochocinco conform to the Patriot Way?
On his first day on the practice field, Ochocinco tweeted,
"It's 1 thing to jump and be able to land on 2 feet but I had no idea I was landing in Heaven."
He has quickly integrated himself into the mix, lining up in two-receiver packages with
Wes Welker
. Veteran
Deion Branch
joined the mix in three-wide looks.
[+] Enlarge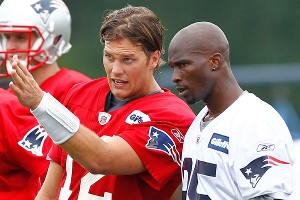 Jim Rogash/Getty ImagesChad Ochocinco is clearly still working on mastering the Patriots' offense.
Although there has been a higher-than-expected total of dropped passes, things have otherwise been smooth as Ochocinco has made the transition from Cincinnati to New England. The biggest challenges have been adjusting to offensive terminology that isn't numbers-based (like the Bengals) and on-field communication with Brady through various signals.
"Once we're on the field, there is no talking. I just look in his eyes and that's it and that's how we communicate," said Ochocinco, who restructured his contract and received a $4.5 million signing bonus and base salaries of $1 million in 2011, $3 million in 2012 and $3 million in 2013. "That's what I like about it here. [It's] really, really cool."
Patriots coaches and players have cited Ochocinco's work ethic and passion for football on a daily basis, with some players laughing at the fun he has had off the field, which included attending a Red Sox/Yankees game and sitting in the front row along the third-base line, requesting a group hug from reporters and announcing that he would be living with a fan who had an Internet connection and Xbox for the first few weeks of the season.
In a classy move, second-year tight end
Aaron Hernandez
gave up his No. 85 for Ochocinco when the trade was consummated, the Patriots giving up fifth- and sixth-round draft choices in the move. Hernandez didn't receive anything in return for the jersey swap, which set a positive tone.
3. Can Patriots get over playoff hump?
Few would argue the Patriots aren't top contenders for the Super Bowl. But those who don't put them atop the list can make a strong case by pointing to their last three playoff games.
Feb. 3, 2008: Giants 17, Patriots 14. With the chance to close out their perfect season, the Patriots fall just short.

Jan. 10, 2010: Ravens 33, Patriots 14. A stunning home blowout in the wild-card round of the playoffs in which the Ravens stomped all over the Pats.

Jan. 16, 2011: Jets 28, Patriots 21. Having earned the No. 1 seed and home-field advantage throughout the AFC playoffs, the Patriots had a chance to bury the Jets early, but two first-quarter miscues halted the momentum. The Jets built confidence and stunned the Pats in the divisional round.
Simply put, the Patriots won't be able to answer one of their biggest questions for at least five months.
BIGGEST SURPRISE
Saying goodbye to veteran tight end
Alge Crumpler
. The Patriots were so pleased with the addition of Crumpler last season, and the role he played in mentoring 2010 draft picks
Rob Gronkowski
and Hernandez, they named him a captain a few weeks into the season.
Crumpler's steadying presence in the locker room was considered key in righting one of the team's trouble areas from 2009 -- a fractured locker room.
So it was surprising when the team released him a few days into training camp, turning the position over to Gronkowski (10 TDs in 2010), Hernandez and either rookie
Lee Smith
(fifth-round pick out of Marshall) or
Will Yeatman
(rookie free agent out of Maryland).
Crumpler played 53 percent of the offensive snaps last season, contributing mostly in the running game. Only three other offensive skill-position players were on the field more.
BIGGEST DISAPPOINTMENT
[+] Enlarge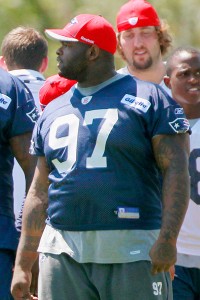 AP Photo/Michael DwyerRon Brace hasn't been healthy enough in camp to seize a spot in the starting lineup.
It's a tie between third-year defensive lineman
Ron Brace
and fifth-year safety
Brandon Meriweather
.
Brace is a 2009 second-round draft choice out of Boston College who is close to hitting a fork in the road of his NFL career.
For the second year in a row, he has opened camp on a reserve list, not ready to practice. With the team releasing longtime starter
Ty Warren
, the opportunity was there for Brace (6-foot-3, 330 pounds) to rise up the depth chart, but he hasn't been able to seize the opportunity.
Meanwhile, the coaching staff seems to be sending a message to Meriweather, a two-time Pro Bowl safety. Meriweather played the entire first half of the preseason opener, even though the club's other Pro Bowl players -- cornerback
Devin McCourty
, linebacker
Jerod Mayo
and Wilfork -- did not suit up for the game.
The team also offered free-agent safety
Dashon Goldson
a contract before Goldson re-signed with the 49ers, while Meriweather's practice reps of late have been split with second-year player
Sergio Brown
.
OBSERVATION DECK
Great competition at backup quarterback between third-year man Brian Hoyer and rookie Ryan Mallett (third round, 74th overall). Hoyer has been the No. 2 the last two seasons after making the club as a rookie free agent out of Michigan State, and he has solid command of the complex offense. Meanwhile, Mallett's arm strength and work ethic are notable. He often stays late after practice, working with offensive assistant George Godsey on the finer points of the position (e.g., footwork).

It has been a common occurrence to see Mallett carrying the shoulder pads of Tom Brady and Hoyer off the field after practice. Some humble pie for the highly touted signal-caller from Arkansas.

Belichick gets involved in a drill in which the goal is for quarterbacks to maintain their concentration and perfect their footwork while under duress, and Belichick creates that duress by firing a blocking pad at them. Belichick has cranked Hoyer and Mallett in the head. No 15-yard penalties for that in practice.

A lot of defensive linemen in camp. Counting hybrids, the Patriots have 20 in camp entering their second preseason game, and Belichick acknowledged to Sirius XM NFL radio that the team will probably keep more defensive linemen than linebackers this year.

Second-round draft choices Ras-I Dowling (cornerback, 33rd overall) and Shane Vereen (running back, 56th overall) pulled up with hamstrings issues after just one practice, and they haven't practiced since. Both signed contracts late -- this could be filed under the "lockout effect." When Vereen was on the field, his speed stood out.

Second-year receiver Taylor Price, whose chance to break through for a top spot at receiver was made more challenging by the acquisition of Ochocinco, is stating his case. He has had a solid camp and was the star of the preseason opener (5 catches, 105 yards and a TD). He said his next step is developing the trust of Brady that he'll always be in the right spot. Right now, he looks like a solid No. 4 option.

The Patriots struggled to generate a pass rush off the edge in 2010. Veteran defensive ends Mark Anderson and Andre Carter have been solid in that area to this point, providing what looks to be an upgrade over Tully Banta-Cain, who was released.

First-round draft choice Nate Solder, the team's left tackle of the future, has responded well to his crash course since joining the team a week into camp. He's big (6-foot-8, 319 pounds) and sometimes struggles with an inside move, but the potential is easy to see.

Veteran cornerback Leigh Bodden has turned in a solid camp as he returns after missing the entire 2010 season with a torn rotator cuff. A starter at right cornerback opposite McCourty, Bodden has worked in the slot in sub packages, a role he last played in 2007 with the Browns. Bodden's size (6-foot-1, 193) is a good fit there from a run-support and jamming-receivers perspective.

Don't expect All-Pro left guard Logan Mankins to get too comfortable now that he has signed a six-year, $51 million contract extension. He looks like his typical nasty self on the field, and his early-camp battles with Haynesworth were a highlight.

The Patriots had a minor scare when Gronkowski was helped off the field Aug. 8. But he returned a few days later and looks primed to build off his impressive rookie campaign.

Sixth-year kicker Stephen Gostkowski missed the last half of the 2010 season with a torn right quadriceps muscle, but his recovery is on track. The right-footed kicker is not yet taking kickoffs -- UMass product Chris Koepplin is in camp to handle those duties -- but he looks strong on field goals. Gostkowski has hit from a long of 53 yards in practice and was good from 43 and 46 yards in the preseason opener.
August, 15, 2011
8/15/11
1:00
PM ET
PITTSFORD, N.Y. --
Buffalo Bills
inside linebacker
Nick Barnett
knew bad news was coming this summer, and he still couldn't fully accept it. Despite his eight seasons with Green Bay, the speculation was that the Packers had to trade or release him this offseason. Barnett had been placed on injured reserve in both the 2008 and 2010 seasons, and his heir apparent,
Desmond Bishop
, already was in place. It was a no-brainer move to most observers, even though Barnett was still thinking about the possibility of helping the Packers repeat as Super Bowl champions. "If you read my tweets," he said, "that's all I kept talking about."

These days Barnett is talking about something different -- how he can help the Bills transform one of the league's worst defenses into a sturdy, reliable unit. No team in the NFL was worse against the run in 2010 (Buffalo allowed 169.6 yards per game), and that was one key reason the team signed Barnett so quickly after the Packers released him in late July. At 30, he still has the quickness and playmaking ability that allowed him to amass 787 tackles, 15.5 sacks and nine interceptions during his Green Bay career. He's also aware that his energy and leadership will be invaluable to a team that lost its top tackler,
Paul Posluszny
, in free agency.
Bills assistant head coach and linebackers coach Dave Wannstedt said Barnett already is the team's best linebacker. Head coach Chan Gailey has raved about his new player's approach. "He brings experience and speed to this defense," Gailey said. "He's a guy who always plays fast." Added Barnett: "I'm just trying to be myself. I haven't played since Week 4 [a dislocated wrist ended his season] so I'm still finding my way. But the biggest thing I wanted to bring to this team was an attitude. I want to help the younger guys relax and have fun out there because that's what I do."
Though Barnett needed some time to accept his release from the Packers -- "I've never been fired from anything before," he said -- he quickly sensed that Buffalo was the right place for him. He liked the team atmosphere, the family environment and the die-hard fans who are the city's trademark. In many ways, Barnett felt like he was going to a place quite similar to Green Bay. "The talent level is there," Barnett said. "But like everything, it's going to come down to communication and attitude. If we do those things, we'll be productive."
THREE HOT ISSUES
1.
Will Ryan Fitzpatrick be better?
Yes. Fitzpatrick was a decent quarterback in 2010 -- 3,000 yards, 23 touchdowns, 15 interceptions -- especially considering that he was basically thrown into the job after the Bills gave up on former starter
Trent Edwards
. Fitzpatrick also has far more advantages coming into this season, despite not having an entire offseason to work with coaches. The major areas that he needs to improve? Accuracy and consistency. What he doesn't have to worry about any longer? Proving to his teammates that he can lead this team and knowing whether the job is his alone. "Last season was interesting, but my whole career has been about being ready to show what you can do when the opportunity comes," said Fitzpatrick, who spent his first five NFL seasons as a backup before getting his shot as a full-time starter three games into 2010. "One of the good things we have as an offense is that we have a lot of guys who've spent an entire season playing together and getting familiar with each other. When you look at the offenses in New England and Indianapolis, that continuity is what makes them so successful, and now we're one step closer to that."
[+] Enlarge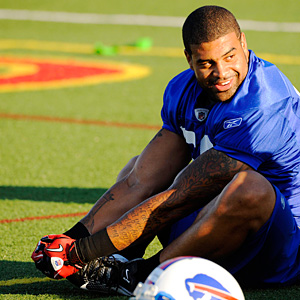 Richard Mackson/US PresswireBuffalo defense is relying on Shawne Merriman to return to Pro-Bowl form.
2.
Can Shawne Merriman return to an elite level?
As long as he's healthy. Right now the three-time Pro Bowl outside linebacker thinks that the strained Achilles that limited him to only three games last season won't be an issue. The bigger challenge for him is finding a comfort level after registering only four sacks over the past three seasons. The Bills are banking on his getting up to speed in a hurry. For a team that tied for 27
th
in the NFL in sacks last season (with 27), having a rejuvenated Merriman harassing opposing quarterbacks would be a much-needed blessing. "I don't feel like I need to respond to people who've been counting me out over the last couple years because all you have to do is watch me practice," said Merriman, who had 43.5 sacks in his first 60 career games. "It's definitely been hard [not playing] but I also feel like I've done everything I've needed to do to get back. I can see good things happening this season."
3.
What role will C.J. Spiller play in the offense
? One of the more disappointing aspects of the Bills' offense in 2010 was the lack of productivity from Spiller. Drafted ninth overall in last year's draft, he was supposed to bring breathtaking speed and elusiveness to the Bills. Instead, Spiller wound up with only 283 rushing yards and 24 receptions in his rookie season. Those numbers should increase now that Buffalo has a less crowded backfield (the team traded
Marshawn Lynch
to Seattle midway through last season) and a greater sense of urgency about involving Spiller. "We need to get him more touches," Gailey said. "We need to find more ways to get him in space so he can use that speed. He's already grown as a runner because he's better at running inside, and he's shown more patience. The one thing I'd really like to see him improve on now is ball security. He had some problems with fumbles last year [Spiller had five fumbles and lost three], and we can't have that."
WELCOME SIGHT
Roscoe Parrish:
The Bills' offensive players know that Parrish has developed into a valuable receiver after being used mainly as a returner early in his career. They realize it even more now that he's healthy. After missing the last eight games of 2010 with a broken wrist, Parrish has been impressing teammates with his trademark speed and quickness. The explosiveness he brings to the offense after sitting out half a year also hasn't gone unnoticed. "Now that he's back, you remember how much he means to this offense," Fitzpatrick said. "He really adds another dimension."
PLAYER TO WATCH
Brad Smith:
Don't be surprised if Smith becomes a more dangerous playmaker in the Bills' offense. He made his name as a kick returner/wide receiver/Wildcat quarterback with the
New York Jets
, and rule changes should allow him to increase his playing time in Buffalo. The NFL agreed to abolish the rule requiring teams to determine a third quarterback on game-day rosters -- that player could participate only in emergency situations, and his presence would prevent the team from using any other quarterback during a game. Now a player like Smith can be used far more often in Wildcat situations. Even if Smith appears as a quarterback in three or four plays a game, his involvement won't limit his coaches' options. "We were going to use him in a similar role anyway, but that rule really helps," said Gailey, who has gained a reputation for finding creative roles for versatile players. "Now you don't have to wonder about whether he needs to be listed as a third quarterback who can only play in emergency situations or if he can be used as a Wildcat quarterback whenever we like. It's going to make a big difference."
OBSERVATION DECK
[+] Enlarge

Rick Stewart/Getty ImagesFirst round draft pick Marcell Dareus has impressed his coaches in training camp.

Rookie defensive end Marcell Dareus hasn't needed much time to make a strong impression on his coaches. Wannstedt called him a "special kid with the right approach to the game," and Gailey thinks it shouldn't take long for Dareus to prove why he was worthy of the third overall pick in this year's draft. "He's a big, physical guy and he's got an edge to him," Gailey said of Dareus, who's 6-3 and weighs 323. "You have to like that about him."
Even though the Bills lost their second-best tackler from last season -- strong safety Donte Whitner -- the loss may not be as troubling as it looks. Though he was a strong presence in run support, the team thinks strong safety George Wilson can help the Bills more in the playmaking department. When Whitner was injured two years ago, the tandem of Wilson and Jairus Byrd gave the secondary a bigger boost with their pass defense skills.
The emphasis on stopping the run is going to put more pressure on the Bills cornerbacks this season. Gailey believes he has the personnel to handle the increased responsibility, and Terrence McGee is essential to this approach. He has spent more time covering slot receivers in training camp, which will allow Leodis McKelvin and Drayton Florence to handle outside receivers when the defense faces three-receiver looks.
Wide receiver Donald Jones is another player worth watching. When asked about teammates who have caught his eye early in training camp, Fitzpatrick said Jones had elevated his game in his second season. An undrafted rookie in 2010, Jones was a nice surprise in camp and finished with 18 receptions. This year he's using his size and strength to make himself a tough receiver to handle at the line of scrimmage.
The Bills recognize that their biggest challenge this season will be learning how to change expectations. Gailey has talked about the difference between hoping to win and expecting to win, and his players believe they can make great strides. Fitzpatrick agreed that last season, too many players were worried about losing their jobs as the team transitioned into Gailey's tenure. This year, there is far more comfort and a sense of purpose on a team that hasn't made the playoffs since 1999. "We definitely need to take the approach that we deserve to win," Fitzpatrick said. "And we have a chip on our shoulders. We hear all the people talking about how tough the AFC East is, and nobody mentions our name. That can be fuel for our fire, and we have to believe we can surprise people."