AFC East:

2011 NFL owners meetings
March, 22, 2011
3/22/11
1:57
PM ET
NEW ORLEANS -- Rex Ryan didn't want to dignify the accusation with a reaction.
[+] Enlarge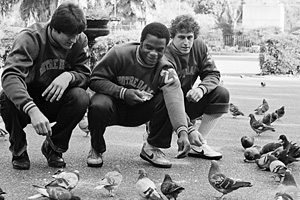 AP Photo File PhotoThree Notre Dame football players, including Dave Duerson, center, at Jackson Square on Saturday, Dec. 27, 1980, in New Orleans.
The passionate
New York Jets
head coach couldn't help himself when asked about last month's allegation that his father, Buddy Ryan, called late
Chicago Bears
safety
Dave Duerson
the N-word.
"Quite honestly ..." Ryan said before stopping himself and then asking a Jets media relations official, "Can I be harsh?"
As long as he kept it clean, Ryan was instructed.
"As long as it's clean, yeah," Ryan muttered. "I thought it was ridiculous."
In a different setting, Ryan probably would have chosen an angrier adjective or two. But in a ballroom at the opulent Roosevent Hotel and surrounded by reporters and his peers Tuesday morning at a coaches' media breakfast, Ryan restrained himself.
"There isn't a prejudiced bone in our bodies or my dad's body," Ryan said, including twin brother and
Dallas Cowboys
defensive coordinator Rob Ryan. "That's why I know it's crazy."
The
incendiary accusation came to light after Duerson's death
. He committed suicide Feb. 17 at his Florida home. Duerson gave an interview to author Rob Trucks in November. Excerpts appeared on Deadspin.com.
"In the NFL, I was ostracized from Day 1 -- not by my teammates, but by my defensive coordinator. I was drafted by the Bears in 1983. My first day walking into Halas Hall, I met Buddy Ryan. He knew I'd gone to Notre Dame and asked me if I was one of those doctors or lawyers. I said, 'Yes, sir.' He said, 'Well, you won't be here too long because I don't like smart n------.'



[+] Enlarge

Mike Powell/Getty ImagesBuddy Ryan of the Bears gets carried off the field by defensive lineman Richard Dent, 95, and linebacker Otis Wilson, 55, after their Super Bowl win in 1985.

"I worked for Buddy for three years, and there was not a day that he did not remind me that I was not his draft pick, that he did not want me there. It was not motivational at all. The guy simply hated my guts, without question."
Duerson was among the stars of Buddy Ryan's famed 46 defense. When the clock hit 0:00 on their Super Bowl XX victory here in New Orleans, defensive end
Richard Dent
and linebacker Otis Wilson -- both black -- hoisted Buddy Ryan on their shoulders.
Many of Buddy Ryan's former players also have publicly defended him against the Duerson accusation.
"I've been around my dad a long time," Rex Ryan said, "and I never heard every conversation he ever had in his life, but I never heard him ever use language like that, a word like that. My dad loves his players, respected his players.
"I thought it was absurd. And there's no way in hell that happened. That's my opinion. No way in hell that happened. For someone to make a comment like that ... and I don't know if Dave made them or somebody else made them or whatever. [Duerson] might have made them, but my dad never did."
Rex Ryan pointed out that his father, in his first head coaching job with the
Philadelphia Eagles
, didn't hesitate to start
Randall Cunningham
. Rob Ryan coached five years at historically black Tennessee State. Both Rex and Rob Ryan were college assistants under black head coaches.
As he rattled off each of those facts, he jabbed his finger on the table for emphasis.
"It was absolutely ridiculous. For my dad, my twin brother, myself ... I mean, give me a break," Rex Ryan said.
"There's no way in hell it's a stain on his career because anybody that knows my dad knows the kind of person he is. My dad is a great person. Maybe there's a different agenda there."
March, 21, 2011
3/21/11
9:32
PM ET
NEW ORLEANS -- Buffalo Bills founder Ralph Wilson was honored Monday night with one of five American Spirit Awards from
the National World War II Museum
in New Orleans.
Also honored at an event to coincide with the annual NFL meetings here were Tennessee Titans owner Bud Adams, New Orleans Saints owner Tom Benson, Detroit Lions owner William Clay Ford and San Diego Chargers owner Alex Spanos.
Wilson, 92, enlisted in the Navy during World War II and served in both the Atlantic and Pacific.
Wilson is not in attendance for the NFL owners meeting. He's represented by a contingent that includes chief operating officer Russ Brandon, executive vice president Mary Owen, treasurer Jeff Littmann, senior vice president Jim Overdorf, general manager Buddy Nix and head coach Chan Gailey.
The New Orleans Times-Picayune reported Monday the WWII Museum is kicking off a program that
showcases how the NFL and football aided the war effort
through selling bonds and donating gate revenues from exhibition games.
March, 21, 2011
3/21/11
7:49
PM ET
NEW ORLEANS --
New England Patriots
guard
Logan Mankins
hasn't hidden his disdain for how the front office has treated him.

Mankins demanded a trade last year
, refused to report to the team until November, reportedly refused to apologize publicly to owner Robert Kraft and was aggravated by the
club's decision to place the franchise tag on him
, preventing the All-Pro from unrestricted free agency.
Mankins, unlike the other two AFC East players to receive franchise tags (
New York Jets
inside linebacker
David Harris
and
Miami Dolphins
nose tackle
Paul Soliai
), didn't sign his before the NFL work stoppage.
Patriots president Jonathan Kraft addressed Mankins' status to a group of reporters Monday afternoon at the NFL owners meeting in New Orleans.
In particular, Jonathan Kraft spoke about a report head coach Bill Belichick and the football operations department were at odds with the business administration over the proper way to handle Mankins' contract. Jonathan Kraft seemed to blame Mankins' agent, Frank Bauer.
"I think sometimes agents feel it's their job to throw out rhetoric to get things moving when they can't get things moving in the traditional way," Jonathan Kraft said. "The bottom line is I don't recall any situation since Bill has been our head coach where there has been a divide. We sit down in a room and we discuss things that are big things, and we have a unified front. That's the case in this situation too.
"I think the agent, in this case, feels rhetoric helps to get deals done. We feel like we put a very fair offer on the table. We would like Logan to be a Patriot, retire a Patriot. He's a great football player. But we're not allowed to talk to Logan or his agent until [the labor situation] gets resolved."
March, 21, 2011
3/21/11
7:07
PM ET
NEW ORLEANS -- NFL players who'll be hurt the most by a prolonged work stoppage are those developing youngsters with big responsibilities.
Offseason workout time is crucial for players such as
New York Jets
quarterback
Mark Sanchez
, but general manager Mike Tannenbaum didn't seem too concerned about the 24-year-old being idled.
"Mark Sanchez loves football," Tannenbaum told me in the lobby of the Roosevelt Hotel, where the NFL's annual owners meeting is taking place. "It's one of the reasons we drafted him. When he comes back, once the labor situation is resolved, we'll be ready to coach him and develop him.
"But when we drafted Mark, we felt he was a competitive guy. He's probably even more competitive than we first thought of. He comes across sometimes as the stereotypical West Coast person, but he's ultra, ultra competitive, ultra driven."
Sanchez organized a "Jets West" camp last summer, paying for his receivers and tight ends to join him in Mission Viejo, Calif., for informal workouts. He didn't have to do that. His teammates remarked the sessions were helpful in cultivating chemistry and getting their offense out to a hot start.
Sanchez won't turn 25 until November. He already has started 37 games, second-most in the AFC East. He has tied the NFL record for most road playoff victories by a quarterback.
"We're really pleased with how Mark's progressing in his two years," Tannenbaum said. "The more meaningful the game, the better he played, which are good reasons to be encouraged.
"We feel good about him being a cornerstone guy for us a long time."
March, 21, 2011
3/21/11
6:10
PM ET
NEW ORLEANS -- In a casual sitdown meeting with four reporters Monday afternoon,
Miami Dolphins
owner Stephen Ross didn't reveal anything provocative about the on-field product.
But Ross did deliver an intriguing comment about Dolphins quarterback
Chad Henne
.
"You talk to people who really look at him, and he has a lot of great skills," Ross said at the Roosevelt Hotel, where the NFL is conducting its annual owners meeting. "Certainly, he has to continue to improve. He made some improvement in other areas. I think people are unhappy with some of the other [areas].
"But I think he has the skills. Unfortunately, the lockout like this doesn't help, working with him. But I'm very optimistic that he'll have the capabilities to really take us."
While that's not a proclamation Henne will remain Miami's starter, I found Ross' quote interesting because it wasn't slathered with caveats or asterisks about Henne being the quarterback for the moment and until they can make a trade or shake the free-agency tree.
Dolphins general manager Jeff Ireland has been overly cautious in not giving Henne the job, but Ross said he was "optimistic."
That said, Ross was non-committal a couple minutes later, when asked a follow-up question about Henne starting the season opener.
"We're going to have the best team that we can put on the field," Ross said. "I don't know what might happen. He'll be competing with somebody. You know that. So if he's the best guy that we can find to put in that position and he's demonstrated that, I have no problem with [Henne starting the opener]."
Of course,
Ross' comments are a far cry from what he said last year
about his fellow Michigan alum. Ross said of Henne: "I'm sure, and I'm hoping -- as everybody else is -- that he goes down as the greatest quarterback in Miami Dolphin history. And you know what that will mean."
Sure, that would mean he expected to Henne to either a) rewrite the history books better than Dan Marino, or b) win more than two Super Bowls like Bob Griese did.
Henne was benched twice last season, losing his job to
Chad Pennington
in Week 11 and then being removed from the regular-season finale after completing just six of his 16 attempts.
Henne finished the season with 61.4 completion percentage, 15 touchdowns and 19 interceptions.
March, 21, 2011
3/21/11
3:00
PM ET
NEW ORLEANS --
New York Jets
head coach
Rex Ryan compared himself to Babe Ruth, calling his shot
.

Miami Dolphins
owner Stephen Ross wasn't about to pull a Joe Namath, Muhammad Ali or Mark Messier.
A year after
Ross made a Super Bowl prediction for the Dolphins
, there was no such bravado while speaking to a quartet of reporters Monday in the Huey P. Long Executive Boardroom at the Roosevelt Hotel.
Ross flatly stated his expectations for the Dolphins in 2011 were "to be better than we were last year." The Dolphins went 7-9 a second straight season after winning the AFC East title in 2008.
"Last year you guys quoted me; I said something that I'd probably be [in the Super Bowl]," Ross said with a snicker. "I had to read it all over the papers everywhere I went.
"But I think that we have a great nucleus. We look to really improve that. Unfortunately, people haven't seen anything because we can't sign free agents and the draft hasn't occurred. You'll have a better idea, as I will, of who we'll be able to draft and end up with."
Ross has been learning on the job how to deal with the media.
Ross publicly embarrassed head coach Tony Sparano
by unsuccessfully pursuing Stanford's
Jim Harbaugh
with Sparano still in place.
"I realize how public it is," Ross said, looking back on how he handled that situation. "I wouldn't want to do anything to really compromise my relationship with Tony. I wouldn't want him to be surprised and read the paper he's following my journey across the country."
Back to his expectations on the field this year, Ross was circumspect.
"We have a very young squad, one of the youngest in the league," Ross said. "We're building it from the ground up. I think the whole idea when I first bought the team was we wanted to be consistently playing in the playoffs, year in and year out, where people can expect a good, exciting product on the field."