AFC East:

2011 Season Wrap
January, 4, 2012
1/04/12
1:00
PM ET
»
NFC Wrap-ups
:
East
|
West
|
North
|
South
»
AFC
:
East
|
West
|
North
|
South
Arrow indicates direction team is trending.

Final Power Ranking:
25
Preseason Power Ranking:
30
[+] Enlarge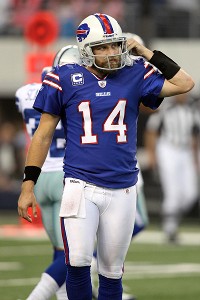 Tim Heitman/US PresswireRyan Fitzpatrick struggled after signing a contract extension.
Biggest surprise:
Bills fans were almost ready to write off former first-round draft pick
C.J. Spiller
. The 2010 No. 9 overall pick didn't do much in his rookie season with limited playing time. This year, Buffalo tried to find ways to get him involved as a returner and part-time receiver and running back. But that wasn't enough. Spiller received a golden opportunity late in the season when starting running back
Fred Jackson
suffered a season-ending leg injury. Spiller showed explosiveness as an every-down back and set career highs with 561 yards and 5.2 yards per carry.
Biggest disappointment:
Is
Ryan Fitzpatrick
the long-term solution at quarterback, and can he lead the Bills to a Super Bowl? The Bills believe that's the case after giving Fitzpatrick a six-year, $59 million extension in late October. The early returns weren't good. Fitzpatrick's play fell off after the big contract. He was 1-8 as a starter in his final nine games and had six multi-interception games in that stretch. Overall, Fitzpatrick set career highs for yards (3,832) and touchdowns (24). But he also set a career high for interceptions (23). Fitzpatrick needs to put an end to the streakiness and become more consistent in 2012. Expectations are higher now that he's officially the face of the franchise and a $10-million-a-year player.
Biggest need:
Buffalo's defense needs a lot of help, as evidenced by giving up 49 unanswered points in the regular-season finale to the
New England Patriots
. But the Bills could most use a pass-rusher. They were counting on
Shawne Merriman
to be that guy. But at this stage in his career, he's not as explosive and too injury prone. Don't be surprised if Buffalo upgrades outside linebacker early in the draft or in free agency.
Team MVP:
Despite playing just 10 games, Jackson is the easy choice for MVP in Buffalo. He was on pace for a Pro Bowl season, recording 934 rushing yards and an additional 442 yards receiving. Jackson was the biggest piece of Buffalo's offense. Despite Spiller's efforts, the team was never the same after Jackson went down. The Bills finished the season 1-5 following Jackson's injury. Buffalo said it would take care of Jackson this offseason. It will be interesting to see how the team handles the situation following Spiller's emergence and Jackson coming off a season-ending leg injury.
Free-agent watch:
Keep an eye on receiver
Steve Johnson
in free agency. This is Buffalo's most polarizing offseason story. There are a ton of questions surrounding Johnson. Is he an elite No. 1 receiver? Does Johnson deserve $7-$8 million per season? Are his antics too much? What about the one-year franchise tag? The Bills can go in a lot of different directions. But Buffalo lacks playmakers at receiver and needs to find a replacement if the team lets its only impact receiver walk.
January, 4, 2012
1/04/12
1:00
PM ET
»
NFC Wrap-ups
:
East
|
West
|
North
|
South
»
AFC
:
East
|
West
|
North
|
South
Arrow indicates direction team is trending.

Final Power Ranking:
19
Preseason Power Ranking:
7
[+] Enlarge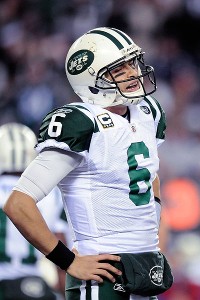 Patrick McDermott/Getty ImagesMark Sanchez was unable to make progress in his third NFL season.
Biggest surprise:
Guess who led the Jets in sacks this season?
Aaron Maybin
. Yes,
that
Aaron Maybin. The same Maybin who was a draft bust for the
Buffalo Bills
and cut before training camp. The Jets saw potential in Maybin and invited him to training camp. With a change of scenery and scheme, Maybin showed some of the things in New York that he showed in college to make him a first-round pick. Maybin briefly made New York's 53-man roster out of training camp. Then, he was released. When the Jets picked Maybin up again during the season he was ready. Maybin helped the Jets with a team-high six sacks, which should put him in consideration for the NFL's Most Improved Player.
Biggest disappointment:
This was the year New York's coaching staff thought quarterback
Mark Sanchez
would make major strides. This was the year the offense would be put in Sanchez's hands and would finally catch up to New York's talented defense. But that plan didn't pan out. Sanchez wasn't ready to take the next step in his third season and coach Rex Ryan pulled back the reigns. The Jets went back to their ground-and-pound offense and tried to protect Sanchez. The offense was bland, predictable and Sanchez struggled. New York's offense was ranked No. 25 in the NFL. Sanchez's numbers slightly improved. But the team still had to protect him in his third season, and that's not acceptable for a top-five draft pick. Sanchez needs to make a lot of improvements next season to be considered among the upper-echelon quarterbacks in the NFL.
Biggest need:
There are several reasons the Jets were inconsistent, but the biggest reason was the offensive line. The Jets need to upgrade the right tackle position immediately.
Wayne Hunter
draws too many flags and struggles in pass protection. The front office needs to find a better front-side protector for Sanchez. The offensive line as a group played a notch or two lower than it was capable of. The Jets need to add depth and competition at guard. Center
Nick Mangold
was fine, but
D'Brickashaw Ferguson
wasn't as good as previous years. Both made the Pro Bowl, although Ferguson made it more on name recognition.
Team MVP:
I know it's early. But I feel pretty safe in saying that
Darrelle Revis
will be an all-time great. Revis put together another Pro Bowl year and is easily the team's MVP. Revis is dominating a position that is nearly impossible to dominate. The rules are tilted in favor of the offense and receivers to promote scoring. But Revis has found a way to consistently shut down opponents from the cornerback position. His ability to stick to and frustrate receivers is fun to watch. His hand-eye coordination is the best in the NFL. It's considered an event when a receiver catches a couple passes on Revis. Perhaps the biggest shame is that Revis, 26, is a unique talent in his prime, and the Jets are wasting those prime years by fumbling around in other areas.
Free-agent watch:
The Jets have several interesting free agents. Offensively, New York has to decide whether to bring back starting receiver
Plaxico Burress
and/or backup tailback
LaDainian Tomlinson
. Burress was signed on a one-year rental to see if he has anything left after spending time in prison. Burress showed flashes, particularly in the red zone. But he will be 35 in August and struggles to get vertical. The Jets may need an upgrade opposite receiver
Santonio Holmes
. Tomlinson's role was reduced this year and he is considering retirement. Defensively, New York has to decide what to do with starting safety
Jim Leonhard
. He's an underrated player. It's evident as the defense fell apart this season when he was out of the lineup. Leonhard suffered a season-ending knee injury late in the year and has a long rehabilitation process ahead. That could impact and delay whether the Jets pursue him.
January, 4, 2012
1/04/12
1:00
PM ET
»
NFC Wrap-ups
:
East
|
West
|
North
|
South
»
AFC
:
East
|
West
|
North
|
South
Arrow indicates direction team is trending.

Final Power Ranking:
24
Preseason Power Ranking:
24
[+] Enlarge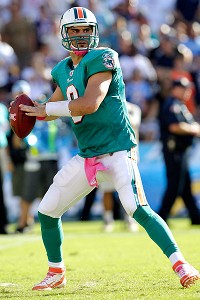 AP Photo/Gregory BullMiami had a surprising 6-6 record with Matt Moore starting at QB.
Biggest surprise:
Who knew career backup
Matt Moore
would be the best quarterback on Miami's roster and the second-best quarterback in the AFC East (courtesy of the "
Sanchez-Fitz-Moore Watch
")? He proved it by taking over for the injured
Chad Henne
and leading the Dolphins to a respectable finish. Moore started 12 games and threw for 2,497 yards, 16 touchdowns and nine interceptions. He had an 87.1 passer rating and was 6-6 as a starter. Moore made his best case to be Miami's starter in 2012, but expect the team to see if it can find an upgrade via the draft or free agency in the offseason.
Biggest disappointment:
Henne, a former second-round pick, is officially a bust. Dolphins fans were ahead of the curve and knew it before the team did. Miami supporters were already down on Henne and booed him last summer. The Dolphins were willing to give Henne one more shot, and he started 0-4 and suffered a season-ending shoulder injury. Henne says he wants to stay, but that's unlikely. He's an unrestricted free agent and wants a chance to start. That won't happen in Miami next season.
Biggest need:
It starts at the top for Miami. The Dolphins need a head coach to establish the future direction of the team. Former coach Tony Sparano was fired during the season and replaced by interim coach Todd Bowles. The Dolphins interviewed Bowles, who went 2-1, for the job. But the team most likely will hire from the outside. The
Dolphins interviewed
Jeff Fisher this week. That's the best-case scenario. But Miami might have trouble landing a big-name coach to work under general manager Jeff Ireland, who will call the shots in Miami.
Team MVP:
This is a tough call. Miami's solid finish was truly a team effort. But if we have to name one player, starting tailback
Reggie Bush
was the most consistent. Bush finished strong and had his first 1,000-yard season. He finished with 1,086 yards and six touchdowns. What was even more impressive is he stayed healthy enough to start 15 games. Durability has always been one of Bush's biggest questions because of his lack of size. But he proved in 2011 that he can be a feature back.
Free-agent watch:
The Dolphins are pretty solid with contracts. One of the few big questions involves starting defensive tackle
Paul Soliai
. He is an underrated defensive tackle, but not by Miami. The Dolphins thought enough of Soliai to give him a one-year franchise tag. He doesn't put up big numbers but helped anchor Miami's fifth-ranked run defense. Now, the team has to decide whether to work out a long-term extension, use another tag or let Soliai walk.
January, 4, 2012
1/04/12
1:00
PM ET
»
NFC Wrap-ups
:
East
|
West
|
North
|
South
»
AFC
:
East
|
West
|
North
|
South
Arrow indicates direction team is trending.

Final Power Ranking:
4
Preseason Power Ranking:
2
[+] Enlarge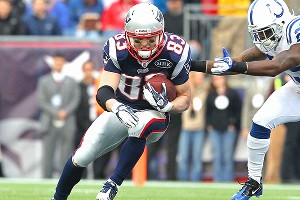 Jim Rogash/Getty ImagesSecuring Wes Welker will be important for the Patriots this offseason.
Biggest surprise:
The Patriots found a surprise gem in defensive end
Mark Anderson
. He is playing on his third team in three years but found a home in New England. He tied
Andre Carter
for the team lead with 10 sacks. Anderson recorded only 8.5 sacks the past four seasons with the
Houston Texans
and
Chicago Bears
. New England's offense scores a lot of points, which allows the defense to go after opposing quarterbacks trying to keep up. Anderson and New England's pass rush will be key to the Patriots making a Super Bowl run.
Biggest disappointment:
There was a lot of fanfare with the offseason trade of former Pro Bowl receiver
Chad Ochocinco
. He was expected to make an impact and add big-play capability to New England's already high-powered offense. Instead, Ochocinco had trouble adjusting to his new surroundings early and never caught up. Ochocinco's season was a dud. He set new career lows with just 15 receptions for 278 yards and one touchdown. Most weeks the Patriots didn't need Ochocinco and he was largely ignored. He never caught more than two passes in a game.
Biggest need:
The Patriots need secondary help in the worst way. It could come at safety and/or cornerback. New England set a team record for the most passing yards allowed in a season. Nearly every week the Patriots were carved up by opposing quarterbacks. Cornerback
Devin McCourty
had an awful sophomore slump and even shifted to safety last week. The safeties underperformed and were decimated by injuries. The Patriots have two first-round picks and two second-round picks in April's NFL draft. They will have plenty of opportunities to add players who can make an impact.
Team MVP:
There's no question about this one. New England quarterback
Tom Brady
threw for 5,000 yards for the first time in his career. He finished with 5,235 yards, 39 touchdowns and 12 interceptions. Brady was the single biggest difference-maker of any player in the NFL, thus leading to
my case for making him the league's Most Valuable Player
. With Brady, New England is 13-3, won the AFC East and has home-field advantage throughout the playoffs. Without Brady, this is probably a five-win team with an awful defense and shaky quarterback play.
Free-agent watch:
There is no bigger free agent on this team than receiver
Wes Welker
. He set a career high with 1,569 yards and nine touchdowns. His 122 receptions were the second-highest of his career. Welker is one of the league's biggest free agents this offseason and a must-sign for the Patriots. Their offense isn't the same without him. New England has other decisions to make on lesser pending free agents like Carter and veteran receiver
Deion Branch
. Other than that, the Patriots are in good shape this year with free agency.