AFC East:

2012 Hall of Fame
August, 4, 2012
8/04/12
10:45
PM ET


CANTON, Ohio -- Curtis Martin won his bet to make it through his Pro Football Hall of Fame speech without crying.

Did anyone else?

Martin, in accepting his enshrinement to the Pro Football Hall of Fame, shared details about his life that would wrench the hardest heart: the murders of his grandmother and aunt; the manner in which his father tortured his mother; the time someone held a gun to his head and pulled the trigger seven times, only to have a bullet discharge on the eighth pull, when the gun was pointed elsewhere.

This was as moving a speech as I can recall hearing.

That Martin would survive all this and grow into a man with the wherewithal to nurture his mother to health? That, together, they would forgive his father?

It's a good thing Martin's speech came last. No one could have followed him.

Martin closed by saying he hoped his daughter, when delivering his eulogy years from now, would speak not of the yards he gained, but of the man he became. He hoped she would speak of having sought a man of similar character. He hoped she would, in closing his eulogy, leave mourners with a footnote.

"Oh yeah," she would say, "he was a pretty good football player."

Martin's presenter, retired coach Bill Parcells, spoke of his former player's great balance. Martin's speech showed the same quality. He balanced those emotional reflections with humor. And he showed great wisdom.

Martin busted on fellow enshrinee Willie Roaf for suggesting the Class of 2012 go for pedicures this week. He joked about Cortez Kennedy speaking for so long that God decided to turn off the lights.

Martin again found the right balance when discussing player safety issues, particularly whether he'd feel OK about his own child playing the game, were Martin to have a son.

Two previously enshrined Hall of Famers -- I could not identify them from a distance -- rose and applauded when Martin provided a thoughtful answer. Martin said he never sought football or loved it, but he learned life lessons from it through Parcells, through his former high school coach and through experiences on the field.

"If kids can learn what I learned from playing the game," Martin said in words to that effect, "I'd let him play. It would be worth the risk."

Martin rushed for 102 yards and the winning touchdown in his first regular-season NFL game. Parcells, upon seeing reporters gather around Martin's locker for postgame interviews, let it be known Martin was merely a "one-game wonder."

Before too long, "one-game wonder" would give way to "Boy Wonder" as Parcells' preferred nickname for Martin. The more flattering moniker survives to this day, for good reason. Martin opened his career with 10 consecutive 1,000-yard seasons, an NFL record shared by another Hall of Famer, Barry Sanders.

Martin turned out to be a pretty good football player, all right, and so much more.


August, 4, 2012
8/04/12
9:22
PM ET
CANTON, Ohio -- Dermontti Dawson, the fifth of six Pro Football Hall of Fame enshrinees to speak Saturday night, thanked his parents for the guidance they provided over the years.

The other modern-day finalists preceding Dawson at the podium -- Willie Roaf, Chris Doleman and Cortez Kennedy -- made similar comments.

Curtis Martin, the final enshrinee scheduled to speak, will tell a different story. He'll surely pay tribute to his mother, but so many other factors in his life worked against him. His father left the family when Martin was 4. His grandmother was stabbed to death in brutal fashion when Martin was 9.

Martin never dreamed of the Hall of Fame; at one point, his goal while growing up in a rough Pittsburgh neighborhood was simply reaching age 21. The speech he delivers Saturday night has the potential to pack a different type of emotional punch.
August, 2, 2012
8/02/12
4:00
PM ET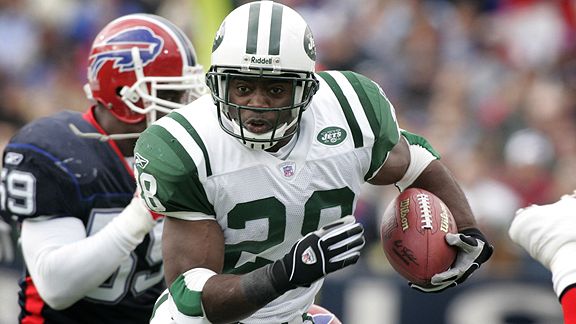 Craig Melvin/US PresswireRunning back Curtis Martin finished his Hall of Fame career with 14,101 rushing yards.
Every NFL player could learn from Curtis Martin.
The former third-round draft pick was never the fastest player, nor the biggest nor the most athletic. But it was Martin's heart, work ethic, character and dedication that made him the NFL's fourth all-time leading rusher with 14,101 yards.
Martin's football journey will end this weekend in Canton, Ohio. He is part of the 2012 Hall of Fame class that also includes Willie Roaf, Cortez Kennedy, Dermontti Dawson, Chris Doleman and Jack Butler.
Martin overcame any physical deficiencies with intangibles. He was smart and very durable. Martin also had longevity and was consistent, which are all key elements to get into the Hall of Fame. Martin put together 10 consecutive 1,000-yard seasons. In 2004, he became the oldest player to lead the NFL in rushing with 1,697 yards at age 31, when most running backs hit a wall. That season cemented Martin's legacy and made him a lock for Canton.
Martin is also on a very short list of Bill Parcells' favorite players. Parcells was notoriously demanding and difficult to play for. Yet, the Super Bowl-winning coach calls Martin one of the greatest players he's ever coached. Parcells made it a point to have Martin on his team in both New England and New York. Naturally, Parcells will be Martin's presenter on Saturday during his enshrinement. The two would have it no other way.
Martin set a great example that the NFL is not all about draft status or pure athletic ability. Martin got the most out of himself every year, and it landed him in Canton.
February, 4, 2012
2/04/12
7:05
PM ET
INDIANAPOLIS -- Consistency and longevity matter in the NFL. That was the path former
New England Patriots
and
New York Jets
tailback Curtis Martin had to take to make it to Canton.
Martin was never the flashiest running back. He was never the quickest or fastest. But Martin was one of the most consistent and effective. Those are the traits that led Martin to the 2012 Hall of Fame class that also includes Willie Roaf, Cortez Kennedy, Dermontti Dawson, Chris Doleman and Jack Butler.
[+] Enlarge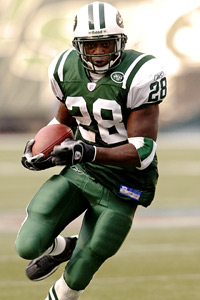 Al Pereira/Getty ImagesCurtis Martin rushed for 14,101 yards and topped 1,000 yards in 10 of 11 seasons in the league.
A former third-round draft pick out of the University of Pittsburgh, Martin drastically overachieved and finished fourth all time in rushing with 14,101 yards. The only three players ahead of Martin -- Emmitt Smith, Walter Payton and Barry Sanders -- are all in the Hall of Fame.
Martin also had 10 consecutive 1,000-yard seasons. The only year he didn't rush for more than 1,000 yards was in 2005, which was his final season in the NFL.
There were plenty of years when Martin was counted out, but he consistently churned out yards and proved doubters wrong. He led the league in rushing with 1,697 yards in 2004 as a 31-year old.
"I'm very competitive," Martin said in a conference call Saturday. "I'm relentless when I'm sure about something and when I'm focused on something. ... I think it was more of a result of me being focused on putting my best performance out there on the field. That's what they pay us to do. To be in tip-top shape and do our best at our job."
Running back is arguably the most demanding position in the NFL. Yet Martin's durability was off the charts. He never missed more than four games in a season and played in all 16 games eight out of his 11 years.
Martin spent his first three years with the Patriots and his final eight years with the Jets. It's rare that a player is great over the course of his career. But Martin was one of those players.
"Curtis Martin's work ethic, durability and ability to consistently play at such a high level are the hallmarks of his career and appropriately recognized by his selection to the Pro Football Hall of Fame," Jets general manager Mike Tannenbaum said. "I have never come across a player who has been more dedicated to the team and doing his job. Curtis' tremendous production on the field, regardless of how outstanding it was, pales in comparison to the man he is. An individual of unparalleled integrity, he treats everyone who crosses his path with honesty, kindness and respect and serves as a shining example of how professional athletes should carry themselves on and off the field."
Martin said he would like former coach Bill Parcells to induct him this summer. Parcells, who also was a Hall of Fame finalist but didn't make the cut, drafted Martin in 1995 and coached him in New England and New York. Martin said he hasn't discussed the induction process yet with Parcells.
The AFC East got one of its two Hall of Fame finalists in. But former
Buffalo Bills
receiver Andre Reed did not make the cut on his sixth attempt. Reed was still on the ballot Sunday when it was reduced to 10 players, but didn't get one of the final slots.
January, 7, 2012
1/07/12
2:25
PM ET
Coach Bill Parcells, running back Curtis Martin and receiver Andre Reed are among the 15 modern-era Hall of Fame finalists with AFC East ties. This is Parcells' first chance to get into Canton, while Martin and Reed have been previously eligible.

Parcells had successful stints coaching the New England Patriots, New York Jets, New York Giants and Dallas Cowboys. Martin was a running back for the Jets and Patriots. Reed spent most of his career with the Buffalo Bills from 1985-99 and later the Washington Redskins in 2000.

Voting for the 2012 Hall of Fame class will take place in Indianapolis on Saturday, Feb. 4, during Super Bowl weekend.