AFC East:

2012 NFL Franchise Players
March, 6, 2012
3/06/12
9:00
AM ET

Although not everything can be read accurately from Twitter,
New England Patriots
receiver
Wes Welker
seemed genuine in his response to receiving the franchise tag.
On Monday evening, just hours after Welker was tagged,
he tweeted
, "Glad that I will be a Patriot in 2012 and hopefully '13,'14,'15,'16,'17,'18........"
This is a good sign. Many wonder if Welker will hold out and skip offseason activities if a contract extension isn't reached. It is clear that Welker, who turns 31 in May, would prefer long-term security.
Welker's tag is slated for $9.4 million in 2012. The Patriots and Welker will continue to negotiate, but there is no guarantee an extension will be reached.
Still, these are good, early vibes from Welker. He says he's happy to be in New England this year and remains hopeful that it will be for longer. The next step is to see if Welker signs the tag and eventually shows up to New England's offseason workout program.
March, 5, 2012
3/05/12
3:40
PM ET
In a move that was expected weeks ago, the
New England Patriots
finally beat the 4 p.m. ET deadline Monday to
put the franchise tag
on leading receiver
Wes Welker
. He is scheduled to earn about $9.4 million next season if a contract extension cannot be reached.
But where exactly will Welker and the Patriots go from here?

It is yet to be determined if Welker's tag will stick next season. But reports indicate the Patriots are not close to reaching a long-term agreement with their best receiver. The franchise tag allows both sides plenty of time to continue to negotiate.
I can see both sides to keeping the tag or giving Welker an extension.
On one end, Welker is extremely productive, a hard worker and an overachiever. He defines many of the characteristics the Patriots look for in a player. Considering this, keeping Welker for three more years shouldn't be a bad thing, right? It would also free up salary-cap space to chase other big free agents.
But on the other end, Welker will be 31 in May. He's coming off his best statistical year with 122 receptions for 1,569 yards. But the Patriots are probably asking, can Welker continue that kind of production next season and beyond? Giving Welker a contract worth $9-10 million per season until his mid 30s may not be in the Patriots' best interest.
The best thing about the franchise tag is both sides will have until the late summer to work this out. The Welker-Patriots offseason story is far from finished. But the tag at least guarantees the Patriots' best receiver will remain in New England in 2012.
February, 20, 2012
2/20/12
4:00
PM ET


The
New England Patriots
are looking for a deep threat at receiver to go with receiver
Wes Welker
and tight ends
Rob Gronkowski
and
Aaron Hernandez
.
Could Pittsburgh Steelers' speedster
Mike Wallace
be the answer?
Hypothetically, Wallace would be a tremendous addition to
Tom Brady
's arsenal in New England. Wallace has the ability to stretch the field and take pressure and attention away from Welker and the two tight ends underneath.
However, Wallace is in his prime and has become a franchise building block in Pittsburgh. It's hard to see the Steelers letting the Pro Bowl receiver go this offseason. But
AFC North blogger Jamison Hensley
made an intriguing case by outlining Pittsburgh's issues with a tight salary cap.
Giving Wallace the money he deserves will be tough for Pittsburgh this offseason, and putting a first-round tender on Wallace might not be enough. Somebody will gladly give up a first-round pick for Wallace, especially teams later in the first round. The Steelers could also use the franchise tag for additional protection.
The Patriots have two draft picks in the first round -- No. 27 and No. 31 overall -- and tons of cap space. They can afford to give up one of their high draft picks and offer Wallace a big contract.
But for now, New England has receiver issues of its own. The Patriots have
to re-sign or put the franchise tag
on Welker before they can even think about Wallace. But if Pittsburgh slips up over the next few weeks and allows Wallace to become available, New England would be wise to at least check into this situation.
February, 10, 2012
2/10/12
2:00
PM ET
Early odds have the
New England Patriots
as the
favorites to win it all next season.
But don't punch your ticket to Super Bowl XLVII in New Orleans just yet, Patriots fans.
The reigning AFC champions and Super Bowl runners-up still have a lot of work to do to rebuild into a title contender. The Patriots have 20 free agents -- approximately 38 percent of the 53-man roster -- and just a month to make decisions before most will hit the open market. Of New England's 20 free agents, 17 are unrestricted.
So who stays? Who goes? Who are the potential replacements?
Let's examine.
The no-brainers
[+] Enlarge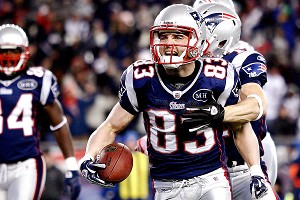 Mark L. Baer/US PRESSWIREWes Welker, who led the Patriots in receptions and receiving yards, should be back in New England.
Players:
WR
Wes Welker
, WR
Matthew Slater
, DL
Kyle Love
, QB
Brian Hoyer
Analysis:
Free agency can be unpredictable. But these are four locks I definitely see coming back to New England. Welker's production (122 receptions, 1,569 yards) is off the charts, and New England's offense wouldn't be the same next season without him. Welker will either get the franchise tag or a multiyear extension. But he will be with the Patriots in 2012.
Slater is New England's special-teams ace and made it to his first Pro Bowl this season. He found a niche in New England and eventually became team captain. Slater is a favorite of the coaching staff and will return. Love started 13 games and really came into his own this season. He's an exclusive rights free agent, so he's not going anywhere. Hoyer also is a restricted free agent. The Patriots hold all the cards with their backup quarterback. So unless New England gets a trade offer it can't refuse, Hoyer will back up
Tom Brady
again next season.
Replacement options:
The Patriots probably won't replace any of these four players. But 2011 draft pick
Ryan Mallett
might be ready to push for the No. 2 quarterback job next season, which could make Hoyer a tradable commodity if New England receives a tremendous offer.
Like their chances
Players:
DE
Mark Anderson
, C
Dan Connolly
, S
James Ihedigbo
Analysis:
Anderson (10 sacks) was New England's best pass-rusher last season. The Patriots need more pass-rushers, not fewer. Expect New England to make a strong pitch to bring Anderson back. Connolly is an intriguing case. He filled in well at center for the injured
Dan Koppen
(foot). Connolly, 29, started 11 games and the offense didn't miss a beat. He is three years younger than Koppen and not coming off a season-ending injury.
The Patriots won't spend big on two centers, so the smart money is on Connolly. Ihedigbo overachieved, working his way from a good special-teamer to a starter by the end of the season. Ihedigbo would be nice to bring back for depth and special teams.
Replacement options:
Look for the Patriots to add another pass-rusher to complement Anderson via the draft or free agency. If they have to replace Anderson, there are some big names available. I think
Houston Texans
defensive end/linebacker
Mario Williams
would be a stud in New England's hybrid 3-4, 4-3 defense. The Patriots have the cap space to go after Williams, especially if they don't re-sign Anderson. But there would be tons of competition for Williams.
If it doesn't get a pass-rusher in free agency, New England could turn to the draft. The Patriots have two first-round and two second-round picks. The replacement option for Connolly would be Koppen, who is a favorite of Brady. But I don't see that as reason enough not to sign Connolly, the younger, healthier player . The Patriots will certainly replace Ihedigbo in the starting lineup next season.
New England needs another playmaking safety opposite
Patrick Chung
. Fortunately for the Patriots, there are plenty of good safeties available this year, including
Michael Griffin
,
Dashon Goldson
and
Tyvon Branch
.
Toss-up
[+] Enlarge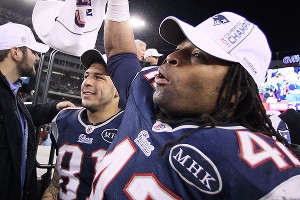 Elsa/Getty ImagesThe Patriots could consider bringing back BenJarvus Green-Ellis for the right price.
Players:
RB
BenJarvus Green-Ellis
, WR
Deion Branch
, LB
Niko Koutouvides
, LB
Tracy White
Analysis:
Welker is New England's biggest free agent, but Green-Ellis may be the most interesting. There are reasons to keep the Patriots' leading rusher and reasons to let him walk. New England drafted two running backs last year:
Stevan Ridley
and
Shane Vereen
. With
Danny Woodhead
also in the fold, I thought the writing was on the wall for Green-Ellis entering the final year of his contract. But Green-Ellis did everything that was asked of him and led the team in rushing yards (667) and rushing touchdowns (11). The coaching staff especially likes the fact that Green-Ellis has never fumbled in his four-year career. I think the Patriots will make a pitch to bring Green-Ellis back but won't overpay. If Green-Ellis wants to really cash in, he may have to sign elsewhere.
Branch is on his last legs but could return on a short-term contract in a limited role. New England will make some upgrades at receiver. Branch would be a backup next season. The Patriots will have an interesting decision to make on White and Koutouvides. Both were solid on special teams, but New England probably has to choose one or the other. White and Koutouvides are both backup linebackers. New England can't afford to let two special-teamers without much starting potential at linebacker hold roster spots.
Replacement options:
If New England replaces Green-Ellis, it will be in-house. The Patriots have more than enough running backs, and letting go of Green-Ellis would be a sign that Ridley is ready for more responsibility. Ridley, Woodhead and Vereen may not be a bad trio if they all work hard and improve during the offseason.
Branch will be replaced in the starting lineup. I fully expect New England to have interest in free-agent receiver
Brandon Lloyd
, who has strong ties to Patriots offensive coordinator Josh McDaniels. Lloyd has a lot of respect for McDaniels and credits him for jump-starting his career in Denver. The Patriots need a deep threat to go with Welker and tight ends
Rob Gronkowski
and
Aaron Hernandez
. Lloyd, who averages 15.4 yards per catch for his career, would be a great addition.
Thanks for your service but ...
Players:
DE
Andre Carter
, C Dan Koppen, RB
Kevin Faulk
, LB
Gary Guyton
, DE
Shaun Ellis
, DL
Gerard Warren
, CB
Antwaun Molden
, CB
Nate Jones
, S
Bret Lockett
Analysis:
This is the group that probably won't return next season. Carter is 32 and coming off a season-ending quad injury. The Patriots need to get younger on the edges. As we mentioned, Koppen missed the entire season with a foot injury, and the Patriots have to choose between two centers (Connolly and Koppen). Faulk was brought back during the season to add stability to a young group of running backs. But he was inactive in the Super Bowl and probably is close to retirement. Guyton showed a few flashes but eventually fell out of favor in New England. The Patriots are set at linebacker with
Brandon Spikes
,
Jerod Mayo
and
Rob Ninkovich
. So Guyton won't be back. Veterans Ellis and Warren provided depth and leadership on the defensive line. But both are over 30 and will be replaced by younger players in the offseason. Molden, a restricted free agent, had trouble covering receivers. He's most infamous for the 12 men on field penalty in the Super Bowl.
Replacement options
: With the exception of Carter and Koppen, most of these players are expendable backups. It will be very easy to replace them, mostly with younger players and draft picks. Overall, the Patriots are in a good spot to improve their roster. Yes, they have 20 free agents, but Welker really is the only game-changer of the group. Expect a decent amount of roster turnover in New England. With smart moves, the reigning AFC champs could have an even deeper roster next season.
February, 9, 2012
2/09/12
1:30
PM ET
Free agency is upon us in the NFL, and every team in the AFC East has important decisions to make.
Here is a preview of players who could be eligible for the franchise tag in the division.

Welker
New England Patriots:
WR
Wes Welker
Analysis:
This much is certain -- New England is not letting Welker walk. The Patriots will spend the next month negotiating a long-term extension with Welker, the team's leading receiver. If not, expect Welker to get tagged. Many teams use the tag as a way to buy time and lengthen the negotiations. That would give New England and Welker several more months for negotiate. But whether it's one year or multiple years, Welker will be a Patriot in 2012. He's too important to the offense.
Tag probability:
50 percent
Soliai
Miami Dolphins:
DT
Paul Soliai
Analysis:
I doubt the Dolphins want to use the tag on Soliai for a second consecutive year. The price would go up by at least 10 percent and pay Soliai the average of the top five players at that position. Soliai is a good player, but he's not a top-five defensive lineman. The Dolphins were very tough against the run because Soliai plugged the middle. But his production (27 tackles) can be replaced. Without the franchise tag, Soliai probably would get more on the open market than he could returning to Miami.
Tag probability:
20 percent
Johnson
Buffalo Bills:
WR
Steve Johnson
Analysis:
This is a tricky one. Johnson wants to return to Buffalo, but he wants No. 1 receiver money. The Bills want Johnson but at a price they are comfortable with. That's pretty much been the story since the beginning of last season. I think it's 50-50 whether Johnson returns to Buffalo but very little chance he gets the franchise tag. The question is will Buffalo budge and pay Johnson $7 million to $8 million per season to return? If Johnson's representation feels he can get that somewhere else on the open market, they will wait it out until March unless Buffalo ups its price. But the Bills most likely aren't tagging Johnson to keep him for just one year.
Tag probability:
10 percent
There are no franchise-tag candidates on the
New York Jets
. Here is
their list of unrestricted
free agents.