AFC East:

2013 Camp Confidential AFC
August, 9, 2013
8/09/13
9:00
AM ET
CORTLAND, N.Y. -- The
New York Jets
haven't faced expectations this low since 2006, when they hired a relatively anonymous
New England Patriots
assistant named Eric Mangini. Somehow, they made the playoffs under the baby-faced head coach.

The odds of duplicating that this season are about the same as seeing two Butt Fumbles in one lifetime.
Even the bombastic Rex Ryan, who once guaranteed a Super Bowl, has refrained from delivering a headline-making prediction. The Jets are rated in many power polls as a bottom-five team, but that stoked Ryan's fire to only a medium flame.
"If you're a competitor, how does that thing not get to you?" Ryan said. "How does that not motivate you? It's almost like, 'Well, OK, we're going to show you.'"
In the not-so-old days, Ryan would've said something like, "We'll see who has the egg on their face when we're in the playoffs."
Ryan has toned it down because he recognizes the enormity of the challenge.
The Jets, coming off a dysfunctional,
Tim Tebow
-obsessed 6-10 season, are rebuilding. New general manager John Idzik parted ways with 11 starters (including All-Pro cornerback
Darrelle Revis
), tore apart the front office and changed the culture.
Idzik, hired even though he has little background in personnel, instilled a buttoned-down, almost paranoid environment in an organization once known for its wacky ways.
The circus is gone. The Kremlin is here.
It's a change for the fun-loving Ryan, but he has bought in because he's coaching for his job. He joked recently that if the Jets are in position to draft Jadeveon Clowney, the presumptive No. 1 pick in 2014, he won't be around to see it.
Earth to Ryan: You won't be around if you finish with as many as six wins. Idzik inherited Ryan, at the urging of owner Woody Johnson, and he will hire his own man if the team shows no improvement.
In a way, Ryan is in an almost impossible situation. His roster was gutted, leaving a team many scouts believe has only four top-tier players: cornerback
Antonio Cromartie
, defensive end
Muhammad Wilkerson
, center
Nick Mangold
and left tackle
D'Brickashaw Ferguson
.
Throw in a potential quarterback controversy, and you're looking at a long year in New York.
THREE HOT ISSUES
[+] Enlarge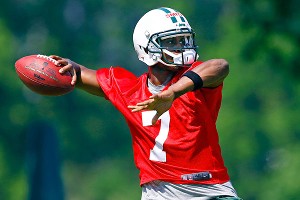 AP Photo/Rich Schultz"He can do more" than Mark Sanchez, one veteran player said of rookie quarterback Geno Smith.
1. Who plays quarterback? The competition is billed as
Mark Sanchez
versus
Geno Smith
. In reality, it's Smith versus Smith. It's his job to win. If the second-round pick proves capable of functioning in an NFL offense, he'll be the opening-day starter.
Sanchez will start the first preseason game, but his performance is virtually meaningless. The Jets know what he can and can't do, and it has been a "can't-do" situation over the past two seasons. If it weren't for an $8.25 million guarantee, he probably would have been cut loose in the offseason.
The organization wants a fresh start at quarterback. It went into camp thinking Sanchez would win by default, but Smith, shaking off a lackluster spring, has impressed with his arm strength, accuracy and athleticism. "He can do more" than Sanchez, one veteran player said. The question is whether or not Smith can handle it from a mental and maturity standpoint. When his brain catches up to his arm, it'll be his team.
2. How will they score points? The Jets finished 28th in scoring last season, and they will be hard pressed to improve that ranking. They have a suspect cast of skill-position players, including past-their-prime pass-catchers (
Braylon Edwards
and
Kellen Winslow
), a lead back who's never had more than 137 carries in a season (
Chris Ivory
) and an injured former Super Bowl hero who may never be the same (
Santonio Holmes
).
New offensive coordinator Marty Mornhinweg is an experienced playcaller, but it's hard to call plays when you don't have the talent. The Jets need productive seasons out of wide receiver
Stephen Hill
and tight end
Jeff Cumberland
, who have a combined total of 53 career receptions. Holmes could be a factor at some point, but he probably won't be ready for Week 1 as he continues to rehab a surgically repaired foot. Get the picture? It looks bleak.
Because of the uncertainty at quarterback and the lack of playmakers on the perimeter, the Jets absolutely must be a strong running team. That's not out of the question -- the line is solid -- but they will see a heavy dose of eight-man fronts and run-blitzing defenses.
3. Can Ryan hold it together? After back-to-back seasons out of the playoffs, Ryan faces a make-or-break year. He has two years left on his contract, meaning he'll be extended or fired after the season. He has no previous background with Idzik, making it a tenuous situation.
Thinking self-preservation, Ryan has taken control of the defense, becoming the de facto coordinator. He did it this way in 2009, when he felt most comfortable as a head coach. He'll leave the offense to Mornhinweg, whose pass-happy philosophy might not be a good fit with Ryan's defensive-oriented approach.
[+] Enlarge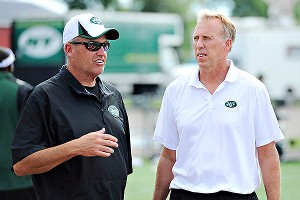 Rich Barnes/USA TODAY SportsRex Ryan, left, will likely need more than last season's six wins if he wants new general manager John Idzik, right, to keep him around.
Ryan's job security will be an issue throughout the season, especially if the Jets get off to a bad start against a tough schedule. It could become a feeding frenzy for the New York media. It may not be playoffs or bust, but another losing season probably will mean the end of the Ryan era.
REASON FOR OPTIMISM
Once again, the Jets will rely on their defense -- and that's not such a bad thing.
Under Ryan, they've finished no worse than eighth in total defense, and they have the talent to keep the streak alive. There could be some growing pains as Ryan integrates seven new starters, but the unit should get stronger as the season progresses.
Revis is gone, traded to the
Tampa Bay Buccaneers
, but the Jets will be OK outside with Cromartie and top pick
Dee Milliner
. They're good enough to play man-to-man coverage, which will allow Ryan to crank up his blitzing schemes.
They don't have a big-time pass-rusher -- the glaring deficiency -- but this is the most athletic defensive line of the Ryan era. And it should be, considering they've drafted linemen in the past three first rounds. If
Quinton Coples
and rookie
Sheldon Richardson
develop as quickly as Wilkerson, already one of the league's best 3-4 ends, this group will be fun to watch.
REASON FOR PESSIMISM
The NFL is a quarterback-driven league, and the Jets' quarterback situation is as murky as any in the league. It's a controversy waiting to happen.
Sanchez still has the loyalty of a few holdovers in the locker room, but there are many players intrigued by Smith's skill set. If Sanchez wins the job and struggles, it could create a division in the locker room.
Nothing drains the energy out of a team more than a quarterback mess. It happened last year with Sanchez and Tebow, although this could be more volatile because Smith -- unlike Tebow -- can actually play the position.
Sanchez has lost the home fans, who booed him mercilessly last season. If the toxicity carries over to this season, it will create a bad vibe, and that can bring down an entire team. A difficult first-half schedule won't help matters.
OBSERVATION DECK
The Jets are relying on several players with recent injury histories, including Winslow (limited in camp), Edwards (limited), Holmes, guard Willie Colon, wide receiver Clyde Gates and kick returner Joe McKnight. That's always a dicey proposition.

The Jets have been spoiled for two decades at running back, but not anymore. This marks the first time since 1994 that no one on the roster has a 1,000-yard season in his career. It will be backfield by committee, with Ivory (yet to practice because of a hamstring injury), Bilal Powell and McKnight. Mike Goodson was supposed to be a key player, but he's dealing with undisclosed personal issues and didn't report to camp. Powell, a pleasant surprise, could end up as the lead back.

Remember all the talk last summer about Tebow and the Wildcat? It was all hot air, as the Jets barely used him. Tebow is gone, but the plan remains. They will use the Wildcat with Powell or wide receiver Jeremy Kerley, and they plan to use the read option with Smith. Ironic, huh?

Ryan and defensive coordinator Dennis Thurman will keep opponents guessing by employing different looks. The Jets remain a 3-4 base defense, but don't be surprised if they mix in 4-3 fronts. They will blitz a lot more than last season, count on it. You also could see three cornerbacks (Kyle Wilson lining up as a safety) in certain base packages.

Wilkerson doesn't garner too many headlines because he doesn't say much, but he's a special talent. He felt he deserved to go to the Pro Bowl last season; he's ready to break through in '13.

Mornhinweg, a Bill Walsh disciple, employs a West Coast offense, but he's not the stereotypical West Coast guru. He's an aggressive playcaller and will take deep shots. That should bode well for Hill, a vertical threat who has matured after a disappointing rookie year.

The Jets could have three rookies in the opening day lineup -- Smith, Milliner and Richardson. The last time they had as many as two was 2006, Ferguson and Mangold. By the end of the year, Brian Winters could be starting at left guard. It could be a watershed draft

Looking for a sleeper? Keep an eye on second-year linebacker Demario Davis, who replaces Bart Scott. Davis is terrific in pass coverage, so good in space that Ryan is thinking about keeping his base defense on the field against certain three-receiver packages.
August, 4, 2013
8/04/13
11:00
AM ET

PITTSFORD, N.Y. -- Travel to most NFL training camps, and this passing drill is the same: A ball boy snaps to a quarterback, who throws to a receiver practicing a specific route.
But make a stop at St. John Fisher College in upstate New York, site of the
Buffalo Bills
' training camp, and rookie quarterback
EJ Manuel
isn't receiving the ball from just another member of the equipment staff.
Instead, you'll see head coach Doug Marrone snapping it to Manuel.
It's appropriate, because the fate of Marrone, a former NFL offensive lineman, will be tied to the success of Manuel, the first quarterback chosen in April's draft.
Through his first week of an NFL training camp, Manuel has looked the part, avoiding the critical mistakes that rookie quarterbacks often make as the intensity of practice picks up.
Which raises the next point: These Bills want to play fast.
Offensive coordinator Nathaniel Hackett installed a no-huddle offense last season while working under Marrone at Syracuse, and will bring the same concepts -- borrowed from the Bills' "K-gun" offense of the early 1990s -- to Buffalo.
As training camp rolls on, Manuel has been eased into the first-team offense in practice, and he appears comfortable running Hackett's up-tempo system. Having poise in practice is one thing, though, and expecting Manuel and Hackett, who was last in the NFL as a quality control coach with the Bills in 2009, to light up NFL defenses this season is probably asking too much.
The Bills want to bring Manuel along slowly, and there will be growing pains along the way. So despite the rookie's passing the first few tests of training camp, don't look for Marrone to accelerate the process too much.
But for now, it's so far, so good for the 16th overall pick out of Florida State.
"He's going to be the face of our franchise," general manager Doug Whaley said. "And it's not too big for him."
THREE HOT ISSUES
[+] Enlarge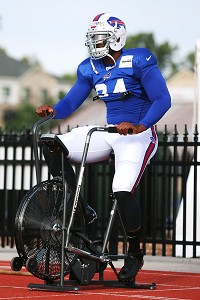 AP Photo/Bill WippertMario Williams was bothered by a wrist injury in 2012, and this year he has already missed time in training camp with a sore foot.
1. Can they stay healthy?
When the Bills took the practice field for the first time last weekend, nearly the entire roster was able to participate in practice, leading Marrone to note afterward how the team was fortunate to begin camp that healthy. Yet defensive end
Mario Williams
was one of the few exceptions, watching from the sideline because of a sore foot. He later left camp to have it examined by doctors, and the Bills' highest-paid player had not returned to practice by Friday.
Last season, Williams dealt with a wrist injury that limited his productivity until he underwent a procedure during the bye week. He came back strong, finishing with 10.5 sacks. But the Bills need more out of him, and his latest injury isn't a good sign for the team.
Likewise for wide receiver
Steve Johnson
, who pulled up with a hamstring injury during Friday's practice, and could miss time this preseason. The Bills dealt with a number of injuries to key players last season -- tight end
Scott Chandler
and running back
Fred Jackson
among them -- and they haven't built enough depth on their roster to withstand the blow of losing a player like Johnson.
2. When does Byrd return?
Safety
Jairus Byrd
remains unsigned and away from Bills training camp, another less-than-ideal situation for one of the team's top players. The Bills failed to reach a long-term deal with Byrd, who is the only franchise-tagged player in the NFL yet to sign his tender, by the July 15 deadline.
Ultimately, it would be surprising if Byrd doesn't report to the team by the start of the regular season. By doing so, he would earn a guaranteed $6.9 million, and still have the possibility of a long-term deal come next March.
The question is if the Bills can persuade Byrd to return earlier, forgo the risk of injury and use the preseason to get acclimated to the new defensive scheme. But one way or another, these situations tend to work themselves out, and Pro Bowl-caliber players like Byrd quickly get back up to speed.
3. Can Pettine turn around the defense?
It didn't take long last season for the Bills' porous defense to be exposed. The
New York Jets
, owners of the NFL's 28th-ranked scoring offense by season's end, hung 48 points on Buffalo in the season opener. Three weeks later, the
New England Patriots
erased a 21-7 third-quarter deficit to come away from Orchard Park with a 52-28 win, lighting up the Bills for 580 total yards.
Such performances, especially against division opponents, will drown the Bills again this season if new defensive coordinator Mike Pettine can't turn things around. Pettine is known for blitz-heavy schemes that pressure opposing defenses, but his defensive remake will also have to address a run defense that allowed opponents 145.8 yards per game last season, second-worst in the NFL.
Pettine has several pieces to work with, including Byrd, Williams and top cornerback
Stephon Gilmore
. The key will be filling holes elsewhere. Can rookie
Kiko Alonso
step in right away at inside linebacker? Can former third overall pick
Marcell Dareus
benefit from a fresh start and contribute along the defensive line? And where does the pass rush come from if Williams goes down with another injury? These are just a few of the questions facing Pettine and his staff.
REASON FOR OPTIMISM
Beyond the early positive signs from Manuel, the Bills' offense has the potential to be explosive, especially if healthy. They addressed deficiencies behind Johnson at wide receiver by drafting
Robert Woods
(second round) and
Marquise Goodwin
(third round). They have one of the NFL's better running backs in
C.J. Spiller
and a receiving threat at tight end in Chandler. The offensive line could prove problematic, but Hackett's fast-paced system could help take pressure off blockers.
Having not made the playoffs since 1999, the Bills' annual problem is getting over the hump in their division, which includes defeating New England. They will host the Patriots at Ralph Wilson Stadium in the Sept. 8 season opener, which is perfect timing for Buffalo. Fans will be excited, parts of Hackett's offense will yet to be revealed on film and Patriots tight end
Rob Gronkowski
may not be ready to play. It will be a challenge for Buffalo, but kicking the season off by beating New England would be big.
REASON FOR PESSIMISM
The NFL saw three rookie quarterbacks take their teams to the playoffs last season, but it's hardly been an annual occurrence. Manuel will need to exceed expectations if he is to repeat the successes of
Robert Griffin III
,
Russell Wilson
and
Andrew Luck
from last season. It won't doom his career if Manuel struggles for stretches this season (assuming he becomes the starter) and the results for the Bills follow suit. It's just the way things go in the NFL, and improvement can take time.
Beyond that, the Bills have a top-heavy roster that will require more than one season under Whaley to develop depth across positions. The offensive line lacks starting-quality players at at least one position, there are question marks behind Chandler at tight end and the defensive line includes several underachieving, younger players. The rigors of an NFL schedule may prove too difficult to overcome for the weak points on the roster.
OBSERVATION DECK
[+] Enlarge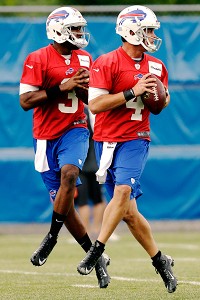 AP Photo/David DupreyThe Bills drafted EJ Manuel (left) in the first round, but Kevin Kolb has been ahead of him in taking most of the first-team reps at quarterback during camp.
" For all the talk about Manuel, it has been veteran
Kevin Kolb
taking the majority of the first-team reps at quarterback in camp. The Bills have dismissed talk of Kolb being a "placeholder" while Manuel adjusts to the NFL, but Kolb will have to step it up if he wants a legitimate shot at holding onto his role as the starter. He has struggled, and would hardly inspire confidence if under center on opening day.
" Spiller had a breakout season in 2012, but don't overlook Jackson, who could create an impressive one-two punch at running back. Jackson is 32 and coming off a knee injury that lingered last season, but is just two years removed from averaging 5.5 yards per carry in 2011. The Bills have used two-running back sets frequently in practice, and between Spiller, Jackson and
Tashard Choice
, they have backfield threats that will force defenses to adjust.
" The battle at wide receiver behind Johnson has several candidates, and the Bills haven't been afraid to throw different players into the mix with the first-team offense. From this standpoint, Goodwin has performed better in camp than Woods, who struggled with drops through the first few practices. Undrafted rookie
Da'Rick Rogers
figures to factor into the mix as well. It's no coincidence the Bills opened their first practice of training camp with a deep-ball drill; it's a receiver group that has the potential to take the top off of opposing defenses.
" Marrone has routinely named
Jamie Blatnick
and
Kourtnei Brown
when mentioning pass-rushers on his defense, especially following the surprising release of
Mark Anderson
shortly before training camp. But it may be more out of default than anything: the Bills lack depth at the outside linebacker position. Blatnick spent most of last season out of football after being released from Denver's practice squad, while it took Brown until Week 14 to hook onto Washington's practice squad. It's possible either player could emerge, but if Marrone has practice-squad-level players on the field to provide pass-rush during the regular season, the Bills will be in trouble.
" It's a similar situation along the defensive line, where the Bills are searching for options both alongside and behind Mario Williams and
Kyle Williams
. The top option is Dareus, but the Bills will need more quality play out of him if he takes 50 percent or more of defensive snaps. Other possibilities include more players who have largely underachieved in the NFL, including
Alex Carrington
and
Alan Branch
.
" The absence of Byrd in practice has been alleviated by an impressive start by
Aaron Williams
, the team's second-round pick in 2011. He struggled at cornerback through his first two seasons, but his switch to safety looks to be paying off early in camp. He has been around the ball and come down with interceptions.
July, 29, 2013
7/29/13
2:47
PM ET
FOXBOROUGH, Mass. -- Facing arguably the greatest challenge of his 14-year NFL career, stripped of his go-to receiver
Wes Welker
and then some,
New England Patriots
quarterback
Tom Brady
arrived at training camp hoping to do more.
Never before has the team had such a youthful look at the position, where there have been more struggles than successes in drafting and developing talent. The Patriots opened training camp with 12 receivers on the roster, six of whom are rookies.
Three of those young pups -- second-round draft choice
Aaron Dobson
, fourth-rounder
Josh Boyce
and free-agent
Kenbrell Thompkins
-- have taken more repetitions with Brady through the first three days of training camp than most could have imagined. One reason the results have looked fairly sharp is the extra work that was put in thanks to Brady's early arrival (rookies reported the day before Brady).
It is almost as if Brady is more than just the team's quarterback now; he's part coach, too. Unlike his record-breaking 2007 season, when there was an immediate connection with veterans
Randy Moss
, Welker and
Jabar Gaffney
, there is a certain teacher-student dynamic in play now. Brady, a stickler for detail, can be tough to please.
"He's one of the greatest quarterbacks to play the game, so he's definitely demanding," said the 6-foot-3, 200-pound Dobson, a smooth-strider from Marshall who the Patriots hope will fill the outside role that
Chad Johnson
(2011) and
Brandon Lloyd
(2012) filled the past two years. "[He's] definitely tough to play for."
Some used to say the same thing about
Miami Dolphins
great
Dan Marino
, and there is a connection in play between Marino and what Brady currently faces. Because Marino had played for so long in Miami (1983 to '99), the offense grew so much each season that it was difficult in Marino's later years for any young or new receiver to handle. So when go-to receivers Mark Clayton and Mark Duper were no longer in the mix -- they had grown with Marino in the offense -- it was a challenge to find anyone capable of stepping in.
Patriots coach Bill Belichick has acknowledged that's a similar dynamic to what his team is currently navigating. This is Brady's 14th year in the Patriots' offense, which has evolved in many layers since his first year in 2000, and there is a lot there for any receiver to handle, let alone a rookie.
That is a big reason why the Patriots were drawn to Dobson and Boyce in the draft, and why Thompkins -- an older rookie at 25 who went undrafted after two years at Cincinnati -- has been an under-the-radar surprise to this point. All have a high football IQ. And so does free-agent signee
Danny Amendola
, who has developed a quick rapport with Brady that stands out.
Still, the Patriots might have to "trim the fat" in some areas of the playbook, according to Belichick. There will also be times when patience will be tested.
But watching Brady through the first three days of camp, part of it seems to have invigorated him. Those close to him say he is more committed than ever before; he turns 36 on Aug. 3, craves another Super Bowl championship, and knows that if all the receiver changes are going to produce the desired results -- especially with the rookies -- it is going to take extra work.
THREE HOT ISSUES
1. Distractions from tight end Aaron Hernandez.
In an unprecedented move, Belichick called a news conference two days before the team's training camp practice to address Hernandez's murder charge and its impact on the franchise. Then Brady spoke to reporters the following day. The goal was to balance the fine line between showing empathy and perspective to something bigger than football, but also position the club to move forward.
Because of that proactive approach, Hernandez wasn't much of a topic of discussion from a media perspective by the second day of training camp. But will that change as new developments come to light in the case against Hernandez?
As one would expect, Belichick addressed players about the situation in a team meeting at the start of camp.
"He had comments, but that's between him and the team. If he wants to share it, that's fine," said offensive lineman
Logan Mankins
, one of the team's captains. (No surprise, but Belichick hasn't been in the sharing mood.)
Mankins, the third-longest tenured player on the team (nine years) after Brady (14) and Wilfork (10), touched on how players are attempting to move on.
"At the time, you kind of reflect, but now it's football season and everything goes in a drawer; no matter how you feel about it, it's put away," he said. "It's football, it's straightforward, and that's all you can concentrate on or you'll fall behind. Bill puts so much pressure on everyone and demands so much work and focus that if you're not just focusing on football, then you're in trouble."
2. Void at top of tight end depth chart.
By the time the Patriots had blazed a trail through the NFL in 2011 with their innovative two-tight end offense,
Rob Gronkowski
had played almost 95 percent of the offensive snaps and Hernandez about 77 percent. The results were impressive, and others around the league considered plans to attempt to duplicate it.
That's also when the Patriots extended the contracts of both players -- Gronkowski through 2019 and Hernandez 2018 -- with the idea of building their offense around them (over Welker).
The plans obviously haven't worked out as desired, and if Gronkowski isn't ready for the regular-season opener Sept. 8 at Buffalo after a surgery-filled offseason, it sparks the questions: Who fills the void, and how does it impact plans to play with multiple tight ends?
[+] Enlarge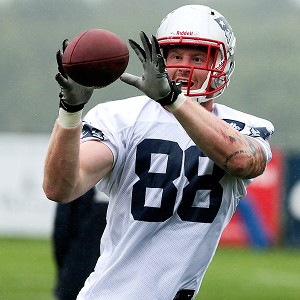 AP Photo/Charles KrupaThe Patriots may lean heavily on former New York Giants TE Jake Ballard early in the season as Rob Gronkowski rehabs from injury.
Former New York Giant
Jake Ballard
(6-6, 260) and returning veterans
Daniel Fells
(6-4, 260) and
Michael Hoomanawanui
(6-4, 260) are the top candidates, while rookie free agent
Zach Sudfeld
(6-7, 260) is a potential sleeper.
"I don't want to say this is Wally Pipp and Lou Gehrig, but that's the classic story … it's there if they can do it," Belichick said.
Still, it would be a surprise if the Patriots run as many multiple-tight end sets as they did in 2011. The numbers were down to about 50 percent last year when Gronkowski and Hernandez missed significant time with injuries.
3. Tim Tebow's role.
On a scale of 1-10 in terms of importance to the team's success, No. 3 quarterback
Tim Tebow
is closer to the "1" than the "10." Yet there is intrigue.
Tebow hasn't been consistent as a drop-back passer in practices and appears to be at his best on the move or as a runner. That explains why he has been the only quarterback in the drill in which ball carriers run with the football in a confined space after making a catch, and then the defenders execute proper tackling technique.
Do the Patriots see enough value in him, possibly as a scout-team quarterback, to reserve a coveted spot on the 53-man roster? That's a hot-button topic that has generated passionate response from both circles.
"He's a good guy first, a super-nice guy and a good guy to talk to," Mankins said of Tebow. "He works his butt off, so we'll see if he can find a role."
REASON FOR OPTIMISM
Since Brady is the quarterback, Belichick is the coach, and the team is playing in the AFC East, what's not to like? And we've made it to this point with nary a mention of the team's defense, which should be improved when factoring in that 10 of 11 starters return and the addition of a few complementary pieces, such as veteran safety
Adrian Wilson
, who brings size (6-3, 230) and an intimidating presence.
Last year, the Patriots traded up in the first round for defensive end
Chandler Jones
and linebacker
Dont'a Hightower
, and they could be difference-makers. Jones was hobbled by an ankle injury for most of the second half of last year and said one of his primary goals this offseason was to improve his upper-body strength. Hightower played 51 percent of the defensive snaps in 2012 but looks primed to possibly become more of a three-down option this year.
Furthermore, cornerback
Aqib Talib
had a significant impact -- both on the field and in the meeting room -- after he was acquired in November. Having him for a full year, in theory, should help the defense improve.
REASON FOR PESSIMISM
There has been too much turbulence this offseason, including starting cornerback
Alfonzo Dennard
's arrest for suspicion of driving under the influence. Dennard is due in court in Lincoln, Neb., on Aug. 27 to determine if he violated his probation and could potentially face an NFL suspension.
Uncertainty with Dennard, the unknown in the passing game, Gronkowski's health questions, and layers of the roster that appear thin on depth (interior DL) mean that the margin for error the Patriots traditionally have doesn't seem as big as before.
Finally, the departed Welker was known for his consistency and durability. The Patriots are hoping Amendola can fill the void -- and the early returns are positive -- but there are questions about whether he can play a full 16-game season based on his injury history.
OBSERVATION DECK
• The Patriots' coaching staff returns intact from 2012, marking only the second time in Belichick's 14-year tenure that has happened. Former Chiefs offensive coordinator Brian Daboll, who joined the Patriots in January, has the title of "offensive assistant." At times in practice, he's worked closely with Tebow.
•
Devin McCourty
, the 2010 first-round draft choice who made the Pro Bowl as a cornerback in his first season, appears to be settling into the safety position nicely. McCourty first moved to safety in the middle of last season, and his command of the defense, along with strong communication and sideline-to-sideline skills, make him a solid fit at the new position.
• Teammates call Wilson "The Incredible Hulk" because of his chiseled physique. Wilson and fellow veteran
Steve Gregory
are the top candidates vying for a starting role next to McCourty at safety.
[+] Enlarge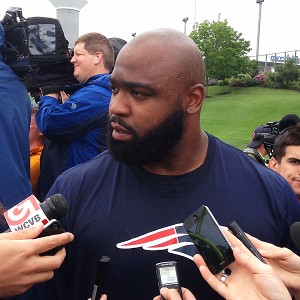 Mike Reiss/ESPNDT Tommy Kelly should add some punch to the middle of the Patriots' defense, forming a strong 1-2 duo with Pro Bowler Vince Wilfork.
• Former
Oakland Raiders
defensive lineman
Tommy Kelly
(6-6, 310) projects as a starter next to
Vince Wilfork
; defensive end
Rob Ninkovich
called Kelly an under-the-radar player who is making a mark. Mankins said: "He's been impressive so far, very athletic for his size. He's quick for an inside guy. I like his work ethic. He's been giving great effort, and if he gives us that kind of effort all season, I think he'll have a good season."
• Running back
Stevan Ridley
lost two fumbles in the team's third practice, with Belichick sending him to run two punishment laps. Ridley led all Patriots running backs in playing 45 percent of the snaps last season, and the projection is that he should match that number this year. But if he struggles to hold on to the ball, former
Tampa Bay Buccaneers
running back
LeGarrette Blount
and second-year man
Brandon Bolden
are the top candidates to step in to that bigger back role. Blount was 2-for-2 in a goal-line running drill on Sunday.
Shane Vereen
looks primed to fill the void created by
Danny Woodhead
's defection to the Chargers to serve as the team's "passing back." On Sunday, he was featured as a pass-catcher when the team worked on the screen game.
• The entire offensive line returns intact, although there could be a competition at right guard, where third-year player
Marcus Cannon
(6-5, 335) has been working with the top unit while incumbent
Dan Connolly
(shoulder) works his way back.
• Top draft choice
Jamie Collins
, the linebacker/defensive end from Southern Mississippi (52nd overall), has received his initial work at linebacker. He's the first linebacker to rotate into 11-on-11 drills, often replacing middle linebacker
Brandon Spikes
, who has been more of a two-down player.
• Former Canadian Football League defensive lineman
Armond Armstead
opened training camp on the non-football illness list. Belichick said the illness is different from the heart condition that led him to leave Southern Cal in 2011 and land in the CFL, and there is no indication when/if Armstead might join the team at practice. In addition, receiver
Julian Edelman
and Gronkowski opened camp on the physically unable to perform list.
•
Leon Washington
, who signed with the Patriots after three seasons with the Seahawks, has served as the primary kickoff returner, where the Patriots are banking on improved results after ranking 25th in the NFL last season (21.2-yard average).
• Ballard, who said he played at 278 pounds in New York, is down to 260. The hope is that it doesn't affect him at the line of scrimmage as a blocker, but makes him faster and takes pressure off his knee.
• Incumbent punter
Zoltan Mesko
, who is entering the final year of his contract, is joined on the roster by rookie
Ryan Allen
, the two-time Ray Guy Award winner from Louisiana Tech. Both are lefty punters; Belichick has employed a left-footed punter in each of his 14 seasons as coach.
July, 28, 2013
7/28/13
11:00
AM ET
DAVIE, Fla. -- The tough questions came at a furious pace in the first week of
Miami Dolphins
training camp.

Is this team a legitimate playoff contender?
When will we see big plays from free-agent signing Mike Wallace?
Can rookie and No. 3 overall pick Dion Jordan make a huge and immediate impact?
Welcome to the world of the 2013 Dolphins. This is not your typical, hapless South Florida football team with low expectations. This year's Dolphins are gunning for the postseason and have a roster good enough to do damage in the AFC.
The Dolphins have not been to the playoffs since 2008. But this year's Miami team is deeper and more talented than any in recent memory, which has raised the bar.
"You want to have great expectations for yourself, but at the same time you don't want to put too much on yourself," Dolphins second-year coach Joe Philbin said. "You just want to go in and work every single day to get better. We aren't predicting anything or say we are going to do this or that."
Are the Dolphins true contenders this season? Let's examine some key issues.
THREE HOT ISSUES
1. Can the Dolphins catch the Patriots?
Seemingly every move Miami made this offseason had something to do with closing the gap with the reigning AFC East champion
New England Patriots
.
The Dolphins had an inconsistent pass rush and needed more to rattle Patriots quarterback
Tom Brady
. As a result, Miami traded up eight spots to No. 3 and drafted the super-athletic Jordan to pair with Pro Bowl defensive end
Cameron Wake
.
Miami also had the 27th-ranked pass defense because of poor cornerback play and slow linebackers. The Dolphins fixed that by signing former Pro Bowl cornerback
Brent Grimes
and speedy linebackers
Dannell Ellerbe
and
Philip Wheeler
in free agency.
[+] Enlarge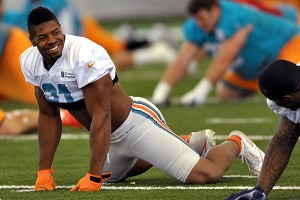 Steve Mitchell/USA TODAY SportsWith its pass rush lacking last season, Miami will need Pro Bowler Cameron Wake to be a force again in 2013.
The Dolphins' pass offense also wasn't up to par last season and had only one touchdown reception from the receiver position. As a result, Miami signed tight end
Dustin Keller
and receivers
Brandon Gibson
and Wallace in an effort to score points and keep up with New England, which led the NFL in total offense in 2012.
The Patriots have been on top of the division for the past dozen years. But considering New England's offseason troubles and Miami's upgrades, the Dolphins believe they have a shot to make a run in the division.
"Nobody stays on top forever, and the underdog will have his day," Ellerbe said this week. "And I feel like we're an underdog right now. It's a new season and only time will tell."
2. Will QB Ryan Tannehill thrive in Year 2?
The 2012 quarterback class exploded on the scene last season.
Andrew Luck
of the
Indianapolis Colts
,
Robert Griffin III
of the
Washington Redskins
and
Russell Wilson
of the
Seattle Seahawks
all led their teams to the playoffs. Tannehill, who won seven games in Miami, was a cut below. Now, he is expected to take the next step in Year 2.
Miami cannot afford a sophomore slump from Tannehill. The Dolphins built the offense around his strengths and put the right pieces in place for him to thrive. His presence and mentality as a leader are apparent.
"Last year, I didn't know what to expect coming in other than coming in and fighting for a job," Tannehill said. "This year I got to really use the offseason to grow my leadership, set things up, get with guys. Now coming in I can really focus on taking this team to the next level, doing everything I can to improve my game and to help improve the guys around me as well."
Tannehill got off to an uneven start in training camp. He had a particularly poor practice last Tuesday, when he threw a pair of pick-sixes to Ellerbe and safety
Chris Clemons
. Poor sessions like that are reminders that Tannehill has only 16 NFL starts and still has a lot to learn. However, Tannehill strung together better practices later in the week.
3. Can RB Lamar Miller carry the load?
The AFC East blog touched on this topic earlier in the week. Miller, a second-year tailback, is expected to replace former starter
Reggie Bush
this season. Keep in mind that Miami is putting a lot of stock in Miller after just 51 carries last season. To Miller's credit, he led the Dolphins with 4.9 yards per carry.
Durability will be the biggest question. Miller had injury issues in college, which is one of the reasons he fell to the fourth round of the 2012 draft. But Miller has looked healthy and effective so far in training camp.
"I feel very comfortable just getting used to running the ball, the offensive line scheme and just being [involved] more," Miller said last week. "I just know what I'm doing. I'm not second-guessing too much, and I'm just doing what the coaches are telling me to do. Last year, I was thinking about it too much."
One of the big things Miller must improve on is his pass protection. It was one of the reasons he failed to get consistent playing time last season. Miller spent a lot of time this offseason with
San Francisco 49ers
running back
Frank Gore
to work on becoming a complete tailback.
REASON FOR OPTIMISM
The Dolphins are a faster and more dynamic this year. Practices are faster and there's more talent flying around the football field.
One of the biggest complaints in Miami the past few years has been that the Dolphins didn't have enough playmakers. Players such as Wallace, Keller, Ellerbe, Grimes and Jordan were all added to change the makeup of the team. The added speed and athleticism are expected to add at least a couple wins to last year's total.
"I think we are faster as a football team," Philbin confirmed. "I think our play speed -- it's still a little bit early in camp to get a real good feel and to compare it to a year ago as to what it's going to be this year -- but I think it has the potential to be a very fast team."
REASON FOR PESSIMISM
I'm still not sold on Miami's offensive line. This is a group that was up and down last year, and the Dolphins lost their most proven player in former four-time Pro Bowl left tackle
Jake Long
.
[+] Enlarge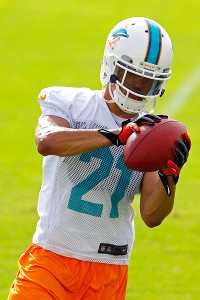 Robert Mayer/USA TODAY SportsComing off an Achilles injury, CB Brent Grimes has displayed his Pro Bowl form early in Dolphins camp.
Miami's offensive line is one of the thinnest groups on the team this year. As a result, the Dolphins have been doing a lot of experimenting to find the right combination of players in the first week of training camp.
The biggest question involves new left tackle and 2012 second-round pick
Jonathan Martin
. He will replace Long and plays an important role in protecting Tannehill's blind side. Martin was inconsistent at left tackle late last season while Long was injured. His performance in camp so far has been average. We've seen both good and bad from Martin.
Projected starting guard
John Jerry
suffered an injury in the first week, which has affected depth on the team. Miami is trying rookie
Dallas Thomas
as the starting guard and also exploring
Mike Pouncey
at guard. This is clearly not one of the team's strengths.
OBSERVATION DECK
Dolphins backup quarterback Matt Moore looks solid early in training camp. Moore has been mostly efficient and accurate playing with the backup units. Moore also has thrown the deep ball well. A case can be made that Moore has been the most consistent quarterback in the first week of training camp. This is a rare year in Miami where there is no quarterback competition or controversy. But Moore is proving to be one of the best veteran backup quarterbacks in the NFL and looks ready if Tannehill is injured.
Grimes has made several "wow" plays and looks 100 percent recovered from his Achilles injury. Grimes missed most of last season with the Atlanta Falcons, and the Dolphins signed the former Pro Bowl corner to a one-year contract because of durability concerns. Grimes is very athletic, which helps him overcome his lack of size. Grimes and Wallace have had some very good battles in camp, and it's making both players better.
Miami's kicking competition so far is going to the incumbent. Veteran Dan Carpenter has been more accurate in the first week of training camp. Rookie Caleb Sturgis, a fifth-round pick, came to the Dolphins with strong credentials. But Sturgis missed several kicks this week, and that's put him behind Carpenter early. Sturgis also injured his groin in the first week and missed some practice time. Financially, the Dolphins could save more than $2 million this year by going with Sturgis. But the company line is that the best player will win the job.
The deepest part of Miami's roster is its defensive line. The Dolphins have a very strong rotation of starters and backups at both defensive tackle and defensive end. Wake, a Pro Bowler last season, is joined by Jordan and young upstart Olivier Vernon, who has been very impressive in camps. Miami's defensive tackle rotation includes Pro Bowler Randy Starks, Paul Soliai and Jared Odrick, who has shifted to the position full time from defensive end. These players will be rotated to keep the defense fresh.
Miami's rookie cornerbacks are off to a slow start. The Dolphins invested second- and third-round picks in corners Jamar Taylor and Will Davis. Taylor missed all of OTAs and minicamps with a sports hernia injury and injured himself again in the second day of camp. Davis has stayed healthy but has allowed several big pass plays in the first week. Cornerback is a tough position to play in the NFL, and it will take time for Taylor and Davis to get up to speed.
The Dolphins' backup receiver positions are wide open. Miami is expected to keep at least five receivers on the 53-man roster this year, and only three spots (Wallace, Brian Hartline, Gibson) are locked up. Other receivers such as Armon Binns, Rishard Matthews and Marvin McNutt are battling for the final spots. They all occasionally show flashes, but consistency has been an issue.
Finally, the role of fullback appears to be reduced compared to last season. The Dolphins are using more three-receiver sets this year, and tight ends Keller and Charles Clay at times have been moved around and used as an H-back. Versatility will be important for this position. Evan Rodriguez has been getting more looks with the starters lately than last year's starting fullback, Jorvorskie Lane.