AFC East:

2013 NFL combine
February, 23, 2014
Feb 23
2:30
PM ET
INDIANAPOLIS -- Minnesota defensive back
Brock Vereen
has unique insight into the NFL through his older brother, Patriots running back
Shane Vereen
.
The younger Vereen, whom Scouts, Inc. rates as the 18th best safety in this year's class, is at the combine this week.
[+] Enlarge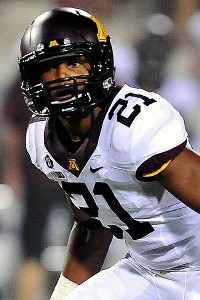 Gary A. Vasquez/USA TODAY SportsBrock Vereen says having older brother Shane blaze a football trail for him has been a big plus.
When asked if he aims to be drafted higher than Shane (a second-round pick in 2011), Brock had an interesting answer.
"I think the biggest part of me just wants to hit him," he said lightheartedly. "I just can't wait til we meet on the field."
While some siblings may dream of playing with each other, the younger Vereen conceded he hasn't spent much time thinking about that possibility.
"You know both of us want to play against each other so much that we haven't really talked about being on the same team," he said. "But if that were the case, it'd be a blessing."
The two played together for one season in high school, as Shane was a senior when Brock was a freshman.
No matter where Brock Vereen ends up, having had an older brother to guide him along the way has been a big help.
"I've been very fortunate as far as always having an older brother at the level that I was trying to get to," he said. "When I was in high school, he was already in college, and now with the situation here. Just to have that insight and to understand the ins and outs of certain things that they might not find out until they're actually in the NFL. It's definitely an advantage I think."
Brock Vereen said he is hoping to answer questions about his speed here in Indianapolis, noting that any time slower than 4.4 seconds in the 40 would be a disappointment for him.
He was named a first team All-Big Ten selection by the coaches for his efforts last season.
February, 26, 2013
2/26/13
3:10
PM ET
The
New York Jets
are near the top of the draft after an awful, 6-10 season that had a little bit of everything. Therefore, here is our latest poll question: Who will the Jets take with the No. 9 overall pick?

Will it be Oregon defensive end
Dion Jordan
? He showed well at the combine by running a 4.6. But a lingering shoulder injury is a question mark. Despite that, can Jordan be the outside pass-rusher the Jets need?
What about Tennessee wide receiver
Cordarrelle Patterson
? New York desperately needs dynamic players on offense. Patterson
has the physical tools,
but the downside is Patterson has limited Division I experience. Can Patterson successfully make the jump against NFL competition?
Finally, could the Jets draft a quarterback in the first round? West Virginia's
Geno Smith
is the top-rated quarterback in the draft and
New York personally
interviewed
Matt Barkley
of USC at the NFL combine. The Jets need competition for incumbent quarterback
Mark Sanchez
, and they have their eye on both rookie quarterbacks.
Using our SportsNation poll, vote on New York's best option in the first round. You can also share your thoughts in the comment section below.
February, 25, 2013
2/25/13
4:30
PM ET
Every team in the AFC East could use help at wide receiver.
The
Miami Dolphins
and
New York Jets
lack dynamic players on the outside. The
Buffalo Bills
will lose depth with
David Nelson
and
Donald Jones
heading
for free agency
. And the
New England Patriots
, at the end of the first round, need to get younger.
Could the Dolphins, Bills and Jets all have their eye on
Cordarrelle Patterson
? The University of Tennessee receiver wowed scouts this weekend with his freakish athleticism and fast 40 time of 4.42. Patterson has been linked to Miami, Buffalo and New York in various mock drafts, and he only improved his stock at the NFL combine.
The Bills, Jets and Dolphins are only four picks apart in April's draft. Buffalo has the first pick in the division at No. 8 overall. New York is next with the No. 9 pick and Miami holds the No. 12 selection.
Patterson is in play for all three teams. It could simply be a matter of which team is willing to jump on the draft's top receiver first.
Buffalo currently is the only team with a No. 1 receiver.
Steve Johnson
has had three straight 1,000-yard seasons and is Buffalo's main option. The Bills also drafted
T.J. Graham
in the third round last year and has plenty of other needs to fill with the eighth pick.
The Jets don't have much around their quarterback. Starting tight end
Dustin Keller
is a free agent, as well as 1,000-yard tailback
Shonn Greene
. Veteran receiver
Santonio Holmes
is returning from a season-ending foot injury, but the Jets have to hope Holmes didn't lose a step. New York also drafted inconsistent receiver
Stephen Hill
last year in the second round.
Miami is perhaps the most needy team for a wide receiver. The Dolphins must build around quarterback
Ryan Tannehill
. Right now the top receiver under contract is slot player
Davone Bess
, and that's not good enough. The Dolphins will be aggressive in free agency and go after receivers like
Mike Wallace
or
Greg Jennings
. However, they must decide if they will spend more money to bring back a player like
Brian Hartline
or look to the draft if Patterson is available.
With the exception of the Patriots, no AFC East team had a passing offense ranked higher than 25th in 2012. This is a division in need of dynamic receivers, which means Patterson is a player to watch for nearly every AFC East team.
February, 25, 2013
2/25/13
12:30
PM ET
The quarterback-needy teams in the AFC East both have their eye on USC prospect
Matt Barkley
. According to
Peter King of Sports Illustrated
, Barkley met with nine teams at the NFL combine -- and the
New York Jets
and
Buffalo Bills
were in that group.
Barkley is one of the great mysteries in this year's draft. He would have been a sure-fire, top-10 pick if he had left school early after the 2011 season. But Barkley chose to come back to USC in 2012, had some flaws in his game exposed and suffered through an injury-plagued season.
The Jets and Bills are desperately looking for quarterbacks.
Mark Sanchez
and
Ryan Fitzpatrick
both flopped in New York and Buffalo, respectively, and are not the long-term solutions. Both AFC East teams have top-10 picks and should have a shot at Barkley if they're interested in the first round.
But Barkley comes with a lot of questions and would be a risky pick for the Bills at No. 8 or the Jets at No. 9. Both AFC East teams may be better off taking safer players in the first round to address other needs.
February, 25, 2013
2/25/13
10:00
AM ET

With both slot receivers
Wes Welker
and
Julian Edelman
pending free agents, West Virginia's
Tavon Austin
was a natural fit for the
New England Patriots
at No. 29 overall.
The miniature Austin is the type of slot receiver New England likes in its offense. He could either learn under Welker for a couple years, or join the less-expensive Edelman to make a dynamic pair in the slot if Welker doesn't re-sign.
But Austin's performance this weekend at the NFL combine may have raised his stock and made Austin too rich for New England's liking. Austin ran a lightning-fast 4.34 in the 40-yard dash. He also caught the football well in group workouts.
The combine isn't everything, but there is now more potential for teams ahead of New England to get enamored with Austin. He has strong game tape and was one of the top workout players at this year's combine. That's a strong combination.
Austin often gets comparisons as a hybrid between Welker and
Percy Harvin
of the
Minnesota Vikings
. Austin has the precision and quick first step of Welker and the deep speed and explosiveness of Harvin.
New England likes value players and Austin would certainly count as value at No. 29. But Austin's stock most likely is on the rise after a dynamic combine, and he could be off the board by the time the Patriots pick.
February, 23, 2013
2/23/13
12:00
PM ET
Talent evaluators from all 32 teams are in Indianapolis for the NFL combine. This weekend all eyes will be on the quarterbacks, who will throw in front of scouts to try to improve their stock.

The
Buffalo Bills
are one of the quarterback-needy teams who will be watching the quarterbacks closely. Veteran
Ryan Fitzpatrick
isn't the long-term solution and Buffalo has a new head coach in Doug Marrone.
Here is our latest poll question: Which round will Buffalo draft a quarterback?
Will it come in the first round? The Bills have the No. 8 overall pick and could have their choice of any quarterbacks in this draft. West Virginia's
Geno Smith
is the top-rated prospect. If he falls to No. 8, should the Bills take Smith?
Will it come in the second round? Buffalo has other needs to address and could wait until the second round to select a quarterback. Prospects like
Ryan Nassib
, who played for Marrone at Syracuse, and N.C. State's
Mike Glennon
could be targets early in the second round.
The third round or later would have to require the Bills to find a gem. Last year,
Russell Wilson
turned around the
Seattle Seahawks
as a third-round pick. Would Buffalo risk waiting that long for a quarterback?
Using our SportsNation poll, vote on which round the Bills will take a quarterback. You can also share your thoughts in the comment section below.
February, 21, 2013
2/21/13
8:00
PM ET
When
New York Jets
general manager John Idzik met the media a month ago during his introductory news conference, he would
neither confirm nor deny
reports that star cornerback
Darrelle Revis
would be on the trading block this offseason. But after four weeks of deliberating and strategizing, the Jets had their story straight and resorted to spin Thursday at the NFL combine.
Revis
Jets head coach Rex Ryan says he expects to keep Revis on the roster next season. Ryan also said the Jets haven't had trade discussion with any teams.
But it's only February, so that doesn't mean much. It also doesn't mean New York won't entertain trade talks with Revis in the coming weeks and months, especially closer to April's NFL draft.
"Could there be a trade? Yeah, anybody could be traded. But do I expect there to be a trade for Darrelle Revis? No," said Ryan,
according to ESPNNewYork.com
. "But that doesn't mean something couldn't come up."
If Revis has assurance that he will not be traded by New York, he's certainly
not acting that way.
Revis is still upset about the trade rumors.
"I was speechless because I didn't get a phone call," Revis told the NFL Network. "I know it's a business. Just call me, don't have it lingering out there. I need answers and I'm not getting any."
Revis suspects this is coming from ownership. Revis is going to get a mega-contract in 2014, and Jets owner Woody Johnson probably can't pay it. New York is barely under the salary cap this season.
Although it makes a lot of sense for the Jets to trade Revis now and see what they can get for their best player, Idzik didn't offer up any clues Thursday in Indianapolis.
"Suffice is to say, Darrelle Revis is a great player," Idzik said. "He's a great New York Jet. We're in the business, quite simply, of acquiring, developing and maintaining great players. Darrelle Revis certainly fits that mold. We're happy to have Darrelle as a New York Jet and we hope to have Darrelle as a New York Jet."
The Jets would be silly not to at least explore trade options, but they must be mindful not to further upset their best player. Therefore, expect plenty of Revis spin from the Jets for the rest of the offseason.
If Revis cannot get a firm answer from the Jets, neither can the media.
February, 21, 2013
2/21/13
2:21
PM ET


The Wonderlic is a timed test (12 minutes) that asks 50 questions aimed at measuring a players smarts or cognitive ability. With NFL prospects coming from so many different backgrounds, the merits of the test have been hotly debated.

Based on these results (at right), the only conclusion to be reached is that the Wonderlic doesn't mean much on the football field. The irony of Harvard graduate Ryan Fitzpatrick, who is struggling in Buffalo, having the highest documented score for a quarterback and Jim Kelly, the best quarterback in Bills history, having one of the lowest is telling. Other low Wonderlic scores for non-quarterbacks includes Ray Lewis and Randy Moss, who are first-ballot Hall of Famers. A.J. Green, Frank Gore, Chris Johnson, Sebastian Janikowski and Patrick Peterson also have been to Pro Bowls.

Physical ability trumps the aptitude to take a 50-question test in the NFL. The Wonderlic also does not account for "football intelligence," which is an innate knowledge of the game that comes from playing experience and film study.

Expect there to be discussions from the combine this week of who scored high and who scored low on the Wonderlic test. But take most of it with a grain of salt.
The NFL combine is upon us. That means this is the one time of year people focus on the scores and merits of the Wonderlic test.
February, 20, 2013
2/20/13
12:00
PM ET
»
NFC combine preview
:
East
|
West
|
North
|
South
»
AFC
:
East
|
West
|
North
|
South
NFL Nation previews the 2013 scouting combine by identifying the most important thing for each team to learn about its greatest area of need.
Buffalo Bills:
Is there a top-10 quarterback? The Bills hold the No. 8 overall pick and are looking for a long-term solution at the position. But is there one in this year's draft worth taking that high? Buffalo needs to continue its evaluation this week to find out. Currently, the Bills have
Ryan Fitzpatrick
and
Tarvaris Jackson
on the roster in what will
be an open competition
. A rookie most likely will be thrown in the mix. But whether it's a first-round pick such as
Geno Smith
, or a second-rounder or later like
Ryan Nassib
, remains to be seen. Expect the Bills to poke and prod all of the top quarterback prospects this week.
Miami Dolphins:
Who is the top wide receiver? The Dolphins need offensive playmakers in the worst way. They were 27th in the NFL in passing last year, and leading receiver
Brian Hartline
is an unrestricted free agent who may not return. Young quarterback
Ryan Tannehill
needs legitimate weapons around him entering his second season. The Dolphins will hit free agency hard with options like
Greg Jennings
and
Mike Wallace
. But Miami also could look to the draft, perhaps as early as the No. 12 pick. There is no slam-dunk receiver in this group. But prospects such as
Cordarrelle Patterson
and
Keenan Allen
could be of interest in the first round, especially if Hartline doesn't re-sign.
New England Patriots:
Who are the top corners and safeties? The Patriots won the division last season and were within a game of the Super Bowl. This isn't a team with a lot of glaring needs, but the secondary is definitely one of them. The Patriots need upgrades and depth at cornerback and safety. It won't be easy for New England to find elite talent in the first round. The Patriots have the 29th pick, which means many of the top players will be off the board. But they must do their homework at the combine to zero in on quality prospects who could be overlooked, particularly for the secondary.
New York Jets:
Where are the offensive playmakers? The conventional train of thought is New York will draft a defensive player in the first round. It has been that way three of the past four years Rex Ryan has coached the Jets. The exception was the first year, when Ryan and the Jets needed a quarterback and picked
Mark Sanchez
No. 5 overall. That hasn't worked too well. But most of the Jets' major demands this year are on offense -- they need help scoring points. To do that, the Jets need to identify the top offensive playmakers at tight end, running back, right tackle, wide receiver and, yes, quarterback. Will New York finally draft a player for the offense in the first round under new general manager John Idzik? The Jets first must determine if there are offensive skill players worth taking in the top 10.