AFC East:

2013 NFL Season Wrap
January, 22, 2014
Jan 22
1:50
PM ET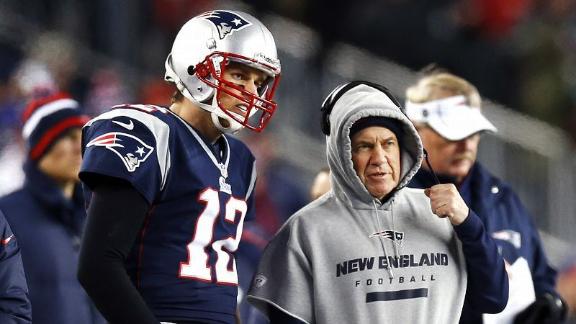 Arrow indicates direction team is trending.

Final power ranking:
4
Preseason power ranking
: 6
Biggest surprise:
How about a murder charge to a tight end who had previously been thought of as a centerpiece of the team?
Aaron Hernandez
's murder charge threatened to sink the Patriots' season before it even started, but in a credit to Bill Belichick, his staff and the players, it was hardly a distraction as they once again advanced to the AFC Championship Game. There were no on-field surprises that could come close to topping that.
.
Biggest disappointment:
Rob Gronkowski
's knee injury Dec. 8. This falls into the wider-ranging category of "season-ending injuries to top players" and the Patriots had their fair share early in the season -- defensive tackles
Vince Wilfork
(Sept. 29) and
Tommy Kelly
(Oct. 6), linebacker
Jerod Mayo
(Oct. 13), and starting right tackle
Sebastian Vollmer
(Oct. 27). But Gronkowski's felt like a season-changer in some respects, deflating some of the optimism that had been built up at that point because the offense looked markedly different with him back on the field.
Biggest need:
Re-signing cornerback
Aqib Talib
. The four-game stretch of football he played from Sept. 22 to Oct. 13 was as impressive as we've seen from a Patriots cornerback in recent memory, the highlight coming when he was matched up against Saints tight end
Jimmy Graham
and held him without a catch before leaving in the third quarter with injury. The 2013 season showed how the Patriots' defense is different with a healthy No. 1 matchup option like Talib, with the final piece of evidence coming in the AFC Championship Game when he left with a knee injury in the second quarter.
Team MVP:
It has to be quarterback
Tom Brady
, with Talib, receiver
Julian Edelman
and kicker
Stephen Gostkowski
the other strong candidates. This was a "do more with less" type season for Brady, similar to 2006, and he willed the offense to productive results despite almost a complete overhaul. He's the consummate leader, almost like another coach, and the Patriots don't advance to the conference championship without him.
.
January, 2, 2014
Jan 2
2:00
PM ET
Arrow indicates direction team is trending.

Final power ranking
: 25
Preseason power ranking
: 30
Biggest surprise
: Looking back on our
season preview
in August, there wasn't much that unfolded wildly differently from what was expected. We predicted the Bills to finish with a 6-10 record, which they did. We predicted a third-place finish in the AFC East; they finished fourth but had a shot at third going into Week 17. We expected some struggles out of rookie
EJ Manuel
; he had plenty of bumps in the road. We expected an improved defense under Mike Pettine; they jumped from 22nd in yards allowed per game to 10th. But the Bills may have surprised some by setting a team record with 57 sacks this season. As expected,
Mario Williams
led the charge with 13 sacks, but if there were preseason question concerning Williams, those were quickly erased.
Jerry Hughes
had a career-high 10 sacks, while
Kyle Williams
and
Marcell Dareus
also set career marks.
Biggest disappointment
: We knew entering the season that it would be tough sledding for the Bills in the passing game. But even with a rookie quarterback (Manuel) and an inexperienced fill-in (
Thad Lewis
), the Bills likely had higher expectations for their air attack this season. The Bills wanted a fast-paced, no-huddle offense with big-play ability. They showed flashes of it, but ultimately offensive coordinator Nate Hackett had to scale things back as the Bills went through growing pains with a young offense, especially on the road. At receiver, Buffalo dealt with injuries to three of its top four options --
Stevie Johnson
,
Robert Woods
and
Marquise Goodwin
-- and didn't get the most out of its talent at the position. Perhaps that's why receivers coach
Ike Hilliard
will not return to the team next season.
Biggest need
: Initially, the Bills don't have any glaring holes on their roster. Safety could become a concern if Pro Bowler
Jairus Byrd
leaves through free agency, but the Bills found a capable option at their other safety spot this season in
Aaron Williams
. The bigger issue, it would seem, could be tight end. Their leading receiver this season was tight end
Scott Chandler
, but there is still a feeling that the Bills could get more out of that position, especially in the red zone. If Chandler departs through free agency, the Bills are in dire need of an athletic, dynamic option at that position. They would be down to
Lee Smith
,
Chris Gragg
and
Tony Moeaki
if Chandler does not return.
Team MVP
: It may not have been statistically the best season of
Fred Jackson
's career, but it's hard to imagine the Bills being able to win six games without their offensive captain this season. Jackson is a veteran presence in the locker room, a leader whose toughness -- he played through a knee injury and, later, a rib injury -- set the tone even when the team stumbled through parts of this season. The Bills had a basement-dwelling offense, but that wasn't Jackson's fault. He combined for 1,283 rushing and receiving yards, as well as 10 total touchdowns. Jackson turns 33 in February, but he looked ageless this season.
January, 2, 2014
Jan 2
2:00
PM ET
Arrow indicates direction team is trending.

Final Power Ranking:
18
Preseason Power Ranking:
20
Biggest surprise:
Tight end
Charles Clay
was not expected to be a starter when training camp began. The Dolphins signed proven tight end
Dustin Keller
in free agency and had big plans for the former
New York Jets
veteran. In contrast, Clay started in a backup/hybrid role at tight end and fullback. But Keller's season-ending knee injury in the preseason opened the door for Clay to take over the starting job at tight end. He immediately flourished and became one of Miami quarterback
Ryan Tannehill
's most reliable weapons. Clay set new career highs this season with 69 receptions for 759 yards and seven total touchdowns. Clay will enter next season as the unquestioned full-time starter.
Biggest disappointment:
This category is two-fold, because you can't separate one linebacker from the other. Miami spent a combined $61 million on free agents
Philip Wheeler
and
Dannell Ellerbe
. The goal was to get younger and faster at linebacker and, as a result, the Dolphins cut older veterans
Karlos Dansby
and
Kevin Burnett
. But Wheeler and Ellerbe didn't provide the immediate upgrade the Dolphins expected. Both struggled in coverage and against the run this season while learning a new defense. Still, both players recorded more than 100 tackles and should be better in their second year together in Miami's system.
Biggest need:
Without a doubt, expect a huge makeover on Miami's offensive line in 2014. The Dolphins set a new franchise record with 58 quarterback sacks allowed and were 26th in rushing. Lackluster offensive-line play was the main culprit in both instances. Miami has four pending free agents with starting experience. Tackles
Tyson Clabo
and
Bryant McKinnie
, as well as guards
John Jerry
and the suspended
Richie Incognito
are all unrestricted free agents in March. Most, if not all, are not expected to return. In the wake of the bullying scandal,
Jonathan Martin
could become the fifth starter who won't return. This provides a perfect opportunity for the Dolphins to have a major overhaul on the offensive line by using resources in the draft and free agency.
Team MVP:
The Dolphins took somewhat of a flier on cornerback
Brent Grimes
this past offseason. Grimes was coming off a season-ending Achilles injury with the
Atlanta Falcons
in 2012. Miami signed him to a one-year contract in order to see how he would bounce back and if he could play a full season. Not only did Grimes play all 16 games, he was Miami's best and most consistent defensive player. Grimes tied for the team lead with four interceptions and made his second Pro Bowl. Grimes said he believes he played the best football of his career this season. Grimes, a pending free agent, will be a huge priority in the offseason.
January, 2, 2014
Jan 2
2:00
PM ET

Final power ranking:
19
Preseason power ranking:
32
Biggest surprise
: The rookies. The
New York Jets
played most of the season with five rookie starters -- cornerback
Dee Milliner
, defensive tackle
Sheldon Richardson
, quarterback
Geno Smith
, guard
Brian Winters
and fullback
Tommy Bohanon
. The Jets figured to be a young team because of how the roster was purged last offseason, but you didn't think they'd be this young. The five draft picks combined for 65 starts. Their performances ranged from exceptional (Richardson) to inconsistent (Smith) to shoddy (Winters), but coach Rex Ryan -- perhaps on orders from general manager John Idzik -- stuck with them through difficult stretches. The growing pains hurt, but all five were ascending by the end of the season.
Biggest disappointment
: Cornerback
Antonio Cromartie
was supposed to anchor the rebuilt secondary, but he regressed from a Pro Bowl year in 2012. A season-long hip injury obviously factored into his performance, but it didn't cause him to miss any games. He surrendered far too many big plays, exacerbating the absence of
Darrelle Revis
, who was traded last offseason. Instead of shutting down the opponents' No. 1 receiver, as he did on a consistent basis in '12, Cromartie struggled along with Milliner. Unable to rely on his corners to supply tight man-to-man coverage, Ryan was forced to adjust, taking a more passive approach with regard to blitzing.
Biggest need
: Playmakers on offense. We're talking about wide receivers and tight ends, but mainly wide receivers. The Jets had only two pass plays more than 50 yards, and they came in the same game. Without a game-breaking element on the perimeter, the offense faced a steady diet of eight-man fronts and consistent blitzing.
Stephen Hill
didn't take that big step in Year 2, as the organization had hoped.
Santonio Holmes
is a goner, so now New York must find a No. 1 receiver through the draft or free agency. Actually, the Jets could pluck one from each because, yes, the need is that glaring.
Team MVP
: Defensive end
Muhammad Wilkerson
was the best player on the dominant side of the ball, so we're picking him over running back
Chris Ivory
, whose physical running sparked the offense late in the season. Wilkerson recorded a career-high 10.5 sacks and, although he wasn't selected to the Pro Bowl (an injustice), he established himself as one of the better defensive linemen in the league. He faced double-teams and often rushed from an interior position, hurting his ability to produce gaudy stats. His steady, blue-collar approach set a tone for the run defense, which dominated for most of the season. Wilkerson was voted MVP by his teammates, which says something. The Jets will try to lock him up to a long-term deal before next season.