AFC East:

2013 NFL Week 1 Double Coverage
September, 5, 2013
9/05/13
12:00
PM ET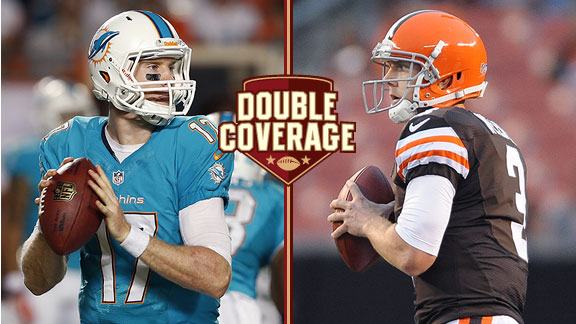 Getty ImagesSecond-year quarterbacks Ryan Tannehill and Brandon Weeden will be worth watching Sunday.
The
Miami Dolphins
and
Cleveland Browns
finished with a combined record of 12-20 last season, so both teams have plenty to prove and are looking for fast starts in 2013.
Cleveland will host the Dolphins on Sunday in an interesting matchup of AFC teams. Both are starting second-year quarterbacks who are looking to take the next step.
Can the Browns utilize their home-field advantage? Will Miami pick up a key road win to start the season? ESPN.com's Matt Williamson and Dolphins team reporter James Walker debate.
James Walker:
Matt, we can't start this debate without examining both second-year quarterbacks in this matchup. Miami's
Ryan Tannehill
and Cleveland's
Brandon Weeden
were forgotten players in the famed 2012 quarterback class. Neither put up numbers or led their teams to the playoffs, like
Andrew Luck
,
Robert Griffin III
and
Russell Wilson
did. Tannehill and Weeden, however, showed flashes at different times throughout their rookie seasons. I've watched Tannehill up close since the day he arrived in Miami. You can see he has all the tools. Tannehill can make every throw and is a solid athlete who can use his feet when needed. Consistency is where he needs to take the next step in Year 2. Tannehill did a lot of good things in the preseason and had a 98.6 passer rating in exhibition games. He is coming into this Cleveland game with momentum, but I still want to see it in the regular season. Matt, what's your take on Weeden entering his second season?
Matt Williamson:
I, too, am high on Tannehill and think this will be the season he puts himself squarely in the conversation with those names you mentioned as young star quarterbacks in this league, for now and the long term. I am also growing fond of Weeden. There wasn't a quarterback and offensive group -- personnel wise -- as miscast as this one in last year's West Coast offense. Weeden, with his big arm, is much better suited to stand in the pocket and make downfield throws -- which is exactly what quarterback guru Norv Turner will have Weeden doing behind an excellent offensive line. While I wish Weeden, 29, was a younger quarterback like Tannehill, I do expect a major step forward from Weeden in Year 2.
Walker:
For Weeden to be successful, it will up to Browns tailback
Trent Richardson
to set the tone and keep Miami's defense honest. I really like this matchup between Cleveland's running game and the front seven of Miami's defense. I'm an old-school guy at heart, and this part of the game will be vintage, tough-man football. I've talked to various defensive players in Miami's locker room this week, and all of them have great things to say about Richardson. The Dolphins' defense prides itself on not allowing 100-yard rushers, and keeping Richardson bottled up will be a challenge. I think the winner of this battle at the line of scrimmage between Miami's defense and Cleveland's running game will heavily impact the outcome of this game. Matt, what is the biggest single matchup you look forward to watching?
Williamson:
James, that is a great one for sure, and let's not overlook what an effective receiving threat Richardson can be as well. But I would say the matchup I most look forward to is Cleveland's top cornerback,
Joe Haden
, against Miami's No. 1 receiver,
Mike Wallace
. These two know one another well from numerous AFC North battles when Wallace played for Pittsburgh. If Haden, who is among the best in the league at his position, can more or less handle Wallace one-on-one, the Browns should be able to bring
T.J. Ward
into the box with regularity to stifle Miami's running game. If that is the case -- and I have my doubts how well the Dolphins will be able to run anyway in this contest -- Miami could be in for a long day trying to generate consistent offense and points.
Walker:
Good point, Matt. I also think home-field advantage could be a factor in this game. If you look on paper, I don't think many can argue against Miami having more talent. But when you consider a young quarterback (Tannehill) going on the road to Cleveland, where the Browns will be hyped up with a rowdy environment for their opener, anything is possible. The Dolphins were 2-6 on the road last year. Miami was competitive in some road games but failed to do the little things and pay attention to detail. I don't know if the Dolphins have matured on the road in one offseason, and that will be one of the under-the-radar storylines to keep an eye on for Miami. Finally, Matt, what under-the-radar element of this game do you consider important?
Williamson:
I am eager to see the play in the trenches on both sides of the ball. I have plenty of questions about Miami's offensive line, and the Browns are stout and powerful up the middle with
Phil Taylor
leading that charge. Cleveland also was highly dedicated to improving its pass rush this offseason and that could pay off immediately in Week 1 against Miami's protection. On the other side of the ball, Cleveland has a great offensive line that doesn't get talked about enough. But
Cameron Wake
should prove to be a massive challenge, and the rest of the Dolphins' defensive front is also quite impressive. The team that wins at the line of scrimmage should win this contest.
September, 5, 2013
9/05/13
12:00
PM ET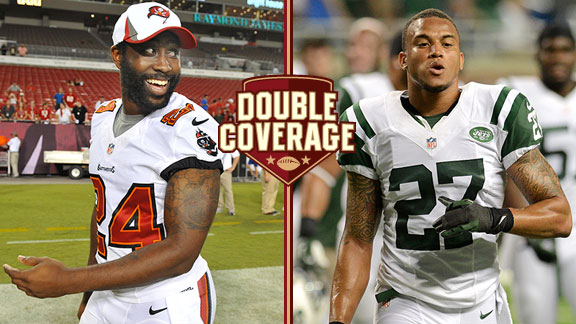 Getty ImagesDarrelle Revis is now with the Buccaneers and rookie Dee Milliner is helping to take his place.
The NFL knows how to create a dramatic storyline, and it created a dandy for opening day -- the Tampa Bay Buccaneers at the New York Jets, meaning the return of star cornerback
Darrelle Revis
.
For the Jets, Revis symbolizes good times from the past. They enjoyed a lot of success together, everything but a Super Bowl, before the ugly divorce last April. Things aren't looking so good for the Jets anymore. For the Bucs, Revis represents hope, perhaps the final piece in an expensive championship puzzle.
Rich Cimini and Pat Yasinskas, the Jets and Bucs team reporters, respectively, discuss Sunday's matchup at MetLife Stadium:
Cimini
: There will be a lot of "24" jerseys in the crowd, as Revis was an enormously popular player in New York. The success-starved fan base embraced the "Revis Island" concept, convinced he was theirs forever. Forever ended when owner Woody Johnson refused to pay $16 million a year and traded him. New Yorkers know what Revis can do when healthy, but that's the question: Is his surgically repaired knee all the way back? No one has seen Revis in a game for nearly a year, so there's a natural curiosity. Will he be the Revis of old? Will he play his customary role, covering the No. 1 receiver? Do tell, Pat.
Yasinskas
: Rich, the Bucs are fully convinced Revis can be what he used to be. He's had nearly a full year to rehab after surgery and there have been no setbacks. It's true the Bucs have brought him along slowly. He was limited at the start of camp and didn't appear at all in the preseason games. But the Bucs were deliberate in increasing his workload throughout the summer and it was clear all along that the goal was to have him ready for the season opener. The Bucs have high hopes for Revis and believe he'll help fix a pass defense that ranked No. 32 in the league last season. The belief is that Revis can shut down the other team's No. 1 receiver and also allow linebackers and defensive backs to blitz quarterbacks. The Bucs would have drafted a cornerback if they had stayed put at No. 13 in the draft. But they felt Revis was better than any corner they could have selected. They used their second-round pick on cornerback
Johnthan Banks
, who may be in the starting lineup Sunday. If he is, both the Bucs and the Jets will be starting a rookie cornerback. How has
Dee Milliner
been doing so far in New York?
Cimini
: I'd love to tell you how he's doing, Pat, but I haven't seen a whole lot of him lately. Milliner missed the last two preseason games with a strained calf, although he told us Monday he'll definitely be ready to play. Obviously, he'll be rusty and his conditioning could be an issue as well. In his last game, nearly three weeks ago, he appeared tentative in coverage. Maybe he was concerned about the calf, I don't know, but he gave way too much cushion. Rex Ryan wants his corners to be aggressive in man-to-man coverage, and Milliner was anything but that. In fact, he received an earful from fellow corner
Antonio Cromartie
during the game. Obviously, the Jets think Milliner has a ton of talent or else they wouldn't have drafted him ninth overall, basically handing him a starting job even though he showed up a few days late because of his contract. But he has a lot to learn. I think he'll have problems with
Mike Williams
, assuming Cromartie covers
Vincent Jackson
. But I wonder, can the Bucs get consistent quarterback play out of
Josh Freeman
to exploit the Revis-less defense?
Yasinskas
: Consistency is the big issue when it comes to Freeman. He got off to a great start last year and had the Bucs at 6-4. At that time, it looked like the Bucs certainly wold lock up Freeman with a long-term contract. But Freeman cooled off late last season. He had 10 interceptions over three disastrous games. That convinced the Bucs to hold off on signing him for the long term. They're letting him go into a contract year and it's a "prove it" situation, especially after the Bucs used a third-round pick on
Mike Glennon
. But Freeman's the starter for now and I think he's ready to become a good quarterback. He has good talent at the skill positions and needs to rely on those players instead of trying to carry the team by himself. In the past, that's when Freeman has gotten himself in trouble. Speaking of quarterbacks, how ready is
Geno Smith
to lead the Jets?
Cimini
: First, a quick story about Freeman. The Jets' scouts actually had him graded higher than
Mark Sanchez
before the '09 draft, but they adjusted the grades after Sanchez's personal workout and interviews. I wonder how things would've played out if the Jets had picked Freeman. As for Smith, he's not ready, no way, but the Jets have no choice because Sanchez's throwing shoulder is banged up. Smith played less than four quarters in the preseason (69 snaps, to be exact) and he played poorly in his only extended outing -- three interceptions and a safety. He could've benefited from a few weeks on the bench, learning his craft. He has no experience in a pro-style offense. At West Virginia, he played in the "Air Raid" attack, working exclusively out of shotgun. The coaches will simplify the game plan, but he'll still be seeing a lot of stuff for the first time. He has an electric arm, but there will be growing pains.
September, 5, 2013
9/05/13
12:00
PM ET
The
Buffalo Bills
on Wednesday named rookie quarterback
EJ Manuel
their starter, and he won't have to wait long to face his first major test in the NFL. The Bills are hosting the
New England Patriots
in their opener Sunday, pitting Manuel against one of the league's most accomplished passers,
Tom Brady
. With Brady adjusting to the absence of last season's top five receivers, there's no shortage of intrigue in this tilt between division rivals.
Let's dive into this one:
Mike Rodak
: Mike, we've seen Brady put on some passing clinics against the Bills in his career. In 2007, he threw for five touchdowns and nearly 400 yards at Ralph Wilson Stadium, as one example. Yet his past two trips to Buffalo have been different. In 2011, he threw four interceptions, and the Patriots lost. Brady looked much better in his visit last season, but it was largely the running game that powered the Patriots to a second-half comeback and the win. With so many new faces on offense, what can we expect out of Brady on Sunday?
Mike Reiss
: We've seen an invigorated Brady this year, Mike, and it's probably because he knows more is being asked of him. In a way, he's not just the team's quarterback, but also another coach with all the new faces at receiver and tight end. He's 36 years old, but he looks like he's about 26 in terms of the way he's playing. As you know from your time around the Patriots, this is an attack that takes pride in tailoring itself on a week-to-week basis in hopes of exploiting the opponents' weakness. That's why they were so content to run the ball out of their two-TE package last year in Orchard Park when the Bills went to their small nickel defense. Given what you've seen from the Bills' defense, what might be the weaknesses the Patriots will target?
Rodak
: A few weeks ago, Mike, my reaction would have been that the Patriots should try to do what they did last season, and test the Bills' run defense. But a few things have changed recently that may have offensive coordinator Josh McDaniels pondering more of a passing-based attack. First, the Bills lost their top cornerback,
Stephon Gilmore
, for the first six to eight weeks of the season. That's a huge blow, and the Bills are struggling to find a capable replacement.
Second, safety
Jairus Byrd
is dealing with plantar fasciitis. His foot injury kept him sidelined even during some light warm-up drills at Monday's practice, and ESPN NFL Insider Adam Schefter reports that Byrd's injury could affect his ability to play Sunday and beyond. Without Gilmore and Byrd, the Bills have what could be a porous secondary. There are matchups there the Patriots can take advantage of. Speaking of matchups, Bills receiver
Steve Johnson
said this week that he believes the Patriots "don't have anybody to stop him." Is he right?
Reiss
: Hard not to appreciate Johnson's sense of humor. He was kidding, right? He had me right up until the point that he was listing off Patriots defenders and mentioned safety
Patrick Chung
, who is now with the Eagles. Johnson had six catches for 86 yards in November 2012; one difference this time around for the Patriots is the presence of top cornerback
Aqib Talib
, who didn't play in that game and has been a difference-maker since his arrival.
Overall, there hasn't been as much attention placed on the Patriots' defense because so much focus has been on the new faces at receiver and tight end, and maybe there should be. It's hard to tell if this unit will be better than last year's; it's almost the same defense, and they're banking on the development of some younger players, like defensive end
Chandler Jones
and linebacker
Dont'a Hightower
to elevate them. The main thing that stands out to me in this matchup is that the Bills have impressive speed and playmaking ability with running backs
C.J. Spiller
and
Fred Jackson
and multiple weapons that can hurt a defense in tight end
Scott Chandler
and receivers Johnson,
T.J. Graham
,
Robert Woods
and
Marquise Goodwin
. I want to see if the Patriots can match their speed while in their sub defense. Will we be seeing Spiller throwing up on the sideline by the end of this one because he was used so much?
Rodak
: I don't think so, Mike. I think the Bills want to air it out and test the Patriots' defense. The Bills started the preseason by staying conservative with their offensive game plan, but they mixed in a lot more "go" patterns later. One thing is clear: The Bills have the speed at receiver to be a major threat to the Patriots. While Woods and Graham may work more in the short-to-intermediate area, I can see the Bills trying to hit some home runs, as Patriots coach Bill Belichick called them Monday, with Johnson and Goodwin. As we saw last season in Seattle, it's possible to get behind the Patriots' defense, and when an offense can make those big plays in their own stadium, it gets the home crowd going.
I won't go as far as saying the Bills will defeat the Patriots, but the big play is something the Patriots will have to look out for. But beyond that, Mike, I think the Bills' offense may be dangerous for its pace. I know the Patriots are thin at defensive tackle and made some surprising moves at defensive end during final cuts last weekend. When the Bills turn the dial up on offense Sunday, how do the Patriots compensate on defense?
Reiss
: Every season, it seems Belichick has a more liberal substitution pattern defensively in the opener because it's the first time all of these players will be going wire-to-wire. So I'd expect some element of that. But if the Bills quicken the pace, the substitutions might have to be more on a series-by-series basis than within a particular series. Overall, this isn't something that will be new to the Patriots' defense; they see it themselves, to a degree, in practice each day while going up against Brady and New England's fast-paced offense. Linebacker
Jerod Mayo
said Monday that Belichick makes sure players are in physical condition to answer such a challenge.
But like you, I do think it's fair to question how they handle the deep ball and some of the other threats the Bills present. Even if it's
Jeff Tuel
throwing it, we saw in the third preseason game that he can get the ball downfield -- his first pass attempt against the Redskins was a completed long bomb down the left side to Graham (called back because of offensive pass interference). I'd sum up thoughts on the Patriots' defense this way: It's a unit that has thrived off turnovers. But if those aren't there, the question is if it's a unit that still can control a game.
This has been fun; let's wrap it up with a final thought.
Rodak
: Mike, I think it's important not to overlook
Mario Williams
in this game. Williams was limited by a wrist injury the previous time he played the Patriots, and despite coming into training camp with a sore foot this season, he should be ready to go Sunday. We've seen top-end pass-rushers like
Terrell Suggs
and
Jason Taylor
be effective against the Patriots. I think Williams' presence makes Patriots left tackle
Nate Solder
a player to watch. If Brady's timing with his new group of receivers is off slightly -- as is to be expected at this point -- then it could give Williams that extra second to beat Solder and get to Brady. Just like the big play on offense, getting sacks and pressures on defense will make the Buffalo crowd a part of this game. What's your final thought, Mike?
Reiss
: The Bills are the Patriots' most frequent season-opening opponent, this being the ninth time. We remember what happened the previous time a Patriots-Bills opener took place in Orchard Park. It was 2003, and the Bills, lifted emotionally with
Drew Bledsoe
at quarterback and just-released Patriot
Lawyer Milloy
at safety, recorded a rousing 31-0 victory. Ten years later, can the Bills pull the surprise again? The Patriots are heavy favorites, but there's always an element of the unknown with a season-opening game. Will look forward to seeing you there.