AFC East:

2013 NFL Week 10 Double Coverage
November, 8, 2013
11/08/13
11:00
AM ET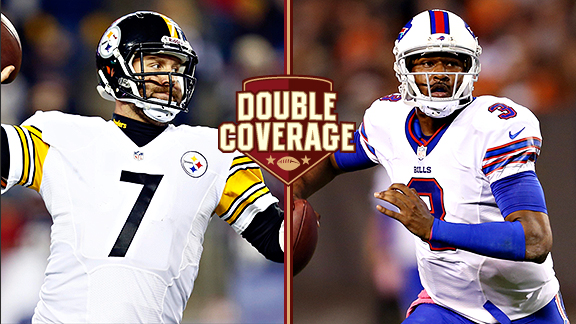 USA TODAY SportsBen Roethlisberger, left, and EJ Manuel are trying to guide their teams through difficult seasons.
Two teams that have combined for five wins and don't appear to be going anywhere this season meet Sunday at Heinz Field. The
Pittsburgh Steelers
will be angry after getting routed Sunday in New England, but the
Buffalo Bills
might be equally desperate after losing four of their past five games.
It looks like
EJ Manuel
will return for the Bills, but rookie quarterbacks have not fared well against Dick LeBeau defenses. But no rookie quarterback has faced the Steelers defense when it has been this vulnerable under LeBeau.
ESPN.com reporters Mike Rodak (Bills) and Scott Brown (Steelers) take an in-depth look at the first meeting between the teams since the Steelers won a 19-16 overtime game at Buffalo in 2010.
Brown:
Mike, is this team Pittsburgh North? There are a lot of Steelers connections there with general manager Doug Whaley and a handful of the players. The two I'm interested in hearing about are the starting guards --
Doug Legursky
and
Kraig Urbik
. How have the two played, and how has the offensive line played overall?
Rodak:
Scott, I think Whaley would like it to be Pittsburgh North, eventually. The Steelers are one of the most successful franchises, and Whaley comes from that background. Defensively, there are similarities between Mike Pettine's blitz-heavy scheme and much of the zone blitzing that LeBeau uses. And offensively, Manuel is a big, mobile quarterback with some speedy receivers, much like
Ben Roethlisberger
and his pass-catchers in Pittsburgh. Ultimately, though, I think the Bills want to forge their own identity, and the Steelers connections don't run much deeper than Whaley and a few others.
As far as Urbik and Legursky, they haven't been Pro Bowlers by any stretch. Returning from a knee injury last month, Legursky helped stabilize a left guard position that has been reeling since losing
Andy Levitre
in free agency last offseason. But as a whole, the offensive line has allowed more sacks -- the seventh most in the NFL, to be precise -- than it would prefer.
Looking at the Steelers' big picture, what has gone wrong this season? From an outside perspective, an aging defense appears to be part of it, but that can't tell the whole story. What are the biggest problem areas?
Brown:
Age is only part of the equation when looking at the Steelers' struggles. The other half is that the Steelers were so good for so long at developing younger players to step in for veteran stalwarts who retired or signed elsewhere. That hasn't happened in recent years, in part because the quality of Steelers' drafts has slipped.
The drop-off in talent hasn't been as severe as it would seem for a team that has lost 11 of its past 15 games, which leads me to perhaps the Steelers' biggest problem on the field: This team is simply allergic to momentum. The Steelers, when they were winning regularly, played so well off one another as far as the different units. This season, more often than not, the offense has not been able to bail out the defense and vice versa.
I'm curious what has held back the Bills, aside from the instability and inexperience at quarterback. This team seems to have its share of talent, so why aren't the Bills winning more?
Rodak:
The quarterback situation is a big part of it, like you said. No matter who's been out there -- Manuel,
Thad Lewis
or
Jeff Tuel
-- they haven't been able to make enough plays to win in the NFL. It's really been the defense that has picked up the slack in two of the Bills' three wins this season. Against the
Baltimore Ravens
, it intercepted
Joe Flacco
five times, and just when it looked like the
Miami Dolphins
were going to win a few weeks ago,
Mario Williams
came up with a game-changing strip-sack. So when dissecting why the Bills are 3-6, their quarterback play is the overriding factor.
Otherwise, I think the story is similar to Pittsburgh's. The defense has played well at times, but when it hasn't played well, the offense hasn't been up to snuff. And when the offense has started cranking -- and that's been rare -- the defense has dropped off. Doug Marrone referenced Wednesday the need for the defense to generate more turnovers -- it hasn't forced one in more than two games -- which has caused the Bills' turnover differential for the season to turn negative this week.
What has been the problem offensively for the Steelers? I've always counted Roethlisberger among the top 10 quarterbacks in the league, and at least on paper, there is some serious talent between
Le'Veon Bell
,
Heath Miller
and
Antonio Brown
. Is the offensive line really that bad to drag everyone down?
Brown:
The offense played without Bell and Miller for the first two games, and it showed as the Steelers managed just two touchdowns in those contests. Bell has stabilized the running game, and Miller's return has been huge considering his value in the running and passing game.
The offense's struggles stem most from the ongoing shuffling along the offensive line. The unit, for whatever reason, is consistently decimated by injuries, and this season is no different. Pro Bowl center
Maurkice Pouncey
went down with a season-ending knee injury in the opener. The Steelers even lost a lineman (
Levi Brown
) to a season-ending injury in pregame warm-ups. Those kinds of things have happened to the Steelers' offensive line, it seems, every season since Mike Tomlin took over as head coach in 2007.
The line has played better in recent weeks, and I thought it did fairly well in New England even with the crowd noise forcing the Steelers to use a silent snap count. It faces another challenge this week as the Bills have the kind of defensive line that can really give the Steelers fits.
Williams has been a beast, and the Steelers will probably have to give left tackle
Kelvin Beachum
some help with Williams. Mike, what about the two interior lineman,
Kyle Williams
and Marcell Dareus? They seem like they can be plenty disruptive.
Rodak:
They certainly can be, Scott. Each has four sacks this season, which puts both on pace for career highs. It seems like each week, when we talk to opposing head coaches, they start off by mentioning Dareus, Mario Williams and Kyle Williams. They're the strength of the team. Kyle Williams in particular has shown a knack for being disruptive in the backfield at the right time, while Dareus has improved from what some felt were subpar seasons since being drafted third overall in 2011. The Steelers' offensive line will need to hold its ground and allow Roethlisberger to take shots at the weaker points of the defense.
What do the Steelers need to do to turn this season around? Does any hope remain that they will make the playoffs?
Brown:
Believe it or not, the players still believe they have a shot at the playoffs given how mediocre the AFC has been aside from a few teams. But they are also realistic that their focus has to stay squarely on what is in front of them.
The biggest thing the Steelers need to do to turn around their season is get back to what has worked for them for so long. That starts with stopping the run. As much as some Steelers fans want to lay blame for the defense's failings on LeBeau -- and the fact that he is 76 -- the reality is this: LeBeau didn't suddenly forget how to coach. However, his defense doesn't work if the Steelers can't stop the run and force teams into obvious passing situations.
Offensively, the Steelers have been at their best this season when they have established balance. If they want to take better care of Roethlisberger, who is taking another beating this season, they need to limit his passing attempts. The best way to do that is establish the ground game and run Bell early and often. Sounds easy enough, no?
November, 8, 2013
11/08/13
10:00
AM ET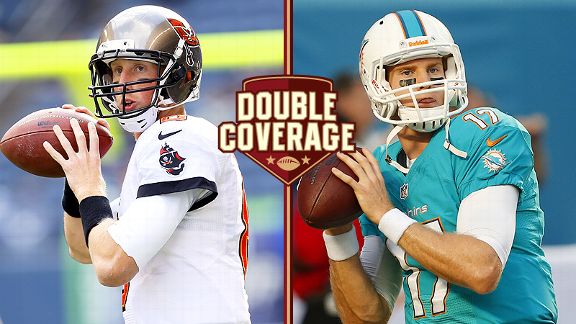 Getty ImagesMike Glennon, left, and Ryan Tannehill have a lot to prove in the season's second half.
TAMPA, Fla. -- Although their records are uninspiring, the
Miami Dolphins
and
Tampa Bay Buccaneers
have been all over the news this season -- for all the wrong reasons.
The recent incident involving Miami offensive linemen
Jonathan Martin
and
Richie Incognito
has dominated the headlines. Earlier in the season, the Bucs were in the news as the rift between coach Greg Schiano and quarterback
Josh Freeman
erupted, and Tampa Bay continues to draw attention after three players were diagnosed with MRSA infections.
But, on Monday night, the Dolphins and Bucs finally will be in the football spotlight as they play in a nationally televised game. ESPN.com Dolphins reporter James Walker and Buccaneers reporter Pat Yasinskas discuss the matchup.
Pat Yasinskas:
James, the Martin-Incognito situation has been one of the biggest stories of the season. How much of a distraction has it been for the other Miami players?
James Walker:
The Dolphins are trying to put a decent spin on things this week. However, you can tell it's weighing on them. Players are genuinely upset that it came down to this. They felt Martin could have handled this differently, and in a way that was better for the team, himself and Incognito. I would think most people outside of Miami's locker room would find issues with that line of thinking. But it's really within the NFL culture to think week-to-week and how to win games immediately. This has been an interesting case study on NFL locker rooms and how it relates real societal issues.
Pat, the Buccaneers have had their own share of drama this season. How is Tampa Bay handling its various issues at 0-8?
Yasinskas:
James, things finally seem to have settled down a little bit the past week or two. But, for the longest time, it seemed as if the Bucs had a fresh controversy every day. The Freeman saga was nothing short of a soap opera, and the MRSA is a very serious issue. Cornerback
Darrelle Revis
has admitted the Bucs have been affected by the distractions. Throw in the fact that the Bucs are 0-8 and have lost several games they should have won, and it appears as if there's a situation that could blow up at any time. But the one thing the Bucs have going for them is that they still are playing hard.
All right, let's move to some on-the-field stuff. How are the Dolphins going to adjust their offensive line?
Walker:
Here is the interesting thing about Miami's offensive line: It wasn't good with Martin and Incognito.
Ryan Tannehill
is the most-sacked quarterback in the NFL at the midpoint of the season, and, until two weeks ago, the running game was hit-or-miss. So, yes, on the surface, the Dolphins lost two starters on the offensive line. However, the bar set by the old group wasn't very high.
Tyson Clabo
will start for Martin at right tackle and
Nate Garner
at left guard. They're capable of holding up the same standard, but it remains to be seen whether they can do better.
Speaking of better, how much has the quarterback play improved with
Mike Glennon
? Can he become the long-term solution?
Yasinskas:
Glennon has shown gradual improvement in each game. He's been poised and has shown more mobility than most people thought he had. He has gone three straight games without an interception, which is a major accomplishment for a guy who has only five career starts. Schiano is very high on Glennon, and that admiration goes back to when Schiano tried (unsuccessfully) to recruit the quarterback to Rutgers. If Schiano sticks around, I think he views Glennon as his long-term answer at quarterback. But, with the way the Bucs are losing games, there is no guarantee Schiano will be back next season. A new coach might not be as high on Glennon as Schiano.
Speaking of long-term answers, has Tannehill shown enough to convince the Dolphins he can develop into a top-line starter?
Walker:
I like what Tannehill brings to the table. However, this season has been challenging to evaluate because of all the troubles on the offensive line. Tannehill has a few holes in his game, such as poor pocket presence, suspect ball security and an average deep ball. Maybe some of those can be corrected with experience. This is a big eight-game stretch for Tannehill and his long-term future in Miami. That important period starts Monday night.
.