AFC East:

2013 NFL Week 11 Double Coverage
November, 15, 2013
11/15/13
10:00
AM ET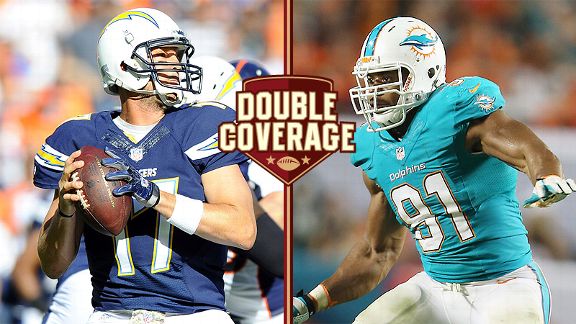 USA TODAY Sports, AP PhotoPhilip Rivers and the Chargers travel to face Cameron Wake and the Dolphins as both teams try to reach a 5-5 record.
Teetering on the edge of the AFC wild-card picture, the
San Diego Chargers
travel across the country to face a
Miami Dolphins
squad embroiled in turmoil.
Both teams sit at 4-5 and a game behind the
New York Jets
(5-4) for the last wild-card spot in the AFC. A setback on Sunday could drastically affect the losing team's playoff fortunes for the rest of the season.
According to ESPN Stats & Information, nine teams playing in Week 11 are either 4-5 or 5-4. Under the current playoff format which began in 1990, only 7 percent of teams to start 4-6 went on to make the playoffs. That number jumps to 29 percent for teams starting 5-5.
So the team that improves to the .500 mark has much better odds of grabbing a postseason berth.
ESPN.com Chargers reporter Eric D. Williams and Dolphins reporter James Walker break down the matchup.
Walker:
Eric, with
Philip Rivers
' numbers, you would think San Diego would have a better record. What's gone wrong?
Williams:
That's a fair question. Rivers is having one of his best seasons of his 10-year career. He's first in the NFL in completion percentage (71.6 percent), second in quarterback rating (72.6), fifth in total passing yards (2,691) and fifth in passing touchdowns (18). Where San Diego has struggled is finishing games and playing consistently on the defensive side of the ball. Three of San Diego's five losses have come in the final 15 seconds of the fourth quarter or in overtime. The Chargers are allowing a league-worst 6.4 yards per play. Opponents are converting 42 percent of the time against San Diego's defense on third down, which is 27th in the league. And San Diego's defense has forced a league-low six turnovers this season.
The Dolphins are losers of five of their past six games, and appear to be struggling in dealing with the distraction created by the
Richie Incognito
-
Jonathan Martin
situation. James, what's the situation like in the locker room? And can Miami's players solely focus on playing against San Diego on Sunday?
Walker:
The Dolphins are trying to put a good face on the situation. But truthfully, it's weighing on them. More than anything, players are constantly peppered with questions about Martin and Incognito, who are currently not with the team. There have been reporters here from CNN, ABC News and other major news outlets to find out what is going on in Miami's locker room.
On the field, Miami lost two of its top starters on the offensive line. It's not a coincidence the Dolphins rushed for a franchise-low 2 yards in Monday's loss to the
Tampa Bay Buccaneers
. The Dolphins' offensive line was dominated. I also don't think it's a coincidence Miami started the game flat and fell behind 15-0 early. I think the Dolphins are shaken up right now, and I'm not sure which team to expect on Sunday.
Is it possible Miami is a trap game for San Diego with the Chiefs coming up next?
Williams:
The Chargers are not in a position to overlook anyone. San Diego has defeated just one team with a winning record this season -- Indianapolis. And with the loss to Denver, the Chargers are in the middle of a two-game losing streak for the first time this season. West Coast teams traveling to the East Coast traditionally struggle, although San Diego is 2-1 in those contests this season. The Chargers understand if they want to hold on to postseason aspirations they have to win games like this one on Sunday, so the Dolphins will have their full attention.
What's your evaluation of the progression of
Ryan Tannehill
in his second season?
Walker:
Tannehill got off to a fast start during Miami's 3-0 run. But since then he's been average and too turnover prone. Tannehill has most of the tools you want in a quarterback. But he also has some weaknesses that are concerning. Tannehill's deep ball and pocket presence must improve if he wants to take the next step.
However, I sometimes refrain from fully evaluating Tannehill because his supporting cast is so inconsistent. As I mentioned earlier, the running game produced all of 2 yards on Monday. How can a quarterback win with that kind of production? The offensive line is the weakest unit on the team, and Tannehill has been sacked 37 times already this season. Both of those factors have led to a lot of his mistakes.
How much will the time change to 4:05 p.m. ET help the Chargers?
Williams:
It should help players adjust their body clock to the time change. The Chargers usually travel on Friday for East Coast games, and will do so again this week. San Diego coach Mike McCoy also holds morning practices, so the players are used to getting up and practicing around that time. Although it's sunny in San Diego, there will be more humidity for the players to deal with in Miami. So players are making sure they drink enough water this week so they do not get dehydrated on Sunday. The late afternoon kickoff could help with that.
At 4-5, Miami is one of a handful of teams fighting for a wild-card spot in the AFC. In his second season, does coach Joe Philbin have what it takes to lead the Dolphins to the team's first playoff berth since the 2008 season?
Walker:
An NFL head coach usually gets three years to implement his program and prove his worth. But due to extenuating circumstances with the Incognito-Martin scandal, the time is now for Philbin. How Philbin handles these final seven games and leads Miami through adversity will say a lot about his future. He is 11-14 as a head coach since taking over in 2012, which is not good enough. The NFL investigation also is a huge concern for the entire organization. If Philbin and his staff were part of any wrongdoing, jobs could be lost. The Dolphins remain in the playoff hunt. But it's hard to view them as a serious contender after they just lost to the winless Buccaneers.
November, 15, 2013
11/15/13
10:00
AM ET
New England versus Carolina looked like a prime-time bust two months ago. Could it now be a Super Bowl preview?
The Panthers (6-3) have won five straight games and six of their past seven after an 0-2 start to emerge as a contender in the NFC. New England (7-2), as usual, is one of the top teams in the AFC.
There hasn't been a game of this magnitude between these teams since they met in the Super Bowl at the end of the 2003 season. New England won that one 32-29 on a last-second field goal.
Panthers team reporter David Newton and Patriots team reporter Mike Reiss are here to break down this "Monday Night Football" matchup in Charlotte, N.C.:
Newton:
Mike, New England will have had 15 days to prepare for Carolina. Does that give the Patriots an advantage?
Reiss:
The Patriots have been excellent in games after the bye under coach Bill Belichick, with a 10-3 record. The main thing the bye did for New England was allow more time to heal for some banged-up difference-making players, such as cornerback
Aqib Talib
, who has missed the past 3½ games with a hip injury. Belichick gave the players six straight days off, which is a bit rare but was a reward after 13 straight weeks of games going back to the preseason.
As it relates to the Panthers, the big question many in New England have is how much of their success is a result of their pre-49ers-game schedule. How do you assess it?
Newton:
Yeah, the first five wins did come against teams that didn't have winning records. But the key is the Panthers didn't just slip past those teams. They beat them by 15 or more points, averaging more than 30 points a game. What beating up on down teams did was allow a Carolina team that hadn't had a winning record since 2008 time to grow confidence -- particularly on offense.
The defense has played well enough to win every game, and that is the one constant that makes this team dangerous every week. Sunday's 10-9 victory at San Francisco was no fluke, and it should quiet the critics of the schedule that, ironically, was rated the toughest in the league before the season. Speaking of the Carolina defense, it ranks second in the league against the run. How will a New England team that is using the run more attack it?
Reiss:
Belichick and offensive coordinator Josh McDaniels often talk about having an identity as a game-plan offense, meaning they morph their approach weekly to hit at what they perceive to be the weakness of the opposition. So if they view the Panthers' front seven as a strength, and it sure looks like it to many, I don't think they'll just run it for the sake of running it. They instead would attempt to spread things out a bit and possibly use the short passing game as an extension of the running game while picking their spots in the running game to maintain some semblance of balance. The potential return of running back
Shane Vereen
(wrist), who is eligible to come off the injured reserve/designated to return list, would be a boost as he is a versatile option as a rusher and a pass-catcher. How do you think the Panthers will approach things offensively?
Newton:
They won't change much, if anything. Ron Rivera and offensive coordinator Mike Shula are committed to the run. They keep coming at you with fresh backs --
DeAngelo Williams
,
Mike Tolbert
,
Jonathan Stewart
-- and a dose of quarterback
Cam Newton
running and throwing. They're best when Newton is hitting the short passes and making quick decisions. It's all about consistency and keeping the chains moving, which is why they lead the league in time of possession. If the Patriots commit to keeping Newton in the pocket, that could open up the edges for short passes to the backs.
Speaking of consistency, I see
Tom Brady
's completion percentage is below 60 percent for the first time in his career. What's happening there?
Reiss:
The hallmarks of Brady's play over 13 seasons (not including his rookie 2000 campaign) have been accuracy and decision-making. Those have been a bit sporadic this season, for a variety of reasons -- Brady himself, all the changes around him and injuries.
But, for the first time this season, it all came together in the 55-31 win over the Steelers on Nov. 3, which was the Patriots' most recent game. They scored seven touchdowns, and six came out of different personnel groupings and we saw the impact of what tight end
Rob Gronkowski
(three games played this season, averaging 44 snaps per game) rounding into form means to this offense.
While we're focusing on the quarterback of the Patriots' offense, I wanted to ask you about the "quarterback" of the Panthers' defense, linebacker
Luke Kuechly
, because many in New England are familiar with him from his time at Boston College. A star in the making?
Newton:
No. He already is a star. He proved that last season when he was the NFL Defensive Rookie of the Year. He's not having to make as many tackles this year because the front line is much improved and is stopping many plays before they get to him. But the St. Louis game tells you all you need to know. The Rams revamped their blocking scheme from what they had done all season to account for Kuechly. When teams devise a game plan for you, you've arrived. Kuechly is the heart of this defense not only in that he makes plays but also because he plays without an ego. His unselfishness spills over onto the rest of this defense, which has helped create the chemistry that makes the Panthers effective.
Back to the quarterback on offense: How have the Patriots fared against mobile quarterbacks such as Newton?
Reiss:
They've seen their fair share of mobile quarterbacks this year, with
EJ Manuel
(Bills),
Geno Smith
(Jets) and
Ben Roethlisberger
(Steelers) most notable, and one would think the plan against Newton will be the same as it was against them: Keep him in the pocket and see whether he can beat you from there.
Belichick was miked up in the Steelers game, and that strategy was the
theme of the clip shown
on NFL.com -- he kept stressing the importance of keeping Roethlisberger in the pocket. So, rush-lane integrity, particularly from ends
Chandler Jones
,
Rob Ninkovich
and
Andre Carter
, likely will be a crucial part of the New England plan.
Those quarterback scrambles can be backbreakers, sort of like a special-teams return that swings momentum. I've noticed a few of those from
Ted Ginn
this year, and, given some Patriots coverage struggles of late, I'd imagine the Pats are concerned about him.
Newton:
The Panthers added a small wrinkle to their return game this past Sunday in the positioning of a second deep man for blocking, and Ginn averaged more than 21 yards per punt return. He almost broke a couple. But where I believe Ginn is a bigger threat to New England is as a receiver. He didn't get deep against San Francisco, but he has really become a threat, not only on the go route but on the slant and on short passes in the flat. He has the speed to blow past defenders and has shown the ability to catch passes in traffic, something he hasn't done before. If the Patriots stack the defense to stop the run, he could be a game-changer.
November, 14, 2013
11/14/13
10:00
AM ET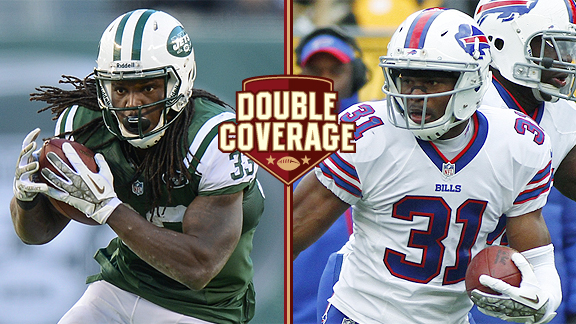 Getty ImagesJairus Byrd, right, and the Bills aim to keep their faint playoff hopes alive vs. Chris Ivory's Jets.
It has been two months since the
New York Jets
and
Buffalo Bills
last played, a 27-20 Jets win in New Jersey on Sept. 22. Each team was 1-1 and was starting a rookie quarterback.
Geno Smith
got the better of
EJ Manuel
, passing for 331 yards and two touchdowns.
But now the Jets sit at 5-4 and are in the hunt for a playoff spot. The Bills are 3-7 and their playoff hopes could essentially be gone with a loss to the Jets. After Sunday, the Bills will play only once more at Ralph Wilson Stadium this season, giving them greater urgency to avoid a four-game losing streak.
ESPN Bills reporter Mike Rodak and ESPN Jets reporter Rich Cimini discuss the matchup:
Rodak:
Rich, the last time the Bills and Jets met, we discussed some of the similarities between these two teams. Each has a rookie quarterback, an offense that can grind out some yards running the football, and essentially the same defensive scheme. What have the Jets done well that has led to their 5-4 record?
Cimini:
The Jets are 3-3 since the first meeting, with signature wins over the Patriots and Saints. They've evolved into more of a Rex Ryan-type team, meaning they rely on defense and a ball-control rushing attack. They're not airing it out as much as they did early in the season, and there are a couple of reasons for that: injuries at wide receiver (mainly
Santonio Holmes
) and turnovers by Geno Smith.
Smith is experiencing a serious case of rookie growing pains -- sounds familar, right? -- and the coaches decided to dial it back a little bit to ease some pressure on him. He has 16 turnovers -- way too many, obviously.
Chris Ivory
, a non-factor early in the season, has been carrying the running game. Get this: In the win over New Orleans, Smith threw for a total of one yard in the first and fourth quarters. I have a feeling they may open it up a little this week with Holmes finally healthy and
Kellen Winslow
back from suspension. They also could try to exploit the Bills' man-to-man coverage, as they did in the first meeting, but this isn't the same Buffalo secondary, is it?
Rodak:
It certainly isn't the same secondary that was lit up that afternoon at MetLife Stadium. A few weeks after that meeting, the Bills got cornerback
Stephon Gilmore
and Pro Bowl safety
Jairus Byrd
back from injuries. Byrd was eased back into action and had his first interception of the season last Sunday in Pittsburgh.
Gilmore, on the other hand, is back to a full workload but having some issues. The Bills' first-round pick last season, Gilmore was picked on by the Chiefs two weeks ago and had his worst game yet against the Steelers. Doug Marrone said Gilmore played very well in the preseason and appeared to be on the rise, so it's a disappointment for Buffalo that he isn't playing better right now. He said Sunday that his wrist, which he fractured in the preseason, still isn't right, but his troubles have extended beyond that. He admitted that he was "lulled to sleep" on
Jerricho Cotchery
's 5-yard touchdown catch Sunday, and as you know, Mike Pettine's defense requires its top cornerback to play better man-to-man coverage than that.
Rich, there's a lot of talk around here about
Kiko Alonso
, who could be one of the favorites for Defensive Rookie of the Year. His toughest competition, though, might come from Jets defensive tackle
Sheldon Richardson
. Why is he deserving of that award?
Cimini:
I'm not ready to hand the award to Richardson, but he's definitely in the conversation. To me, the most impressive thing about him is that he has been starting from Day 1 and can play multiple spots along the defensive line. That allows him to play every down, which explains his 80 percent play time -- a high total for a rookie defensive lineman.
I criticized the pick (13th overall) because I didn't think Richardson would be able to play in a 3-4 front. As you know from covering Pettine, this defensive system is based on multiple fronts. But Richardson has blended in nicely, and it helps that he's a freakish athlete. For a 295-pound man, he can do some remarkable things. He also has a non-stop motor and makes hustle plays. He has leveled off in recent weeks (he's stuck on 2.5 sacks), but I still think we're looking at a future star.
Speaking of rookies, Mike, what the heck is going on with EJ Manuel? Is it injury rust or are there other things at play?
Rodak:
It's more than just rust, Rich. The problems that we saw from Manuel on Sunday in Pittsburgh were there in his first five games, before the knee injury that sidelined him for a month. He appears hesitant to throw downfield, settling for check-down options more than an NFL quarterback should be. And even on some of those shorter throws, his accuracy has been inconsistent. One notable throw against the Steelers, intended for
Fred Jackson
over the short middle, hit Jackson in the feet.
We're not seeing wild, perilous throws from Manuel or streaks of interceptions and turnovers that will cause coaches to squirm. Manuel has always shown a calm, controlled demeanor on the field. It's just that, sometimes, it's too controlled. He's not trying to do too much. Instead, he's usually trying to do too little, even for a rookie, and that has hurt him.
Rich, are the Jets a serious playoff contender? How do you see them playing down the stretch, and can Geno Smith really take them anywhere in January, if they are still playing?
Cimini:
The Jets are a contender, for sure. In the watered-down AFC, why not? They're crazy inconsistent -- they haven't won two in a row -- but that might be good enough to snag the second wild-card spot. I have them finishing 8-8 because, frankly, I think their lack of experience will bite them in the long run. By that, I mean Smith, mostly. He's hard to figure, Mike. There's no question he has the physical tools, but his decision-making is suspect. Quarterbacks coach David Lee said Smith tends to stray from the game plan, especially late in games. He's the opposite of Manuel; Geno tries to do too much.
The Jets are a feel-good story, and I think Rex Ryan is on his way to a contract extension, but there are too many holes to take them seriously in January. I think Sunday's game will be telling. There's every reason to believe they'll beat the Bills, a team they've owned in recent years, but something tells me they'll have one of those "Same Old Jets" days.
What kind of vibe do you get from Marrone? Is he the long-term answer?
Rodak:
I still think he is, Rich. Despite their bad loss to the Steelers last weekend, the Bills still appear to be on the upswing. On Wednesday, during a radio interview, CEO Russ Brandon said communication "has never been better" at One Bills Drive, and from an outside perspective, there looks to be good chemistry between Brandon, Marrone, and general maager Doug Whaley.
Ultimately, though, the fate of the head coach is often tied to his quarterback, and Marrone knows Manuel needs to play a lot better. Marrone expressed a high level of confidence in Manuel on Monday, part of an impassioned speech where he told reporters he wasn't asking for patience or time in the rebuilding process. That approach could put some stress on the organization, but I think it's the right message at the right time.