AFC East:

2013 NFL Week 13 Double Coverage
November, 29, 2013
11/29/13
12:00
PM ET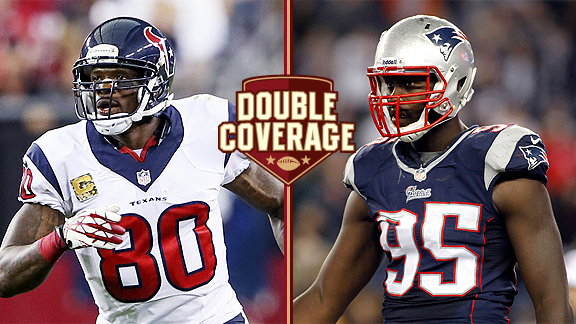 USA Today SportsAndre Johnson, left, and the Texans hope to surprise Chandler Jones and the Patriots.
HOUSTON -- The last time the
Houston Texans
faced the
New England Patriots
during the regular season, Houston was 11-1 and the hottest team in the league. To celebrate their youthful camaraderie, they ordered letterman jackets, the kind high school teams wear, and the jackets happened to come in right before the Patriots game.
That game marked a turning point for the Texans.
The timing of the jackets had nothing to do with the opponent; former Texans Connor Barwin and Shaun Cody were simply trying to create a tradition. That they lost so badly just after unveiling them turned the jackets into a punch line.
The Patriots won 42-14, and the Texans finished their season having lost three of their last four games. That meant losing the home-field advantage that seemed theirs before that game and led to another meeting with the Patriots in the divisional round of the playoffs. New England won again, 41-28.
It was a lesson for the Texans in what it takes to be a great team.
Heading into this season, many thought the Texans were positioned to be one of the top teams in the NFL. The Patriots seemed poised for a down year, by their standards, but here we are in Week 13 and they sit in their usual spot atop the AFC East.
ESPN.com Texans reporter Tania Ganguli and Patriots reporter Mike Reiss discuss the matchup.
Ganguli:
Mike, how has the loss of so many of his top targets from last season impacted Patriots quarterback
Tom Brady
?
Reiss:
We saw it impact Brady more significantly through the first eight games. But things have started to click the past two games, and it's no coincidence that it coincides with tight end
Rob Gronkowski
's reaching a new level of comfort since his return Oct. 20, and running back
Shane Vereen
's coming off the injured reserve list. With those two joining receivers
Aaron Dobson
,
Julian Edelman
,
Danny Amendola
and
Kenbrell Thompkins
, the pass-catching corps has been as stocked as we've seen all season.
I know it's been a down year for the Texans, but is
J.J. Watt
still creating havoc? Is that defense still tough?
Ganguli:
Watt is still creating havoc. He has 9.5 sacks, three forced fumbles and four passes defensed. He is someone opposing offenses must track on every play. The Texans' defense has played well, but it has holes. On Sunday, the Jaguars had success with the matchup of receiver
Cecil Shorts
against cornerback
Brandon Harris
in the slot. Injuries to middle linebacker
Brian Cushing
and strong safety
Danieal Manning
have been particularly damaging. The Texans have statistically been much better with Cushing than without him since he was drafted. Their attempt to add some mental toughness with
Ed Reed
didn't work as they had hoped, so two young players are starting at safety --
Shiloh Keo
at free safety and
D.J. Swearinger
at strong safety. Swearinger is the Texans' rookie second-round pick. He will be really good, but right now he's learning a lot about playing at this level. They haven't allowed a lot of yards, but have allowed too many points and not created enough turnovers.
Speaking of turnovers, as I watched Sunday night's Patriots game against the Broncos, it seemed every time I looked up the Patriots had either committed or forced a turnover. What did you make of that? Was it an aberration?
Reiss:
The forced turnovers were the norm, as the Patriots recently ended a streak of 36 games with at least one forced turnover (Nov. 18 vs. Carolina). The Patriots' committing turnovers was a little more out of character, although one of the pressing issues facing the club is what to do with lead running back
Stevan Ridley
(3 lost fumbles in the past three games). The Patriots are traditionally strong in turnover differential, and this season is no different, as they are plus-8 with 23 takeaways and 15 giveaways.
I know this probably comes out of left field, but how is the playing surface at Reliant Stadium? Patriots followers remember the last visit, in 2009, when
Wes Welker
tore his ACL. I saw a recent game, and it looks like there are patches of grass on the field with noticeable seams in certain parts.
Ganguli:
Not out of left field at all. If the game you saw was the Texans' Nov. 3 Sunday night game against the
Indianapolis Colts
, this was a major topic of conversation that night. The field looked pretty bad, mostly because there was a college game played on the same grass that week. They replaced the center of the field, but the outer grass was a mess. The University of Houston has played five games at Reliant Stadium this season while its stadium is being renovated. It has played most of them on field turf. The Cougars will play again on Friday morning, and none of the grass will be replaced between that game and the Texans-Patriots game Sunday. I believe the thinking is that will give it enough time to recover. Something to watch, though.
Let's talk more about defense to wrap up here. Will
Aqib Talib
be assigned to
Andre Johnson
on Sunday? How do you think he'll fare?
Reiss:
That would make a lot of sense, as Talib has often been assigned the opponent's top receiver. After a rocky game Nov. 18 against Carolina and
Steve Smith
, he was very good this past Sunday night against
Demaryius Thomas
in the 34-31 win against the Broncos. Talib has been key for the pass defense. Meanwhile, the loss of key players to season-ending injuries (defensive tackles
Vince Wilfork
and
Tommy Kelly
, and linebacker
Jerod Mayo
) has hurt the run defense at times, such as in the Broncos game. But they played a 4-2-5 nickel for most of the game, and I don't think that will be as much of a factor against the Texans. The Patriots will probably be in their base defense more often, and they played well against the Panthers' tough running attack in that package.
One thing I think Patriots followers would be interested to hear is what has happened to the Texans? How could a team go so quickly from the AFC divisional round of the playoffs and talking about "letterman" jackets to vying for the No. 1 pick in the draft?
Ganguli:
Even with some of the missteps in the offseason, it would have been difficult to foresee this. There are a lot of issues, but I'll focus on the quarterback situation. The biggest mystery is what happened to quarterback
Matt Schaub
. He was never on the level of Brady, but he gave the Texans what they needed. He was consistent and productive. He actually played really well in leading comebacks against the
San Diego Chargers
and
Tennessee Titans
this season. That seems so long ago. The Texans' turnover margin has been among the worst in the league all season, and Schaub was part of that. He became the first quarterback in NFL history to throw pick-sixes in four consecutive games. He threw one on the first pass of the game against the
San Francisco 49ers
, and that game marked the only time this season Schaub played poorly from start to finish. There were myriad other problems, but Schaub lost his starting spot when he suffered a foot and ankle injury in Week 6. First-year quarterback
Case Keenum
took over, but his play hasn't meant victories. In his first three starts, he played well in the first half and not so well in the second half. His most recent game, against Jacksonville, was his worst of the season. Keenum threw for 169 yards, no touchdowns and one interception.
.
November, 29, 2013
11/29/13
10:00
AM ET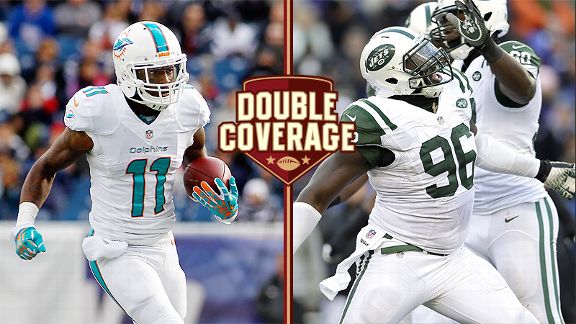 AP Photo, USA Today Sports ImagesMike Wallace's Dolphins and Muhammad Wilkerson's Jets are battling to stay in the AFC playoff race.
The final wild card in the AFC is up for grabs as the
Miami Dolphins
(5-6) travel to face the
New York Jets
(5-6) in what is essentially a playoff eliminator. The winner will get to .500 and have an inside track in the crowded wild-card race. The loser will take a major step back with four games remaining.
Which AFC East team will win this crucial game? ESPN Dolphins reporter James Walker and ESPN Jets reporter Rich Cimini weigh in.
James Walker:
The Dolphins and Jets will square off twice in December and it looks like both games will be meaningful. I think the common link between these teams has been general inconsistency. The Dolphins started 3-0 in September but are 2-6 since. Their season has been hanging by a thread for quite some time with uneven play on the field and controversy off it, thanks to the
Richie Incognito
-
Jonathan Martin
bullying scandal. Sunday is the kind of game that could make or break the rest of Miami's season.
Rich, the Jets have been just as inconsistent, losing three of their past four games. How vulnerable are they?
Rich Cimini:
Pretty vulnerable, James. When you can't score, you're vulnerable in my book. The offense has produced only one touchdown in its last 31 possessions with
Geno Smith
at quarterback -- yet he remains the starter. I really believe the Jets have reached a crossroads. A win over the Dolphins could springboard them into the final quarter of the season. If they lose their third straight, it could break them. Frustration is building in the locker room. They're at the tipping point.
The Dolphins aren't lighting up scoreboards, either. What's the deal with their offense?
Walker:
The Dolphins can't run, can't pass, can't block and can't score touchdowns with any consistency. At times you see flashes in one or two areas. For example, quarterback
Ryan Tannehill
finally hit a couple of deep balls to receiver
Mike Wallace
last week, which hasn't been the case all season. If those two can make some big plays each week, the Dolphins have a chance to score more points. But the offensive line has been an issue all year, and it's not helping that they lost two starters in Incognito and Martin. The line has allowed 44 sacks and the running game is 26th in the NFL. The red-zone offense also has been horrendous. The Dolphins haven't scored more than 27 points in a game all season. That's why they are in close games nearly every week.
Rich, Rex Ryan's stock has been all over the place this year. He was projected to be a lame duck in the preseason. Then, a solid start improved his job security. Where does Ryan currently stand?
Cimini:
Personally, I think Ryan is doing a good job, considering the circumstances -- turnover-prone rookie at quarterback, second-rate talent at the skill positions and seven new starters on defense. New general manager John Idzik has been complimentary of Ryan in the few interviews he has given, but no one really knows what he's thinking. If the Jets finish with at least seven wins, I think Ryan will be back. He ended the past two seasons on three-game losing streaks, so he obviously has a problem finishing.
I'll shoot the coach question back at you: Is Joe Philbin toast?
Walker:
That's a tough question, Rich. There are so many factors involved, such as the future of general manager Jeff Ireland and the NFL's ongoing investigation of Martin's accusations. If Philbin and his coaching staff had any knowledge of the Martin situation -- and that's a big question -- it could lead to his demise. There is more to it than X's and O's. This would be a scandal that happened on Philbin's watch, and the NFL's findings will weigh heavily with Dolphins owner Stephen Ross.
But strictly on the field, most coaches get three years to implement their programs. A strong finish by Philbin makes a case for him to stay. Ireland is almost certain to be let go if the Dolphins do not make the playoffs. That could lead to the new general manager wanting to pick his own coach or going the Jets' route, where the holdover coach gets one more year to prove himself.
Finally, Rich, why is this Jets team so much better at home? It cannot be only due to the home crowd.
Cimini:
You're right, James, it's more than the home crowd. I can't figure it out. It's weird because in the first two seasons under Ryan, they were a mediocre home team and very good on the road. Now they've flipped the script. You can't say they've feasted on an easy home schedule because they beat the
New Orleans Saints
and
New England Patriots
. Go figure. I will say this: They benefited from a couple of fortuitous calls at home, including the rare "push" penalty by the Patriots while attempting to block a Jets field goal attempt. Most of all, their defensive line has dominated at home -- 21 sacks in five games, holding opponents to an average of 78 yards on the ground. The old saying "defense travels" doesn't really apply to the Jets.
November, 29, 2013
11/29/13
10:00
AM ET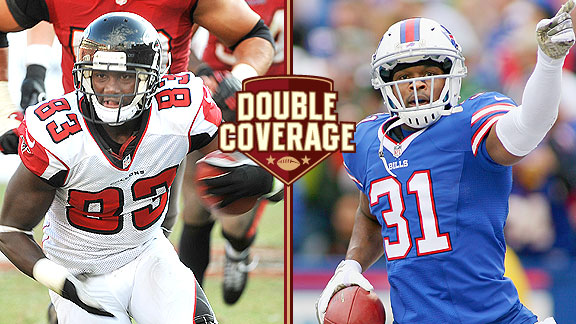 Getty ImagesHarry Douglas and the Falcons will look to dash the slim playoff hopes of Jairus Byrd and the Bills.
You might say that they're "livin' on a prayer."
At 4-7, the
Buffalo Bills
will likely need to win all of their remaining games if they want a shot at the playoffs. Coming off their bye week -- and refuted reports that Jon Bon Jovi
hopes to one day own the team
-- the Bills begin their final five-game stretch Sunday when they make their annual trip to Toronto.
This is the sixth consecutive season the Bills will play a regular-season game at the Rogers Centre. They've won just once -- a 23-0 shutout of the
Washington Redskins
in 2011 -- something that CEO Russ Brandon said Wednesday must change.
"We're trying to make it a home-field advantage by playing better," Brandon told WGR 550 in Buffalo. "We have not played well up there."
Meanwhile, the 2-9
Atlanta Falcons
became the first NFL team eliminated from the playoffs last weekend and are in the mix for the top selection in April's draft.
ESPN.com Bills reporter Mike Rodak and Falcons reporter Vaughn McClure discuss the matchup:
Mike Rodak:
Vaughn, I'm not going to lie: I thought the Falcons would be a whole lot better than they have been this season. What's gone wrong? I know there have been significant injuries, but that can't be the whole story, right?
Vaughn McClure:
I think injuries are a big part of the story, yes. You can't overstate how much losing an explosive receiver such as
Julio Jones
means to a high-powered offense. And the loss of defensive end
Kroy Biermann
after Week 2 had a major impact, too, considering the Falcons' inability to generate consistent pressure up front. Not to mention nagging injuries suffered by both star receiver
Roddy White
and running back
Steven Jackson
. Head coach Mike Smith refuses to use injuries as an excuse, but there's no doubt this team would have been much better with healthy players. The offensive line's inability to consistently protect quarterback
Matt Ryan
or open holes in the running game, as well as the defense's tendency to give up explosive plays, also contributed to the Falcons' demise.
The Falcons could use a player such as
Mario Williams
. He seems to be back to his old, dominant self. Is that correct, Mike?
Rodak:
For the most part. Williams came on particularly strong in the middle of the season, notching 6.5 sacks in Week 4 through Week 8. A lot of the credit for the Bills' 23-21 win in Miami in Week 7 can go to Williams, who strip-sacked
Ryan Tannehill
in the fourth quarter to set up a game-winning field goal. On the season, Williams has 11 sacks, which is tied for third in the NFL. However, Williams hasn't recorded a sack since Week 8. It's debatable whether that's a cause for concern, but from a purely statistical standpoint, the Bills will need Williams to keep up the pace down the stretch.
Overall, the Bills' pass rush has been consistently good all season. Their 37 sacks are tied for the most in the NFL, the result of pressure from
Kyle Williams
,
Jerry Hughes
and
Marcell Dareus
, and not just Mario Williams. Buffalo will have a legitimate shot at breaking the previous team record of 49 sacks in a season, set in 1995.
Vaughn, a pair of rookies seems to be making an impact on the Falcons' defense. Cornerback
Desmond Trufant
, a first-round pick, and linebacker
Paul Worrilow
, an undrafted rookie, are names that jump out at me on the stat sheet. How have they played?
McClure:
Good observation on both Trufant and Worrilow, Mike. I think Trufant has displayed great ball skills for most of the season. Even last week against the Saints, he had a tough start against
Marques Colston
, injured his thigh in a collision with teammate
William Moore
, then rebounded to make some outstanding plays on the ball in the second half. Carolina wide receiver
Steve Smith
told me he had much respect for Trufant's game, which is saying a lot coming from Smith.
As for Worrilow, he was undrafted coming out of Delaware but quickly made a name for himself. The guy had back-to-back, 19-tackle performances against Carolina and Seattle, then followed up with 25 total against Tampa Bay and New Orleans. The future looks bright for the defense, with those two players coming of age.
Speaking of rookies, has quarterback
EJ Manuel
's knee recovered enough for him to beat the Falcons with his legs come Sunday?
Rodak:
I think Manuel has put his knee injury in the rearview mirror. He said last week during the Bills' bye week that his knee "feels fine," which is welcome news as the Bills look to keep their rookie passer healthy. To that end, though, I don't think we'll see too much of Manuel as a runner anytime soon. The Bills want him to go down and protect himself as much as possible, and he has done more of that in his two games since returning. So instead of Manuel beating the Falcons with his legs, I think the bigger threat to Atlanta's defense is the big play. The Bills have done much of their scoring this season on big plays, so the Falcons' secondary should be on high alert against speedsters
Marquise Goodwin
and
T.J. Graham
.
Vaughn, now that the Falcons are out of the playoffs, what do they need to do to get back into the contention next season? What positions might this team look to improve through the draft and free agency?
McClure:
There's no question the Falcons have to upgrade along both the offensive and defensive lines. It wouldn't be a surprise to me if they ended up selecting South Carolina defensive end Jadeveon Clowney if they get one of the top three picks. The need for quarterbacks among some of the other lower-tier NFL teams might allow Clowney to fall to the Falcons, provided they don't secure the No. 1 overall selection.
It might be hard to address the offensive line via free agency, but the Falcons had better try. I covered the
Chicago Bears
last season and saw how much of a difference it made for them to add former Saints left tackle
Jermon Bushrod
this season. I think the Falcons also need to look to add depth at the safety position, and they might want to find other options at tight end with
Tony Gonzalez
set to retire.
Regardless, whether it's the draft or free agency, I expect the Falcons to be somewhat active. They were too close to the Super Bowl last season and want to be back in position in 2014.