AFC East:

2013 NFL Week 14 Double Coverage
December, 6, 2013
12/06/13
12:00
PM ET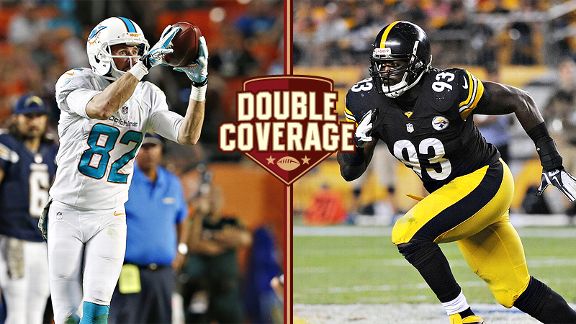 Getty ImagesBrian Hartline, left, and Miami face Jason Worilds and Pittsburgh in a game with playoff implications.
The postseason has started early for several teams around the NFL. The
Miami Dolphins
(6-6) and
Pittsburgh Steelers
(5-7) are two of those clubs, and they will meet Sunday at Heinz Field in what could amount to a playoff eliminator.
Miami and Pittsburgh are fighting for the final wild-card spot in the AFC, which is currently held by the
Baltimore Ravens
(6-6). The winner of Sunday's game will remain firmly in the playoff hunt, while the loser falls behind the pack.
ESPN.com's Dolphins reporter James Walker and Steelers reporter Scott Brown weigh in on who will prevail in this important game.
Walker:
Scott, I think much of this game will be determined by the matchup between Miami's ninth-ranked pass defense against Pittsburgh's eight-ranked passing offense. This is a strength vs. strength clash. The Dolphins are very wary of Pittsburgh quarterback
Ben Roethlisberger
. Miami defensive coordinator Kevin Coyle knows Roethlisberger well from his days with the
Cincinnati Bengals
and has a healthy respect for "Big Ben." He's unlike any quarterback Miami has faced this season because of his ability to extend plays to throw deep, not necessarily to run for extra yards. There is a lot of pressure on Miami's cornerbacks and safeties to maintain their coverage longer than usual to prevent big gains on broken plays.
Speaking of which, Steelers receiver
Antonio Brown
is Pittsburgh's best playmaker, and leads the NFL in receptions. What makes him so dangerous?
Brown:
It's funny that Brown still doesn't get his due as a No. 1 wide receiver, even from some media types in Pittsburgh, despite the phenomenal numbers he has put up this season. Brown might not have the size associated with No. 1 receivers, and he does not have blazing speed, but he has excellent quickness, is a superb route runner, and Roethlisberger has said he's never seen a receiver who is able to adjust to a ball while it's in the air the way Brown regularly does. Above all, Brown works at it. I mean really works at it. He is maniacal about training, and it's not uncommon for Brown to hit the gym for a workout after spending all day at Steelers' headquarters.
James, you have been immersed in one the biggest stories of the season, and I'm sure Steelers' fans would appreciate your take on how the Dolphins have dealt with the turmoil and distractions caused by the
Jonathan Martin
bullying allegations. Have the Dolphins settled into any semblance of normalcy, or is their a new normal in Miami?
Walker:
Things have been as close to normal this week as it's been since Martin left the team Oct. 28. There was a huge dark cloud hanging over the Dolphins, and things intensified and became very uptight the week NFL lead investigator Ted Wells visited the team. I expect things to be relatively calm for a couple more weeks until Wells completes the report and releases his findings. After that, all bets are off. There will be no winners in this complex situation. I don't expect
Richie Incognito
or Martin to return to Miami. So the Dolphins have already taken a hit. More heads could roll if others are found culpable.
Scott, one Dolphin who is excited about this matchup is former Steelers receiver
Mike Wallace
. What type of reception do you think he will receive, and how will Pittsburgh's secondary defend Wallace?
Brown:
I think Wallace will hear his share of boos. I think he is perceived, fair or not, by a lot of Steelers fans as selfish and a player who did not produce enough last season or help the team chemistry because of his contract situation. I'm real interested to see how the Steelers try to defend Wallace. His speed is going to be a problem for a defensive backfield that has lost a collective step given the age of its starting safeties, not to mention top cornerback
Ike Taylor
.
Taylor usually draws the assignment of shadowing the opposing team's No. 1 wide receiver, but I'm not sure the Steelers will do that with Wallace, since coach Mike Tomlin has a lot of respect for
Brian Hartline
as well. Whoever draws Wallace will get help from a safety, but he could have a big game at Heinz Field. The Steelers have given up seven passing plays of at least 50 yards this season, and I'm sure Wallace would love nothing more than to add to his former team's total.
James, what are the early reviews on Wallace? It doesn't seem like the Dolphins are getting the return from the investment they made in him, though I know it's early.
Walker:
It's still a work in progress, Scott. Wallace hasn't put up the production many in Miami expected, but there is plenty of blame to go around. Starting with Wallace, the drops are on him. Wallace had too many drops early in the season, although he's gotten better in the second half of the year. But other factors such as scheme and quarterback
Ryan Tannehill
's inability to throw a consistent deep ball has made it tough for Wallace to make the same plays he made in Pittsburgh. Tannehill doesn't have Roethlisberger's arm strength or ability to extend plays. Wallace thrived off broken plays that Roethlisberger created. Tannehill doesn't have near the same elusiveness and ability to out-throw the coverage. Wallace is getting open, but many of Tannehill's deep balls have been underthrown, which allows defenders to recover. There are some things involved that Wallace cannot control. But he does have momentum coming into this game. Wallace has totaled 12 catches for 209 yards and two touchdowns in his past two games. I expect him to be amped for Sunday.
Finally, Scott, what do you think of Pittsburgh's playoff chances, and how it relates to this game?
Brown:
In spite of the latest wave of injuries to hit the offensive line, I actually think the Steelers have a chance to win their final four games and make the playoffs -- if they get the help they are going to need with the Ravens. My outlook probably changes if
Aaron Rodgers
is playing quarterback in the Steelers' Dec. 22 game at Green Bay. But if the Packers drop out of playoff contention, does Rodgers play against the Steelers? That is a big if as of right now.
Green Bay is the only remaining road game for the Steelers, so the schedule sets up favorably, especially given Rodgers' uncertain status. Roethlisberger is really locked in right now, and I think he is capable of carrying the Steelers and masking a lot of problems assuming an offensive line that is held together by duct tape can do a reasonable job of protecting him.
.
December, 6, 2013
12/06/13
10:00
AM ET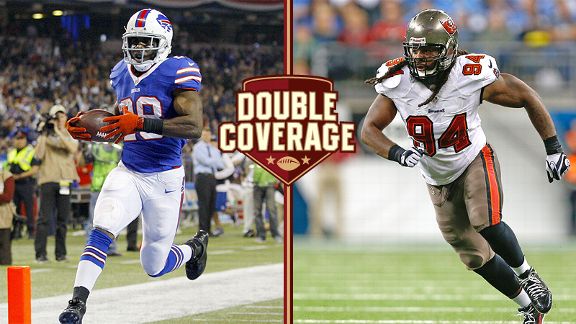 USA Today Sports; AP PhotoC.J. Spiller's Bills and Adrian Clayborn's Bucs are playing for pride -- with draft positioning at stake.
Aside from 2014 draft position, Sunday's game between the
Buffalo Bills
and
Tampa Bay Buccaneers
doesn't have a lot of obvious meaning.
At the moment, the Bucs (3-9) would hold the No. 5 overall pick in next year's draft, while the Bills (4-8) would hold the No. 9 pick. But Sunday's result could shake that order up.
ESPN.com Bills reporter Mike Rodak and Buccaneers reporter Pat Yasinskas examine the matchup.
Yasinskas:
Mike, this game features two rookie quarterbacks. Tampa Bay's
Mike Glennon
and Buffalo's
EJ Manuel
. Glennon is coming off his worst game of the season against Carolina. But, other than that, he has been fairly efficient. What's your assessment of how Manuel has played so far?
Rodak:
Manuel has been up and down, both before his knee injury and after it. The 16th overall pick of the 2013 draft missed four games in the middle of the season after he took a shot to the side of his knee against the Browns in Week 5. The Bills' brass has liked to say that Manuel was on the right track before the injury, but the reality is that he had a completion rate below 50 percent in Weeks 3 and 4 and had three turnovers in that Week 4 win over the
Baltimore Ravens
. When Manuel came back in Week 10, he had perhaps his worst game of the season, in Pittsburgh. Those have been the low points.
On the other end of the spectrum, Manuel led the Bills on a game-winning drive over the
Carolina Panthers
in Week 2 and posted a passer rating of 121.9 against the Jets in Week 11. Those have been the high points. But on average, he has been a below-average NFL quarterback to this point, posting a 45.5 QBR for the season.
Pat, the Bucs looked like a disaster about two months ago. Now they have won three of their past four games. What has changed for them?
Yasinskas:
The Bucs were in utter disarray at the start of the season. But, aside from Sunday's loss to Carolina, they've played much better over the past month or so. Part of it has to do with Glennon's steady improvement. He has shown signs he can be more than just a game manager. The other thing that has stood out has been how this team has stuck together. Despite some speculative reports to the contrary, coach Greg Schiano never lost the locker room. His players still believe in his system and have been playing hard for him. Finally, the defense, which has a lot of individual talent, has started to click and that coincided with the turnaround.
Speaking of defense, the Bills lead the league with 43 sacks, but they're allowing 25.6 points a game, which ranks 24th. What has gone wrong with this defense?
Rodak:
Earlier in the season, much of the problem was with the secondary. The Bills battled through some injuries -- safety
Jairus Byrd
and cornerback
Stephon Gilmore
both missed time -- and they got torched by some teams early. But they've been healthy back there for a while now, and the results have been better.
The problem recently has been with the run defense. The Bills rank 24th in the NFL, allowing 121.5 rushing yards per game, and allow 4.18 yards per carry. Some of that has to do with time of possession. The Bills' offense ranks 31st in the NFL, which has put some stress on the defense. More alarmingly for Buffalo, the run defense has gotten worse as the season has gone on. The Bills allowed 5.83 yards per carry to the Jets and 5.03 yards to the Falcons, including two long touchdown runs. There's a lot of talent on this defense, but the consistency isn't there.
Pat, there was a lot of talk this offseason about the moves the Buccaneers made in their secondary. They drafted
Johnthan Banks
in the second round, traded for
Darrelle Revis
and signed
Dashon Goldson
. How have those moves paid off?
Yasinskas:
The Bucs went overboard making moves in the secondary because they had the league's worst pass defense in 2012. There has been a noticeable improvement this year. But it hasn't been all roses. Banks has looked good at times, but also has had some rookie moments. Goldson missed two games due to injury and was suspended for another game for an illegal hit. Revis has been solid, although the Bucs brought him along slowly early in the year because he was coming off knee surgery. Overall, this is a decent secondary, but it has yet to approach its true potential.
Mike, what's your read on
C.J. Spiller
? He seems to be having an up-and-down season to this point. How much has his ankle injury been a factor?
Rodak:
He has been a tough one to pin down. This much is for certain: He hasn't lived up to the expectations many on the outside had for him entering this season, and his ankle is a big factor in that. But even after coach Doug Marrone removed Spiller from the injury report about a month ago, things still weren't right. He had disappointing games in Weeks 10 and 11, rushing a combined 21 times for 29 yards. But then, out of the blue, he broke open a 77-yard run Sunday, the longest of his career. He followed that with a 36-yard touchdown run and finished with one of the best games of his career, tallying 149 yards.
Going forward, I'm not really sure what to expect with Spiller. This could be his identity within this offense: a home run hitter who is prone to more strikeouts than the norm.
Pat, speaking of running backs,
Bobby Rainey
seems to have cooled off since his huge game against Atlanta a few weeks ago. What has happened to the Bucs' running game?
Yasinskas:
Rainey rushed for 163 yards against the Falcons, but has averaged just 49 yards in the two games since then. What's happening is that opposing defenses are loading the box to stop the running game. They're daring Glennon to beat them and he hasn't really done that. Until Glennon starts having more luck with the downfield passing game, defenses are going to continue to focus on bottling up the running game.
December, 5, 2013
12/05/13
10:00
AM ET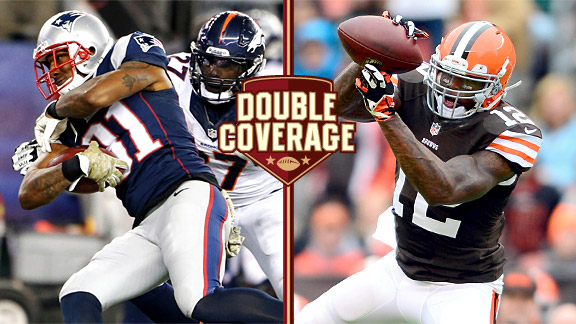 USA TODAY SportsJosh Gordon is one player Aqib Talib and the New England defense need to keep an eye on.
FOXBOROUGH, Mass. -- The last time the
New England Patriots
faced the
Cleveland Browns
, it wasn't pretty. The Browns posted a resounding 34-14 win.
Eric Mangini was the Browns' coach at the time, Mike Holmgren was the president and Patriots tight end
Rob Gronkowski
was a still-learning-the-ropes rookie whose miscue in attempting to field a kickoff contributed to a forgettable on-the-road disaster for New England.
The year was 2010, and that game turned out to be a high point for Mangini before he ultimately was fired at the end of the season. The Browns later hired Pat Shurmur as coach, but he was let go after two seasons, in part because of a change in ownership and front-office structure.
The new Browns regime, led by CEO Joe Banner and general manager Mike Lombardi, has since talked about building a sustainable team with the long haul in mind. One model it'd be happy to emulate is that of the Patriots, who just clinched their 13th straight winning season, three shy of the post-NFL-merger record set by the Cowboys and 49ers.
Here to break down the matchup are ESPN.com NFL Nation reporters Mike Reiss (Patriots) and Pat McManamon (Browns):
Reiss:
Pat, let's open it up with a big-picture look at the Browns. Lombardi worked under Bill Belichick with the Browns in the early-to-mid 1990s, and that connection has been well documented. I often enjoyed reading and listening to Lombardi's media-based analysis, and now he's back in the team-building business. How would you describe his first year on the job and how the Browns are positioning themselves for sustainability?
McManamon:
Well, Mike, the short term is pretty gruesome. Last weekend's loss to Jacksonville was as bad as any since 1999, and the team is an emotional mess. Cleveland actually believed it could and would take a step forward this season, but in all likelihood the Browns are headed for their sixth season in a row with four or five wins. How's that for consistency and sustainability? The only thing the Browns confirmed this season is they'd rather not have
Brandon Weeden
at quarterback next season. Other than that, they're as muddled today as they were when training camp started. The drafted players have not helped, there is no run game, there is no second receiver and the defense let
Chad Henne
go 80 yards for a game-winning drive on Sunday. Other than that, Mrs. Lincoln ...
Mike, as you say, the Patriots are a model of sustainability. Part of that reason is they hit on
Tom Brady
in the sixth round of the 2000 draft. How much of their sustained success is due to Brady and how much is due to other factors? And can you say what those factors are that the Browns might be lacking?
Reiss:
Brady is a huge factor in what the Patriots have accomplished, as his excellence helps mask other deficiencies. At the same time, it was no fluke that in the one year he tore his ACL on the 15th offensive play of the season (2008), the Patriots finished with an 11-5 record. That accomplishment continues to look better as the years go by, especially when looking at a team like the 2013 Packers and how they are struggling without injured starter
Aaron Rodgers
in recent weeks.
Belichick has built a strong program from top to bottom, and one of the key parts of it is depth. Many teams talk about building a roster that is strong from 1 to 61 (53-man roster plus eight-man practice squad), but it takes discipline to follow through on it. Some unpopular decisions have to be made at times for clubs that take that approach. This year is a good example, as the Patriots have lost some big-time players on defense (
Vince Wilfork
,
Jerod Mayo
) to season-ending injuries, but it hasn't sunk their season. This is an exceptionally well-coached team, and the players, for the most part, buy in to the team concept.
So, no doubt, it's huge to have someone like Brady to build around. And that's a position that I'd expect, from this faraway view, the Browns to target in 2014. That said, quarterback
Brian Hoyer
was the backup in New England from 2009 to 2011, and it looked like he created a spark for the Browns before tearing his ACL. What do you think his future looks like in Cleveland?
McManamon:
He did create a spark, and at this moment he probably heads into 2014 as the Browns' starter. Hoyer is recovering and rehabbing aggressively from his surgery, to the point that no limp or sign of the injury is visible when he walks. Hoyer played with smarts and savvy, and played well. But the problem is that he played only two games, which is hardly a fair sample size. So Hoyer should expect competition, whether it's another veteran free agent, whether it's
Jason Campbell
returning or whether it's a drafted player. Hoyer will be back, but he'll have to prove himself again.
Mike,
Josh Gordon
is the Browns' lone bright spot. His 498 receiving yards over the past two games is an NFL record. He's also the first to have more than 200 yards in a season. Am I correct in assuming that
Aqib Talib
will cover him, and what do you think Belichick will do to disrupt Gordon's route running? The guy is so big and strong that it's extremely hard to rough him up at the line the way Belichick likes to do.
Reiss:
One thing Belichick often says is that if a defense decides it's going to take away something from an offense, it usually can. It's just a matter of how many resources the defense wants to devote to do so because it will weaken itself in other areas. Several times this season, we've seen Talib match up against the opponent's top receiver, and outside of one game, Nov. 18 at Carolina against
Steve Smith
, he has been excellent. So it makes sense to think that would be a matchup the Patriots consider, in addition to devoting safety help to Gordon's side of the field, if they feel that strongly about Gordon's big-play ability. It doesn't look like the Browns have many other top weapons that could make that type of plan hurt.
Pat,
if we go back to our early-season predictions
, which show that the term "expert" should be taken lightly in my case, I picked the Browns as a surprise playoff team in part because I thought their defense would carry them. Call it my mistake by the Lake. Even as they are building with 2014 in mind, which seemed to be the plan from the get-go, I thought they'd be further along this year. So why the struggles?
McManamon:
Pretty simple -- they were overrated. The Browns have some decent players, and one guy pushing to be great (
Joe Haden
), but they don't have a great player yet. Combine that with learning a new system and an offense that has turned the ball over 11 times the past three games, and struggles will follow. Defensive coordinator Ray Horton has backed up his claims about his guys with numbers, but at some point the old adage "stats are for losers" comes into play. No defense that gives up an 80-yard touchdown drive to the 32nd-ranked offense can call itself great, or even good.
Mike, on paper, this is a huge mismatch. Do you see any way Brady or Belichick kicks this away and lets the Browns steal this game?
Reiss:
I don't, Pat, but let's toss out a scenario that could give the Browns their best chance. They would have to possess the ball, playing keep-away from Brady, and somehow come up with a "bonus" score on either defense or special teams. The Patriots' defense has looked vulnerable the past two games, so it's not like this is an invincible unit that can't be exploited in certain areas. But given the quarterback questions the Browns have entering this one, and their general struggles overall, it's just hard for me to see how they can escape Gillette Stadium -- traditionally one of the toughest places to win at this time of year -- with a victory unless Belichick decided to give his pal Lombardi an early holiday gift to take some of the pressure off him.
December, 5, 2013
12/05/13
10:00
AM ET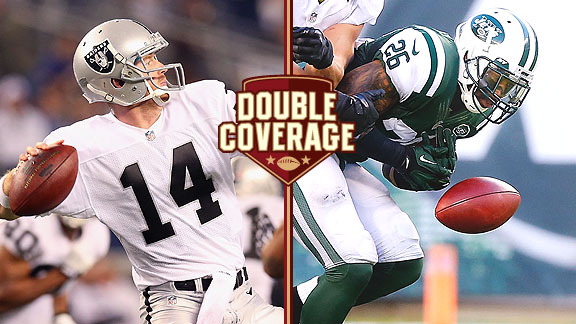 Getty ImagesRaiders QB Matt McGloin will test his mettle against Dawan Landry and the Jets' defense.
The
New York Jets
and
Oakland Raiders
are a lot alike. They're rebuilding teams, slumping and struggling for answers at the quarterback position -- and yet they remain mathematically alive in the AFC wild-card race. Go figure.
The old AFL rivals meet Sunday at MetLife Stadium. The Jets (5-7) have dropped three straight; the Raiders (4-8) have lost four of their past five, plus 12 straight in the Eastern time zone, dating to 2009. Jets team reporter Rich Cimini and Raiders team reporter Paul Gutierrez break down the matchup.
Cimini
: Paul, let's start at quarterback.
Terrelle Pryor
got hurt, creating an opportunity for
Matt McGloin
. I bet casual NFL fans didn't know anything about him until recently, but he's actually put up decent numbers. He's Ken Stabler compared to
Geno Smith
. Tell me about McGloin and his game.
Gutierrez
: Matt McGloin is your prototypical undersized, undrafted, chip-on-the-shoulder signal-caller who was invited to Napa, Calif., merely as a fourth arm, a "camp arm" who, through attrition, outlasted a fourth-round draft pick in Tyler Wilson, a purported big-money franchise quarterback in
Matt Flynn
and a new-jack, zone-read specialist in Terrelle Pryor for whom the term "moxie" was apparently invented. Whew ... hope that makes sense. Truly, though, McGloin is your standard pocket passer who is not afraid to step up in the pocket to make a throw and take a hit.
It's the skill set that Dennis Allen obviously prefers, and with a steady offensive line and sound running game, it's what works in this staff's offense under coordinator Greg Olson. Because what the offense loses with Pryor and his legs (remember that 93-yard TD run he had against the Steelers?), it gains in field vision. Many think it's actually a wash, though. Pryor, now that his sprained right knee, which he actually reaggravated on the MetLife Stadium turf against the Giants on Nov. 10, is healed, might give the Raiders a better shot against the Jets' defense. Allen has even said he wants to see Pryor on the field.
Let's stick with quarterbacks: Is Geno Smith the future in Gotham, or was his being named the starter -- again -- that vaunted kiss of death? And what about
Mark Sanchez
's prospects next year? Seems like the Jets have set themselves up for a QB controversy for the foreseeable future, with little to gain.
Cimini
: It's "Groundhog Day," Paul. The Jets went through the same uncertainty a year ago. The names have changed, but it's the same story: The Jets don't have a definitive answer at quarterback. Smith was rushed into this job when Sanchez got hurt in the preseason, and after showing some early promise, he crashed back to reality. Smith has the physical tools, but he's overwhelmed. The game is too big for him, and he needs to spend some time on the bench to gather himself, but that hasn't happened because the Jets don't have a proven backup.
Matt Simms
is the Jets' version of McGloin, and
David Garrard
(remember him?) has been stuck in mothballs for three years.
So, basically, they're going to ride it out with Smith to see if he's the future. I think they already know the answer to that question; Smith is putting up some historically bad numbers. Sanchez, recovering from shoulder surgery, will be playing elsewhere next year. Hey, maybe he'll be in Oakland.
We're talking about two bad offenses here, but at least the Raiders saw some flashes from
Andre Holmes
. Is he for real and do they have playmakers to exploit the Jets' suspect secondary?
Gutierrez
: I see what you did there with the Sanchize-to-Oaktown ploy. And, yeah, maybe a change of scenery back to his native West Coast would do him good. Well played, sir. Well played. As far as Andre Holmes goes, though, he might actually personify these Raiders -- that is, he's an undrafted player who washed out in two other spots and was thus undervalued (think of the Raiders' O.co Coliseum roomie, Billy Beane's Moneyball Athletics). Holmes looked legit against the Cowboys, his most recent team, in catching seven passes for 136 yards after coming into the game with five catches for 76 yards ...
in his career
. He's a big target at 6-foot-4 and not a burner from the days of Al Davis yore. But we're talking an extremely small sample size.
The Raiders' "playmakers" are guys who really have been either (A) phased out or (B) injured or (C) both. Paging Pryor, running back
Darren McFadden
and receivers
Jacoby Ford
and
Denarius Moore
. McFadden, though, might actually get a lot of run in the Meadowlands (they still call it that, right?). At least they don't have to deal with Revis Island (I joke, I joke).
Still, the Jets' defense as a whole can be good and the Raiders are going to have to account for rookie defensive end
Sheldon Richardson
. Has he hit the "rookie wall" yet, or is that merely something for other rookies to worry about?
Cimini
: Oakland's Holmes is doing better than the Jets' Holmes (Santonio), but that's a story for another day. As for Richardson, his pass-rushing production has dipped a bit, but he remains a good, every-down player. He plays the run very well, which has surprised many because that was supposedly the knock on him when he came out of college.
If I were Dennis Allen, I'd be more concerned about
Muhammad Wilkerson
, who has a team-high 10 sacks and deserves to be in the conversation for NFL Defensive Player of the Year. At 315 pounds, Wilkerson is mostly an interior player, but he moves around. He lines up over the center, the guard ... anywhere. He's by far the best player on defense, probably the best player on the team. He's the key to the best run defense in the league.
Speaking of defense, I'm curious to see how the Raiders attack Smith. Most teams just load the box, overplay the run and dare Smith to beat them with his arm. Clearly, the Jets' receivers don't scare anyone. How do you see the Raiders playing this game?
Gutierrez
: I see the Raiders sticking to their M.O. of blitzing with aplomb, racking up sacks early, building a quick lead and then trying desperately to finish out a game strong. That's been their formula (the jumping-out-to-a-lead part, not the blowing-leads bit) and I would imagine they would continue that line of thinking, but keeping someone to spy Smith, someone like a wily old vet in
Charles Woodson
, while being mindful of slant passes. That absolutely killed them against Tennessee.
The key for the Raiders on defense is to not get so worn down by halftime. It bit them in the season opener at Indianapolis, at home against Washington and Tennessee, and on the road against the Giants and Dallas. At least the Raiders will be coming off a long break, having last played on Thanksgiving, so a short week won't be readily available as an excuse this time, as it was against the Cowboys.