AFC East:

2013 NFL Week 7 Double Coverage
October, 17, 2013
10/17/13
12:00
PM ET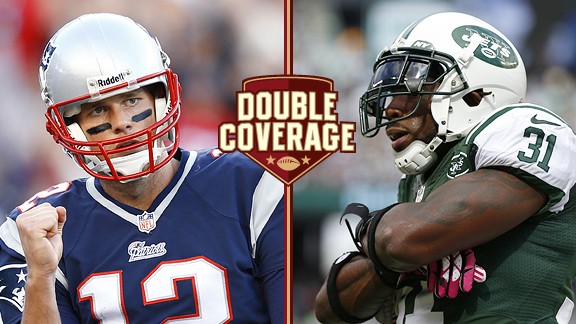 USA TODAY Sports, AP PhotoTom Brady mustered just 185 passing yards in a Week 2 win over Antonio Cromartie's Jets.
The
New York Jets
and
New England Patriots
renew their heated rivalry Sunday at MetLife Stadium, where the Jets (3-3) hope to jump back into the AFC East race by stealing a much-needed win.
The Jets are tired of getting pushed around by the Patriots, having lost five straight meetings, so their theme this week is "Unfinished Business." They felt they should've won the previous meeting, a 13-10 loss in Week 2, and they see this as an opportunity to exact revenge. Of course, the Patriots (5-1) have heard this before from the Jets. They stay out of the war of words; they just keep winning.
ESPN.com Jets reporter Rich Cimini and Patriots reporter Mike Reiss break down the matchup.
Cimini
: Mike, I guess we should start with the last-second win over the
New Orleans Saints
.
Tom Brady
was marvelous on the final drive, as usual, but it wasn't a vintage Brady game. He was sacked five times and finished with a 74.7 passer rating. Is he still having chemistry issues with his receivers, as we noticed in Week 2?
Reiss:
Yes, Rich, it remains a work in progress as the Patriots are among the league leaders in dropped passes. The overall unsteadiness has had a trickle-down effect on some of Brady's decision-making and accuracy, in part because he just doesn't have that assurance at all times of where his receivers are going to be. But the end of that game could be a breakthrough because they had little margin for error and still came through. And before that, they got the running game going with
Stevan Ridley
, and I think that's going to be key this week. The Patriots didn't run it well in their 13-10 win over the Jets on Sept. 12 -- let's give the Jets' defense some credit for that -- so that's high on the priority list this week. How are the Jets different, on both offense and defense, since that meeting?
Cimini
: First of all,
Geno Smith
is more comfortable at quarterback. I know you can't tell from his stats this season (10 interceptions), but he has been making better decisions over the past eight quarters. This will be a huge test to see how much he's grown since Week 2.
Their problem is, the supporting cast isn't the same. Tight end
Kellen Winslow
is serving a PED suspension, wide receiver
Santonio Holmes
is a major question mark with a balky hamstring and wide receiver
Clyde Gates
is done for the year.
Jeremy Kerley
is back -- he didn't play in the first Jets-Pats game because of a concussion -- but I don't think he's the type of player who will change a game. I think the Jets will feature the running game, using
Bilal Powell
and
Chris Ivory
. That's probably the best way to attack the Patriots, who won't have the big fella --
Vince Wilfork
-- or
Jerod Mayo
. How much will the Patriots miss those guys?
Reiss:
These losses hit at the heart of the Patriots' defense. In baseball, it's often said that a team wants to be strong up the middle, and the same could be said for a football team. Wilfork and Mayo are the Patriots' "middle" men, the glue guys who play almost every snap. These are big losses, about as big as they get on defense. Then you consider that cornerback
Aqib Talib
, arguably their best defender over the first six weeks of the season, also didn't finish Sunday's win over the Saints (hip injury), and it's a banged-up unit. But as we know, no one is going to feel sorry for a team with injuries in the NFL.
I think one of the big themes this week is that Bill Belichick's team-building philosophy, and the value he puts on depth, is in the spotlight. People often ask why he generally trades down in the draft instead of up. Or why the team might make hard financial decisions in free agency that make key players sometimes defect. This is a main reason: He believes in the importance of depth and the complete team, from player No. 1 to player No. 61 on the back end of the practice squad. They'll need them all to overcome these losses.
As for the Jets' defense, I know the Patriots respect the line and the ability to stop the run. But I was surprised to see just three takeaways for the Jets this season. That doesn't sound like a Rex Ryan defense, at least the one that comes to mind, with his creative schemes and disruption. What's going on with that unit?
Cimini
: To quote Ryan, it's shocking and disappointing. They have one interception and one forced fumble (the third takeaway was produced on special teams). They haven't made an interception since Week 1, a span of 207 passes without a pick. Why the drought? A few reasons. For one, the Jets haven't had too many leads and, as you know, it's easier to force turnovers when you're playing with a lead. Secondly, the secondary has dropped off.
They miss
Darrelle Revis
, no doubt, and
Antonio Cromartie
isn't playing as well as he did last season. No. 1 pick
Dee Milliner
(hamstring) hasn't been able to get on the field, and there's no one else in the secondary with any sort of playmaking ability. They're not even coming close to interceptions, as the DBs have combined for only 11 pass breakups. The odd thing is, the front seven is generating decent pressure, but teams have adapted to the improved pass rush by throwing a lot of quick screens and short passes. How do you think the Patriots will attack the Jets?
Reiss:
This is now primarily a three- or four-receiver offense, and they are coming off an up-tempo attack against the Saints, as they ran 50 snaps in the first half. I could see the same thing against the Jets. Part of the reason I think they went up-tempo was to negate some of the presnap disguise and scheming that a Rob Ryan-coached defense can be effective with. The Jets' defense, under Rex Ryan, seems to have some similar concepts. In addition to that, they know they have to run the ball better than they did last time. What do you see as the key?
Cimini
: This might seem like a cliché, Mike, but it's all about the turnovers. Under Ryan, the Jets are 3-0 against the Patriots when they're plus or even in turnover ratio, and 0-7 when it's a negative margin. Much of this burden falls on Geno Smith. He has thrown at least two interceptions in four of six starts. If he makes it five out of seven, I don't see how the Jets can win this game.
.
October, 17, 2013
10/17/13
12:00
PM ET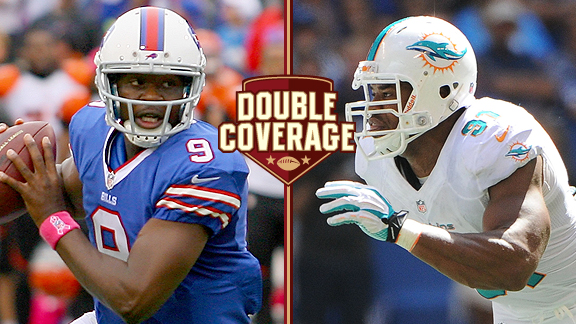 Getty Images, AP PhotoBanged-up Bills QB Thad Lewis will feel pressure from Miami pass-rusher Cameron Wake.
Sunday's matchup at Sun Life Stadium involves AFC East teams on a pair of two-game losing streaks.
The
Miami Dolphins
(3-2) will host the
Buffalo Bills
(2-4) in a game with several interesting storylines. Miami and Buffalo split their season series in 2012.
Can the Dolphins get on track at home? Will Buffalo get its act together and win its first game on the road?
ESPN.com Bills reporter Mike Rodak and Dolphins reporter James Walker weigh in:
James Walker:
Mike, let's begin by discussing this past week. The Dolphins enjoyed their bye and got a chance to recuperate from their injuries. This will probably be as healthy as Miami has been since Week 1, especially on defense. The Dolphins are still reeling after back-to-back losses against the
New Orleans Saints
and
Baltimore Ravens
. But Miami should feel good about itself heading into Sunday's game against the Bills, who are also on a two-game losing streak. After facing
Andrew Luck
,
Matt Ryan
,
Drew Brees
and
Joe Flacco
the past four games, the Dolphins' defense feels better about its chances against Buffalo. Bills quarterback
Thad Lewis
played a solid game in Week 6 against the
Cincinnati Bengals
, but he also has a sprained foot. What are your expectation of Lewis and what challenges will he present?
Mike Rodak:
The expectation is that Lewis will play Sunday. Head coach Doug Marrone said Monday that tests on Lewis' foot were clean. However, he was in a walking boot after Sunday's loss to the Bengals, and when he took it off, Lewis was heavily labored in trying to walk across the locker room. If that doesn't fully clear up in the next few days, Lewis might be limited in what he'll be able to do against the Dolphins. Lewis was billed as a mobile quarterback with a strong arm, and although it was just one game, he lived up to those expectations against Cincinnati. With the injury, I don't think the Dolphins have to worry too much about Lewis' scrambling ability, but they will need to watch out for the deep ball, as the Bills have a speedy group of receivers.
James, I saw a statistical comparison the other night between Luck and
Ryan Tannehill
, two of the top quarterbacks in the 2012 draft. Luck has more career yards (5,720) than Tannehill (4,677) and also has a better touchdown-to-interception ratio (30-to-21 for Luck; 18-to-18 for Tannehill). But Tannehill has a better completion percentage (59.5) than Luck (55.8), and their QB ratings are nearly identical. Luck has received most of the national publicity, but what's the feeling in Miami about Tannehill in his first season-plus?
Walker:
It's mostly optimistic in South Florida. The Dolphins have lost two in a row but Tannehill is not the problem. Miami has two major issues on offense that could help Buffalo: The Dolphins' running game is ranked 29th in the NFL and their pass protection is horrid. Tannehill has been sacked 24 times in five games. That's inexcusable if Miami wants its QB to last all 16 games this season. But Tannehill has shown toughness and poise through it all. When he has time, Tannehill has made some stellar throws. He looks the part of the franchise quarterback thus far. Although Tannehill's statistics aren't through the roof, I've actually beaten the drum that he is performing above expectations in Year 2 because of the adversity he is facing.
Mike, it looks like the Bills certainly have their running game figured out with tailbacks
C.J. Spiller
and
Fred Jackson
. Why has Buffalo been so successful on the ground despite a rotating door at quarterback?
Rodak:
I think a lot of it stems from the toughness of Spiller and Jackson. Spiller got off to a slow start and then was hit by back-to-back injuries in Weeks 3 and 4. But he showed guts in Week 5 against Cleveland, limping his way to a 54-yard touchdown, and also had a strong performance against Cincinnati. Meanwhile, Jackson is having a career season, even at 32 years old and despite battling a sprained MCL in recent weeks. He's third in the NFL behind
Ben Tate
and
Alfred Morris
in yards gained after contact. I think what's troubling, though, for the Bills is that they are third in the NFL in rushing (149 yards per game) but 27th in time of possession. That's an unusual combination, the result of a fast-paced offensive philosophy that might not be getting the most out of Spiller and Jackson's production.
James, what's the latest on
Cameron Wake
? The Dolphins' foes in the AFC East know all too well how dangerous he can be when he's healthy. Will he be a full go on Sunday? And if not, can we expect
Dion Jordan
to make any sort of impact? Some gushed about his talent back in the spring, but it doesn't seem like he has been a factor thus far.
Walker:
A big smile was back on Wake's face this week, which is a good indication that he's feeling closer to 100 percent. I think the bye did wonders for Wake and several ailing players on Miami's defense. This will be as healthy as this group has been in about a month. Wake plays so hard and so violent that it's difficult for him to play at 70 percent or 75 percent. That's what we saw in the last game against Baltimore when he tried to play on a bum knee for just one series. I expect Wake to be much closer to full strength on Sunday. As far as Jordan, I blame Miami's coaching staff for keeping the kid gloves on too long with the rookie. The Dolphins use Jordan only on special teams and as a situational pass-rusher. But Jordan has made several impact plays in limited playing time. He had a tipped ball against Flacco in Week 5 that caused a pick-six. Jordan has earned more playing time, and I'm curious to see if the Dolphins oblige following the bye.
Finally, Mike, Buffalo is winless on the road and within the AFC East. Both factors are in play here. What Bills team do you expect to show up Sunday in Miami?
Rodak:
I think we'll see a competitive game Sunday. Despite their 2-4 record, the Bills have hung tight in every game they've played. More than anything, I'll look for the way Lewis handles himself on the road. I thought
EJ Manuel
struggled against both the Jets and the Browns, prior to his injury. Maybe Lewis, in his fourth season, will be steadier when away from Ralph Wilson Stadium. I also think that the Bills are starting to get healthier. If they are ever able to get back to full strength, or close to it, they can be dangerous. They've shown as much at points this season.
.