AFC East:

2013 NFL Week 9 Double Coverage
November, 1, 2013
11/01/13
12:00
PM ET
By
Scott Brown & Mike Reiss
| ESPN.com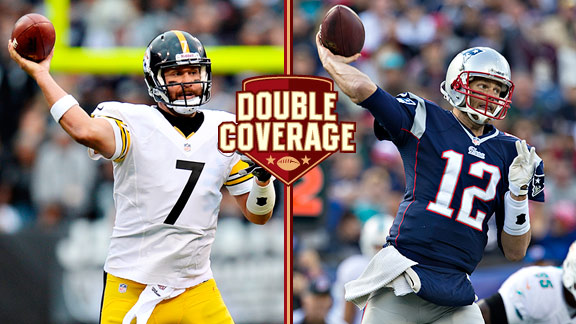 Getty ImagesBen Roethlisberger leads the struggling Steelers against Tom Brady and the injury-plagued Pats.
When the NFL schedule was released six months ago, an early November game between the visiting
Pittsburgh Steelers
and
New England Patriots
looked like it would be a clash between two of the top contenders in the AFC.
Yet as is often the case in the ever-changing NFL, it hasn't unfolded that way.
The Steelers (2-5) are starting games slow, and in turn, their season got off to slow start. Meanwhile, the Patriots are 6-2 but have looked like a 2-6 team at times.
Can the Steelers turn it around? Will the Patriots ultimately play more consistently and have the look of a contender?
ESPN NFL Nation reporters Scott Brown (Steelers) and Mike Reiss (Patriots) help us break it down.
Reiss:
Scott, take us inside the Steelers locker room for a feel on where things have gone wrong this season.
Brown:
I think the players are truly perplexed at how they have gotten to this point. Effort hasn't been an issue, and the Steelers have gone into the fourth quarter of every loss this season with a chance to win. Injuries have been a problem, but they can't be an excuse since most if not all teams have to overcome them during the course of the season.
The biggest problem has been the different units not playing well off one another for the most part this season. The offense couldn't do anything in the first two weeks of the season, but the defense kept the Steelers in both games. Two weeks later in London, the offense finally broke out but the defense couldn't stop
Matt Cassel
of all quarterbacks in a loss to the one-win Vikings.
The Steelers' 21-18 loss at Oakland offers a perfect summation of the kind of season they have endured. The defense played lights out in the second half after a shaky start.
Ben Roethlisberger
brought the Steelers back in the fourth quarter as he has done so many times throughout his career. In the end, the Steelers fell agonizingly short in large part because kicker
Shaun Suisham
, who had been automatic this season, missed a pair of field goals inside of 35 yards.
It seems like the Patriots have been just the opposite of the Steelers this season in that they find ways to win. I'm not sure many outside of New England can name the Patriots' wide receivers and the defense has had to overcome the losses of nose tackle
Vince Wilfork
and inside linebacker
Jerod Mayo
.
Mike, how are the Patriots doing it?
Reiss:
It's a question that even
Tom Brady
recently acknowledged was a good one, because it has looked ugly at times. If I had to sum it up, the answer would be that their depth players (e.g. rookie defensive tackles
Joe Vellano
and
Chris Jones
) have answered the challenge when pressed into bigger roles and the team has made the few critical plays in the crucial situations that often determine the outcome of games. Furthermore, their turnover differential is solid, as it usually is with this team. That's one of the big differences I noticed between the Patriots and Steelers -- the Patriots are plus-7 and the Steelers minus-9.
I know it's probably an unusual question, as punters aren't often a hot topic of conversation, but I'm sure Patriots followers are interested to hear about what unfolded with
Zoltan Mesko
, who punted in New England from 2010-2012. Also, maybe a little bit on receiver
Emmanuel Sanders
, whom the Patriots tried to sign to an offer sheet in the offseason as a restricted free agent that the Steelers matched.
Brown:
You knew Mesko had been served notice when Mike Tomlin said last week that the former Patriot needed to eliminate the one "junior varsity" punt he seemed to have a game. You knew he was in trouble when Tomlin gave him an earful as Mesko walked to the Steelers' bench after a 30-yard punt last Sunday in Oakland.
Some might argue he took the fall for the Steelers' third consecutive loss in Oakland since punters are so expendable, but Mesko didn't help himself with the inconsistent punting that ultimately earned him a pink slip.
Sanders has had his moments, but he has too frequently been what Tomlin would call just another guy. The fourth-year veteran is still without a 100-yard receiving game this season -- and his career. The Steelers should be getting more production from Sanders (31 catches for 396 yards), particularly with
Antonio Brown
drawing so much attention from opposing defensive backs. I'm guessing the Steelers now wish they hadn't matched the Patriots' offer to Sanders and taken a third-round draft pick for him.
Speaking of receivers, Mike, can you provide an update on
Danny Amendola
and how much of an impact he might make Sunday? Count me among those who just assumed that New England would be able to plug Amendola into
Wes Welker
's spot with little to no drop-off at slot receiver because of Brady's greatness.
Reiss:
Interesting thoughts on Mesko and Sanders. Mesko was a very popular player in New England and many were disappointed to see him lose a training camp competition to rookie
Ryan Allen
. The Patriots took some heat for that, as they did for not being more aggressive with their offer sheet to Sanders, who could be a Patriots target in free agency again this offseason.
As for Amendola, the big issue has been health, which is a knock against him that he's fought over his NFL career. He was sensational in the season-opener against the Bills, but injured his groin and was knocked out for the next three games. Then he came back for two games, but in the second contest suffered a concussion which knocked him out for another game. So he's only played four games this season, and the groin is probably something that's going to have to be managed throughout the season. In his first game back from the concussion this past Sunday, Amendola had three catches for 15 yards and played 39 of 65 snaps (including penalties). That number is likely to rise in the coming weeks, so he should be a bigger factor.
I'm thinking big-picture here, because one of the big questions here in New England has been when the Patriots' run of success might end. It seems like it's been talked about, on and off, since 2006. What are your thoughts about the Steelers along these lines? Are they positioned for success, or are we witnessing a franchise primed for a little slide?
Brown:
Rebuilding is a blasphemous term around a facility that displays six Lombardi Trophies in its library. The Steelers won't even use the word transition when talking about where they are as a team. That said, all signs point to the Steelers being in decline. They need to win six of their last nine games just to go 8-8, a record they deemed unacceptable after posting it last season.
Their defense isn't getting any younger and it's still too early to tell if youngsters such as outside linebacker
Jarvis Jones
and cornerback
Cortez Allen
will be difference-makers. I do think the Steelers have the most important piece in place as far as turning it around -- whether it is this season or in 2013. Roethlisberger is still in his prime, and if you have a quarterback in the NFL, you have a chance.
The Patriots have been masterful this season in finding ways to win, something the Steelers used to do with regularity. But are they legitimate Super Bowl contenders, and what do you need to see from them to believe that they are?
Reiss:
I wouldn't count them out, Scott. Bill Belichick and his staff have been coaching their tails off, and in the end, you have to give credit to the players for stepping up in the critical moments. It hasn't always looked pretty, but I see enough in the key areas -- such as turnover differential, adapting to elements, situational defense and the like -- to think this team will be a factor coming down the stretch. That's the thing about the NFL. It's not necessarily what you look like right now, it's what the picture will look like as we get to Thanksgiving and beyond, assuming you're still in the hunt. They've positioned themselves well at this point.
October, 31, 2013
10/31/13
12:00
PM ET
This hasn't been the best of weeks for
New York Jets
coach Rex Ryan. His defense was embarrassed this past Sunday in a 40-point loss to the
Cincinnati Bengals
, and now he has to regroup for the explosive
New Orleans Saints
. And, oh yeah, he has to face his twin brother, Rob, the Saints' defensive coordinator.
Forget the Ryan Bowl. This is the Desperation Bowl for the Jets (4-4), who face the Saints (6-1) Sunday at MetLife Stadium. ESPN.com Jets team reporter Rich Cimini and Saints team reporter Mike Triplett break down the matchup:
Cimini
: Let's start with the family ties, Mike. How do you think Rob is approaching this game? He and Rex are fiery competitors, and I'm sure Rob wants this game badly, especially since he's 0-2 against Rex and the Jets. I can tell you this much about Rex: He will try to downplay the whole brother thing, trying to keep the focus on the game. A few years back, when Rob was the
Cleveland Browns
' defensive coordinator, Rex showed up to his midweek news conference wearing a wig and pillow stuffed under his shirt, impersonating Rob. That won't happen again.
Triplett
: I don't expect those theatrics this week, either, since the Saints don't promote that kind of stuff. But clearly Rob is a guy who is not afraid to wear his emotions on his sleeve -- with the media or his players. So I'm sure they'll know how much it means to him.
He's 0-4 overall against Rex in their NFL careers, dating back to Rex's days with the
Baltimore Ravens
. Clearly, this is Rob's best shot yet, not only because of the Saints' dynamic offense, but because Rob has his defense playing great. They've really responded to his versatile schemes. Young pass-rushers
Cameron Jordan
and
Junior Galette
, in particular, are having a breakout season.
They'll obviously try to rattle rookie quarterback
Geno Smith
by mixing up looks and pressures. Rich, what do you expect out of him after one of his roughest performances?
Cimini
: The early trend on Smith is that he responds well to bad games, but this will be a tough assignment because the Saints are playing so well. He can get rattled when he sees a different look for the first time. It happened Sunday against the Bengals, who recorded two early sacks on safety blitzes from the slot. He didn't react well. He also has to do a better job with his eyes, looking off receivers. He has a tendency to stare down receivers, telegraphing his passes. It's one of the reasons he has three pick-sixes in the past two games. All things considered, he's showing gradual signs of improvement, especially in the area of ball security. He's not fumbling as much as he did early in the year.
What can you tell me about
Drew Brees
other than he's terrific and throwing for a lot of yards and touchdowns?
Triplett
: I see you've been studying up on Brees. He's coming into New York in a really good groove right now. He just threw for 332 yards and five touchdown passes Sunday against the Bills. And even when he hasn't had his best days, he has come up with big fourth-quarter rallies. He and coach Sean Payton are back in sync. Together they're so good at exploiting mismatches. This past Sunday, Brees completed passes to 10 different receivers. The fact that the Saints' defense is playing so well has really benefited Brees, too. He's not pressing as much as he did last year and trying to do everything by himself.
The tough thing about playing the Saints is trying to find guys who can cover unique matchup problems like
Jimmy Graham
,
Darren Sproles
,
Marques Colston
and others. Can the Jets do that?
Cimini
: No, Mike, I don't think they can. Without
Darrelle Revis
, the Jets' pass defense is struggling. Funny thing is, they're getting a better pass rush than previous years and the run defense is No. 1 in the league. In theory, those factors should help them against the pass, but they're not. They have too many vulnerable areas, especially in the secondary, and I don't see how they can cover Brees' many weapons. If it were just one or two threats, yeah, I think they'd be fine, but Brees distributes the ball so well.
Antonio Cromartie
, the Jets' No. 1 corner, is having an off year. Rookie
Dee Milliner
, benched against the Bengals in the second quarter, has been a disaster. Safety
Antonio Allen
had a nice game two weeks ago against
Rob Gronkowski
, but Graham might be a tougher assignment because of his athleticism.
To win the game, the Jets' young, talented defensive line needs to dominate. And I noticed the Saints had some pass-protection issues on Sunday. Are they vulnerable up front?
Triplett
: The Saints' offensive line hasn't been as good as years' past, but they're still pretty solid for a team that passes the ball so much. The game against Buffalo was probably a good approximation of this matchup. The Saints gave up four sacks and were flagged for three holding penalties. But Brees still had great time to throw on four of his five TD passes and escaped the pocket to throw the fifth one on the run.
The Jets' best bet against the Saints' offense will be to control the clock and keep them off the field. New Orleans' run defense is pretty middle-of-the-pack. Will their old friend
Chris Ivory
make them pay for trading him to the Jets?
Cimini
: It's an interesting possibility. Now that he's healthy, Ivory is becoming a bigger factor. He was huge two weeks ago against the Patriots, rushing 34 times for 104 yards. He didn't get many chances this past Sunday because they fell behind so early and had to abandon the running game, but I could definitely see him being a big part of the game plan. It's hard to ignore the fact that the Saints are allowing a league-high 4.8 yards per rush.
I had to laugh the other day when Ivory said this game has no special meaning to him. Of course it does. I remember having a chat with him in the preseason about his time with the Saints. He felt he never got a fair shake because of politics, the organization preferring drafted players over him. Now he gets a chance for a little payback. You already know this, Mike, but Ivory runs like he's trying to hurt people. Tough dude.
The one thing the Jets can't do is give up on the running game and start throwing, because it sounds like Jordan & Co. can really get after the passer.
Triplett
: It sounds like Ivory's tenure in New York has been a microcosm of his time in New Orleans. He had trouble staying healthy, but when he turned it on he was a force. He was very popular with the fan base here. So that will be a fascinating subplot. Interestingly enough, the Saints used the draft pick they acquired from the Jets to trade up for big nose tackle
John Jenkins
, who has been a key addition. Those two will get to meet head-to-head.
You're right about the Jets playing right into the Saints' hands if they're forced to abandon the run. Jordan and Galette are two bona fide playmakers. And the Saints aren't afraid to throw in some safety blitzes. They have 24 sacks this season, one fewer than the Jets.
Speaking of which, I just had a conversation with someone putting together a midseason All-Pro team. They had the Jets'
Muhammad Wilkerson
written in pen and were debating between Jordan and
J.J. Watt
for another D-line spot. What's made Wilkerson so special?
Cimini
: He's a three-down player who can play anywhere on the defensive line. He's listed as an end, but the Jets play multiple fronts and he lines up over the guard at times, even over the center in certain packages. Ryan has compared him to
Richard Seymour
and
Trevor Pryce
; Wilkerson is a 300-pound man who moves like a 275-pounder. He's very good against the run and he has improved as a pass-rusher, evidenced by his seven sacks, already a career high. He's the best player on the team and I'm sure the Jets will try to lock him up long term after the season.
We've talked a lot about the strengths of these teams. In closing, can you touch on a couple of weaknesses? Jets fans aren't too optimistic this week, Mike, so they need a little something to rally around. What have you got?
Triplett
: The Saints' biggest weakness has been running the ball. They've been better in recent weeks, but they're still inconsistent. So they might be pretty one-dimensional on offense against this Jets defense that's so good at stopping the run. Of course, the Jets will still have to slow down the Saints' passing attack. The defenses that have had the most success against New Orleans' passing game this year have been the ones that could get physical with receivers in man-to-man coverage and chip and jam at the line of scrimmage. And as we said, Brees has taken more hits than usual this year.
Also, the Saints' run defense hasn't been great this year. So if the Jets can keep the game close and stay patient with the run game, that's something they might be able to exploit. And if anyone knows Rob Ryan's weaknesses, it's gotta be Rex, right?
October, 31, 2013
10/31/13
12:00
PM ET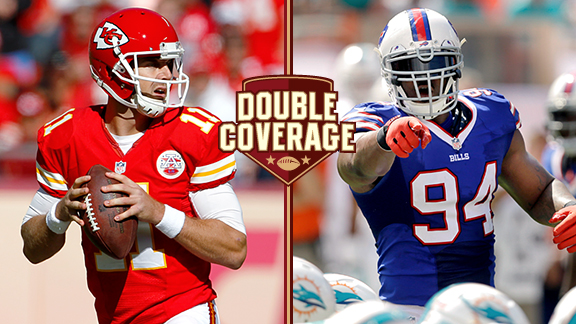 AP PhotosAlex Smith will face Mario Williams and a pass rush that have the second-most sacks in the league.
The 8-0
Kansas City Chiefs
have some big games upcoming, including showdowns for AFC West supremacy on Nov. 17 and Dec. 1 against the
Denver Broncos
. But first is Sunday's game against the 3-5 Bills in Buffalo.
ESPN Chiefs reporter Adam Teicher and Bills reporter Mike Rodak discuss the game:
Teicher
: With the exception of three lost fumbles, it looks like quarterback
Thad Lewis
is playing better than the Bills had a right to expect. For those of us who aren't familiar with his game, give us a little scouting report with regard to his strengths and weaknesses and things he might be able to do --
if he is able to play Sunday
-- that could give the Chiefs some trouble.
Rodak
: I think you nailed it. Even though Lewis is still in the bottom third of the league among quarterbacks, the Bills are more than happy with what they're getting from him. Most importantly, Lewis is a heady player with a real strong grasp of the offense. That's what impressed offensive coordinator Nate Hackett when they sat down with Lewis after
EJ Manuel
's injury and why they chose him. He's physically not the most gifted quarterback, but Hackett likes Lewis' arm strength. We've seen it on some deeper passes Lewis has completed in the past three games, and if he can get the protection, they're going to keep trying that. As a runner, Lewis isn't
Terrelle Pryor
, but he has the mobility to run the read-option the Bills like to mix in out of their no-huddle offense. The question is, how much will they run him? Lewis got drilled from behind on a designed run to begin the game Sunday, suffering bruised ribs, and his status against the Chiefs is still up in the air. If Lewis plays Sunday, the Chiefs shouldn't have to worry too much about him as a runner.
Adam, I'm sure you've been asked this plenty of times this season, but what has clicked for the Chiefs? Was it the move away from Scott Pioli and Todd Haley/Romeo Crennel to John Dorsey and Andy Reid, or were there personnel changes that made a bigger impact?
Teicher
: The coaching and administration moves were huge. For the previous four seasons the Chiefs had a lot of guys with their own agendas, pulling in different directions and focusing on things that didn't matter. Dorsey and Reid deserve a lot of credit for getting everyone to fall in line behind them. Everyone has the same goals now. Reid has persuaded some players to put aside personal goals for the greater good. A lot of Chiefs players were tired of the losing and the sideshow stuff and were ready to be led in a positive direction. Reid walked through the doors with some impressive credentials and they listened to him. As far as personnel changes, most of the Chiefs' better players are ones who were here when Reid and Dorsey arrived. The only new guy in what you could call a key role is QB
Alex Smith
. Otherwise, most of their key players (
Jamaal Charles
,
Branden Albert
,
Dontari Poe
,
Tamba Hali
,
Justin Houston
,
Derrick Johnson
and
Eric Berry
) have been around.
Smith was sacked six times against Cleveland last week and 24 times this season, so pass protection has been a problem for the Chiefs. The Bills are doing a good job getting after the opposing quarterback. What have teams done to try to counter
Mario Williams
, and do the Bills have anyone else consistently putting pressure on the quarterback?
Rodak
: I think the best job an opposing offense has done against Mario Williams was in Week 6, when the Bengals took down the Bills in overtime. They caught the Bills off guard by opting for a shorter passing game, forgoing the chance to attack a shaky (at the time) Bills secondary with
A.J. Green
. Instead,
Marvin Jones
had a 34-yard end-around run and a 42-yard catch-and-run in the first seven minutes of the game that set the tone. Williams finished with just one tackle and a half-sack, even with the extra period. The Bills don't have a player putting up 11 sacks like Williams, but their pair of defensive tackles --
Kyle Williams
and
Marcell Dareus
-- are among the better duos in the league. Each has four sacks. Overall, Mike Pettine's defense thrives on generating pressure from many different sources, including the defensive backs. Andy Reid is a veteran coach and knows his offense will have to be ready for the blitz from start to finish Sunday.
Adam, would you say the Chiefs are effective in spite of Alex Smith this season -- he has posted just an 82.1 QB rating -- or because of him? Is their success through the first half of the season sustainable even with Smith at quarterback?
Teicher
: There are things Smith can be doing better, but they're 8-0 because of him, not in spite of him. Among the things Smith has done exceedingly well are protect the ball and run from trouble. Smith has thrown only four interceptions, so he's not forcing the ball into tight situations or otherwise taking risks with it. He's fumbled just once, and the Chiefs even recovered on that one. For him to handle the ball on every offensive play and have only four turnovers is amazing. When he's been sacked, he's holding on to the ball. Smith is the Chiefs' second-leading rusher and has scrambled out of trouble a number of times. It's fair to say they wouldn't be 8-0 without his running ability. It's been that valuable. That said, Smith needs to complete a higher percentage of his passes. Right now, he's only at about 59 percent. Getting that into the low to mid 60s would make a big difference for the passing game. The Chiefs also have trouble getting touchdowns in the red zone. That can't all be blamed on Smith, but he can be more efficient inside the 20.
I can't figure out why the Bills aren't better defensively. They've been solid against the run, have strong pass-rush capability, create a good number of turnovers, yet still have allowed 20 or more points in every game. I know they've allowed some big pass plays. Is that the only reason they haven't been better defensively?
Rodak
: I think the big plays are part of it, Adam. The Bills have allowed 14 receptions of 35 yards or more, the most in the NFL. But the Chiefs have allowed 12, the second-most, so there's more to it than that. I think the first place to look is on the other side of the ball, where the Bills' offense averages just 27:41 in time of possession. That's the fourth-lowest mark in the league and is putting stress on the defense. The Bills have a creative mind in defensive coordinator Mike Pettine and talent at all three levels of their defense. But their offense, between injuries and inexperience, has been so ineffective at some stretches that the defense just can't hold up. This is a defense that has put pressure on opposing quarterbacks and forced some turnovers, but they'll need to prevent the big play and have their offense pick up some slack going forward.
Adam, what do you think it will take for the Chiefs to lose Sunday?
Teicher
: Opponents have started to give the Chiefs their best shots. Houston did two weeks ago and Cleveland did last week, and each team came close to knocking off the Chiefs at Arrowhead Stadium. So if the Texans and Browns can keep things close in Kansas City, it reasons that the Bills can beat them in Buffalo. The Chiefs have played the past couple of weeks, and particularly against Cleveland, as if they're weary of the burden of being the NFL's remaining unbeaten team. They took a 13-0 lead against the Browns, then looked like they ran out of energy. They'll need to bring more Sunday in Buffalo or they certainly could be in trouble. The Bills could make things easier on themselves by getting an early lead. The Chiefs have led much of the time this season and have been able to play the games on their terms. When they've been behind, it's never been by more than a touchdown. Kansas City has trailed in the fourth quarter in just one game, that being by four points early in the final period on Oct. 6 in Tennessee. That deficit didn't last long, so it would be interesting to see how they do if they need to play catch-up late in a game.
.
October, 31, 2013
10/31/13
12:00
PM ET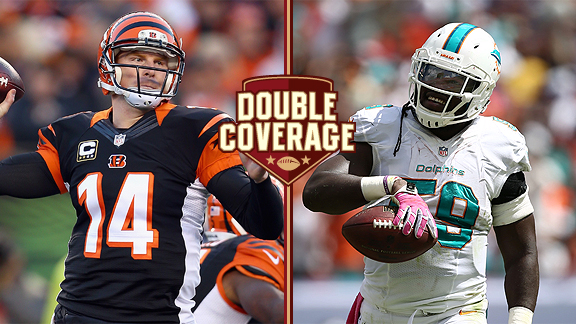 Getty Images, AP PhotoIt will be up to Dannell Ellerbe and the Miami defense to slow down Andy Dalton and the Bengals.
Two teams streaking in opposite directions will meet on Halloween night when the
Miami Dolphins
host the
Cincinnati Bengals
.
The Dolphins (3-4) enter this game on a four-game losing streak, while the first-place Bengals (6-2), one of the NFL's hottest teams, are on a four-game winning streak.
Will the Bengals continue their winning ways? Can Miami save its season at home? ESPN.com Bengals reporter Coley Harvey and Dolphins reporter James Walker weigh in:
James Walker:
Coley, I expect an entertaining game between these two teams. Not only do they match up well, but the fact that one team is so hot and the other can't buy a win makes it intriguing. This is a must-win game from Miami's perspective. This team could be on the verge of losing its confidence if things don't change soon. The Dolphins haven't won a game since Sept. 22, and each week it appears more challenging to get over the hump.
The Dolphins gave the
New England Patriots
their best shot this past Sunday by taking a 17-3 lead at halftime. Then, New England scored 24 unanswered points to deflate the Dolphins. That's a shot in the gut that could be tough to recover from on a short week. And it certainly didn't help when starting offensive tackle
Jonathan Martin left the team
.
I'm sure things are more rosy in Cincinnati. What's the mood of the Bengals entering Thursday night's game?
Coley Harvey:
Bengals fans are on Clouds 9, 10, 11 ... do they make a Cloud 100? Seriously, the Queen City is all abuzz about the statement
Andy Dalton
and
Marvin Jones
made in Sunday's 49-9 pummeling of the
New York Jets
. Not only does it appear that Dalton has found a nice mechanical passing rhythm, but he has been in better sync with his receivers. In the past three games alone, he has passed for 1,063 yards and 11 touchdowns. He connected with a minimum of seven receivers in each of those games.
Along with that offensive production, the defense has been pretty stout, as well. The Bengals haven't allowed a touchdown in two of their last four games. Those performances happened to come against AFC East teams (the Patriots and Jets).
So yes, plenty of reasons for people in southwest Ohio to be excited. But what about in South Florida? How are things there? I can't imagine the mood has been very peaceful since this collapse began. As a former Florida resident, I have tons of Dolphins fans for friends. I've had to talk several off the ledge recently.
Walker:
Many South Florida fans are glad it's basketball season. The Dolphins have frustrated football fans for so long that they are used to quickly turning the page when the Miami Heat get their season started. The defending NBA champs are now the biggest source of pride in Miami when it comes to sports. It's been a while since the Dolphins held that claim. The Dolphins are having trouble packing their stadium and will need to produce consecutive winning seasons for most fans to stay on board longer than a few games. It's a harsh sports town in that respect.
Another topic I want to touch on is the quarterbacks. Dalton has caught fire recently. Is this sustainable for the rest of the year or just a short-term fluke?
Harvey:
It's hard to tell, James. I get asked this very question or some variation of it every week, and just when I think he has hit his ceiling and played the best game he possibly could, Dalton comes out and rips off another impressive performance. I'm hesitant to say it's a short-term fluke now; I'm starting to think he's got something special going.
What has led to such solid, consistent play of late from him? If you ask the Bengals, they'll say it has to do with trust and confidence. Dalton feels much more at ease with knowing that any of his receivers, not just
A.J. Green
, will make big plays. Sunday's franchise-record four-touchdown effort from Jones showed just that. If I had to guess, though, I'd say Dalton just finally got fed up with all the negative press he had been getting. After posting a 29.7 QBR in the Bengals' 17-6 loss at Cleveland in Week 4, he took quite a beating. Since then, he has been a completely different player.
What has been
Ryan Tannehill
's issue of late? It's kind of surprising to see that
Mike Wallace
and
Brian Hartline
have only three touchdown receptions between them.
Walker:
Just like Dalton in Cincinnati, Tannehill also is a hot topic weekly in Miami. I don't doubt his natural ability. He has most of the things you look for in a quarterback: strong arm, good mobility, can throw on the run, steady demeanor. However, I'm starting to see some recurring weaknesses after 23 career starts that make me question Tannehill's long-term prospects. His pocket presence is subpar. He doesn't have a good feel or that sixth sense for the pass rush. That has led to Tannehill holding the ball too long and often taking clean shots, which have resulted in a team-high five lost fumbles. If Tannehill can learn how to slide in the pocket and feel the rush better, that will increase his chances of taking the next step.
But to some degree, it's also hard to fully evaluate Tannehill when he has been sacked 32 times and his rushing attack is ranked 23rd in the NFL. He isn't getting consistent help from his supporting cast.
Finally, the Bengals are much less dominant on the road than they are at home. What has been the difference and what has to go right Thursday for Cincinnati to improve to 7-2?
Harvey:
It is true that both of the Bengals' losses this season came on the road, but they came before the massive Dalton turnaround and at least one of them should have been a win. Down 24-21 and out of timeouts with just more than a minute to go in their season opener at Chicago, the Bengals' defense had just made a crucial third-down stop when middle linebacker
Rey Maualuga
got tangled up with a Bears offensive lineman. The lineman kept blocking after the whistle, Maualuga didn't like that and retaliated with a body slam. The refs saw the body slam and flagged him for unsportsmanlike conduct. Had that play not occurred, the Bengals would have gotten the ball back and might have been able to stage the type of last-minute rally that led to their last road win.
The other loss came when they just didn't show up at all at Cleveland in Week 4. While their recent road success -- games won in back-to-back weeks on field goals in overtime and as time expired in regulation -- is reason enough for Bengals fans to feel good about Thursday night's game, some are worried they'll see a flat Cincinnati team at Sun Life Stadium. The Bengals were beat up Sunday and are just hoping to survive this short week. Maualuga is one of four defensive starters who won't be playing in this game.