AFC East:

2013 preseason reaction Week 2
August, 17, 2013
8/17/13
11:16
PM ET
The
Miami Dolphins
completed their third preseason game of the season with a
24-17 loss
to the
Houston Texans
. Miami fell to 1-2 on the preseason.

Here are several observations for Miami:
The Dolphins' passing game finally woke up in the preseason thanks to new No. 1 receiver Mike Wallace. He caught three passes for 58 yards and a touchdown from quarterback Ryan Tannehill, and all of it came on the third drive. Wallace showed the full range of playmaking by catching a 16-yard pass for a first down, a 33-yard catch over the top and a 9-yard touchdown reception by finding a hole in the zone. Dolphins fans were prematurely antsy about Tannehill not connecting with Wallace up to this point. The pair had a good week of practice, and it showed in the game.
Tannehill also had his best game of the preseason. Tannehill was 10-of-15 passing for 141 yards and the touchdown pass to Wallace. It's also worth noting that two of Tannehill's five incompletions were drops by running back Lamar Miller and Brian Hartline. Overall, Tannehill was poised and made a nice range of throws against a tough Houston defense. Perhaps this performance will provide some momentum for Tannehill in the rest of the preseason.
The worse news of the night for Miami was the potential knee injury to starting tight end Dustin Keller. He made a second-quarter reception and took a shot directly on his right knee as he was coming down. Keller's leg hyper-extended and he clutched his knee in pain. Keller was later carted off the field and couldn't put weight on his right leg, which are not good signs. Keller's injury appears to be significant, and the Dolphins most likely will have to rely on young tight ends like Dion Sims and Michael Egnew for a while.
Miami's offense played well overall, but it was a rough night for Dolphins right guard Josh Samuda. He had another opportunity to prove that he can play with the starters and struggled mightily against Houston's talented defensive line. Samuda was beat easily by Texans defensive lineman Antonio Smith twice on big plays. Smith registered a sack and a tackle for loss on Miller in the first half. Samuda also was abused by Texans star J.J. Watt on a third-down screen pass. Samuda did not step up to the high-level competition Saturday night, which is telling. Miami's best option at guard would be a healthy John Jerry.
New Dolphins corner Brent Grimes made his presence felt. Grimes has been one of the most consistent players in Miami's training camp, and he got his first interception with an athletic play to pick off Houston quarterback Matt Schaub. Grimes read the route by Texans rookie receiver DeAndre Hopkins and broke on the ball as it was released. Grimes jumped in front of Hopkins to take the ball away, which is a play you didn't see often from Miami's defense last year.
Dolphins rookie corner Will Davis has made some headlines lately for his play. But Davis was beat for a touchdown on fourth down when Houston receiver Lestar Jean made a double move. Davis also was beat for a 16-yard reception in the first half in man-to-man coverage. It was a good learning experience for Davis.
Miami's backup offensive line is not very good – and second-string quarterback Matt Moore found that out the hard way. Moore played the entire second half and was pressured throughout. He was sacked four times in two quarters of work and pressured several more times. The Dolphins are looking offensive linemen to provide depth. No one beyond the starters stood out Saturday.
Miami has two preseason games remaining. The Dolphins will be off Sunday and then prepare for their fourth preseason game at home against the
Tampa Bay Buccaneers
.
August, 17, 2013
8/17/13
11:08
PM ET
EAST RUTHERFORD, N.J. -- Rookie QB
Geno Smith
didn't play because of a sprained ankle, leaving Saturday night to
Mark Sanchez
& Co. Much like he was in the preseason opener, Sanchez was sharp except for one horrendous interception. Despite a terrible night by the first-team defense, the
New York Jets
won
37-13
over the
Jacksonville Jaguars
at MetLife Stadium.
What it means:
The burning question is, will Rex Ryan put an end to the quarterback competition? Sanchez could've made it an easy call by playing a clean game, but he was intercepted in the end zone on a third-and-goal from the 3. Ryan hates red zone interceptions. He might start Smith next week against the Giants, which would prolong the Jets' QB competition.
Oh, no, not again:
For some reason, Sanchez can't avoid disaster. He came out on fire, hitting six of his first eight passes, including a 23-yard TD to
Jeff Cumberland
. He was actually cheered by the home crowd, but he reverted to 2012 Sanchez with the red zone pick. The crowd turned on him quickly. A week ago, he gave six points to the Lions with an interception for a touchdown. This time, he took away at least three points from the Jets. Actually, make that six. On the final play of the first half, Sanchez held the ball too long on a third-down incompletion, eliminating a field goal chance -- an inexcusable brain lock.
Surprisingly, Sanchez (13-for-23, 169 yards) played three quarters, the last of which behind the second-team line -- always a risky proposition. With Smith out and with
Greg McElroy
(ankle) limited to emergency duty, Ryan didn't want to use
Matt Simms
until the fourth quarter.
Dead zone:
Sanchez's interception wasn't the only blunder in the red zone. The starting offense went 0-for-3 inside the 20. It ran five plays inside the 10 and came away with no points on those two drives.
"Brutal" defense:
The first-team defense looked as bad as it ever has under Ryan, who probably would use the word "brutal" (or worse) to describe it. The Jets were ill-prepared and confused, diced up by
Blaine Gabbert
, who killed them with quick throws out of the hurry-up offense. The book is out on the Jets defense: pick up the tempo, get the ball to the receivers and backs and let them make plays. The Jaguars went 80 yards on seven plays for a touchdown on their first drive. On their second possession, it was 18 plays, 75 yards and a field goal.
LB
David Harris
, who dropped weight to improve his coverage ability, was exposed. So was rookie CB
Dee Milliner
, who allowed two completions and got an earful from
Antonio Cromartie
on the sideline. Cromartie wasn't great, either, missing an open-field tackle. Later, he made a nice tackle behind the line. Gabbert (13-for-16, 165 yards, one TD) left the game with a sprained right thumb; that saved the Jets defense more than any adjustments it made.
Coples hurt:
OLB
Quinton Coples
suffered a right leg injury in the second quarter and limped to the locker room for a likely X-ray. He was hurt while batting down a pass in the face of QB
Chad Henne
. There was no immediate word on the severity of the injury. The Jets can't afford to lose Coples, whom the defensive coaches believe is the key to the defense. He was replaced by
Antwan Barnes
.
Here's Ivory:
RB
Chris Ivory
, finally recovered from a hamstring injury, made his Jets debut. He didn't start, but he came in early and finished with 13 yards on six carries. No, it wasn't a great night, but he showed his potential on an 8-yard run by plowing through a couple of defenders. Ivory lacked burst on outside runs, probably because he's still working his way back into football shape. All told, the running game was much improved. The Jets rushed for 176 yards, including a 37-yard run by
Bilal Powell
. Backup
Kahlil Bell
provided a late spark, scoring two TDs.
Audition for Braylon:
WR
Braylon Edwards
, hardly a lock to make the team, played only one snap in the first half. That usually doesn't bode well for a veteran. Edwards saw significant action in the second half and showed he's still capable of being a useful possession receiver, finishing with three catches for 49 yards.
What's ahead:
The Jets play the Giants in their annual summer bash.
August, 17, 2013
8/17/13
1:25
AM ET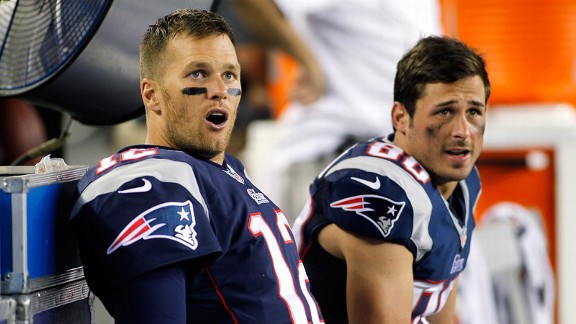 Stew Milne/USA TODAY SportsTom Brady and Danny Amendola got some quality work done early against Tampa Bay.
FOXBOROUGH, Mass. -- The
New England Patriots
improved to 2-0 in the preseason with a
25-21 win
over the
Tampa Bay Buccaneers
on Friday night, their first exhibition game at Gillette Stadium of 2013.
The win wraps up a second straight week of joint practices, as the Buccaneers spent Tuesday, Wednesday and Thursday working alongside the Patriots in advance of the game.
Below are 12 takeaways from Friday's action, including some underlying storylines that may have gone unnoticed upon first glance:
1. So much for the concerns about how a recent knee injury might impact
Tom Brady
's performance, as the quarterback was masterful two days after going down in a scary moment during Wednesday's practice. Brady had just one incompletion on the evening, carving the Buccaneers defense on an opening-drive score and looking precise on nearly every one of his throws. Brady had his usual command of the offense, and continues to be in sync with his new cast of receivers, led by
Danny Amendola
.
2. Amendola was the best receiver on the field Friday night, and he showed off what makes him unique as a player: his precise route running, stop-on-a-dime quickness with the ball in his hands, and the ability to stress a defense up the field as well. Amendola sneaked behind the defense on a post for a score, and the spacing on the route was an important takeaway. The 2013 version of the Patriots offense, at least in early viewings, has shown an ability to spread a defense thin both horizontally and vertically. They have some perimeter presence with
Aaron Dobson
and
Kenbrell Thompkins
, but also some slot stressers in Amendola and the tight ends. This isn't to say that this year's offense will be better than last year's, just different.
3. After the game, Patriots coach Bill Belichick explained he that decided to receive after winning the coin toss in order to give his team a chance for a fast start. The move paid off with a touchdown for his offense, and the defense followed suit, forcing a stop on the Bucs' opening drive. The first defensive play from scrimmage was a blitz-up-the-middle sack from linebacker
Brandon Spikes
, one of three first-quarter sacks for the Patriots. That's a critical component to this defense's success, as they struggled to pressure the various Eagles quarterbacks last week. Each of the Patriots' starters at defensive end,
Chandler Jones
and
Rob Ninkovich
, recorded at least one sack as well.
[+] Enlarge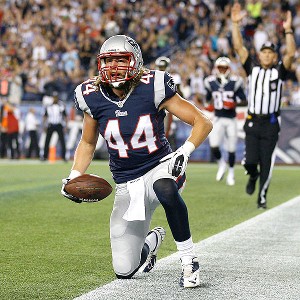 Stew Milne/USA TODAY SportsZach Sudfeld caught this two-point conversion from Tom Brady and later added a 22-yard TD from Ryan Mallett.
4. There were some ups and downs from
Ryan Mallett
during the second quarter, as he came in to relieve Brady, completing 12-of-20 passes, including a 22-yard score to tight end
Zach Sudfeld
. We've learned before that the evaluation process of a backup quarterback extends far beyond preseason game action, as many will recall an uneasy 2008 preseason for
Matt Cassel
that left many outside of the organization uncomfortable with the thought of him as a fill-in starter. Cassel went on to help the team to 11 wins that season, reinforcing that we have to look at preseason games as just a piece of the puzzle. Mallett flexed his effortless arm strength on some throws, while he had misses that you'd count on him to make if he were the starter. The most important takeaway from tonight is an evaluation of a player's traits. For Mallett, we still want to see more before making a hard-line evaluation one way or another.
5. There's been an abundance of talk about the Patriots' rookie receivers during training camp (and we'll include Sudfeld in that group), but it was the one who was drafted highest, Aaron Dobson, who appeared to have the smallest role in the early portion of the game. Dobson took just one snap during the opening drive, far fewer than Kenbrell Thompkins, and that could be a sign that Dobson is further down the depth chart at this time. The two are different types of perimeter receivers, with Thompkins a more refined route runner and with better quickness, but Dobson holds the edge in size and length, an important set of traits in the red zone and competitive catch situations.
6. Nose tackle
Vince Wilfork
didn't play a heavy dose of snaps tonight (neither did
Jerod Mayo
), which gave us a chance to check out the rotation of defensive tackles behind him. Veteran
Tommy Kelly
is effectively the second starter in our estimation, but the picture becomes much less clear after that.
Marcus Forston
flashed on a goal-line play that resulted in a tackle for loss, while undrafted rookies
Cory Grissom
and
Joe Vellano
also showed some ability to generate interior push. Forston was a surprise to make the 53-man roster last season as an undrafted free agent, and the door appears to be open for another undrafted free agent to land on the active roster this year, especially if
Armond Armstead
is unable to return before the start of the regular season.
7. A few special-teams thoughts: Kickoff coverage was an area of strength for the Patriots throughout the 2012 season, but tonight it fell short of expectations. The Bucs returned their first kickoff 63 yards, far too much to give up. On the positive side, ace special-teamer
Matthew Slater
had a textbook take-down in punt coverage from his gunner position, a role he drew praise from Bill Belichick for earlier this week. Finally, for the second straight game, we'll give the edge to punter
Zoltan Mesko
over
Ryan Allen
in the competition (this week was a clear victory for the incumbent starter). Allen was unable to pin a plus-50 punt deep in Tampa territory, and Mesko had a substantial edge in overall average (44.3 to 39).
8. While the Patriots feel good about their starting trio of cornerbacks --
Aqib Talib
,
Alfonzo Dennard
and
Kyle Arrington
-- the depth at the position is an area to monitor. Rookie
Logan Ryan
had the defensive play of the night, hauling in an interception for a touchdown. That comes after last week's failed interception against the Eagles. Veteran
Marquice Cole
provides some slot presence and special-teams value, but Ryan duplicates much of what Cole is able to do. If
Ras-I Dowling
is unable to return soon from injury, Ryan could effectively work himself into the fourth cornerback job, which could turn into third cornerback duties if Alfonzo Dennard faces jail time stemming from his July arrest.
9. Preseason games aren't always predictive of what the regular season will hold, but we saw quite a few two-back sets from the Patriots early on in the game. That's not something we saw much of last season or even last week, but fullback
James Develin
was on the field to start the game and played a handful of snaps on the Patriots' 15-play opening drive. When Josh McDaniels returned to New England, there was a belief that he might bring more two-back sets with him. Although that wasn't the case in 2012, we saw a steady dose of it on Friday night. Develin could be in competition with
Michael Hoomanawanui
for a roster spot.
10. There may not even be a starting job for him to win, but second-round pick
Jamie Collins
had strong stretches on defense Friday night, the second time in as many preseason games that he's impressed. The rangy, long 23-year-old worked almost exclusively as a strong-side linebacker from a stand-up alignment, which appears to be the role he has settled into (and one that
Dont'a Hightower
handles among the starting group). What will be interesting is to see if his movement skills are enough to translate into a prominent coverage linebacker role in sub defensive packages. One area that stood out for Collins tonight: his ability to stack and shed in the running game, an area we though he could improve upon from his college tape.
11. Left tackle
Nate Solder
took some heat this week after allowing his defender to rush through him during practice, which led to Brady going down and dinging his knee. Truth be told, that's a part of playing left tackle in the NFL -- there are many talented rushers -- but it looked like Solder had a steady performance tonight. That's par for the course for the 25-year-old, viewed by many as a high-upside left tackle, but he deserves credit for bouncing back after what was likely a long Wednesday night for him.
12. For the second consecutive week,
Jake Ballard
was used as the blocking tight end with the starting offense. From our initial viewing, it looked like another strong effort from the burly tight end, as he helped to set the edge and kick-start the running game. He played 19 snaps tonight, seven more than his 12 against the Eagles.
August, 16, 2013
8/16/13
11:50
PM ET
FOXBOROUGH, Mass. -- Rapid reaction from the
New England Patriots
' preseason game against the Buccaneers, a
25-21 Patriots win
:
Brady doesn't miss a beat
. If there were any questions about quarterback
Tom Brady
and his injured left knee, they were answered with authority. In 12 pass attempts, there was just one incompletion (on a third-down throw to receiver
Danny Amendola
) as he carved up the Buccaneers' defense on the team's first drive, an impressive 15-play, 80-yard march that included a variety of formations and personnel groupings. Before the game, Brady was fired up as he entered for warm-ups, running from one end zone to the other and giving Buccaneers defensive end
Adrian Clayborn
a friendly fist bump. Clayborn, of course, had the bull-rush in Wednesday's practice that pushed Patriots left tackle
Nate Solder
into Brady.


Top unit on defense produces four sacks
. After a preseason opener in which the pass rush wasn't as disruptive as desired, the Patriots swarmed against the Buccaneers, with the tone set by middle linebacker
Brandon Spikes
on the first play as he charged downhill and steamrolled running back
Doug Martin
to register a sack. Spikes added a second sack on the Buccaneers' second drive, while ends
Chandler Jones
(nice rush against left tackle
Donald Penn
in which he got low and pushed Penn back) and
Rob Ninkovich
added sacks. If the pass rush can perform like that during the season, the Patriots' D could be dangerous.
Amendola's home debut a success
. Playing the same role as
Wes Welker
in the team's offense, free-agent signee Danny Amendola had a Welker-type performance (7 targets, 6 catches, 71 yards, TD). Here is one indication that reflects how the Patriots view Amendola as their No. 1 target: He was the lone receiver who played only the first two series (20 snaps). All other receivers were playing into the second half.
Sudfeld's emergence continues
. Patriots free-agent tight end
Zach Sudfeld
started and not only has he appeared to carve out a spot on the roster, he's in position to contribute as the team's "move" tight end. Sudfeld was on the receiving end of a thread-the-needle two-point conversion pass from Brady, and later made a very nice 22-yard touchdown grab on a
Ryan Mallett
pass that was tipped before Sudfeld showed excellent concentration and came down with it. At 6-foot-7 and 260 pounds, Sudfeld has a big catch radius, runs well and currently looks like the team's best "move" tight end (the old
Aaron Hernandez
role).
Injury report
. There were no major injuries for the Patriots, although second-unit right tackle
R.J. Mattes
was knocked out of the game with a right ankle injury. Mattes is a long shot to earn a roster spot, but the Patriots have been managing a shortage along the line for most of training camp and this is another hit to be accounted for.
Tough night for Tebow
. For the second week in a row, No. 3 quarterback
Tim Tebow
played the entire second half. It was a tough passing performance for Tebow, who fired an errant, high pass to receiver
Kenbrell Thompkins
early in the fourth quarter that was intercepted. Tebow also skipped a throw up the right sideline on his first pass attempt. His best success came when he was running, but there weren't many highlights when he was in the game in the second half.
Quick hits
. The emergence of rookie free-agent receiver Kenbrell Thompkins continues. Thompkins played 36 first-half snaps (21 with Tom Brady in the game), compared to second-round draft choice
Aaron Dobson
, who had 17 first-half snaps (two with Brady). ... Defensive end
Marcus Benard
looks like he's carving out a role for himself, as he was the first sub rusher to enter the game. That's the role that
Jermaine Cunningham
opened the 2012 season playing. Cunningham is currently injured. ... Kickoff coverage was one downer for the Patriots, as they gave up returns of 63 and 40 yards.
August, 16, 2013
8/16/13
11:30
PM ET
FOXBOROUGH, Mass. -- At an initial glance, a look at those players whose performance was "up" in the
New England Patriots
'
25-21 victory
over Tampa Bay, and those at the opposite end of the spectrum:
UP
Danny Amendola:
In 20 snaps played, he is targeted seven times and makes six catches for 71 yards and a touchdown. The type of night we grew used to seeing from
Wes Welker
from 2007-2012.

Tom Brady :
In command for the second week in a row, Brady shows no signs that his injured left knee will be a factor. With all the new faces on offense, the results look similar with him leading the charge.
Logan Ryan:
One week after the rookie cornerback drops a relatively easy interception, he cashes in this week, with a 53-yard pick-6 of
Mike Glennon
.
Brandon Spikes:
Linebacker is a tone-setter on defense. His steamrolling of Buccaneers running back
Doug Martin
to register a sack on the Buccaneers first play is impressive. Few players, if any, hit harder.
Zach Sudfeld:
Rookie free-agent tight end snares a two-point conversion from Brady and makes an impressive 22-yard touchdown grab up the seam on a deflected pass from
Ryan Mallett
.
DOWN
Ryan Allen:
Rookie punter who had been challenging incumbent
Zoltan Mesko
has a touchback on a plus-50 attempt and then doesn't strike the ball as well as he desires on a 35-yard punt in the third quarter.
Logan Mankins:
Left guard is penalized for a personal foul on the team's first drive, one of the only blemishes for the first-unit offense.
Tim Tebow:
Quarterback doesn't generate positive momentum in the second half and throws an errant high pass that is intercepted.
Tavon Wilson:
Holding penalty in the end zone in the second half gives the Buccaneers a new set of downs.
Kickoff coverage:
Giving up returns of 63 and 40 yards in the first half isn't going to cut it.
August, 16, 2013
8/16/13
10:35
PM ET
Observations from the
Buffalo Bills
'
20-16 preseason win
over the
Minnesota Vikings
on Friday night:
Kolb gets his chance, plays full half:
In his first action of the preseason,
Kevin Kolb
played the entire first half, finishing 13-of-21 passing for 111 yards and an interception. The Bills always have said they would give both Kolb and rookie
EJ Manuel
a fair shot at the starting job, and tonight might have been Kolb's best chance to prove himself. The results weren't overly positive, although Kolb led the Bills offense on two scoring drives late in the first half, looking more comfortable than he did in the early stages of the game.

Manuel again solid, but not spectacular:
Manuel entered the game at the start of the second half and led the Bills on an 80-yard touchdown drive, completing all six of his passes for 44 yards. More importantly, Manuel did not throw an interception for a second consecutive game. However, the Bills (or Manuel) opted not to take any shots downfield, something they are expected to incorporate into their offense this season. Instead, many of Manuel's throws were in the short range, but he did complete a 27-yard pass to rookie receiver
Brandon Kaufman
in the third quarter. Manuel also had the benefit of playing against the Vikings' second-team defense.
Penalties becoming a major issue:
The Bills were flagged 14 times for 106 yards in the contest, one week after being penalized nine times against the
Indianapolis Colts
. The flags have to be a growing concern for head coach Doug Marrone, especially considering nine of them came in the first half, when many of his starters were still in the game. Among the flags was a key holding call in the red zone against
Colin Brown
, who made his second consecutive start at left guard. In what remains an open battle, that won't help his case.
Defense generating pressure:
The Bills' defense kept the pressure on Vikings quarterbacks throughout the game, finishing with four sacks for 38 yards. Outside linebacker
Jerry Hughes
had two sacks, including a sack and forced fumble of
Matt Cassel
in the second quarter.
Hogan, young receivers making strides:
First-year receiver
Chris Hogan
continued to stand out for the Bills, playing nearly the entire game. Hogan was the team's leading receiver with four catches for 34 yards and was targeted a team-high seven times. Meanwhile, Kaufman and
Marcus Easley
continue to be second-half standouts, with five catches for 91 yards between them. Undrafted rookie
Da'Rick Rogers
had a quiet night, being targeted twice and making one catch for six yards. On special teams, second-round pick
Robert Woods
returned a punt 34 yards, one week after third-round pick
Marquise Goodwin
had two long kickoff returns.
Mario sits out:
Defensive end
Mario Williams
(foot) dressed but was announced as an inactive for the game. He played in two series in the preseason opener, and the Bills continue to manage the health this preseason of their highest-paid player.
What's next:
The Bills return to St. John Fisher College for their final four practices of training camp, beginning Sunday. They travel to face the
Washington Redskins
in the third preseason game next Saturday.

AFC EAST SCOREBOARD
Friday, 8/22
Saturday, 8/23