AFC East:

2013 Week 1 Upon Further Review
September, 9, 2013
9/09/13
1:20
PM ET
A review of four hot issues from the Buffalo Bills' 23-21 season-opening loss to the New England Patriots:
[+] Enlarge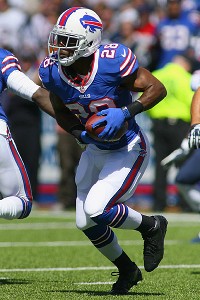 Rick Stewart/Getty ImagesRunning back C.J. Spiller averaged just 2.4 yards per carry in Sunday's loss to New England.
Offense needs more than Spiller:
The Patriots stymied Bills running back
C.J. Spiller
on Sunday, forcing Buffalo to look for other ways to move the ball. Spiller gained just 5 yards on his first five touches (four runs, one catch), fumbling on the second play of the Bills' first drive. Quarterback
EJ Manuel
seemed more comfortable going to Spiller,
Fred Jackson
and tight end
Scott Chandler
than to his wide receivers. Of Manuel's 27 passes, only 10 were thrown to wide receivers, and, of those, just five were caught. With
Steve Johnson
(98 percent of snaps),
Robert Woods
(97 percent) and
T.J. Graham
(95 percent) playing virtually the entire game, the Bills need more production out of that position.
"Chunk plays" hurt Bills' defense:
There's little doubt that the Bills were able to come up with key stops at critical moments in the game. Both of Buffalo's sacks came on third downs, including
Kyle Williams
taking down
Tom Brady
in the red zone. But Patriots offensive coordinator Josh McDaniels pointed out Monday that the Patriots had a good amount of "chunk plays." The Patriots gained 19 yards or more nine times in the game. All but one of those plays occurred in Bills territory or pushed the Patriots across midfield. The Patriots were just 2-for-5 in the red zone, but the "chunk plays" kept the Bills' defense on the field.
Bills sputter on third down:
Outside of their opening drive of the second half, an impressive 80-yard march that ended in a touchdown, the Bills' offense was just 2-for-11 on third down. Of course, one of those third-down misses came on Johnson's dropped pass in the fourth quarter, but the problems were larger than just that. "I think the biggest thing is getting the first one off the drive," tight end Scott Chandler said. "We had some short ones and some ones in key situations that we didn't convert."
Time of possession: Issue or overrated?
The Bills managed to hold the ball for 22 minutes, 17 seconds, in contrast to the Patriots' 37:43 mark. The Bills want to maintain an up-tempo pace on offense, something that could limit their ability to maintain possession in games this season. "I don't think we're going to win any time-of-possession battles this year, and we're fine with that," center
Eric Wood
said. "We just need to run more plays. We would have liked to have their number of plays yesterday, and wear them down a little bit more. When we were able to put drives together, I felt like our tempo was great. But when we go three-and-out, our defense will be hung out to dry."
September, 9, 2013
9/09/13
12:00
PM ET
An examination of four hot issues from the Miami Dolphins' 23-10 win over the Cleveland Browns:
Miami's defense has a chance to be special.
Cleveland's offense looked completely befuddled and off its game because of the Dolphins' combination of speed and physicality on defense. First, Miami was stout enough to stuff physical running back
Trent Richardson
(47 yards on 13 carries). Then, once the Dolphins got a lead, their defense was fast enough to rush the quarterback and register six sacks from four different players. Barring injury, I do not see any reason the Dolphins defense can't finish in the top 10 this season. That would be a significant jump from No. 21 last season. The front seven is very strong. Perhaps the biggest weakness is depth behind the starters in the secondary and linebackers.
[+] Enlarge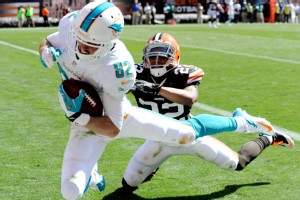 Ken Blaze/USA TODAY SportsBrian Hartline benefited from the extra attention Mike Wallace received. Hartline had nine catches for 114 yards and this touchdown.
Expect a lot of chatter this week to center around Mike Wallace being unhappy after catching one pass for 15 yards in his regular-season debut with the Dolphins.
The Browns did everything they could, including constant double-teams, to make sure Wallace didn't make big plays. But Wallace should take solace in that he impacted the game in other ways by opening things up for teammates. Fellow Miami receivers
Brian Hartline
(nine receptions, 114 yards) and
Brandon Gibson
(seven receptions, 77 yards) had big second halves because Wallace drew most of Cleveland's attention. Different teams will choose different strategies against the Dolphins. Wallace must stay ready for when he's single covered.
The Dolphins cannot win many games averaging 0.9 yards per carry.
Miami rushed for 20 yards on 23 carries against Cleveland, and it was an awful performance by both the running backs and offensive line simultaneously. There were no running lanes, and the tailbacks didn't help themselves by breaking tackles. The Dolphins must change this trend quickly. Miami's offense will become very predictable this season if it cannot get running backs
Lamar Miller
and
Daniel Thomas
involved.
I've said constantly that Miami must finish at least 2-3 in their first five games to have a chance for the playoffs.
Sunday's win over Cleveland puts Miami in a good position to match or surpass that record before the bye week. The Dolphins will face the
Indianapolis Colts
(1-0) on the road, the
Atlanta Falcons
(0-1) at home, the
New Orleans Saints
(1-0) on the road and the defending Super Bowl champion
Baltimore Ravens
(0-1) at home. If the Dolphins can win at least one of these games, they will be in decent position. A split by Miami or better during this four-game slate, and the Dolphins will be in excellent shape by October.
September, 9, 2013
9/09/13
12:00
PM ET
A review of four hot issues from the New England Patriots' 23-21 season-opening win over the Buffalo Bills:
[+] Enlarge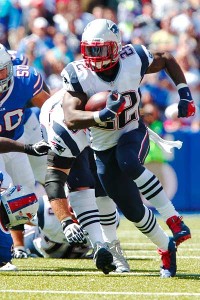 Bill Wippert/AP PhotoPatriots running back Stevan Ridley did not get off to the stellar start he'd hoped for in Week 1.
Ridley's place on running back depth chart:
In 2012,
Stevan Ridley
played a team-high 45 percent of the Patriots' running back snaps, and he appeared poised to reach a similar number this year based on the preseason and Sunday's game in which he started. But a near-fumble in the first quarter (he was ruled down by officials), then a lost fumble in the second quarter that was returned 74 yards for a touchdown landed him a seat on the bench for the rest of the game. Does Ridley assume the No. 1 duties again Thursday night against the Jets? If not, it's
LeGarrette Blount
or
Shane Vereen
.
Amendola's groin injury and his availability:
Receiver
Danny Amendola
left Sunday's game at the end of the second quarter with a groin injury before returning in the third quarter.
His gutsy, clutch performance drew raves
. But after the game, Amendola was guarded about his condition and whether it might affect his availability for Thursday's game. "Right now, I just feel good about the win; that's all that really matters to me," he said. "We'll figure everything else out later."
Brady and the inconsistent passing game:
For those used to seeing an explosive
Tom Brady
-led passing game, Sunday's struggle was a bit of a culture shock. The inexperience of undrafted rookies
Kenbrell Thompkins
and
Zach Sudfeld
showed up at times, and when Amendola wasn't on the field, Brady didn't look as comfortable as Amendola has quickly developed into his
Wes Welker
-type security blanket. On a related note, second-round draft choice
Aaron Dobson
(hamstring) didn't dress for the game, and given some of the struggles in the passing game, his status on the injury report figures to be watched closely.
Can never have enough pass rush:
Part of it might have been the Patriots' willingness to concede extra rushers to keep running back
C.J. Spiller
and the scrambling ability of quarterback
EJ Manuel
in check, but the pressure with the standard four rushers didn't seem to disrupt Manuel enough when he was in the pocket surveying the field. The starting defensive line of left end
Rob Ninkovich
, defensive tackles
Tommy Kelly
and
Vince Wilfork
and right end
Chandler Jones
can't be thrilled with the zero in the sack column on Sunday.
September, 9, 2013
9/09/13
10:25
AM ET
An examination of four hot issues from the Jets' 18-17 win over the Bucs
:
[+] Enlarge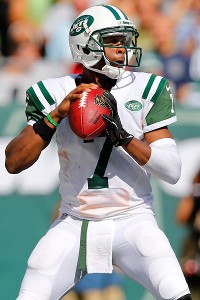 Rich Schultz /Getty ImagesGeno Smith helped lead the Jets to a victory in his first NFL start.
1. Geno wins quarterback competition
: Rex Ryan might not say it publicly, but rookie
Geno Smith
has locked up the charade that was billed as a quarterback competition. Smith's winning performance, coupled with media reports that
Mark Sanchez
's shoulder injury is worse than the team was letting on (gee, what a shock), makes this a no-brainer. They will ride Smith indefinitely, hoping the rest of the team can play well enough to overcome his growing pains. He got off to a shaky start, committing two turnovers and taking an unnecessary sack in the first half, but the kid kept it together and played well in the fourth quarter. In fact, he completed 7 of 11 passes for 83 yards in the fourth, plus his 10-yard scramble that ended with a late-hit penalty on the Bucs, which set up the Jets' game-winning field goal. Smith became the first quarterback drafted in the second round or later to throw for 250-plus yards in a Week 1 victory since the 1970 merger.
2. Running on empty
: If the Jets don't rediscover their once-formidable ground game, Smith doesn't stand a chance. Smith was the leading rusher (47 yards), and that should tell you everything you need to know. But we'll tell you more, of course.
Bilal Powell
and
Chris Ivory
combined for 44 yards on 22 carries, a 2.0-yard average. The Bucs owned the league's top-ranked rush defense last season, but that's no excuse for a 2.0 average. The Jets tried to mix it up, using their Wildcat package. That was a bust, too, as they managed only 13 yards on five Wildcat plays -- shades of last season with
Tim Tebow
. Ivory looked positively ordinary in his Jets debut, although he didn't get much help from the line. Clearly, they need
Mike Goodson
(suspended), who has the speed to threaten the perimeter. Coordinator Marty Mornhinweg actually ran a toss sweep to WR
Jeremy Kerley
on a third-and-1, showing a lack of confidence in his backs.
3. Special K
: GM John Idzik took some heat for letting TE
Dustin Keller
bolt as a free agent. Come to think of it, he let pretty much everyone bolt. For now, anyway, the Jets can feel good about the tight end position, thanks to a strong debut by
Kellen Winslow
. He's 30 years old and playing on a bad knee, but he looked frisky against one of his former teams, leading the Jets with seven catches for 79 yards. Clearly, he and Smith already have developed some chemistry. They connected seven times on eight targets, and that's important because a young quarterback's best friend is a crafty tight end who can get open in the middle of the field. Winslow ran a nice pivot route on his 7-yard touchdown catch, outfoxing the Bucs' secondary. The question with Winslow is durability. He played 63 percent of the offensive snaps, so it'll be interesting to see how his body responds on a short week.
4. Sharpening the edges
: The Bucs'
Doug Martin
is the kind of running back who has caused problems for the Jets in recent years, especially as their defense grew older in 2011 and 2012. He's the type of dual threat who can wreak havoc in space, but he was held to 67 yards from scrimmage. The Jets made changes in the front seven, integrating LB
DeMario Davis
and drafting DT
Sheldon Richardson
-- two players with above-average speed for their positions. The improved athleticism was evident Sunday, as the Jets swarmed the line of scrimmage. DE
Muhammad Wilkerson
, fast becoming one of the top defensive linemen in the league, also played well. They were helped by the Bucs' coaching staff, whose play calling showed no creativity whatsoever.