AFC East:

2013 Week 13 Upon Further Review
December, 2, 2013
12/02/13
10:00
AM ET
FOXBOROUGH, Mass. -- A review of four hot issues following the
New England Patriots
' 34-31
win
over the
Houston Texans
:
[+] Enlarge
Troy Taormina/USA TODAY SportsJulian Edelman has 18 catches for 211 yards and two touchdowns over the past two games.
Run defense springs leaks again:
The Patriots are struggling to stop the run, as season-ending injuries to defensive tackles
Vince Wilfork
and
Tommy Kelly
, as well as linebacker
Jerod Mayo
, have cut deep. The struggles against the Texans seemed more fundamental, such as getting off blocks and tackling. The Texans rushed for four touchdowns in the game after entering the day with two rushing touchdowns on the season.
Ridley's uncertain future as the lead back:
Lead running back
Stevan Ridley
was a healthy scratch after losing his third fumble in three games Nov. 24 against the Broncos. If Ridley doesn't dress for a game against the two-win Texans, it raises questions as to what type of role he might have down the stretch and in the playoffs. It seems fair to say that his time as the Patriots' lead back has officially reached a crossroads.
Shane Vereen
took the majority of running back snaps (41 of 70) against the Texans, playing in more traditional sets as he is now positioned to be the team's top option.
Banged-up receivers:
Rookie receiver
Aaron Dobson
was inactive with a foot injury and then his replacement,
Kenbrell Thompkins
, left the game in the second quarter with a hip injury, and after attempting to play through it, he left the game for good after playing just 15 snaps. That thinned depth at receiver, leaving
Julian Edelman
and
Danny Amendola
as the top options, followed by rookie
Josh Boyce
and special teams captain
Matthew Slater
. The shortage at the position limits options in terms of personnel groupings and could be something to address if it's clear that Dobson and Thompkins will miss more time.
Edelman positioned for a lucrative payday:
Edelman had a big day (nine catches, 101 yards) and upped his season total to 70 receptions, which earns him the maximum incentive in his contract of $250,000. There's good news and bad news for the Patriots in this area. The good news is that Edelman has become a key member of the passing attack, with
Tom Brady
joking that his nickname for him is "Minitron." The bad news? Edelman is scheduled for unrestricted free agency after the season, and the more he produces, the tougher it could be for the Patriots to retain him.
December, 2, 2013
12/02/13
8:00
AM ET
A review of four hot issues from the
New York Jets
' 23-3
loss
Sunday to the
Miami Dolphins
:
1. Triple option at quarterback
: Unless they switch to the single wing, the Jets will have to name a starting quarterback for Sunday's home game against the
Oakland Raiders
. Rex Ryan will consider all three quarterbacks -- the slumping
Geno Smith
, the unproven
Matt Simms
and the ancient
David Garrard
. It's a no-win selection. Smith, in a serious funk, needs a timeout. He needs to watch a week or two from the sideline, perhaps gathering himself for another shot at the end of the season. Simms isn't ready, but at least he has a live arm and young legs. Garrard, 35, is a grizzled vet, but he has a bad knee and hasn't played since 2010. He'd be a sitting duck in the pocket. My prediction is that Ryan will go with Simms, although he's been known to bypass the No. 2 in this type of situation. Does
Tim Tebow
/
Greg McElroy
ring a bell?
2. Blowouts are bad:
The Jets' 5-7 record isn't troubling; after all, we all expected this to be a rebuilding year. It's how they're losing that sends up a red flag. A 20-point loss to the offensively challenged Dolphins at home? There's no alibi. The Jets' last four losses (in order) were by 40, 23, 16 and 20 points. Earlier, they lost by 25 points to the
Tennessee Titans
. The Jets have a minus-121 point differential, which is staggering. The only team with a worse differential is the
Jacksonville Jaguars
(minus-178). This league is built on parity, and there's no excuse for being noncompetitive in so many games. Yes, there's a talent gap between the Jets and probably half the league, but coaching and effort can narrow the gap. We haven't seen that from the Jets in a month.
3. The Ed Reed jinx:
The decision to sign Ed Reed hasn't exactly paid huge dividends. The Jets are 0-3 since Reed's arrival (he's a combined 0-11 with the Jets and
Houston Texans
) and their pass defense has gone south with him at safety. With the future Hall of Famer in the secondary, opposing quarterbacks have completed 67 percent of their attempts for 849 yards, five touchdowns (all over 27 yards) and only two interceptions. It's unfair to blame it all on Reed, as cornerbacks
Dee Milliner
and
Antonio Cromartie
have contributed to the mess, but the nine-time Pro Bowler has made no impact. In fact, he missed a tackle on
Brian Hartline
's 31-yard touchdown. Showing no accountability, Reed dodged reporters after the game.
4. Bad day for John Idzik:
The general manager's first draft pick, Milliner (No. 9 overall), was benched after a feeble tackle attempt on
Mike Wallace
's 28-yard touchdown in the third quarter. That makes three in-game benchings for Milliner. Idzik's third pick, Smith (second round), was benched at halftime. Suddenly, his bountiful draft doesn't look so bountiful. Idzik inherited a tough salary-cap situation, but other than trading for running back
Chris Ivory
, his pro personnel moves are easy to pick apart, especially at quarterback. This team is woefully devoid of talent on offense, and some of that falls on the GM.
December, 2, 2013
12/02/13
8:00
AM ET
A review of four hot issues from the
Miami Dolphins
' 23-3
win
over the
New York Jets
on Sunday:
Confidence soaring
: The Dolphins played their most complete game on offense and defense on the road against the Jets. That combination produced a confident locker room in the bowels of MetLife Stadium on Sunday evening. The Dolphins (6-6) know they have little margin for error but feel they have enough talent and momentum to get hot in December. "We don't have a choice," Dolphins linebacker
Dannell Ellerbe
said. "Everybody is all-in right now."
[+] Enlarge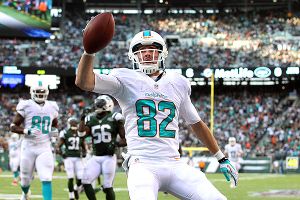 Brad Penner/USA TODAY SportsBrian Hartline had his best game of the season, catching nine passes for 127 yards and a TD.
Hartline shines:
The Dolphins had their eye all week on the matchup between veteran receiver
Brian Hartline
against Jets rookie cornerback
Dee Milliner
. Hartline has been one of Miami's steadiest players this year and Milliner one of the most inconsistent for the Jets. As projected, Miami took advantage of the matchup, as Hartline registered nine receptions for a season-high 127 yards and a touchdown. He primarily beat Milliner and
Ellis Lankster
throughout the game. But Hartline's biggest play was a 31-yard touchdown catch over Jets No. 1 cornerback
Antonio Cromartie
. Hartline now has 804 receiving yards and is close to posting back-to-back 1,000-yard seasons for the first time in his career.
Vernon streaking:
The first Miami player to reach double-digit sacks isn't the one you would have expected. Dolphins second-year defensive end
Olivier Vernon
recorded 2.5 sacks against the Jets and now has 10 on the season. Vernon has been on a tear as of late, with 4.5 sacks in his past three games. Vernon was considered a placeholder for rookie
Dion Jordan
entering the season. But Vernon's production has kept Jordan on the bench all year.
Steelers up next:
The road does not get any easier for the Dolphins. They have another elimination game coming next week against the
Pittsburgh Steelers
(5-7). Pittsburgh will also be playing for its playoff life, which will make the Steelers tough to beat at Heinz Field. The Dolphins broke a three-game road losing streak with Sunday's win over the Jets.
December, 2, 2013
12/02/13
5:00
AM ET
TORONTO -- A review of four hot issues from the
Buffalo Bills
'
34-31 overtime loss
to the
Atlanta Falcons
:
Robey frustrated with call:
The Falcons' final scoring drive of regulation saw a barrage of penalty flags, the final one being a pass interference call against cornerback
Nickell Robey
. The undrafted rookie got tangled up with receiver
Harry Douglas
in the corner of the end zone, with both players falling to the ground as the pass sailed in. In the locker room after the game, Robey aired his frustrations about the call. "I was just playing football, trying to make a play. I felt like he pushed me more than I held him. I felt like when the ball was coming, it was underthrown and when I was trying to come back to the ball, he extended his arm and I fell. I was just trying to make a ball, playing football, you know? Coaches just kept telling me to play. I felt like that was just a bad call," he said. Coach Doug Marrone said he didn't have a good view of the play but will review it and may include it in his weekly report to the NFL office.
Spiller
Bills secondary expected loose officiating:
Cornerback
Leodis McKelvin
said that the Bills had done their homework on official Walt Anderson and his crew and were expecting fewer penalty flags than the norm. "They let you play. They let you hold. They let you do whatever you gotta do," he said. Robey echoed the same thought. "They let us play all day today," he said. Asked about the officiating, Marrone did not provide an opinion, saying, "You guys are trying to get [me] in trouble. I can't do it. My wife will kill me."
Spiller hobbled, returns:
The Bills never officially announced an injury, but running back
C.J. Spiller
was limping early in the game. It's unclear if it was related to his nagging ankle injury, but Marrone said he spoke to running backs coach
Tyrone Wheatley
, who said Spiller was fine to re-enter the game. Spiller played more sparingly in the second half but broke a 36-yard touchdown run and finished with 149 rushing yards. "He goes in there and makes a big run, gets nicked up, starts limping a little bit, gets back in there," Marrone said. "I think it's kind of been that type of season for C.J."
Marrone ignores crowd noise, loud or not:
The crowd of 38,969 in the Rogers Centre on Sunday was a mix of Falcons and Bills fans, so loud cheers could be heard whenever either team made big plays. That's not entirely the "home-field" advantage the Bills are looking for, but asked after the game about the effect the crowd has on players, Marrone gave an interesting response. "It's funny, when you play and you're out there, even when you're coaching you really don't know what's going on," he said. "I think people think players feed off the crowd and things like that. That may have happened, but basically you have to feed off each other." Asked a follow-up question, though, Marrone changed his tone. "I thought the crowd today was good. They were on our side. They were giving us the boost that we needed," he said.