AFC East:

2013 Week 16 CLE at NYJ
December, 22, 2013
12/22/13
9:20
PM ET
EAST RUTHERFORD, N.J. -- If Rex Ryan gets fired, it means his only chance of survival was to make the playoffs. It means his new boss, general manager John Idzik, never was interested in grading him on a curve.
Ryan has done enough with the
New York Jets
to justify a one-year contract extension. Seven wins in a rebuilding year is solid work, deserving of another chance. Clearly, the Jets are still playing hard for Ryan, evidenced by Sunday's
24-13 win
over the
Cleveland Browns
at MetLife Stadium.
But that's the view from inside the vacuum. Unfortunately for Ryan, the law of the NFL jungle isn't as forgiving. When you've missed the playoffs for three straight years and the new general manager has his first chance to hire his own coach ... well, it usually means you're done.
The word around the organization is that owner Woody Johnson would like to keep Ryan, but Idzik is undecided. After the game, Ryan was aglow, chirping about the team's bright future.
"I told you this team is on the climb, on the rise," he said, stating his case after what may have been his final home game. "It was pretty clear, at least to me, that's what we saw today."
Ryan, who has one year left on his contract, said he hasn't received any word regarding his status, which will likely be revealed the day after the season -- Black Monday.
Sources confirmed that Ryan mentioned his uncertain status Saturday night in the team meeting, as Fox Sports reported, but it wasn't a "Win one for me" motivational tactic. He used it in the context of how everyone in the room faced a cloudy future, how they could be scattered across the league next year and how they should go down fighting for each other.
It would've been a cheap ploy if Ryan had made it all about himself, but he was said to be "pissed" by rumors that the organization could be looking for a replacement.
Ryan wouldn't address the report, and neither did his players, who were told to keep it in-house. Obviously, it's on Ryan's mind. Ditto, the players.
"Rex is The Guy, and he needs to be The Guy," said linebacker
Calvin Pace
, one of the many players who expressed strong support for the embattled coach. "I think everyone rallies around him."
Guard
Willie Colon
, one of Ryan's most ardent backers, said, "I think Rex needs to be back. This team is headed in a great direction. He's our general. We love him. We bleed for him and he bleeds for us."
[+] Enlarge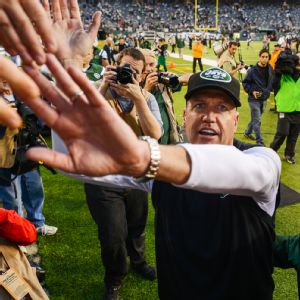 Ron Antonelli/Getty ImagesRex Ryan high-fived fans after what might have been his final home game with the Jets.
Sunday was the ideal day for the Jets to hammer home the "right direction" narrative, considering the promising performances by quarterback
Geno Smith
and cornerback
Dee Milliner
, two of the most important rookies in Idzik's foundation.
Unfortunately for Ryan, he's probably developing this rookie class for the next coach -- unless Idzik pulls a surprise and opts for the status quo. If Ryan gets a pink slip, he can walk away knowing he did a credible job with a roster that included more holes than the FDR Drive.
"If he finishes 8-8, you could make a strong case to keep him," said an AFC personnel director, speaking on the condition of anonymity. "I thought they'd win three or four games."
Pace echoed that sentiment, saying, "To have seven wins after we were predicted to be the worst team in the NFL, it says a lot about our character and the way we rallied around Rex."
But they didn't rally around him last month, when the Jets dropped three straight after the bye week. That, ultimately, could be what dooms him. They went from 5-4 to 6-8, rendering the final two games meaningless.
On Sunday, they rallied from a 10-0 deficit, showing heart. Colon noted that, in several previous games, there wasn't that fight-back mentality. Ryan used a colorful analogy, saying, "It kind of reminds me of that UFC fighter that's turning purple, he's choked out, but he still fought, found a way to get out and win."
It makes for a nice story and it speaks to Ryan's motivational skills (although, if the players were so fired up by his Saturday night speech, why did it take 23 minutes before they woke up?). But if Idzik is thinking the way most GMs do in his situation, he's not giving out medals for trying.
Idzik, joined with Ryan in a shotgun wedding, has spent almost a year evaluating the entire operation. It was a honeymoon year for the first-time GM, who must ask himself if he wants to be joined at the hip with Ryan. Firing Ryan wouldn't be a popular decision in the locker room, but we know Idzik isn't afraid of criticism. He traded
Darrelle Revis
, didn't he?
When it was over Sunday, Ryan made sure to milk the moment. He joined the players on a victory lap, exchanging high-fives with the fans. They did the same thing at the end of the 2009 season, when they clinched a wild-card berth by routing the
Cincinnati Bengals
.
"This was our AFC Championship Game," Pace said. "We play our Super Bowl [next week] in Miami."
But that isn't the Super Bowl that Ryan promised when he was hired.
December, 22, 2013
12/22/13
9:05
PM ET
EAST RUTHERFORD, N.J. --
New York Jets
coach Rex Ryan delivered a fiery speech Saturday night in a team meeting, mentioning his uncertain future with the team, sources confirmed.
It was described as a motivational speech in which he addressed the speculation about his job as part of a larger theme. He told the players that no one in the room had a secure future, and that they need to play for each other in the final two weeks.
But there was more to it than that. Ryan also was angry because he heard rumors that the organization already could be looking for his replacement, sources said.
[+] Enlarge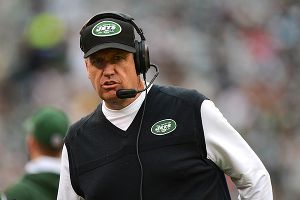 Ron Antonelli/Getty ImagesRex Ryan wouldn't comment about speculation over his job status following the Jets' victory Sunday.
Ryan declined to comment on the meeting or a pregame report by Fox Sports, which said the coach told the team he could be fired.
"Whether the report is accurate or not, I'm going to tell you this: Those things will stay in-house," Ryan said after the 24-13 win over the
Cleveland Browns
at MetLife Stadium.
The players, instructed not to comment on the meeting or the report, echoed Ryan's remarks.
Ryan was happy, but defiant after the game. He said the Jets, despite a 7-8 record, are "on the rise." He was in an "I told you so" mood when asked about oft-criticized rookie cornerback
Dee Milliner
, who made his first interception and played his best game. He also dared the media to criticize him for giving the players a Victory Monday.
"You can rip me for that one if you want, that's fine and dandy," he said.
Ryan sidestepped questions about his future. The only thing he said was that he hasn't received any word from ownership on his job status for 2014.
"I know I have a contract for next year," he said. "What I do know, guys, is that I'm coaching this team. I've said this all season long: My job is to focus on the present and what's right now."
Several players expressed their support for Ryan, continuing a recent trend.
"I guarantee you, everybody loves playing for Rex," linebacker
Calvin Pace
said. "It's a blast coming to work every day. He motivates everybody and believes in everybody."
Wide receiver
David Nelson
, a former Buffalo Bill, said he enjoys playing for Ryan. He didn't like him as an opponent.
"From the outside looking in, to be blunt and honest with you, [I thought he was] arrogant and cocky. He's coming out and making those bold statements and brash comments. As an opposing player, you look at those and you think he's supposed to be politically correct. Now, getting to know him, he's honest. He's sincere. He truly believes in his players."
Guard
Willie Colon
, who has said on multiple occasions that the organization would take a step back if Ryan is fired, reiterated his belief in the coach. He admitted the speculation has been a distraction.
"Personally, it's hard to say it's not distracting at times because I love the guy so much," Colon said. "But, at the same time, it's a business."
December, 22, 2013
12/22/13
7:26
PM ET
EAST RUTHERFORD, N.J. --
Dee Milliner
didn't want to see a goose egg on the back of his card.
Entering Sunday, Milliner claimed he previously never had a season without an interception, but here he was with two games left in his rookie year and still no interception. It mattered to him.
[+] Enlarge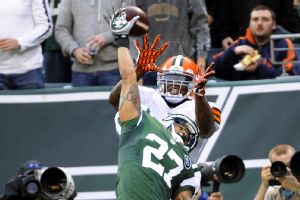 AP Photo/Bill KostrounDee Milliner had five passes defended and an interception against Josh Gordon and the Browns.
In the third quarter against Cleveland, he finally grabbed that interception.
In the best performance of his career, Milliner recorded his first interception when he picked off
Jason Campbell
in the third quarter of the
Jets' 24-13 win against the Browns
on Sunday. Milliner also did quite well against Cleveland's
Josh Gordon
, as he had five passes defended.
"You could say in a way [it's a breakout game] because it's probably the best game I've had all season," Milliner said. "Great game. Great team win. It just felt good to get a win."
It's been a rough season for Milliner as he's struggled for most of the year, and has been benched three times. The first-round rookie hasn't lived up to expectations, as it seems he's been benched more times than he's produced game-changing plays. The team has maintained its faith in the rookie despite the rough outings, but there were times when he looked over his head and couldn't stay on the field.
Sunday, Milliner showed signs of turning the corner. Milliner's first interception came at a crucial time as he picked off Campbell with the Browns inside Jets' territory and the game tied at 10. Milliner said his coaches knew the Browns would go to the inside route, and positioned the players accordingly. The rookie followed Campbell's eyes and jumped a pass intended for
Greg Little
.
"I always try to be in the right spot," Milliner said. "I finally broke on the ball and I got my hands on it, and I just tried to keep it."
As big as the interception was for Milliner and the Jets, his performance against Gordon was the more uplifting part of his day. Milliner was told early in the week he would draw Gordon, and he immersed himself in video to prepare. He said the key was being physical and alert at all times, and credited the scout work for helping him prepare.
While Gordon hauled in six catches for 97 yards, he was targeted 16 times and held out of the end zone. In one key sequence, Milliner prevented Gordon from hauling in a touchdown catch on back-to-back plays in the second quarter. With the Jets down 3-0, Campbell tried to find Gordon twice, but Milliner was able to keep Gordon from securing the ball, and the Browns turned the ball over on downs.
Jets coach Rex Ryan was quite happy with Milliner's performance.
"I said at the end of the year that we'll see if this guy wasn't the best corner in the draft. I don't know. [Gordon]'s a pretty darn good receiver, Milliner had [five] PBU's and an interception, but we'll see," Ryan said. "I've seen a few players come down the road in my day. This guy here is going to be an outstanding player."
December, 22, 2013
12/22/13
4:03
PM ET
EAST RUTHERFORD, N.J. -- A few thoughts on the
New York Jets
'
24-13 win
over the
Cleveland Browns
at MetLife Stadium:

What it means:
The Jets (7-8) still have a chance to finish .500, which would be a nice accomplishment for a team predicted to be a laughingstock. They got off to a slow start against the Browns (4-11), committing sloppy mistakes, but they developed nice balance on offense. The Jets finished 6-2 at home. Hey, it's something. The Browns dropped their sixth in a row.
Stock watch:
This might have been Rex Ryan's final home game. After three straight seasons out of the playoffs, Ryan could be fired at the end of the season. He referenced his uncertain status Saturday night in a team meeting, according to a Fox Sports report. He probably did it for motivational purposes. If owner Woody Johnson and GM John Idzik are leaning toward making a change, the decision could get tougher with a strong finish.
Geno delivers -- finally:
Quarterback
Geno Smith
(20-for-36, 214 yards) played his best game since Week 5, throwing two touchdowns to
David Nelson
, running for one and -- get this -- managing to avoid a turnover for only the third time. For a change, Smith validated the praise his coaches have lavished upon him, providing a glimmer of hope for the future. Recognizing single coverage, he called an audible on his 6-yard scoring pass to Nelson, a heady play by the rookie. Smith was money on third down and did a nice job of finding his checkdown options. He got a boost from
Chris Ivory
, who rushed for 109 yards.
Better late than never:
Rookie cornerback
Dee Milliner
played his best game, by far, recording his first interception and holding the dangerous
Josh Gordon
to six catches for 97 yards on 16 targets. It helped that Gordon dropped three passes, including two in the end zone. But give Milliner credit. The first-round pick showed closing speed and made plays on the ball, continuing to show improvement in the latter stage of the season. Interestingly, Milliner -- not
Antonio Cromartie
-- was assigned to Gordon on every play. That never would've happened if Cromartie were playing well.
Pine time for Reed:
It's not often that a future Hall of Famer is benched, but that's what happened to safety
Ed Reed
, who was replaced in the base defense by
Antonio Allen
. Reed, who played 84 percent of the defensive snaps in his first five games, was limited to the sub package on passing downs. (He did make an interception near the end of the game.) This is how he should've been used from the outset, not as an every-down player. Ryan is a Reed apologist, but give him credit for making this move, albeit too late.
What's ahead:
The Jets close the season in the spoiler role, facing the
Miami Dolphins
on the road.