AFC East:

2013 Week 16 MIA at BUF
December, 22, 2013
12/22/13
8:37
PM ET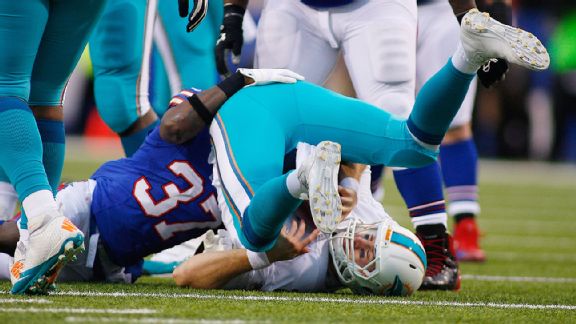 Rick Stewart/Getty ImagesThe Dolphins couldn't protect Ryan Tannehill, allowing seven sacks by the Bills.
ORCHARD PARK, N.Y. -- The look on the
Miami Dolphins
' faces Sunday evening told the story.
The downtrodden Dolphins were mostly quiet in the locker room following their ugly,
19-0 loss
to the
Buffalo Bills
. The players knew they blew a golden opportunity to control their own playoff destiny.
The formula was simple for the Dolphins: Beat the Bills and
New York Jets
in the final two games to make the playoffs for the first time since 2008. Instead, Miami (8-7) laid an egg at the worst possible time and was held scoreless for the first time all season.
Now Miami needs help to reach the playoffs. The Dolphins must beat the Jets in Week 17 and hope for a loss by the
Baltimore Ravens
, giving Miami outright ownership of the second AFC wild-card berth. If Miami and Baltimore both win, the Dolphins need the
San Diego Chargers
to prevail and finish 9-7, creating a three-way tie that Miami would win.
"It's extremely disappointing," Dolphins cornerback
Brent Grimes
said. "We had it and we let an opportunity pass. But it happened. So all we can do now is go back to Miami, start over and play much better at home than we did today."
There was no indication Miami would pull a no-show in Buffalo. The Dolphins were riding high off their three-game winning streak. They also were coming off their biggest win of the season, against the AFC East champion
New England Patriots
, and had plenty of momentum.
But none of that momentum carried over in Ralph Wilson Stadium. The Bills (6-9), with a chance to ruin Miami's season, clearly treated this game like their Super Bowl. The Dolphins failed to match that intensity on both sides of the ball.
"I felt very good about our preparation," said a surprised Dolphins head coach Joe Philbin. "I thought our guys practiced well. [They were] ahead of schedule in the practices that we had planned. I thought our attention to detail was good."
So what exactly happened to Miami?
Buffalo proved for the second time this season it's a tough matchup for the Dolphins. The Bills' biggest strength -- their defensive line -- was dominant against Miami's offensive line, which has been inconsistent this year.
The Bills sacked Dolphins quarterback
Ryan Tannehill
seven times. Miami has allowed 11 sacks over the past two games, and actually set a new franchise record for the most quarterback sacks allowed in a season with 58.
The pressure took a toll on Tannehill and Miami's offense. Tannehill threw for a season-low 82 yards, and briefly went to the sideline with an injured knee in the fourth quarter. He sat out one series before returning and said afterward that his knee is "fine" for next week.
The Bills kept bringing blitzes from different areas, and Miami failed to neutralize them.
"I don't feel at any point we were outcoached or confused up front," Tannehill said. "We identified most of the blitzes and they made some plays like that just timing [the snap]. ... They had shown those pressures throughout the year."
It wasn't just the pass protection. The Dolphins failed to establish a running game, gaining just 14 yards on 12 carries. Miami's longest run of the day was for 3 yards. Leading receiver
Brian Hartline
also suffered three drops that could have led to first downs.
"It wasn't our best day on offense," Philbin explained. "That's an understatement."
The Bills completed a season sweep against the Dolphins, and both losses were among the most disappointing of the season for Miami. The Dolphins fell to 2-3 against AFC East opponents this season.
Despite not controlling their destiny, the Dolphins still have a decent shot at the postseason. But after Sunday's performance in Buffalo, there isn't much optimism the Dolphins can do much damage on the road in the playoffs if they are fortunate enough to get in.
There will be nervous times with the Dolphins next week. They must take care of business on the field against the Jets, but also get help from elsewhere. This is the scenario the Dolphins put themselves in with Sunday's no-show performance.
"It's not acceptable," Philbin said of Sunday's loss. "Those are the facts. There's no sugarcoating. We're all men. That's what happened."
December, 22, 2013
12/22/13
7:58
PM ET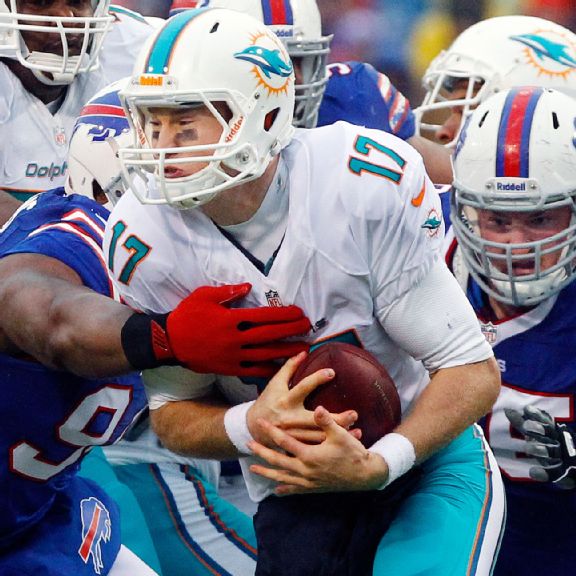 AP Photo/Bill WippertThe Buffalo Bills sacked Ryan Tannehill seven times, raising their season total to a franchise-best 56.
ORCHARD PARK, N.Y. -- As a team, the results haven't been there for the
Buffalo Bills
this season. Although winners of their past two games, the Bills have a 6-9 record and are closing in on their sixth consecutive season finishing in the basement of the AFC East.
Offensively, the Bills are a work in progress. But on the other side of the ball, defensive coordinator Mike Pettine's efforts won't go unnoticed by teams in search of a head coach this offseason, especially after Sunday's
19-0 shutout win
over the
Miami Dolphins
.
According to a report last week from TheMMQB.com's Peter King, the
NFL recently created a panel
of former coaches and general managers to recommend head-coaching candidates to teams with vacancies. Pettine, 47, is on the list.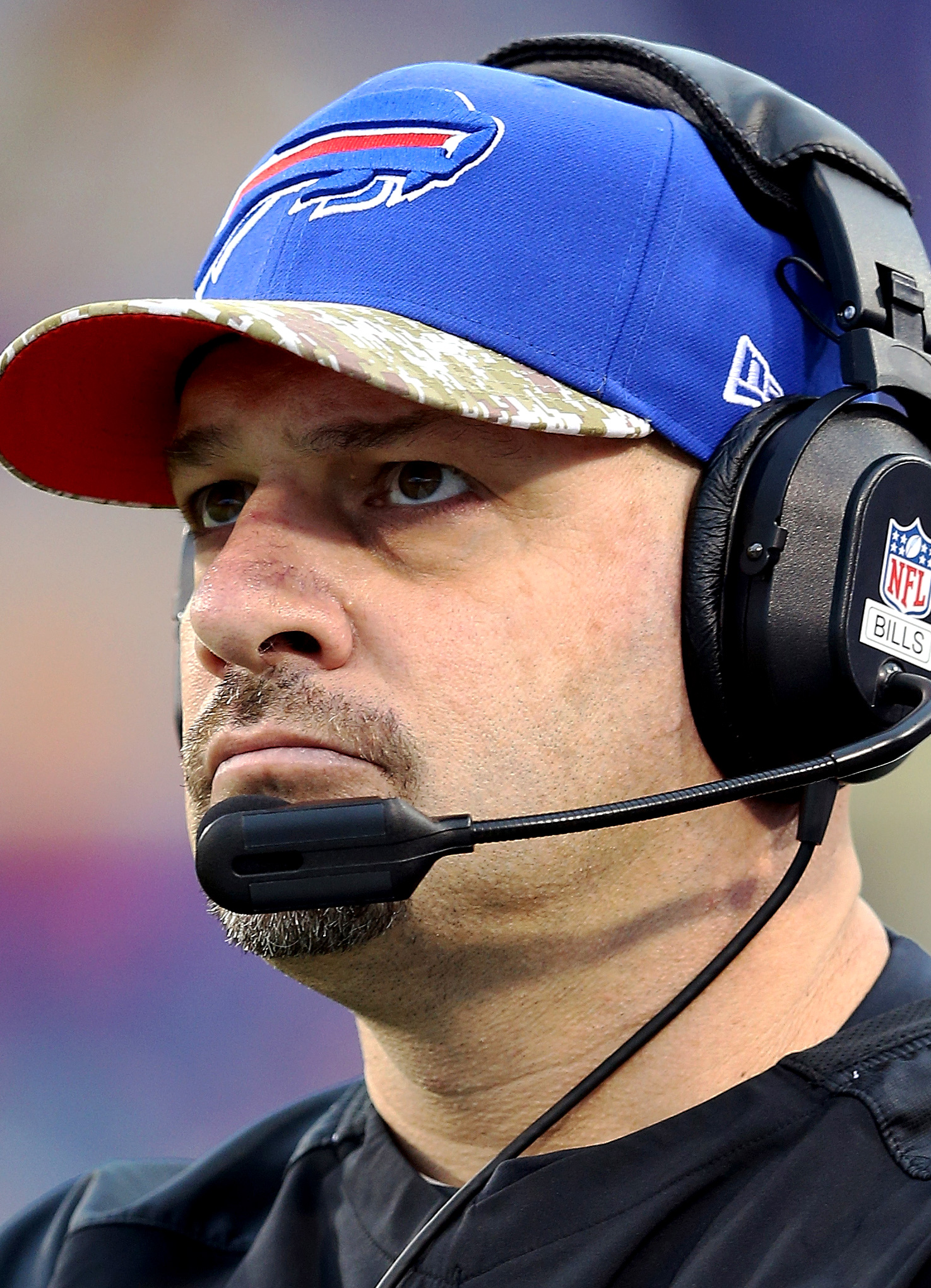 Pettine
"I'm not going to think about it until the season is over. That's flattering. Lists are lists. But that's come before, so it's one of those deals," Pettine told ESPN.com on Sunday. "We'll focus on New England [in the season finale], and then when the dust settles from that, we'll look into that."
In his weekly radio appearance on WGR 550 in Buffalo last Wednesday, Bills CEO Russ Brandon said it would be unlikely that the Bills would block someone like Pettine from interviewing with other teams.
"It's something that obviously would come through me, [general manager] Doug Whaley and Coach [Doug] Marrone. But it all depends on what the opportunity is, but if it's a head coaching, certainly [he] would have that opportunity," Brandon said.
"My belief and foundation always has been about opportunity for people. You work your tail off in this business for opportunity. If coaches have that chance to better themselves for their career and for their family, it's something that you rarely, rarely would ever stand in that way for that opportunity."
Losing Pettine would be a blow to the Bills' rebuilding efforts, but having assistant coaches in line for promotions elsewhere might be a good problem for Buffalo.
"If that's the coach's goal, obviously we encourage it and support him in every way if he has that opportunity. Obviously I would like to see him stay right here in Buffalo, because I really think we're building something special on that side of the ball," Brandon said. "But he's a heck of a coach. But I'm sure he will have interest down the road here, especially if we keep improving. That's the catch-22.
"If we're improving as an organization or as a team, you're going to have your coaches poached a little bit, and that wouldn't be a bad thing. I'd like to worry about it, actually."
If teams with head-coaching openings look at Pettine, Sunday's win will be at the top of Pettine's résumé from this season.
Already with an NFL-best 49 sacks entering the game, the Bills added another seven sacks Sunday, shattering Buffalo's previous franchise single-season record set in 1995. The Dolphins never reached the red zone, were held to 2-for-14 on third downs and finished with just 103 net yards on offense.
"That was a pretty good beating," Pettine said with a smile after the game.
The shutout win and sack record serve as a feather in the cap for Pettine, who has led the turnaround of a Bills defense that had underperformed in recent seasons. While the Bills ranked 18th in points allowed entering this weekend, more fine-tuned statistics tell a different story.
This season, ESPN NFL analyst
Tedy Bruschi
created a "defensive index" that tracks total turnovers, red zone defense, third-down conversions and points allowed by the defense. The Bills' defense ranked 12th in
last week's installment
and will undoubtedly move higher after Sunday's performance.
Prior to this season, it would have been easy to knock Pettine's coaching résumé. In his previous stints with the
New York Jets
and
Baltimore Ravens
, Pettine served as an assistant to Rex Ryan, a defensive mind who received much of the credit for that unit's success. But last offseason, Pettine decided to step out of Ryan's shadow and pair up with Marrone, whose NFL coaching background has come entirely on offense.
Now, the credit is due to Pettine. While the Bills' defense hasn't been excellent -- it ranks 23rd in rushing yards allowed per game, for example -- it has been very good for stretches this season, which could be enough to prove Pettine's worth to head-coaching headhunters in search of a top coordinator.
Still, the Bills' overall record this season might work against Pettine when coaching jobs open as soon as next week. It's often coordinators on playoff teams -- not those in last place in their division -- who receive consideration for head-coaching vacancies, so Pettine could be hurt by the limited national exposure the Bills received this season.
Pettine's career aspirations aside, it's fair to question if the Bills have wasted their defense's strong performances this season. It's even something Marrone's 9-year-old son has asked his dad.
"My son asked me the same thing, the same exact question you asked me. 'Do you look back and say should've, could've, would've?' I told him in life you can't do that," Marrone said. "Not in the present time and not with what we're doing. You always have to move forward and just keep working and building it."
December, 22, 2013
12/22/13
4:09
PM ET
ORCHARD PARK, N.Y. -- Thoughts on the
Miami Dolphins
' 19-0
loss
against the
Buffalo Bills
on Sunday.

What it means:
After a landmark win over the
New England Patriots
last week, the Dolphins (8-7) were shut out for the first time this season and blew a golden opportunity by getting swept by Buffalo. The Bills treated this game like their Super Bowl and the Dolphins showed little urgency. Miami controlled their playoff fate entering the weekend but now may need some help in Week 17. A lot will depend on what the
Baltimore Ravens
(8-6) and
San Diego Chargers
(7-7) do in their 4 p.m. ET games.
Stock Watch:
As far as stock down, Miami's pass protection is becoming an issue again. The Dolphins allowed seven sacks to the Bills. At one point Miami starting quarterback
Ryan Tannehill
was briefly knocked out of the game with a knee injury. Tannehill returned but he was pressured nearly the entire game. Miami has allowed 11 sacks in the past two games, and Tannehill is the most-sacked quarterback in the NFL this season.
There weren't many players to provide a stock up. Miami cornerback
Nolan Carroll
allowed some plays, but also had a sack and an interception.
No excuses:
This was a no-excuse game for Miami. The Dolphins were playing against a Buffalo team without its starting quarterback (
EJ Manuel
) and a starting receiver (
Steve Johnson
). In addition, Buffalo rookie receiver
Robert Woods
also got ejected after throwing a punch at Miami safety
Reshad Jones
in the third quarter. Fellow rookie receiver
Marquise Goodwin
injured his knee in the second quarter and didn't return. Still, the Dolphins were not able to take advantage.
What's next:
The Dolphins will complete their 2013 regular-season schedule with a home game against the
New York Jets
. Miami will be looking for the season sweep. The Dolphins beat the Jets 23-3 in New York on Dec. 1.
December, 22, 2013
12/22/13
2:30
PM ET
ORCHARD PARK, N.Y. -- The
Buffalo Bills
lead the
Miami Dolphins
,
10-0
, at halftime.
Here are some notes at intermission:
Buffalo's defensive line is making life tough for Miami's offense. The Dolphins struggled to get any offense going early. They had just one first down in the first quarter, and four in the first half. Bills defensive linemen Kyle Williams and Mario Williams have been difficult to block.
The Dolphins' pass protection has suddenly become an issue again. Miami went nearly a month with solid pass blocking for quarterback Ryan Tannehill. But the Dolphins allowed four sacks in the first half. Miami has now allowed eight sacks in the past six quarters.
Buffalo is not afraid to go deep in this December game. Bills quarterback Thad Lewis has taken several shots in the first half. Lewis' best pass was a 58-yard completion to receiver Robert Woods, who beat Miami corner Nolan Carroll. However, Carroll bounced back with an interception of Lewis in the second quarter.
This is an important second half for the Dolphins. They controlled their own destiny entering this game, but could relinquish that control if they can't come back and beat the Bills.
December, 20, 2013
12/20/13
2:00
PM ET
DAVIE, Fla. -- It was about 80 degrees and sunny during this December week in South Florida. This is why Miami is one of the country's top destinations during the winter.
But it's also why there are concerns about the Dolphins (8-6) when they travel to face the
Buffalo Bills
(5-9) on Sunday. Miami is in the middle of a playoff push and cannot afford an upset. One thing that could be an equalizer is which team performs best in the elements.
Pouncey
The Dolphins had one bad-weather game this season, against the
Pittsburgh Steelers
, and performed well in a 34-28 Miami victory. There were several inches of snow in Pittsburgh, and the Dolphins rushed for a season-high 181 yards.
On Sunday, the weather in Buffalo is expected to be in the mid-40s with heavy rain. The Dolphins will have to adjust offensively and defensively.
"We just hate the rain," Dolphins center
Mike Pouncey
said Friday. "Rain slows down the game, and there's a lot more turnovers during the game. So that's something we have to focus on."
The Dolphins are trying to avoid a season sweep by Buffalo. The Bills came into Miami in Week 7 and handed the Dolphins a 23-21 defeat.
Miami controls its own playoff destiny and will make the postseason with two more victories. A loss in Buffalo could force Miami to get assistance in Week 17.
"It's been a few weeks where we've had the biggest game, playoffs or whatever you want to call it," Dolphins defensive end
Cameron Wake
said. "But that's the bed we made, and it's an exciting thing."
The Dolphins won three straight games to put them in this position. Miami even has a small chance to win the AFC East if the
New England Patriots
(10-4) finish 10-6.
The Dolphins' locker room is fully aware how important Sunday's trip to Buffalo is.
"You're understanding of where you stand puts a little more weight on things," Dolphins receiver
Brian Hartline
said. "It's just like the first quarter feels different from the fourth quarter."