AFC East:

2013 Week 2 NYJ at NWE
September, 13, 2013
9/13/13
3:07
AM ET
FOXBOROUGH, Mass. -- The
New York Jets
played one of their best defensive games ever against
Tom Brady
-- except for one play, a breakdown that proved costly in the 13-10 loss to the
New England Patriots
on Thursday night at Gillette Stadium.
On the Patriots' first possession, the Jets busted a coverage, leaving rookie wide receiver
Aaron Dobson
wide open for a 39-yard touchdown catch. On a third-and-2, the Patriots used heavy personnel, making tackle
Nate Solder
an eligible receiver. That must have confused the Jets, who bit hard on a play-action fake. Dobson, in a tight-wing formation, was uncovered.
Rex Ryan was ticked.
"That's hard to deal with," the Jets coach said. "We thought we had a heck of a game plan going in, thought we had a chance to win. To give a freebie like that to Brady ... we talked about it all week long. I mean, you can't afford mental mistakes against Brady."
Said defensive tackle
Sheldon Richardson
: "We thought it was a run, simple as that. There was a miscommunication. The linebackers have to read their keys and they read run."
Otherwise, the defense was terrific, holding the Patriots to 232 yards, 4-for-18 on third down and only 26 minutes of possession time. Brady completed only 19-of-39 passes, his first sub-50 percent game since 2009.
September, 13, 2013
9/13/13
2:56
AM ET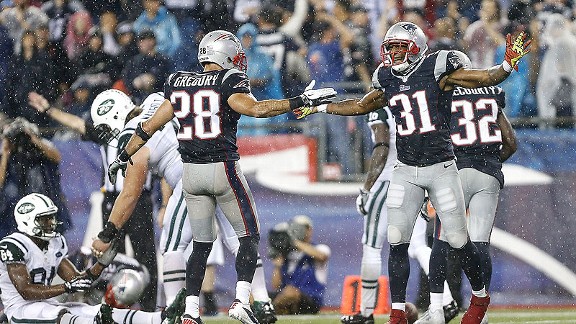 Jim Rogash/Getty Images Aqib Talib, right, collected two of the Patriots' four turnovers against the Jets.
FOXBOROUGH, Mass. – The tables have officially turned for the
New England Patriots
.
The team known for its lethal passing offense, which in a record-breaking season six years ago was accused by some of running up the score, could hardly generate any positive momentum Thursday night. It was about as ugly as we've seen since
Tom Brady
became the team's starting quarterback in 2001.
So the Patriots needed the defense to save the day, and the unit delivered in a rain-soaked
13-10 victory
over the
New York Jets
. That hasn't happened too often around these parts.
"We know that this year, whatever situation we're in, it might have to be the defense that's going to have to win the game for us," defensive end
Rob Ninkovich
said. "We welcome that. A 13-10 win sounds good to me."
It might not sound good to Patriots fans who crave another Super Bowl championship and are wondering what happened to a once-unstoppable offense led by a once-in-a-lifetime quarterback. That's the big issue facing the team at the moment, and there's no overlooking it.
Just don't tell that to Patriots defenders who left Gillette Stadium late Thursday night feeling especially good about themselves after producing four turnovers -– the 29th consecutive game in which they've forced at least one -- while coming up with a final stop late in the fourth quarter to preserve the result.
"Over the years our offense has bailed us out so many times. It's good to get a win like this," said linebacker
Jerod Mayo
, one of the team's captains.
"I think we're building toward something that can be pretty good for us," added defensive tackle
Vince Wilfork
, another captain. "It will be good for the defense to take the field and guys have the confidence around us, on the other side of the ball and special teams, knowing that we're going to close out games. There's a lot of confidence being built right now."
It has obviously helped that they've gone against rookie quarterbacks
EJ Manuel
and
Geno Smith
, who have been generous at crucial points in the first two games. The Patriots haven't been doing too much out of the norm schematically, playing either a base 4-3 or 4-2-5 nickel, with a big focus in the opening weeks on keeping both athletic signal-callers in the pocket.
After failing to produce a sack in the opener against the Bills, New England rung up four on Thursday night, two by defensive end
Chandler Jones
and one apiece from rookie
Michael Buchanan
and
Tommy Kelly
. Meanwhile, the secondary was at its ball-hawking best, with cornerback
Aqib Talib
notching two interceptions and forcing a fumble, while cornerback
Alfonzo Dennard
added a pick.
As it turned out, Smith completed three passes to the Jets in the fourth quarter, and three to the Patriots.
"The defense stepped it up and did what we had to do to win the game. That's the way it has to be sometimes," said Ninkovich, the Bill Belichick-declared "Jet Killer" who had six tackles and a forced fumble Thursday.
It just hasn't been that way in New England very often. And a lingering question is how long the Patriots might be able to sustain if things continue down this path.
As Brady talked about wanting "to do a better job on offense and carry our end," defenders were happy to pick up the slack.
"We have guys banged up, we have some young guys over there, and we know it's going to take time for them to learn and develop," safety
Devin McCourty
said. "That's how a team works. There will be nights, maybe next game, where we don't play as well and we'll need them to step up and they'll do that. We just need to keep playing off each other.
"We have all faith in our offense. Right now, it will probably be a huge deal and everyone will want to talk about it," he continued. "[But] we have no concerns with those guys. We know they're working hard, we're all getting better as a team, and it will work out."
Wilfork echoed those thoughts.
"Tom's been around the game for a while, so he knows how to handle the situation that he's in. Those guys work their tails off, so it's not a lack of effort," he said. "It's just getting the confidence and being able to make those plays, and once those guys start developing and getting more experience, I think you'll start seeing a different ball club."
Until they get there -- assuming they actually do -- they'll need the defense to keep them in games. The tables have indeed been turned.
September, 13, 2013
9/13/13
2:40
AM ET
FOXBOROUGH, Mass. -- Rookie cornerback
Dee Milliner
, the ninth pick in April's draft, was benched at halftime of the
New York Jets
' 13-10 loss to the
New England Patriots
on Thursday night at Gillette Stadium. And this was on a night on which
Tom Brady
was human; imagine if he was actually hit.
Milliner
Jets coach Rex Ryan was upset with Milliner because he made a couple mental mistakes and was beaten on an apparent 25-yard touchdown pass to
Kenbrell Thompkins
-- a play that was reversed because the ball touched the ground.
"The young man is going to be a tremendous player, there's no doubt, but I said to him, 'I want you to watch on the sideline,'" Ryan said. "Sometimes when you do that, it's the best thing for you. ... I'm trying to win a game and put in who I think has the best chance to win it. The young man, he's going to be a great player. But at that time, I went with the veteran."
Kyle Wilson
and
Darrin Walls
split the duties at Milliner's spot.
This has been a shaky start for Milliner, the former Alabama standout. In the opener, he allowed a touchdown to Tampa Bay's
Mike Williams
. Milliner missed two preseason games because of a strained Achilles tendon.
Milliner took the benching in stride.
"I was fine with it," he said. "It was a coaching decision. I'll always back him up on any decisions he makes. He just felt like he needed to pull me out and watch."
Milliner said he made "simple mistakes" -- with costly ramifications.
September, 13, 2013
9/13/13
1:54
AM ET
FOXBOROUGH, Mass. --
Observed in the locker room after the New England Patriots' 13-10 victory over the New York Jets at Gillette Stadium on Thursday:
Brady
Brady talks frustrations:
In his postgame news conference, quarterback
Tom Brady
shared his frustrations on the team's offensive performance. Brady's emotions boiled over at times during the game, which ran counter to his previous comments about needing to have more patience with his young receivers. "I think I have to do a better job with my body language. I can definitely improve that," he acknowledged. "I wouldn't say it's a real strong point of mine right now."
Mankins takes jab at Jets on dust-up:
Guard
Logan Mankins
is one of the Patriots' enforcers, and he took exception to
Nick Mangold
's tackle of cornerback
Aqib Talib
on the game-sealing interception. The play occurred in front of the New England sideline -- it led to both teams pushing and shoving -- and Mangold was ultimately penalized for a personal foul; offensive linemen
D'Brickashaw Ferguson
and
Willie Colon
were ejected. "It was a cheap shot," Mankins said. "He chose the wrong sideline to do that. We were standing up for our guy."
Edelman delivers career performance:
Without receiver
Danny Amendola
(groin), the Patriots leaned heavily on five-year veteran receiver
Julian Edelman
, who had a career-high 13 catches (bettering his 10 in the 2009 regular-season finale) and was effective as a punt returner as well. Edelman drew a huge media crowd and was one of the last players to leave -- and on a night when Brady kept looking in his direction, it was clear that he had earned his quarterback's trust. That's something the team's rookies are still trying to accomplish, as
Kenbrell Thompkins
and
Aaron Dobson
were targeted 17 times and combined for just five receptions. "What gets that [trust] is consistency, doing it in practice, executing that in practice and making that a game reality," Edelman said.
Defensive players feel good about performance:
On a night when New England's offense was as ugly as we've seen since Brady became a starter in 2001, the defense had to rise up. The unit was pleased to pick up the offense. "We have guys banged up. We have some young guys over there, and we know it's going to take time for them to learn and develop," safety
Devin McCourty
said. "That's how a team works. There will be nights, maybe next game, where we don't play as well, and we'll need them to step up and they'll do that. We just need to keep playing off each other."
September, 13, 2013
9/13/13
1:18
AM ET
FOXBOROUGH, Mass. --
Observed in the locker room after the New York Jets' 13-10 loss to the New England Patriots:
1. Muttering Rex
: Rex Ryan walked to the interview podium in the bowels of Gillette Stadium, looked down and whispered one word under his breath: "Damn." That pretty much told the story of the game. The Jets outgained the Patriots 318-232, held them to 4-for-18 on third down and finished with an eight-minute possession advantage -- and still found ways to lose.
Wilkerson
2. Oh, no, Mo
: Defensive end
Muhammad Wilkerson
, arguably the best player on the team, walked out of the locker room with a bulky ice pack wrapped around his right ankle -- not a good sight for the Jets. Earlier, Wilkerson was seen walking around the locker room in flip flops, showing no apparent limp. Ryan mentioned the possibility of a high ankle sprain, which could sideline Wilkerson for multiple games.
3. New England fog:
As he spoke to reporters in the hot and sticky locker room, cornerback
Antonio Cromartie
kept having to wipe his black-rimmed glasses because they kept fogging up. You might say it was a metaphor for the Jets' performance. They fell apart in the fourth quarter and, afterward, didn't have the foggiest explanation.
September, 13, 2013
9/13/13
12:07
AM ET
FOXBOROUGH, Mass. -- A few thoughts on the Jets'
13-10 loss
to the
New England Patriots
on Thursday night at Gillette Stadium:
What it means
: The Jets blew a wonderful opportunity to upset the vulnerable Patriots, whose offense was completely out of whack with a depleted cast around
Tom Brady
. In the end, a savvy quarterback surrounded by a kiddie corps proved better than a kid quarterback (
Geno Smith
) surrounded by veterans. The Jets had a chance in the fourth quarter, but they made far too many mistakes in crunch time. Making things worse,
Jets defensive lineman Muhammad Wilkerson was carted off with a foot injury late in the game.

Stock Watch
: This week, Smith imploded in the fourth quarter. No one said there wouldn't be growing pains for the rookie. He was turnover-free for nearly 50 minutes, but he threw three interceptions in the final 11 minutes. The first interception was a bad decision in the red zone, probably costing his team three points in a three-point game. Having to face the Patriots on a short week is a tall order for any quarterback, let alone a rookie. Smith missed some vertical passes, throwing behind receivers. Coordinator Marty Mornhinweg did him no favors, calling too many downfield passes. Mornhinweg gave up on the run late in the game.
Careless mistakes
: It takes a near-flawless performance to beat a team like the Patriots. The Jets were anything but. They put themselves in a 10-0 hole because of a mental mistake (a blown coverage on
Aaron Dobson
's 39-yard touchdown catch) and a physical mistake (a fumble by
Stephen Hill
after a 33-yard reception). Early on, the defense was confused by different personnel packages from the Patriots, and that was the case on Dobson's touchdown. That was just Bill Belichick outcoaching Rex Ryan in those situations. Hill is maddening -- so talented, yet so inconsistent. This is his house of horrors. No Jets fan will forget his killer drop in last season's meeting here.
Implosion
: The Jets lost their cool with 38 seconds left, when
Willie Colon
and
D'Brickashaw Ferguson
were ejected for throwing punches in a scrum triggered by
Nick Mangold
, who took a cheap shot at
Aqib Talib
on an interception return.
The not-so-good-hands people
: Smith was victimized by a butter-finger receiving corps -- at least six dropped passes.
Clyde Gates
had three, including one in the end zone. Hill,
Bilal Powell
and rookie
Ryan Spadola
also had drops. The lack of a big-time receiver was blatantly obvious. The Jets' pedestrian wideouts couldn't get much separation against the Patriots' press coverage, forcing Smith to hold the ball and putting extreme pressure on the offensive line.
Santonio Holmes
made a few nice plays, but he's still not back to his old form.
Dominant D
: Save for the busted coverage on Dobson, Ryan's defense was brilliant. It's hard to imagine a defense playing much better against Brady, who completed only 19 of 39 passes for 185 yards. The Jets held the Patriots to 4-of-18 on third-down conversions. If it weren't for
Julian Edelman
(13 catches for 78 yards), Brady would have been lost. Cornerback
Dee Milliner
was benched in the second half.
What's next
: The Jets return home to face the
Buffalo Bills
(0-1) in a battle of two rookie quarterbacks, Smith versus
EJ Manuel
.
September, 12, 2013
9/12/13
11:59
PM ET
FOXBOROUGH, Mass. – My thoughts on the
New England Patriots
'
13-10 victory
over the
New York Jets
on Thursday night:

What it means:
In one of the uglier football games we've seen the Patriots play in recent memory, they get the victory. But are the Patriots still one of the AFC's elite teams? It's hard to answer that with an authoritative "yes" after the past two weeks. While they played without receiver
Danny Amendola
on Thursday night and will benefit from the return of tight end
Rob Gronkowski
(possibly as soon as Week 3), there are plenty of questions surrounding the offense right now.
Brady's struggles:
Quarterback
Tom Brady
's frustration boiled over at times. It's rare to see a game in which Brady hovers below the 50 percent completion mark, but he just couldn't get on the same page with anyone outside of receiver
Julian Edelman
(New England's best offensive player). Brady previously talked about the need for more patience this year. His patience was put to the test in this game.
Stock watch:
Falling -- rookie receivers. It was a tough night for
Aaron Dobson
(second-round pick) and
Kenbrell Thompkins
(undrafted), as the Patriots' passing game was stuck in neutral. Dobson caught a 39-yard touchdown pass on his first career play, but otherwise struggled with drops on a night when the conditions got wetter and sloppier as the game progressed. While everyone expected some growing pains for the Patriots' passing game with young receivers, I'm not sure we expected them at this level.
Defense delivers:
The Patriots created four turnovers on defense (two interceptions by
Aqib Talib
, one pick by
Alfonzo Dennard
and a fumble return by
Devin McCourty
created by Talib), as it was a night in which the D had to keep the team in the game because of the anemic offensive performance (some credit goes to the Jets' defense for owning third down). This is the second week in a row that the Patriots' defense stood tall late in the game. While the unit deserves credit, it's also notable that the Jets (1-1), with rookie
Geno Smith
at quarterback, are one of the NFL's offensively challenged teams.
What's next:
The Patriots (2-0) host the
Tampa Bay Buccaneers
on Sunday, Sept. 22 (1 p.m. ET). Having played Thursday night, they'll have extra time to prepare. The Buccaneers host the
New Orleans Saints
this Sunday.