AFC East:

2013 Week 3 Upon Further Review AFC
September, 23, 2013
9/23/13
2:00
PM ET
An examination of four hot issues from the Miami Dolphins' 27-23 win over the Atlanta Falcons:
Still undefeated:
The Dolphins are one of six teams with a 3-0 record. Miami is arguably the biggest surprise in the NFL, especially considering its tough early schedule. The Dolphins beat two playoff teams from a season ago -- the
Falcons
and
Colts
-- in the past two weeks and have two road wins. The other 3-0 teams are Chicago, Kansas City, New England, New Orleans and Seattle. Denver can join them with a win Monday night against Oakland.
[+] Enlarge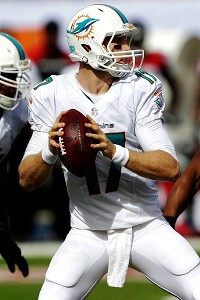 AP Photo/Wilfredo LeeRyan Tannehill seems to be maturing with every week and every Dolphins victory.
Second-half dominance:
Want to know how the Dolphins are 3-0? They are dominating the second half by outscoring opponents 41-16 in the third and fourth quarters. Miami coach Joe Philbin has given his players Thursdays off during the regular season, the thought being that his players will be fresh for Sunday and late in games. So far, it has worked to perfection. The Dolphins' offense and defense have finished strongly in all three games and carried them to victories. Many players are crediting Philbin's creative approach to the practice week.
Tannehill coming of age:
There were questions coming in whether quarterback
Ryan Tannehill
had a killer instinct after his rookie season. But he is growing up and showing strides right in front of our eyes. Tannehill produced an important, fourth-quarter comeback at home against the Falcons, completing nine of 12 passes on Miami's final touchdown drive. Tannehill even "suggested" the touchdown play call to Dolphins offensive coordinator Mike Sherman, who agreed with the quarterback and called the play. Improved quarterback play is the biggest reason Miami is undefeated this season. Tannehill has a stellar 94.3 passer rating in three games. That is much better than last season's passer rating of 76.1.
Ready for the big stage:
The Dolphins will be on the national stage next week against the
Saints
on "Monday Night Football." Both teams are undefeated and will get plenty of hype entering this game. The Dolphins have certainly earned it, silencing their critics with three quality wins. According to ESPN Stats & Info, 75 percent of teams to start 3-0 since 1990 have made the playoffs. The Dolphins have set themselves up well with an undefeated September.
September, 23, 2013
9/23/13
2:00
PM ET
A review of four hot issues from the
Buffalo Bills
' 27-20 loss to the
New York Jets
:
Pinpointing Mario's departure:
Defensive end
Mario Williams
looks to be among the several Bills injured in this game. His final play came on the Jets' extra point following their 69-yard touchdown catch with 9:23 left in the fourth quarter. The Buffalo News reported that Williams was "limping mightily" after getting X-rays after the game. The Bills did not announce any injury to Williams, and a team spokesperson deferred comment to coach Doug Marrone, who will speak to reporters Monday afternoon.
[+] Enlarge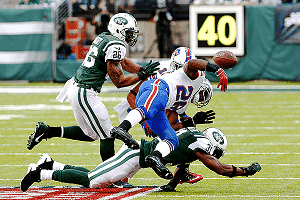 Anthony Gruppuso/USA TODAY SportsThe Jets made sure to put the clamps on Buffalo running back C.J. Spiller on Sunday.
Spiller says Jets stacked box:
Running back
C.J. Spiller
, who ran for 9 yards on 10 carries before taking himself out of the game with a thigh injury, said the Jets were trying to force him to the edges of the field. "They wanted me to bounce it," he said. "They put a lot of people in the box and dared our passing game to beat them." Spiller, who acknowledged after a 41-yard performance in Week 1 that teams are game planning against him, echoed those thoughts again Monday. "If I'm a defensive coordinator, that would be my biggest thing, too, is to stop our run and pretty much make our rookie quarterback beat us," he said.
Wood on "unacceptable" performance:
Other than Spiller's struggles that highlighted a bleak offensive day for the Bills, center
Eric Wood
was penalized twice for holding (one was declined). On Monday, Wood said some of Buffalo's mistakes "were terrible, [mine] included." Wood and the rest of the Bills' offensive line allowed
EJ Manuel
to get sacked eight times, part of an ugly 19-of-42 performance by the rookie. "We've got to complete more balls and we have to get better protection," Wood added. "Yesterday was unacceptable."
Marathon of a game:
At 3 hours, 33 minutes, this was the longest Bills game in at least their past three seasons. Much of that, of course, is due to the Jets' 20 penalties, as well as their two challenges, and two booth reviews. Meanwhile, the Bills tied a team record with eight first downs off Jets penalties. They last "achieved" that feat in 1987.
September, 23, 2013
9/23/13
12:30
PM ET
A review of four hot issues from the
New England Patriots
' 23-3 win over the
Tampa Bay Buccaneers
:
[+] Enlarge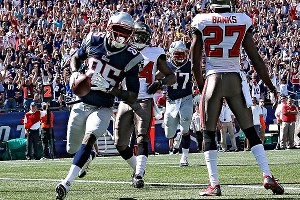 Jim Rogash/Getty ImagesPatriots rookie receiver Kenbrell Thompkins scored the first two touchdowns of his career in a win over the Buccaneers.
Young receivers rebound:
After struggling in a Week 2 win over the Jets, rookie receivers
Aaron Dobson
and
Kenbrell Thompkins
bounced back with their best performances of the young season. Dobson tied for the team high with seven catches (four produced first downs and he also drew a 28-yard pass interference penalty), and Thompkins had two touchdown grabs. There still will be growing pains ahead, few have doubts about that, but it was a step in the right direction for the Patriots.
Injuries to key players:
Receiver
Danny Amendola
(groin) and tight end
Rob Gronkowski
(forearm/back) didn't play, while starting right tackle
Sebastian Vollmer
injured his foot and didn't play in the second half. Their status figures to be watched closely this week, with Gronkowski potentially set to make his debut if things keep progressing (he had been listed as doubtful the first two weeks of the season, but was upgraded to questionable last week). If Vollmer isn't ready to play, it pushes third-year tackle
Marcus Cannon
into the starting lineup and also shines a spotlight on the health of veteran
Will Svitek
, who has missed the first three games of the season with a knee injury and would add another layer of depth.
Defense delivers again:
Since their record-breaking season in 2007, the Patriots' identity has mostly been tied to their offense. But as the offense has struggled to find its groove early this season, the defense has picked up more of the slack. In three games this season, opponents have scored 34 points against the Patriots, which is impressive (and also the fewest allowed by the Patriots through three games since 1979). But then when considering that seven of those points came on a fumble return for a touchdown, while another seven came after an interception deep in their own territory, it reflects well on the defense. One theme that was heard after Sunday's win was how having so many returning players has helped the unit start at a higher point in 2013.
Tough part of the schedule ahead:
While the Patriots are naturally pleased with their 3-0 start, with wins over the
Buffalo Bills
,
New York Jets
and Buccaneers, there also seems to be a realization that things are about to get much tougher. The next three games on the schedule are at the Falcons, at the Bengals, then home versus the Saints. The Patriots have built themselves some margin for error with a strong start, but it seems fair to say we'll find out some more about this team when it faces some tougher competition.
September, 23, 2013
9/23/13
12:30
PM ET
An examination of four hot issues from the
New York Jets
' 27-20 victory over the
Buffalo Bills
:
1. Broadway Geno
: A week ago in this space, we wondered how
Geno Smith
would respond to his awful fourth quarter in New England. The answer: The way the Jets had hoped. He became the first rookie in Jets history to pass for 300 yards and two touchdowns in a game. Not even Joe Namath did that in 1965, when the AFL was a wide-open passing league. In some ways, Smith's performance was Namath-esque, because he threw a couple of interceptions (that makes a total of six). But he also demonstrated the ability to attack downfield, as the Jets unleashed a seldom-seen vertical passing game. Smith averaged 11.4 yards per attempt. You can win a lot of football games with that number. He made one big play in crunch time, the 69-yard touchdown strike to
Santonio Holmes
, and that was enough.
[+] Enlarge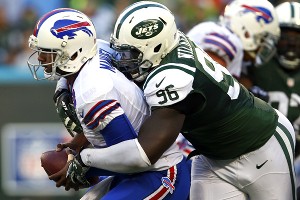 Rich Schultz/Getty ImagesMuhammad Wilkerson sacked EJ Manuel twice in Sunday's win over the Bills.
2. Paging Rex, spill on Aisle 3
: Rex Ryan has a lot of stuff to clean up. The Jets have committed 34 penalties, including a franchise-record 20 Sunday, and they're minus-six in turnover margin -- but they're off to a 2-1 start. Go figure. Tom Coughlin would love to have these problems at 2-1. Of course, the Jets won't keep winning if these issues persist. Ryan needs to figure out a way to tidy up the mess; expect a heavy emphasis in practice this week on penalty prevention. It was a team breakdown, as the offense was responsible for 11 penalties, the defense nine. The worst offenders were CB
Kyle Wilson
(four for 49 yards) and G
Vladimir Ducasse
(four for 35). If it weren't for one declined penalty and one offsetting, the Jets would've tied the league record at 22. Ryan contributed to the meltdown with an ill-advised replay challenge on a potential first-down spot. Note to Ryan: There's only a 40 percent success rate on those type of challenges this season. Ryan had no challenges remaining in the fourth quarter, and he could've used one on a possible fumble by
EJ Manuel
.
3. Get the quarterback
: Essentially, that was Ryan's message to the team in the Saturday night meeting. The defense heeded his message, recording eight sacks. The last time the Jets made eight sacks in a game was 1988, when the quarterback was
Matt Simms
' dad, Phil. Fortunately, Matt wasn't around to see that beatdown; it was three months before he was born. The Jets haven't been a big sack team under Ryan, who usually has to manufacture pressure with clever schemes, but the trend is turning. With
Muhammad Wilkerson
,
Quinton Coples
and
Sheldon Richardson
rushing the passer -- first-round picks from 2011 to 2013 -- Ryan has the horses up front to frighten quarterbacks. Manuel, who came into the game with a growing reputation for being calm under pressure, was hit 16 times and rattled by the pressure. Wilkerson recorded the first multisack game of his career.
4. From third-string to lifesaver
: Before training camp,
Bilal Powell
was projected as the No. 3 running back, behind
Chris Ivory
and
Mike Goodson
. It changed quickly when Ivory hurt his hamstring and Goodson didn't show because of off-the-field issues. Powell ran with the opportunity, won the starting job and saved the Jets Sunday with a career day -- 149 rushing yards, including 109 in the second half. His day began on the bench, as Ivory got the start. He lasted only four plays before he injured his "good" hamstring, setting it up for Powell. He's the most underrated player on the team, a steady, if not flashy runner who grinds out the yards. With Ivory likely to miss time, Powell will be a very important player over the next few weeks.