AFC East:

2013 Week 5 BAL at MIA
October, 6, 2013
10/06/13
7:00
PM ET
MIAMI – The
Miami Dolphins
have a lot of holes to fix following Sunday's
26-23 loss
to the
Baltimore Ravens
. It was the second consecutive defeat for Miami.
But one previous void appears to be improving: the chemistry between quarterback
Ryan Tannehill
and No. 1 receiver
Mike Wallace
. Both were on the same page Sunday against the Ravens. Tannehill combined with Wallace for seven receptions for 105 yards. It was Wallace's second 100-yard game of the season.
[+] Enlarge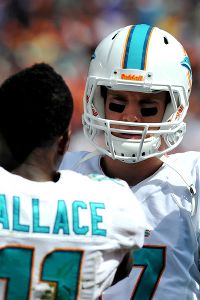 Steve Mitchell/USA TODAY SportsRyan Tannehill and Mike Wallace connected for Wallace's second 100-yard receiving game of the season.
Miami's offense had significant trouble running the ball and protecting the quarterback. But Wallace and Tannehill showed flashes of what could be a dangerous tandem for the rest of the season.
"We have to make plays regardless," Wallace said in the locker room after the game. "Whatever the situation is, we need to make plays on our side."
The Dolphins certainly made a concerted effort to get Wallace the football against a tough Baltimore defense. Tannehill targeted Wallace a season-high 16 times. It was a mix of short, intermediate and deep passes that kept the Ravens off balance. Wallace also drew an defensive-holding penalty in the first half that helped lead to a field goal.
Tannehill's best play was a 49-yard bomb to Wallace, who was double-covered but still had the speed to run past two defenders. Tannehill's pass was slightly underthrown, but Wallace was able to make the play and set up another field goal.
"We always have something in the game plan, and you kind of get a feel for the game as its going on," Tannehill explained. "We were able to hit him on a deep play. It was really kind of the worst look we have possibly gotten for that play, but he used his speed and was able to make a big catch downfield."
The bye week should only help this pair. The Dolphins will only go as far as Tannehill takes them, and Tannehill needs his best receiver to produce. Wallace has world-class speed and the Dolphins are still in the feeling-out process of how to use him. Wallace is only five games into his Miami tenure and should improve as the season goes on.
A growing rapport between Tannehill and Wallace can only mean good things for Miami's offense.
"Honestly, we have to get better," Wallace said of the offense. "We make plays, but we have to make some more. We make some plays sometimes and then we stall."
October, 6, 2013
10/06/13
6:20
PM ET
MIAMI -- The
Miami Dolphins
consistently take a "next man up" mentality. But what happens when the next player keeps getting injured?
After a relatively healthy three weeks, Miami's defense is being hit hard with injuries. The bye week is coming at just the right time for the Dolphins (3-2). Miami suffered some new injuries and is still reeling from old ones following a 26-23 loss to the defending Super Bowl champion
Baltimore Ravens
.
Ellerbe
The list of injured defensive players is a long one. Linebacker
Dannell Ellerbe
(shoulder), cornerback
Nolan Carroll
(shoulder), defensive end
Cameron Wake
(knee) and cornerback
Dimitri Patterson
(groin) are all starters who either didn't play or couldn't finish Sunday's game against Baltimore. Several other Dolphins players are also banged up on defense, but played through it.
"That's the view of the NFL: When a guy goes down, the next guy should be ready to step in and fill that void," Dolphins safety
Reshad Jones
said in the locker room afterward. "I feel like the backups did a pretty good job coming in and filling that void."
Miami's defense kept the points down, relatively speaking. But the Dolphins allowed 384 yards in the loss and couldn't get key stops in the second half.
Miami's short-handed defense was clearly gassed in the third and fourth quarters. The rotation was shortened because of injuries, and Baltimore took advantage by scoring 20 second-half points.
The Dolphins were a strong second-half team in the first three games. But Miami had a short week of preparation, and injuries have this group gasping for air. The Dolphins allowed 133 yards rushing on 40 carries.
"It's hard to lose people in the game," Dolphins linebacker
Koa Misi
said. "It was definitely hard on us."
Miami will get two weeks to recover before facing the
Buffalo Bills
(2-3) on Oct. 20 at Sun Life Stadium. That should provide ample time for most of Miami's defensive players to return. Miami needs to win at home, especially within the division.
The Dolphins need a better overall performance from their defense week in and week out if they want to put themselves in position to make a playoff push. The Dolphins fell to 1-1 at home this season, and have lost two straight.
"I want to be 5-0 as a player, just for this team, because we work really hard," Dolphins linebacker
Philip Wheeler
said. "But we're not proud with 3-2. We're going to take it and we're going to learn from the mistakes of this game and make sure we're not 3-3 after the bye."
October, 6, 2013
10/06/13
5:42
PM ET
MIAMI -- How good are the 2013
Miami Dolphins
?
Your guess is as good as anyone's.
The Dolphins enter the bye week limping following
Sunday's 26-23 loss
to the
Baltimore Ravens
. Two weeks ago, the Dolphins were 3-0 and there was discussion of whether they could be among the upper-echelon teams.
But two losses in six days have quickly brought Miami crashing down to earth. The Dolphins (3-2) at this stage are simply a middle-of-the-pack team. They're not bad. They're not great.
[+] Enlarge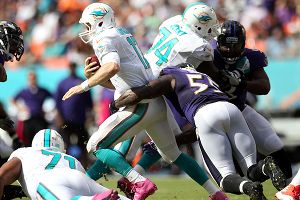 Marc Serota/Getty ImagesRyan Tannehill was under consistent pressure from the Baltimore defense on Sunday.
"It doesn't feel good; it doesn't feel good at all," Dolphins linebacker
Koa Misi
said of back-to-back losses. "This bye week would have been nice going in 4-1. But we have to get better at certain things."
The Dolphins are back in line with the NFL's large and inconsistent middle class. That is major part of what's made the league so popular. You just don't know what to expect from at least half of the teams, including the Dolphins, on a given week. Miami enters the bye week certainly with more questions than answers.
The defense hasn't lived up to expectations and is banged-up with injuries. The Dolphins aren't getting enough stops and allowed the
New Orleans Saints
and Ravens to combine for 64 points the past two games.
On offense, the pass protection has been horrible and is perhaps the Dolphins' biggest weakness. Miami has allowed 24 sacks in five games, including six against the Ravens on Sunday.
"There's a lot of ballgames left to play and time to turn it around," Dolphins left tackle
Jonathan Martin
said. "But it is a concerning trend so far. So it's definitely something we need to get corrected now."
Dolphins second-year quarterback
Ryan Tannehill
is keeping Miami's offense afloat. He continues to play well despite poor blocking and little help from the running game.
Miami rushed for just 22 yards on 11 carries. But Tannehill threw for 307 yards and a touchdown. He also nearly led the Dolphins to a game-tying drive in the final minute, but rookie kicker
Caleb Sturgis
missed a 57-yard field goal.
In the preseason, a 3-2 start would have been considered solid for Miami. The Dolphins had a brutal schedule to start the season, but losing two in a row gives the impression that Miami is sputtering.
"We have to make up some things and get better at some things, but I think we'll be alright," Misi said.
"Alright" is a good way to describe the Dolphins. They're certainly not elite but they're not bad, either.
Currently, Miami is just alright after five games.
October, 6, 2013
10/06/13
4:20
PM ET
MIAMI -- A few thoughts on the
Miami Dolphins
'
26-23 loss
to the
Baltimore Ravens
:

What it means:
After a 3-0 start, the Dolphins are stumbling into the bye week with a 3-2 record. Miami had a brutal schedule to start the season, and this probably would have been fine by most Miami fans at the start of the season. But Miami raised expectations after its fast start, and now the perception is the team is struggling. A few big plays at the end gave Miami a chance, but rookie
Caleb Sturgis
missed a 57-yard field goal at the end.
Stock watch:
Ryan Tannehill
's stock is back up after a horrible Week 4 against the
New Orleans Saints
. Tannehill bounced back from a four-turnover performance in New Orleans and had a much better game Sunday. Tannehill threw for 307 yards, one touchdown and had zero turnovers. He also nearly led a game-tying drive at the end but took a big sack.
As far as stock down, Dolphins offensive coordinator Mike Sherman had another questionable week of play calling. He made another poor third-and-1 call on the opening drive that was reminiscent of a call from last week's loss to the Saints. Despite heavy criticism last week, Sherman ran outside for no gain and was forced to punt for the second week in a row. The Dolphins also called a timeout before the play. The run-pass ratio was also drastically out of whack for such a close and competitive game. Miami's offensive line also allowed six sacks, which ups the Dolphins' total to 24 sacks allowed this year.
Injury updates:
Miami Pro Bowl defensive end
Cameron Wake
returned to the lineup Sunday, but it was brief and he was mostly ineffective. Wake, who has a sprained knee, played in the first quarter only and didn't register a tackle. He will get two days to rest. Dolphins starting linebacker
Dannell Ellerbe
also injured his shoulder in the second quarter and didn't return. Cornerback
Nolan Carroll
injured his ribs in the third quarter and didn't return.
What's next:
The Dolphins get a much-needed bye in Week 6. After a 3-2 start, it's time for Miami to re-evaluate the team, improve and get healthy. The Dolphins will host the
Buffalo Bills
(2-3) in a big AFC East battle in Week 7.
October, 6, 2013
10/06/13
2:32
PM ET
MIAMI -- The
Miami Dolphins
(3-1) lead the
Baltimore Ravens
(2-2),
13-6
, at intermission.
Here are some notes during halftime:
Miami looked like a team that didn't practice much in the first quarter. The Dolphins were sloppy and couldn't get much going until late in the first half. Because of the short week, the Dolphins' only "real" practice was on Wednesday. Thursday was a day off, and Friday was a light walk-through.
Miami is getting receiver Mike Wallace involved in the first half. Dolphins quarterback Ryan Tannehill is making a concerted effort to get his No. 1 receiver the ball, and Wallace has six receptions for 99 yards. Wallace had a big reception of 49 yards in the second quarter that led to a field goal.
Tannehill is having a good bounce-back game so far. Tannehill has thrown for 178 yards and a touchdown in the first half. He had an interception overturned on a replay. Tannehill had four turnovers in a loss last week against the New Orleans Saints.
Dolphins linebacker Dannell Ellerbe injured his shoulder in the first half and his return is questionable.
This should be a close and physical second half from Miami. Keep checking
ESPN.com's Dolphins page
for more updates throughout the afternoon.