AFC East:

2013 Week 9 PIT at NE
November, 3, 2013
11/03/13
11:35
PM ET
FOXBOROUGH, Mass. -- Even quarterback
Tom Brady
didn't see this coming.
"You don't wake up in the morning and think they're going to be like that," he said after the Patriots' 55-31 victory over the Steelers. "That was pretty sweet."
Brady had his best day of the season, finishing 23-of-33 for 432 yards, with four touchdowns and no interceptions. In the process, it marked the sixth time he's led the Patriots to a 50-point output, tying Len Dawson for the most 50-point games by a starting quarterback in NFL history.
Brady
A few other milestones for Brady:
This marked the 15th time in his career that he has had four or more touchdowns in a game when not throwing an interception. Brady passed Saints quarterback
Drew Brees
for the most such games in NFL history.
He also had two passes of 50 or more yards in a single game for the eighth time in his career. His 81-yard touchdown pass to rookie receiver
Aaron Dobson
tied for the fifth-longest pass of his career and the sixth touchdown pass of 80 or more yards of his career.
The 432 yards marked the third highest single-game total of his 186-game career. The only times Brady threw for more yardage came against the Dolphins on Sept. 12, 2011 when he had 517 yards and against the 49ers on Dec. 16, 2012, when he had 443.
"There's a reason Brady is considered the best," Steelers defensive end
Brett Keisel
said. "He put the ball exactly where it needed to go and he knew exactly who to throw it to. He beat us all over the place and it's as simple as that."
Brady called it a fun day, saying "they don't always go like that." It was a performance that showed how the Patriots are evolving a bit on offense.
"I think there were some elements of our game that we're starting to show," he said. "When Gronk [
Rob Gronkowski
] plays like that and can produce like that, and Danny [Amendola] does that and Aaron [Dobson] does that and the backs do that and the line blocks, it's a good way to play football," he said.
"There were a lot of guys that played really well and that's what it's going to take, I think, as the season goes [on]. We have to keep getting better. It's been a process for us, but at the bye week, 7-2 is not bad. Hopefully our best football is ahead of us."
November, 3, 2013
11/03/13
10:15
PM ET
FOXBOROUGH, Mass. -- It wasn't long ago that
New England Patriots
' rookie wide receiver
Aaron Dobson
's role was more unpredictable than consistent.
[+] Enlarge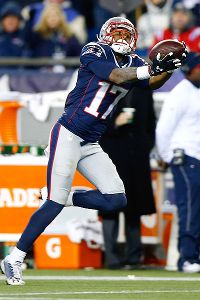 Jared Wickerham/Getty ImagesWith his role increased, Aaron Dobson had a career-high 130 receiving yards and two touchdowns.
He missed the season opener due to a hamstring injury, and the emergence of fellow rookie wideout
Kenbrell Thompkins
cut into Dobson's opportunities.
But much has changed in recent weeks, as Dobson has evolved into the team's primary "X" receiver, aligned on the perimeter of the formation and providing a vertical presence.
On Sunday, with Thompkins inactive as a healthy scratch, Dobson played a predominant role, logging 68 offensive snaps -- his second highest output in a game this season. The results were plentiful, as Dobson finished with a career-best 130 receiving yards and two scores.
"It feels good, just all the hard work, just having the outcome of a game like that, it's big," Dobson said following the game. "It feels good to have the confidence going into -- well, we're going into the bye week -- but going into my next week, it just feels good."
The second-round pick seemingly has developed a stronger rapport with quarterback
Tom Brady
, and though he has had struggles with drops during his rookie campaign, he said on Sunday that he has grown more confident as his role has expanded.
"I'm just learning, I'm just getting comfortable with the offense," Dobson said. "I've still got a long way to go, but I'm just more comfortable than I was when I first got here."
Perhaps no plays demonstrated that more than Dobson's two touchdowns, as he corralled a back shoulder throw in the end zone to open the fourth-quarter scoring and followed that up with an 81-yard score late in the game to effectively put it out of reach.
That sort of vertical-stretching speed is what the Patriots had hoped to find in Dobson when they took him out of Marshall, and though it took some time to adjust to life in the NFL, Dobson said his hard work with Brady is adding up.
"All the work is paying off, all the extra things we do, just meetings, just extra stuff in particular is paying off," he said.
November, 3, 2013
11/03/13
10:00
PM ET
FOXBOROUGH, Mass. --
New England Patriots
running back
Stevan Ridley
was spared responsibility for his third-quarter fumble by coach Bill Belichick, as Steelers safety
Troy Polamalu
ripped the ball out of his grasp after he caught a pass along the right sideline.
Since Ridley was benched in the season-opener due to ball-security issues, Belichick's post-game remarks were most significant.
"I thought Stevan did a good job. It was really a tremendous play by Polamalu," Belichick said. "Stevan caught his ball with his back to the defender. As he turned, Troy came in there and instead of making a tackle he was able to dislodge the ball. He anticipated Ridley turning up and Troy made a good play on it. I don't think Stevan really had much of a chance to do anything but turn.
"Sometimes turnovers are a result of real good defensive plays. Sometimes they're a result of sloppy plays offensively. I would, unfortunately, have to credit that one to Polamalu. He made a great play and that's one of those things you have to live with."
That will be welcome news to Ridley, who was charted on the field for a running back-high 51 snaps, as the Patriots turned to him as their workhorse one week after limiting him to just 20 snaps.
Belichick liked what he saw as Ridley totaled 115 yards on 26 carries and two touchdowns. It was Ridley's first 100-yard game of the season and fifth of his three-year career.
"Stevan ran hard, like he always does," he said. "He's a tough runner, he gets his yards, and then he always gets a few more because of his running style and his toughness and his pad level and getting downhill. He gave us that again."
Ridley, perhaps sensing that his role and fluctuating snaps would be a focal point of media-based discussion, declined comment after the game. But his teammates were happy to speak on his behalf.
"He runs so hard. You give it to him, you have so much confidence that you're going to gain yards," quarterback
Tom Brady
said. "He has a great spirit and energy about him, in what he brings to our offense in emotion. When he's confident, it helps our team immeasurably."