April, 26, 2012
4/26/12
11:03
PM ET
DAVIE, Fla. -- There is no bigger boom-or-bust prospect in the 2012 draft than former Texas A&M quarterback
Ryan Tannehill
. Is he the next prolific NFL quarterback, or simply a product of pre-draft hype that led to becoming a top-10 pick?
Opinions vary. But the
Miami Dolphins
believe they have the answers to the Tannehill question. Miami has more inside knowledge on Tannehill than any other team and drafted its quarterback of the future with the No. 8 overall pick Thursday night.
Tannehill will rejoin Dolphins offensive coordinator and former Aggies coach Mike Sherman, who says Tannehill is a star in the making. There are many critics who believe Tannehill is fool's gold, but the Dolphins are very confident they made the right choice.
"This was an all-in decision," Dolphins general manager Jeff Ireland said firmly. "From the football side, our scouts, our coaches ... we all felt very, very good about it."
Ireland hit the nail on the head. The Dolphins are betting the foreseeable future of the franchise on Tannehill -- for better or for worse.
If Tannehill develops into an upper-echelon quarterback, the Dolphins finally have the biggest piece to change their misfortunes. If Tannehill is a bust, it will set Miami back another three or four years.
"We're excited and thrilled," Dolphins owner Stephen Ross said of their first-round pick. "I've always said you need to be strong at the quarterback position, and now that's one of the strengths of this team. So I couldn't be happier."
The pick doesn't come without pressure. It's been 29 years since the Dolphins drafted a quarterback in the first round:
Dan Marino
in 1983. Those are some big shoes to fill.
It's also no coincidence Miami hasn't had a legitimate, franchise quarterback since Marino retired in 2000. The list of mediocre starting quarterbacks since included
Cleo Lemon
,
Joey Harrington
,
Trent Green
,
Jay Fiedler
,
A.J. Feeley
,
John Beck
and most recently
Chad Henne
. Tannehill will try to avoid being the next name on this infamous list.
Tannehill had only 19 career starts in college. There is a learning curve with Tannehill that isn't as steep for other top quarterback prospects like
Andrew Luck
and
Robert Griffin III
, who went No. 1 and No. 2 to the
Indianapolis Colts
and
Washington Redskins
, respectively.
The good news is Tannehill is not expected to play in 2012. Barring unexpected injuries to Miami veteran quarterbacks
Matt Moore
and
David Garrard
, Tannehill probably will hold a clipboard next season. This will provide Tannehill ample time to learn the NFL game.
[+] Enlarge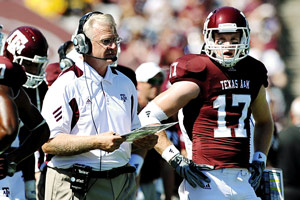 Icon SMIRyan Tannehill will be reunited with former Texas A&M coach Mike Sherman.
Dolphins rookie head coach and former Packers offensive coordinator Joe Philbin kept
Aaron Rodgers
on the bench for several years before he became a starter and it worked out fine. But that wasn't what Tannehill wanted to hear on draft day.
"I want to compete, that's just the competitor in me," Tannehill said in a conference call with the South Florida media. "Obviously with competition comes learning. It doesn't have to be a hostile competition. It's just competing."
Ireland said he's going to leave Tannehill's playing time next season up to the coaching staff. But chances are, we won't know much about Tannehill until 2013. The boom-or-bust talk will have to wait for at least a year.
But Tannehill's ceiling is high if things go right in Miami. It also doesn't hurt that the quarterback competition in the AFC East is not very stout. It's pretty much
Tom Brady
, and then there's everyone else.
Tannehill has the physical ability to potentially rise above the struggling quarterback pile in the division that includes
Mark Sanchez
,
Ryan Fitzpatrick
and
Tim Tebow
. If Tannehill becomes the second-best quarterback in the AFC East over the next two or three years, that's a huge advantage for the rebuilding Dolphins.
Remember this day, Dolphins fans. Tannehill is the draft pick that will either change Miami's misfortunes or extend the team's misery for several more years. The Tannehill mystery won't be solved overnight, but Miami feels it found the piece to eventually build this struggling franchise into a winner.
"I don't know if this energizes the fan base. What energizes the fan base is winning," Ross said. "I'm looking to field a winning team, because energizing a fan base only lasts a very short period of time.
"We're talking about winning in the long haul."
December, 28, 2010
12/28/10
3:36
PM ET
The
Miami Dolphins
have been a lost franchise when it comes to quarterback.
Since Dan Marino's retirement, they've drafted duds (
John Beck
,
Pat White
), passed on studs (
Drew Brees
,
Matt Ryan
) and chased scuds (Daunte Culpepper, Trent Green).
Monday on the AFC East blog, I wondered where the
Dolphins would be had they chosen Ryan first overall in 2008
instead of left tackle
Jake Long
.
Luis DeLoureiro of NFLStatsAnalysis.net also
examined the Dolphins' ongoing quarterback woes
for a piece on "The Fifth Down" blog at NYTimes.com.
Chad Henne
certainly hasn't looked like the answer. The Dolphins this upcoming offseason probably will resume their decade-long search for the most important player on their roster.
DeLoureiro noted the Dolphins are one of only seven NFL teams to have avoided drafting a quarterback in the first round since 1998. The others are the
New England Patriots
,
Carolina Panthers
,
Dallas Cowboys
,
Kansas City Chiefs
,
New Orleans Saints
and
Seattle Seahawks
. All except the Dolphins and Panthers have their man identified.
Counting on
Tom Brady
- or
Tony Romo
-type luck isn't a sound organizational strategy.
DeLoureiro pointed out the Dolphins have preferred to spend second-round picks on quarterbacks. They did so five straight drafts, trading for
A.J. Feeley
and Culpepper and then selecting Beck, Henne and White.
A dozen quarterbacks have been drafted in the second round since 2001. Henne and
Jimmy Clausen
are the only two starting for the teams that took them. Kordell Stewart and Jake Plummer are the only two second-round quarterbacks to have a degree of success since 1990.
DeLoureiro wrote:
For almost 20 years, Dan Marino was the face of the Dolphins. Although he didn't win a title, he broke just about every significant single-season and career passing record. One would think that, more than anyone, the Dolphins would understand the value of a franchise quarterback. But the team has opted to avoid the risk involved with first-round quarterbacks. Unfortunately, they have also lost out on the reward that comes with first-round quarterbacks.
November, 18, 2010
11/18/10
4:13
PM ET
Buffalo Bills
fans thought they had it rough, trying to find a semblance of quarterback stability since their Hall of Fame quarterback retired in 1996.
With
Tyler Thigpen
about to become the
Miami Dolphins
' third starting quarterback of the season, it's time to dust off that long list of quarterbacks to have started since
Dan Marino
hung up that weird boxing-boot cleat after the 1999 season.
Thigpen will be the 15th quarterback to start a game for Miami since Marino retired.
Only twice in those 11 seasons has a quarterback started all 16 games. Those "perfect seasons" came seven years and 11 new starting quarterbacks apart. The Bills at least had
Drew Bledsoe
starting 48 straight games from 2002 through 2004.
This will be the fourth season in which at least three quarterbacks started for the Dolphins since Marino retired.
2000:
Jay Fiedler
(15),
Damon Huard
(one)
2001: Fiedler (16)
2002: Fielder (10),
Ray Lucas
(six)
2003: Fiedler (11),
Brian Griese
(five)
2004:
A.J. Feeley
(eight), Fiedler (seven),
Sage Rosenfels
(one)
2005:
Gus Frerotte
(15), Rosenfels (one)
2006:
Joey Harrington
(11),
Daunte Culpepper
(four),
Cleo Lemon
(one)
2007: Lemon (seven),
Trent Green
(five),
John Beck
(four)
2008:
Chad Pennington
(16)
2009:
Chad Henne
(13), Pennington (three)
2010: Henne (eight), Pennington (one)
September, 20, 2010
9/20/10
6:31
PM ET
New England Patriots
head coach Bill Belichick has the reputation of being a defensive mastermind.
Cold, Hard Football Facts overlord Kerry J. Byrne scoffs at that.
New York Jets
quarterback
Mark Sanchez
had the best game of his career Sunday, clobbering the New England Patriots at the Meadowlands.
To Byrne, that was just one more instance of
Belichick's defensive genius being a myth
.
"The Belichick Defense is no longer great," Byrne writes. "But it's worse than that: The Belichick Defense doesn't even show up half the time, and allows even average quarterbacks to have their way with it."
Byrne adds the Patriots' defense is "a nameless, faceless unit that's been virtually incapable of making a big play, or even a small play, since its three picks against
Donovan McNabb
in Super Bowl XXXIX -- six seasons ago."
Byrne claims the Patriots' defense has suffered from Belichick's inability to draft capable defensive backs. To a point, I might disagree with that assessment in terms of safeties.
Brandon Meriweather
and Patrick Chung could form a nasty duo, although Meriweather didn't start Sunday because, as he explained, he didn't practice well enough.
But the Patriots have cycled through a lot of draft picks dedicated to finding satisfactory cornerbacks. Last year's second-round pick,
Darius Butler
, was benched late in the game because
Braylon Edwards
was abusing him.
Terrence Wheatley
, a second-round pick in 2008, was deactivated before the game.
The list of quarterbacks to "torch" Belichick's defense include
A.J. Feeley
(twice),
Chad Pennington
,
Kyle Orton
,
Philip Rivers
,
Peyton Manning
,
Eli Manning
and
Drew Brees
.
Some middling quarterbacks in there. Some great quarterbacks, too, but is a mastermind supposed to be able to defuse them more often than the Patriots do?
By the way, as much as fans of opposing teams love to poke fun at him, Sanchez is 2-1 against the Patriots.
October, 4, 2009
10/04/09
9:41
PM ET
Nobody ever will replace
Dan Marino
with the
Miami Dolphins
.
But for crying out loud, they need to get a regular quarterback at some point.
Maybe
Chad Henne
will be that guy. That's why the Dolphins drafted him in the second round out of Michigan last year.
Henne made his first NFL start Sunday, completing 14 of 22 passes for 115 yards and one touchdown to beat the
Buffalo Bills
in Land Shark Stadium.
Henne become the 13th Dolphins quarterback to start since Marino retired. That was more recently than you probably think. Although it seems like a lifetime ago for Dolfans, the post-Marino era began in 2000.
Henne is only the fifth quarterback to win his first start for the Dolphins since Marino retired.
The rundown of quarterbacks who have started for Miami since Marino retired, with 2001 the only season they didn't use a new one (asterisk denotes winner in first start).
September, 4, 2009
9/04/09
8:16
AM ET
Anybody have a problem with
Brian Hoyer
being a
New England Patriots
quarterback project?
Didn't think so.
Hoyer's performance in Thursday night's 38-27 victory over the
New York Giants
underscored the Patriots' decision to waive
Kevin O'Connell
four days earlier.
Hoyer took every snap for the Patriots, completing 18 of 25 passes for 242 yards and one touchdown with no interceptions. The undrafted rookie from Michigan State finished with a 115.8 passer rating.
Running back
BenJarvus Green-Ellis
made a strong bid for a spot on the 53-man roster with a great game. He rushed 29 times for 125 yards and three touchdowns. He also caught four passes for 22 yards.
But the real intrigue is at backup quarterback.
Tom Brady
is returning from reconstructive knee surgery and gave Patriot Nation a scare last weekend, when
Washington Redskins
behemoth
Albert Haynesworth
slammed Brady's throwing shoulder.
As impressive as Hoyer's complete game was, the significance might have more to do with the future of
Andrew Walter
. The Patriots signed the former
Oakland Raiders
quarterback four weeks ago, but haven't given him an opportunity to prove himself in exhibitions.
Walter didn't throw a pass in any of the Patriots' last three preseason games. He went 5-of-9 for 62 yards and zero touchdowns in the second exhibition. Not exactly a convincing audition.
So who will be Brady's backup? Hoyer seems more logical than Walter at this point, but acquiring a veteran via free agency or a trade is more plausible.
A few options exist. National Football Post analyst Michael Lombardi presented the
going rates for possible candidates to join the Patriots
. The list includes
Tarvaris Jackson
,
Jeff Garcia
,
A.J. Feeley
,
Luke McCown
,
Tyler Thigpen
and
Joey Harrington
.
September, 2, 2009
9/02/09
10:21
AM ET

Posted by ESPN.com's Tim Graham


New York Jets

Buffalo Bills

Miami Dolphins

New England Patriots

August, 14, 2009
8/14/09
1:34
AM ET
| | |
| --- | --- |
| | |
| | Charles Small/US Presswire |
| | Eagles players were excited to hear about the addition of Michael Vick. |
Posted by ESPN.com's Tim Graham
PHILADELPHIA -- In the locker room, dog killings apparently won't matter.
Neither will the protests nor the media horde nor the fan backlash over Michael Vick.
His new teammates intend to wrap him in a cocoon, defend him, welcome him not only as a Philadelphia Eagle, but also as a returning member of the NFL brotherhood.
V-Day finally dropped Thursday, when word finally broke that the disgraced former Atlanta Falcons quarterback had been granted another chance in the NFL after serving a 23-month sentence for his role in a dogfighting enterprise.
"He's definitely going to be embraced," Eagles cornerback Ellis Hobbs said. "The NFL is a fraternity of brothers. When you bring in a guy who's been through the things that he's been through, you want to surround him and protect him as much as possible because everybody's out there throwing stones at him.
"We want to be the protector, to let him know that once he comes in here it's safe havens. No one's going to judge you in here because any one of us can stumble. When somebody does fall like that, you bring him back in and you embrace him. You're still a person. You're still our brother."