August, 26, 2010
8/26/10
5:38
PM ET
As part of its annual package on NFL team valuations,
Forbes magazine rated the top 10 general managers
.
The AFC East has no representatives, but three were spawned from the division.
Buffalo Bills
fans should be frustrated to see that two among the top five were run out of the organization.
Indianapolis Colts
president Bill Polian topped the Forbes list.
San Diego Chargers
general manager A.J. Smith was fifth. First-year Bills GM Buddy Nix worked under Smith -- and former Bills GM John Butler -- in San Diego.
Second on the list is former
New England Patriots
personnel executive Scott Pioli, now of the
Kansas City Chiefs
.
Patriots coach Bill Belichick should be on the Forbes list because he's the overlord of football operations, but he doesn't hold the title.
Miami Dolphins
general manager Jeff Ireland will be overshadowed as long as Bill Parcells remains his boss.
New York Jets
general manager Mike Tannenbaum has been one of the NFL's most daring executives and has helped mold the Jets into a Super Bowl contender this year. But the Jets have gone 32-32 with him in the role.
Forbes explained its methodology:
Won-lost record vs. payroll rank over the past three seasons, with bonus points awarded for playoff appearances, Super Bowl appearances and championships. With NFL payroll disparities somewhat limited by salary cap rules, the formula tends to place more weight on winning than on payroll.
Forbes added a caveat, however, to account for the high rate of turnover. For teams that have brought in a new GM within the past three years, that executive's role at his previous stop was considered.
1. Bill Polian Colts
2. Jerry Reese, Giants
3. Scott Piloi, Chiefs
4. Kevin Colbert, Steelers
5. A.J. Smith, Chargers
6. Ted Thompson, Packers
7. Jerry Jones, Cowboys
8. Mike Reinfeldt, Titans
9. Mickey Loomis, Saints
10. Rob Brzezinski, Vikings
December, 31, 2009
12/31/09
4:44
PM ET
ORCHARD PARK, N.Y. -- My initial reaction when I heard the
Buffalo Bills
had promoted national scout Buddy Nix to general manager was, "This won't go over well with the fans."
[+] Enlarge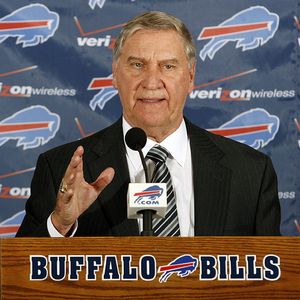 Kevin Hoffman/US PresswireBuddy Nix might not be a splashy hire, but he has been successful in front-office roles before.
The Bills went oh-for-the-aughts when it came to the postseason, but there was promise of new beginnings, with talk of hiring a Mike Shanahan or a Bill Cowher. A sad organization seemed on the verge of a desperately needed systemic change.
Then they not only hired from within, but owner Ralph Wilson revealed at a news conference the organization's short list of candidates produced two finalists -- and both of them were already on the payroll.
How depressing.
On the surface.
There's one important fact that is being overlooked in the immediate reaction to Nix's promotion: His fingerprints aren't on this train wreck. At least not yet.
Nix rejoined the Bills less than a year ago. He'd been a key member of the Bills' front office under general manager John Butler from 1993 through 2000. But when the Bills fired Butler, he took Nix with him to the
San Diego Chargers
, where they, along with A.J. Smith, ran one of the finest organizations of the past decade.
Nix wasn't here when the Bills drafted Mike Williams,
J.P. Losman
and
John McCargo
in the first round. He didn't anoint
Trent Edwards
the franchise quarterback. He didn't hire Dick Jauron.
I'm not predicting Nix will draft a
LaDainian Tomlinson
or swing a blockbuster trade to bring a
Philip Rivers
and a
Shawne Merriman
, but at least he has been around winning in the past decade, something that can't be said for many folks at One Bills Drive.
"I can see a little disappointment on your face that one of the geniuses is not standing up here," Nix told the assembled media Thursday. "I know this isn't quite what you expected.
"But I'm going to tell you this. It's kind of like getting up the morning after the draft and reading the newspaper and seeing where you got an A-plus, and two years later, with that same class, you're getting your tail beat and you get fired.
"It doesn't matter what kind of splash we make today. What matters is two years or three years down the road, that we got this thing turned in the right direction and we're winning."
There was symbolism the Bills called this news conference on New Year's Eve (and, truth be told, that was the disappointment Nix recognized in the reporters' faces).
A new decade begins at midnight. As Bills icon Jim Kelly noted, decades are marked by the teams that dominate them. The Bills dominated the AFC in the 1990s, then went dark for the 2000s.
"It is the end of the year. It is the end of a decade," Kelly said. "We're moving on to a new era. When you talk about the
Pittsburgh Steelers
, the
New England Patriots
, the
Green Bay Packers
, the decade teams, this is where we start the decade team for the Buffalo Bills.
"You have to think positive."
Nix declared the Bills are not that far away from being competitive, but Wilson added "I don't think it's going to come immediately because I think you build a football team through the draft."
When Nix joined the Chargers as director of player personnel, they were coming off of a 1-15 season. He claimed the Bills have more to work with now than the Chargers did then.
"We were further away at San Diego when we went in there," Nix said. "We had very few players in house. We had some luck along the way and were fortunate enough to draft guys that got better through teaching and good coaching."
Based on the message boards and reactions on talk radio, a lot of Bills fans already are disgusted with the Nix appointment.
I'm willing to wait and see. I don't see this as the same old, same old.
This move just might work.
December, 31, 2009
12/31/09
2:26
PM ET
ORCHARD PARK, N.Y. -- Two years ago, Buddy Nix and Marty Schottenheimer were shopping around for jobs together and appeared close to landing with the
Atlanta Falcons
.
With news the
Buffalo Bills
have promoted Nix from their scouting department to general manager, you have to wonder if this opens the door for Schottenheimer to be the Bills' next head coach.
[+] Enlarge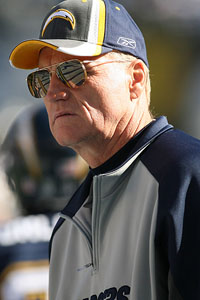 Robert Benson/US PresswireMight Marty Schottenheimer be interested in coaching the Bills?
On Nov. 24, Schottenheimer
told the audience
of "The Red Zone," his show on Sirius NFL Radio, that he wasn't interested in returning to the sidelines.
"From the coaching standpoint of it, you know, I'll be very candid with you and say it's nice to think that people would consider you," Schottenheimer said, "but the reality of it is is that after 30 great years, I'm really not going to go back down that road again."
Sure, and Bill Parcells was done coaching after the
New York Jets
. And Nick Saban wasn't a candidate for the Alabama job.
Could Nix's promotion sway Schottenheimer, who played linebacker for the Bills in the 1960s?
When the tandem was being considered for the Falcons, Chargers general manager A.J. Smith noted how close Nix and Schottenheimer were in San Diego.
"If true,
I believe a Buddy Nix-Marty Schottenheimer team
in Atlanta would be a perfect fit," Smith told the San Diego Union-Tribune. "Buddy got along well with Schottenheimer. They socialized together, went out to dinner, golfed together, sat together on the plane, talked football all the time."
The Falcons instead hired Thomas Dimitroff, from the
New England Patriots
front office, to be general manager and Mike Smith to be head coach.
December, 31, 2009
12/31/09
1:55
PM ET
[+] Enlarge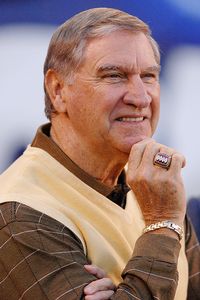 Kirby Lee/NFLBefore returning to the Bills, Buddy Nix served as the San Diego Chargers' assistant GM.
ORCHARD PARK, N.Y. -- The
Buffalo Bills
will
introduce Buddy Nix
as their general manager at a 2:30 p.m. news conference.
Nix rejoined the Bills as a college scout just before the 2009 draft after a year away from football. He left the club in 2001 when former Bills GM John Butler took over the
San Diego Chargers
in 2001. Nix was the Chargers' director of player personnel for two seasons and GM A.J. Smith's assistant for six years.
The Nix appointment is the first significant step in a front-office reorganization that could doom the futures of vice president of pro personnel John Guy and vice president of college scouting Tom Modrak. The Bills haven't gone to the playoffs for 10 straight seasons.
The Bills complied with the Rooney Rule, which mandates a minority candidate be considered for every GM or head coaching vacancy, by interviewing Guy.
Nix's first major decision will be naming a head coach. The Bills fired Dick Jauron on Nov. 17 and promoted defensive coordinator Perry Fewell to interim head coach.
AFC EAST SCOREBOARD
Thursday, 10/16
Sunday, 10/19