AFC East:

AFC Championship
January, 25, 2013
1/25/13
12:00
PM ET
The
New England Patriots
are still seething after coming up short in last week's AFC Championship Game. But although the Patriots are not the best team in the conference, they remain by far the best team in the division.

So which AFC East team is the biggest threat to catch the Patriots and close the gap in 2013? New England is the gold standard in the division, while the other three teams are all working to catch the AFC East champs.
Will it be the
Miami Dolphins
? Miami won seven games last year with a budding rookie quarterback in
Ryan Tannehill
. The Dolphins have more than $40 million in cap room and 10 draft picks. That's plenty of capital to get better. Will the Dolphins be ready to push the Patriots in 2013?
What about the
Buffalo Bills
? This is a team in transition next season under new head coach Doug Marrone. Buffalo will have a new offense, a new defense and potentially a new quarterback. Can all the changes lead to a changing of the guard for the Bills?
Finally, we have the
New York Jets
. Head coach Rex Ryan will return for his fifth season and is joined by new general manager John Idzik. New York has to tear down its roster to get under the salary cap and also will
consider trading elite
cornerback
Darrelle Revis
. Will the Jets have enough to compete with the Patriots in 2013?
Using our SportsNation poll, vote on the biggest threat to New England next season in the AFC East. You can also share your thoughts in the comment section below.
January, 23, 2013
1/23/13
12:00
PM ET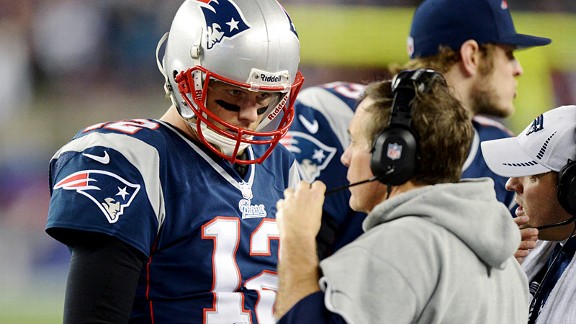 Kirby Lee/USA TODAY SportsWith Tom Brady and Bill Belichick back for another season together in New England, the Patriots remain the strong favorite to win the AFC East.
The day after the
New England Patriots
' 28-13 loss to the
Baltimore Ravens
felt like a funeral in the heart of Patriots country.
The employees at my Foxborough, Mass., hotel -- some who sported Patriots jerseys -- were sullen. The day seemed gloomy outside, and Logan International Airport didn't have the same buzz and energy it did when I arrived two days earlier.
This was expected to be the season the Patriots got over the hump and celebrated their first Super Bowl victory since the 2004 season. New England had the top-rated offense, an improved defense and a 35-year-old quarterback still playing at an MVP level. In addition, the Patriots caught breaks the past few weeks that gave the team home-field advantage throughout the playoffs.
But the tough and talented Ravens had other plans.
New England's upset loss to Baltimore in the AFC Championship Game will sting Patriots fans for a while. But New Englanders shouldn't fret. The Patriots are primed and ready to make another title push in 2013.
Here are five reasons the Patriots' championship window remains open:
Reason No. 1: Tom Brady
Analysis
: Yes, Brady will be 36 at the start of next season. But Brady has shown no signs of slowing down and should be an elite quarterback for at least the next two or three seasons. Brady threw for 4,827 yards, 34 touchdowns and just eight interceptions in 2012, receiving strong MVP consideration once again. But Brady's recent
playoff struggles are well-documented
. After a 10-0 start in the postseason, Brady is just 7-7 in his past 14 playoff starts. However, Brady has done enough to get the Patriots in position for another title. The Patriots have been within a drive of winning two Super Bowls and gone 2-2 in AFC Championship Games since 2005. As long as New England continues to knock on the championship door, the team has a chance to break through. With a healthy Brady in 2013, there's no reason the Patriots shouldn't be one of the favorites again in the AFC.
Reason No. 2: Bill Belichick
Analysis:
There are a lot of people who do not like Belichick's demeanor. He's not the most likeable head coach in the NFL or the best sportsman,
according to Hall of Famer Shannon Sharpe
. But Belichick is the league's best head coach. Three championships and five Super Bowl appearances highlight a résumé no other current coach can match. As long as Belichick is roaming the sidelines, the Patriots usually have the coaching advantage on game days. Belichick has delivered double-digit wins in New England every season since 2003. That is a mark of tremendous consistency. New England has the winningest coach and quarterback combination in NFL history with Belichick and Brady. No other club has this level of elite coaching and quarterbacking.
Reason No. 3: Weak AFC East

Analysis:
For the Patriots to fall from the top of the AFC East, another team has to rise up in the division. Based on the '12 season, there is still a significant gap between the Patriots and everyone else. The
New York Jets
are a mess that will take at least a year or two to clean up. The
Buffalo Bills
are starting over and rebuilding under a rookie head coach in Doug Marrone and probably a new quarterback. The Bills will have to suffer through a learning curve next season. The
Miami Dolphins
have the best chance to
immediately challenge New England
in 2013. Miami has a good, young quarterback in
Ryan Tannehill
and plenty of cap room and draft picks to build a strong roster. But the Dolphins have to make all the right moves in order to become an immediate contender. New England's gateway to success and the playoffs has been winning the AFC East. The Patriots will enter next season as the hands-down favorite once again to win the division.
R
eason No. 4: Young talent
Analysis:
The Patriots often get the reputation of a veteran team because of leaders like Brady on offense and Pro Bowl defensive tackle
Vince Wilfork
on defense. However, New England won 13 games this season, including playoffs, with a
host of young players
. The Patriots had 16 players who were 26 or under starting full or part time. Starting running back
Stevan Ridley
and tight ends
Rob Gronkowski
and
Aaron Hernandez
are just 23 years old. Starting left tackle
Nate Solder
is 24. Rookies such as linebacker
Dont'a Hightower
, defensive end
Chandler Jones
and cornerback
Alfonzo Dennard
also round out a strong and productive rookie class. If most or all of these young players continue to improve and develop into their roles, New England will be even more dangerous next season.
Reason No. 5: Improving defense
Analysis:
New England's defense made good strides in 2012, particularly in the second half of the season. The Patriots were 25th in total defense -- up six spots from a year ago -- and ninth in both scoring and run defense. New England learned in the AFC title game loss to the Ravens that it still needs significant improvement in the secondary. The cornerback position is very thin, and
the team fell apart
when
Aqib Talib
left the game with a thigh injury. Talib will be an unrestricted free agent, and that is an area New England must address in the offseason. New England's aforementioned draft that included Hightower, Jones and Dennard played a large part in the Patriots' defensive improvements.
The Patriots have done a masterful job the past dozen years of reloading and not rebuilding. Having an elite quarterback such as Brady in the fold certainly makes a huge difference.
But New England's window will not be open forever. The time is now for the Patriots to make another title run before Brady and Belichick call it quits. Once this power pair walks away from New England in a few years, the Patriots will have ups and downs like every other NFL franchise.
January, 21, 2013
1/21/13
7:00
AM ET
Here are the most interesting stories Monday in the AFC East: Morning take: I'm not sure what comments Suggs were referring to. But the Patriots were very respectful of the Ravens last week. Perhaps New England fans' billboard of the Ray Lewis retirement party was wrongly attributed to the team.
Morning take: New England didn't choke. Baltimore clearly outplayed the Patriots deserves all the credit in this one. The Ravens were the better team this season and proved it over two games and eight full quarters.
Morning take: New England had been great on offense all year but scored a season-low 13 points against Baltimore. The Ravens know how to keep New England from making too many explosive plays.
Morning take: Brady played a poor game, but New England needs to get better at overcoming when Brady struggles. The Patriots too often look like a one-man show and eventually that catches up to them against good teams.
January, 13, 2013
1/13/13
11:59
PM ET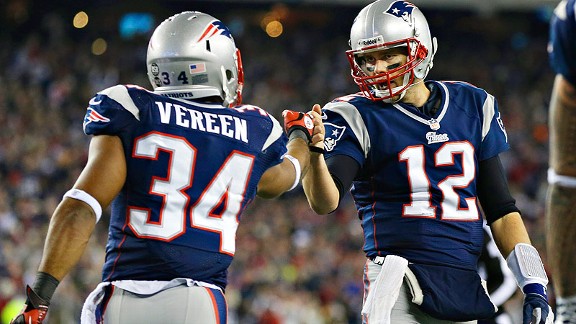 AP Photo/Elise AmendolaTom Brady threw for 344 yards and three scores as New England beat Houston in the divisional round.
FOXBOROUGH, Mass. –
Joe Flacco
. …
Matt Ryan
. …
Colin Kaepernick
.
Tom Brady.
If you're looking for a clear-cut favorite among the NFL's final four teams, look no further than the quarterbacks. The disparity between Brady and his counterparts makes the
New England Patriots
the hands-down favorite to win Super Bowl XLVII in New Orleans.
Brady was once again masterful in the Patriots'
41-28 divisional playoff victory
Sunday over the
Houston Texans
. Brady threw for 344 yards, three touchdowns and had a 115.0 passer rating.
Brady has a way of consistently making good defenses look ordinary. Houston's seventh-ranked group allowed 83 points in two games against Brady this season.
Sorry,
Baltimore Ravens
,
Atlanta Falcons
and
San Francisco 49ers
, but there is only one elite quarterback left in the NFL playoffs -- and he resides in New England. No one is going to stop a focused and determined Brady from capturing his fourth Super Bowl title, which would tie an NFL record with Hall of Fame quarterbacks
Joe Montana
and Terry Bradshaw.
The Ravens are up first for the Patriots in the conference title game, and Brady vividly remembers the controversial loss earlier this season.
Let's just say Brady doesn't plan on going the
Peyton Manning
route next week.
"I think the two best teams are in the finals," Brady said. "Baltimore certainly deserves to be here, and so do we. It's very fitting. We played them earlier in the year and they got us. We blew a pretty good lead there at the end, and we're going to have to play our best game this week."
Baltimore, Atlanta and San Francisco all deserve to be in the conference finals. But are Flacco, Ryan and Kaepernick ready for this big stage? That is the bigger question.
Brady is one game away from his sixth Super Bowl appearance and fourth championship. Flacco, Ryan and Kaepernick have zero combined Super Bowl appearances and zero combined championships. In a one-game scenario, you have to like Brady's chances. Brady's 17 career playoff wins are nearly double the nine combined postseason wins for Flacco, Ryan and Kaepernick.
Brady was winning Super Bowls when Flacco and Ryan were high school teenagers. Kaepernick was 14 when Brady won his first title in February 2002. Brady is the ultimate gatekeeper among these three green quarterbacks still trying to get over the hump and make a name for themselves. It's not going to happen on Brady's watch this year.
New England safety
Steve Gregory
has been on both sides of the Brady ledger. Gregory played against Brady several times as a member of the
San Diego Chargers
and became Brady's teammate for the first time this season after signing as a free agent. Gregory learned quickly that it's better to be with Brady than against him.
"His ability to get to the line, recognize defenses and get the offense in the right play is pretty amazing," Gregory explained. "I love having him on my side now."
The Patriots lost Pro Bowl tight end
Rob Gronkowski
for the season
after he broke his forearm for a second time
, but it doesn't matter. The Patriots proved they are adaptable. New England was 4-1 this year without Gronkowski and didn't miss a beat Sunday against Houston when Gronkowski missed more than three quarters. The high-scoring Patriots have more than enough offensive weapons at their disposal.
The only irreplaceable Patriot is Brady.
"He's our leader and we all follow him," Patriots coach Bill Belichick said. "We all respect him and he led the team today. … There's no quarterback I'd rather have than Tom Brady."
Brady began his day at Gillette Stadium when he came out the tunnel for pregame warm-ups. He jogged to one corner of the end zone and pumped up the home crowd. Brady was intense the entire game and stayed on his teammates, even as the Patriots led by as many as 25 points in the second half.
By the time Brady carved up the Texans and went to his postgame news conference, he was subdued. Brady, 35, gave the Patriots all he had. He is playing as though there is no tomorrow.
"I'm tired, man. All the emotional energy spent," said Brady, who is the third player in NFL history with at least 40 postseason touchdowns. "The big buildup to the week with four days of practice. You're up and you're down, you're up and you're down. I'm tired and ready to go home."
When Brady left the news conference, he ran into Patriots owner Robert Kraft. Brady embraced Kraft by putting one arm around New England's owner, and the two chatted on the way out the stadium.
Kraft had a smile on his face during his talk with Brady. Kraft knows he has the one player who separates the Patriots from the rest of the Super Bowl field.
Brady won his first title in New Orleans versus the
St. Louis Rams
11 years ago to begin his storybook career. Flacco, Ryan and Kaepernick simply aren't good enough to stop Brady from winning his fourth championship in the same place where it all started.
December, 4, 2012
12/04/12
11:00
AM ET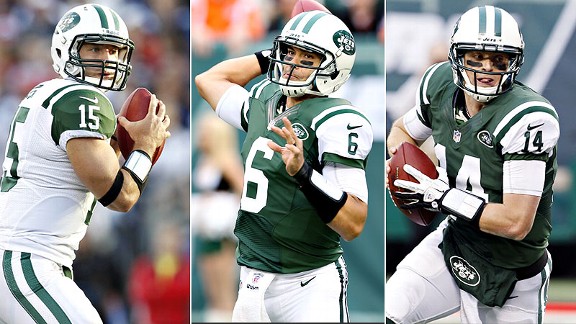 USA TODAY SportsThe Jets' season-long quarterback controversy took another turn Sunday when Mark Sanchez (6) was benched in favor of Greg McElroy (14). Tim Tebow (15) didn't play Sunday because of sore ribs.
Let's start with a disclaimer: This will not be a popular column with
New York Jets
fans.
But the Jets are making a terrible mistake if they do not go back to starting quarterback
Mark Sanchez
as soon as possible.
Yes, we are talking about the same Mark Sanchez who threw three first-half interceptions against the
Arizona Cardinals
. We are talking about the same Mark Sanchez who looked eerily comfortable holding a clipboard while third-string quarterback
Greg McElroy
led the Jets to victory. That same Sanchez should be the starter next week against the
Jacksonville Jaguars
.
Stop rolling your eyes, Jets fans. Hear me out.
This is not about Sunday's game. Who cares about a matchup between the Jets and Jaguars? These teams have a combined record of 7-17, and both teams' seasons will be over in a few weeks.
This week's decision is all about next year. The organization must look beyond the length of its nose and see the big picture.
If the Jets do not go back to Sanchez now, they will probably lose him forever. That won't be good for coach Rex Ryan, general manager Mike Tannenbaum and the immediate future of the Jets' organization.
Money matters in the NFL, and the Jets committed to Sanchez in March with a
five-year, $58.25 million
extension, about $20 million of it guaranteed.
Sanchez is guaranteed
to make $8.25 million in 2013. He can also earn an additional $500,000 by working out with the Jets in the offseason. Sanchez will be a Jet next year, whether New York fans like it or not, and that kind of money has "starter" written all over it.
[+] Enlarge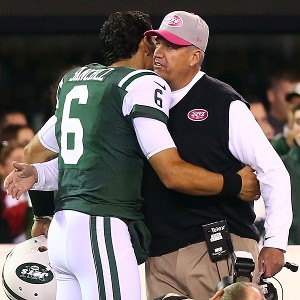 Jim McIsaac/Getty ImagesCoach Rex Ryan has stood by Mark Sanchez for the majority of the season.
If the Jets are dumb enough to have an $8 million backup on their roster next season, Tannenbaum deserves to be fired for mismanaging owner Woody Johnson's money. Tannenbaum already is in hot water for putting the Jets significantly
over the cap
in 2013. So rule out any big free-agent quarterback. And unless the Jets tank their final four games, which they won't, New York can forget about a top-five draft pick to secure a rookie who can start at quarterback from Day 1.
It appears Sanchez, McElroy and
Tim Tebow
are the three options for New York next year. Of these three, Sanchez provides the Jets with the best chance to win next season. He's the only quarterback who has led the Jets to back-to-back AFC Championship Games.
Does anyone really think McElroy is the long-term solution? He's a former seventh-round pick with limited ability and questionable arm strength. That's not the kind of quarterback to build a franchise around.
Let's also not overrate McElroy's 29-yard passing performance on Sunday. He produced only one touchdown in two quarters. Unless the Jets think they can win 7-6 games every week, McElroy cannot lead New York to a Super Bowl.
Neither can Tebow. It's clear the Jets view him only as a gimmick player. His mechanics and accuracy are too poor to be a franchise quarterback. The Jets would have to completely change the offense to fit Tebow's strengths, and the coaching staff, led by Ryan and offensive coordinator Tony Sparano, is not creative enough to pull that off. All three quarterbacks are under contract next season, but Tebow could be trade bait for the Jets.
Let's be honest: New York never gave Sanchez a chance to be successful this season. His supporting cast includes unproven wide receivers, an average tailback and an underachieving (and overrated) offensive line. The focus should be on changing and improving those players first, not the quarterback.
The Ryan-Sanchez marriage has produced plenty of ups and downs. But no marriage is perfect. Ryan and Sanchez have stuck together through good times and bad up to this point.
An NFL head coach and starting quarterback are deeply intertwined. Ryan had a moment of weakness Sunday and flirted with McElroy for two quarters. It's a forgivable offense that Sanchez can get over.
But Sanchez will not get over being benched for the remainder of the season. He would be a quarterback scorned, and that would carry into the offseason, training camp and the 2013 regular season. Sanchez would be disgruntled and disheartened, whether he returned as the starting quarterback or a backup. It's not the way the Jets want to begin next season with their $8 million player.
Ryan can avoid all of this by making the right decision. Ryan had his fun, but now it's time to return home to Sanchez. This is the only chance Ryan and the Jets have for long-term success.
January, 20, 2012
1/20/12
4:30
PM ET
Here is the final injury report for Sunday's AFC Championship Game between the
New England Patriots
and
Baltimore Ravens
:

Patriots (14-3)
Questionable:
WR
Deion Branch
(knee), T
Marcus Cannon
(ankle), S
Patrick Chung
(knee), LB
Dane Fletcher
(thumb), TE
Aaron Hernandez
(concussion), S
James Ihedigbo
(shoulder), DL
Kyle Love
(ankle), G
Logan Mankins
(knee), LB
Rob Ninkovich
(hip), T
Nate Solder
(concussion), LB
Brandon Spikes
(knee), T
Sebastian Vollmer
(back/foot), WR
Wes Welker
(knee), LB
Tracy White
(abdomen)
Probable:
CB
Kyle Arrington
(foot), C
Dan Connolly
(groin), WR
Matthew Slater
(shoulder)

Ravens (13-4)
Probable:
S
Ed Reed
(ankle)
Analysis:
Offensive tackle Sebastian Vollmer is the biggest question mark for the Patriots. He couldn't go last week against the
Denver Broncos
. It would be huge for the Patriots' pass protection if Vollmer returned. Otherwise, it's the playoffs and I expect the rest of the "questionable" players to tough it out. The Ravens are very healthy. Starting safety Ed Reed's ankle injury appears to be fine and he will play. I'm looking forward to a great game.
January, 19, 2012
1/19/12
12:30
PM ET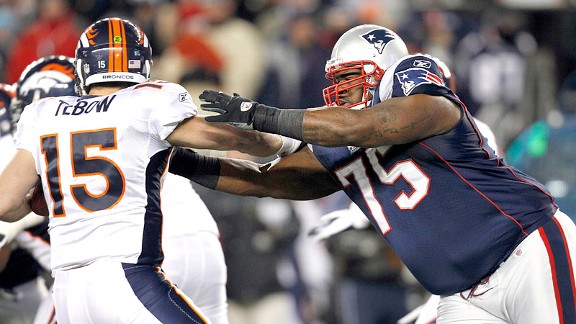 AP Photo/Elise AmendolaVince Wilfork, right, and the Patriots' defense dominated Saturday's playoff game against Denver.
Trick question: Which team has the top-rated defense in the NFL playoffs? If you answered the
New England Patriots
, you are correct.
The much-maligned Patriots' defense had the best performance of the playoffs thus far in a 45-10 win against the
Denver Broncos
. A group that was mostly on its heels during the regular season attacked Denver and quarterback
Tim Tebow
, allowing just 252 total yards. Whether the one-game performance was a fluke or a sign of things to come is a subject of intense debate.
We will find out Sunday when the Patriots host the
Baltimore Ravens
in the AFC Championship Game. When it comes to defense, the Patriots stand out in a group that includes the Ravens, the
San Francisco 49ers
and the
New York Giants
in the conference championships. Baltimore and San Francisco were both top-four defenses. The Giants were injured on defense all season, but are finally healthy and playing like the talented unit most expected.
According to ESPN Stats and Information, New England is trying to become, by far, the worst-rated defense ever to win a Super Bowl. New England was ranked 31st in total defense in the regular season. Only the
Green Bay Packers
-- who were 15-1 but one-and-done in the playoffs -- were worse. Is this Patriots' defense good enough to win a championship?
"Everyone is real easy to jump on the Patriots' defense and say they're so terrible and they can't win a Super Bowl being this bad. But I don't agree with that," said Matt Williamson of Scouts Inc. "I don't think it's great. It's clearly the worst defense still in the playoffs. They allow all these passing yards, but they don't allow that many points, and that's more important."
The Patriots continue to challenge the longstanding theory that "defense wins championships." Three of the past four Super Bowl champions -- Green Bay, New Orleans and Indianapolis -- were led by dynamic offenses. But this season, defense is making a comeback.
The Patriots have the best offense and worst defense remaining in the field. Yet they are the odds-on favorite to win the Super Bowl.
"Big defenses will stand up in playoff situations. So it's still relevant," NFL analyst Steve Young explained in a conference call this week. "It's just not quite as relevant as the old days, in my mind. It's a big deal, and I think the Giants and 49ers playing each other is interesting, because [they have] two really great defenses. The Patriots will have to be proven wrong, that they can't go the distance in this pass-happy era. ... I think the question is going to be answered on the field. Phenomenal offense against a great defense and we'll see in this era who can pull off championship football."
The matchup between Baltimore's offense and New England's defense is an intriguing one. Both groups have been the weaker links of their respective teams. With Baltimore's passing game inconsistent, the key to slowing the Ravens will be corralling Pro Bowl running back
Ray Rice
. In many ways, Rice is to Baltimore what quarterback
Tom Brady
is to New England. Rice led the Ravens in rushing (1,364) and receptions (76). Patriots head coach Bill Belichick usually attempts to take away an opponent's best weapon and force a team to win with its second and third options. Similar to last week, expect New England to gear up heavily against the run and see if Baltimore can keep up with New England's high-powered offense by passing the football.
But stopping Rice won't be easy. He had six 100-yard rushing games this season, including 204 yards against the
Cleveland Browns
and 191 yards against the
Cincinnati Bengals
.
"I'll tell you what, he's probably one of the toughest guys to bring down in this league because he always keeps those wheels spinning," Patriots Pro Bowl defensive lineman
Vince Wilfork
said. "He always comes up with big plays for his team, if it's in the pass game or the running game. When you have a running back like that, you can do anything with him. I think the Ravens do a good job of using him. That's first on our list; we have to slow him down if we want to be successful as a defense."
If things go as planned for New England, there will be a lot of pressure on Ravens quarterback
Joe Flacco
to keep up. Flacco's performances in the playoffs have been inconsistent. Last week he completed just 14 of 27 passes for 176 yards in a 20-13 win against the
Houston Texans
. Flacco also was sacked five times. That also happens to be the same amount of sacks New England registered against Tebow last week. You also cannot ignore the "Brady Factor" when talking about New England's defense. The future Hall of Famer is playing some of the best football of his career, and is coming off a six-touchdown performance against Denver, which tied a playoff record.
New England's high-scoring offense is averaging 40.5 points in the past four games and has complemented the defense well. Despite all of New England's defensive issues, the team is pretty solid in the red zone and is 15th in points allowed (21.4) per game.
"The Patriots are not great [defensively], but they don't need to shut teams out either with Brady and the offense that they have," Williamson said.
For months many have wondered if the Patriots' struggling defense can step up in the playoffs if the offense cannot light it up against an elite defense. This is probably the week we find out against Baltimore in the AFC Championship Game.
Perhaps no group in the playoffs has more to prove this week than New England's defense, which might or might not be turning the corner.
"It's playoff time," Patriots starting cornerback
Kyle Arrington
said. "Our records, our stats go out the window this time of year. We're fully committed to play for one another."