April, 17, 2012
4/17/12
5:45
PM ET


Bounties are a very sensitive subject in the NFL. Pretty much the mention of the word from any pro football player is sure to capture headlines.
That was the case
with
Kansas City Chiefs
safety
Eric Berry
. He injured his knee in Week 1 and was lost for the season against the
Buffalo Bills
when receiver
Steve Johnson
blocked him low. The block was deemed legal and didn't draw a flag.
But following the discovery of the
New Orleans Saints
' bounty scandal, Berry recently tweeted "Sometimes I sit [and] wonder if they had a bounty out on me ... oh well ... who cares. Either way [you] can't hold me down."
Berry this week was asked about the tweet by reporters.
"They got the tape out there, you can make your own opinion," Berry said. "I mean, my opinion is my opinion. People are going to take it how they want to take it anyway."
Regardless of Berry's stance, he needs to be more careful with bounty talk. He shouldn't make public accusations against Johnson or any player unless he's absolutely sure. For example, the NFL did a thorough investigation into the Saints that took years to uncover.
Johnson is not known to be a dirty player and denied the hit was intentional in the past. Hopefully, Berry isn't setting a new and dangerous precedent, where every NFL player who suffers a significant injury will publicly accuse an opponent of trying to collect a bounty.
January, 10, 2012
1/10/12
1:25
PM ET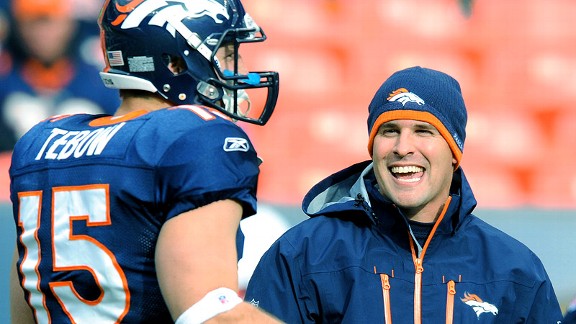 Ron Chenoy/US PresswireFormer Denver coach Josh McDaniels, right, is back with the Patriots. He'll help New England prepare for a Broncos team led by quarterback Tim Tebow, whom he drafted.
Someone has to lose Saturday's divisional-round playoff game between the
New England Patriots
and
Denver Broncos
. But one person will smell like roses this weekend no matter the outcome: Josh McDaniels.
The formers Broncos head coach and current Patriots assistant has cleverly positioned himself in a win-win situation.
On one hand, McDaniels rejoins New England at the perfect time to help the team make a deep playoff run. McDaniels has plenty of inside knowledge on the Broncos' roster and would get a lot of credit if he helped New England win its first playoff game since the end of the 2007 season.
On the other hand, if New England (13-3) were upset by the Broncos (9-8), it would be in large part due to McDaniels' most controversial draft pick in Denver:
Tim Tebow
. McDaniels was heavily ridiculed for "reaching" to take the former Florida quarterback in the first round. One more win by Tebow would advance Denver to the AFC Championship Game and within one game of the Super Bowl. That would be the ultimate vindication for McDaniels, who believed in Tebow from the start when no one else did.
Obviously McDaniels would prefer the former outcome, not the latter. But both options have McDaniels sitting pretty in this AFC playoff game filled with interesting storylines.
After an ugly two-year stint in Denver, after which he was fired, and one year with the
St. Louis Rams
, McDaniels was welcomed back in New England.
"I have a lot of respect for Josh, not only as a coach, but as a friend," Patriots director of player personnel Nick Casario said this week. "I've known Josh a long time, it's no secret. I think it's great to have him back. It's great to have him a part of our program and our system again. His goal and our goal is for everyone to work as hard as they can in preparation for this game, and that's what we'll try to do."
What is McDaniels' role during the playoffs with New England? Patriots head coach Bill Belichick has been vague.
McDaniels' title is "offensive assistant." But this week, because of the opponent, McDaniels could serve as more a scout on both sides of the football.
McDaniels, who was head coach of the Broncos from 2009 to 2010, has great intel on many of their key players. He drafted Denver's building blocks on offense -- Tebow and receivers
Demaryius Thomas
and
Eric Decker
. McDaniels also coached defensive stars
Champ Bailey
and
Elvis Dumervil
. This is priceless inside info that the Patriots could not get from simply studying tape.
McDaniels also should fit in seamlessly with New England's coaching staff. He spent eight seasons with the Patriots as an assistant and position coach, and three additional seasons as offensive coordinator. The system and terminology is virtually the same. This is a great way to ease McDaniels back into the fold to eventually take over for offensive coordinator Bill O'Brien when O'Brien leaves for Penn State after the playoffs.
"[McDaniels] is a person that I spent a lot of time with in a lot of different situations," Patriots head coach Bill Belichick said. "I have a lot of confidence in him, he's smart, he's got great experience and background, and he knows our system. I've enjoyed our conversations the past couple days as we've gotten caught up on some things and moved forward into the playoffs here. I think that he'll be a good asset to our team for the remainder of the season."
McDaniels is reviled by Broncos fans. He was expected to be the next prodigy at head coach. Instead, he went 11-17 and didn't complete his second season. Joining New England's staff this week in an effort to end the Broncos' season certainly doesn't help his reputation in Denver.
Still, no one can deny first-year head coach John Fox is advancing through the playoffs with a roster McDaniels helped build. Starters Tebow, Thomas, Decker and offensive linemen
Zane Beadles
and
J.D. Walton
were all from McDaniels' final draft class in 2010. McDaniels' 2009 draft picks
Robert Ayers
, who had two sacks in last week's playoff win against the
Pittsburgh Steelers
, and safety
David Bruton,
also are contributors on defense.
But Tebow and Thomas are McDaniels' greatest parting gifts to the Broncos. The quarterback-receiver tandem connected for one of the greatest plays in Broncos' history last week.
Denver's playoff run probably will end this weekend in New England. The Broncos are nearly two-touchdown underdogs. The matchup is perfect for the Patriots, who won the regular-season meeting in Denver by 18 points.
But if the Broncos pull a monumental upset, players like Tebow, Thomas, Decker (if healthy) and Ayers will have a huge role. For that, McDaniels would still deserve a lot of credit.
Sometimes the stars align.
McDaniels simply can't lose this week.
January, 9, 2012
1/09/12
4:48
PM ET


Say what you want about
Denver Broncos
quarterback
Tim Tebow
. But one thing he does pretty well is throw the deep ball over top of coverage that's trying to stop the run.
Tebow had a career day Sunday throwing deep in a wild-card win over the
Pittsburgh Steelers
. Tebow was had three completions over 50 yards and, according to ESPN Stats & Information, the most yards per completion (31.6) in NFL playoff history.
The Steelers made the mistake by stacking the line of scrimmage too much and showing little respect for Tebow's deep ball. New England's pass defense, which is notorious for giving up big plays, has to be more balanced in its approach in order to avoid getting "Tebowed."
"Really one of the best things that he did or better things he did among a number of things at Florida was he threw the ball down field really well," Patriots director of player personnel Nick Casario said Monday. "He has good arm strength, real accurate with the football, and I think there have been a lot of examples this year in Denver, not only in yesterday's game against Pittsburgh, but where they've thrown the ball down the field and been able to get the ball behind the defense. They have players on the perimeter that they're able to get vertical into the defense and down the field."
The opportunities will be there for Tebow to make plays with his arm. The Patriots were 31st in the NFL defending the pass. New England also led the league in giving up an astounding 79 pass plays of 20 yards or more this season.
Tebow's accuracy isn't great -- he was 10 for 21 last week -- but he proved against Pittsburgh that he's not afraid to "pull the trigger." His 80-yard touchdown pass in overtime to Broncos receiver
Demaryius Thomas
was the biggest play in Denver's season.
January, 9, 2012
1/09/12
10:00
AM ET
The
New England Patriots
(13-3) got
the easiest matchup possible
in the divisional round by drawing
Tim Tebow
and the
Denver Broncos
(9-8). But as the
Pittsburgh Steelers
found out Sunday, nothing is guaranteed in the postseason.
So who wins Saturday's playoff game between New England and Denver? Take your pick.
Will it be
Tom Brady
and the Patriots advancing to the AFC Championship Game? New England is a huge favorite. The Patriots romped the Broncos in Denver, 41-23, in Week 15. Should we expect more of the same at Gillette Stadium?
Or will Tebow's magical run continue? Denver looked good against a tough Pittsburgh team. The Broncos now have momentum and will try to take advantage of New England perhaps gaining rust after two weeks off.
Using our SportsNation poll, vote for who wins Saturday's divisional round game between the Patriots and Broncos. You can also share your thoughts in the comments section below.
December, 15, 2011
12/15/11
10:00
AM ET
One of the biggest games of the week involves two division leaders charging toward the playoffs.
So who will win Sunday's matchup between the
New England Patriots
(10-3) and the
Denver Broncos
(8-5)?
Both quarterbacks are playing well.
Tom Brady
has been lights out in leading New England to a five-game winning streak.
Tim Tebow
has been equally successful in Denver, leading the Broncos to six consecutive wins. One streak has to stop this weekend at Sports Authority Field at Mile Hile.
Can New England stop the Tebow train? Or will Tebow outduel Brady and continue his winning ways?
Using our SportsNation poll, vote on the winner of this big game. You can also share your thoughts and provide a score in the comment section below.
December, 4, 2011
12/04/11
4:57
PM ET
MIAMI -- Whether
Oakland Raiders
defensive lineman
Richard Seymour
officially threw a punch will be debated this week. But the recipient of the blow -- Dolphins guard
Richie Incognito
-- said the referees did the right thing by ejecting Seymour.
"It kind of came out of the blue and caught me by surprise," Incognito said in the locker room after the Dolphins' 34-14 victory. "The ref was standing right there and made a good call."
There was a lot of jawing and several minor scuffles between Oakland's defensive line and Miami's offensive line during the first half. The Dolphins were dominating the line of scrimmage. Miami rushed for 209 yards against Oakland.
Seymour eventually grew frustrated in the third quarter and put his hand in the face of Incognito. The referees, in an effort to keep the game under control, wasted no time throwing the flag and issuing the ejection. Expect the NFL to look into this play to determine if a fine is needed for Seymour.
Incognito was asked if he thought Seymour's shot to the head was a punch attempt.
"I'm not going to comment on this or that," Incognito said. "But the referees made the call and the decision was in his hands."
December, 4, 2011
12/04/11
4:15
PM ET
MIAMI -- Here are some initial thoughts on the
Miami Dolphins
' dominant
34-14
victory over the
Oakland Raiders
:


What it means:
Miami won its fourth game in five tries and continues to relish its role of spoiler. The Dolphins improved to 4-8 and will have their third consecutive non-winning season. But they continue to share their misery by beating other teams late in the season. This was Miami's most complete and impressive performance of the year. The Dolphins took advantage of their 10 days of preparation and looked very sharp offensively and defensively. It also came against an Oakland team (7-5) that is leading the AFC West.
Defense continues to dominate:
The light has come on for Miami's defense. The group has been one of the league's better units for the past month. The Dolphins baffled and battered Oakland's offense Sunday. Miami held Oakland to just 14 points, which were scored in garbage time, and sacked Raiders quarterback
Carson Palmer
two times. Miami was the NFL's sixth-rated unit in 2010, but started slow this season during its 0-7 start. The group is finally rounding back to its expected form.
Bush continues to thrive:
Dolphins starting running back
Reggie Bush
continues to have his most successful season running the football. Bush rushed for 100 yards on 22 carries. By the fourth quarter, Dolphins fans were chanting "Reggie! Reggie!"
Seymour Watch:
A fine could be forthcoming for Raiders defensive tackle
Richard Seymour
.
He was ejected
in the third quarter after a half-hearted attempt to punch Miami guard
Richie Incognito
. Seymour has a reputation for questionable play and the refs wasted no time ejecting him. This was the second ejection in as many seasons for the former Pro Bowl player. Seymour also was ejected last season for a shot to the face of
Pittsburgh Steelers
quarterback
Ben Roethlisberger
after the whistle.
What's next:
The Dolphins will play their second consecutive home game next week when the
Philadelphia Eagles
(4-8) come to town. Miami is looking to win its fourth consecutive game at home.
December, 4, 2011
12/04/11
2:28
PM ET
MIAMI -- The
Miami Dolphins
lead the
Oakland Raiders
13-0 at intermission.


Here are some notes at halftime:
Miami's defense continues to play well. The Dolphins forced two consecutive three-and-outs that led to great field position and two early field goals by Miami. The Raiders tried to establish their physicality but couldn't. The Raiders only have 21 yards rushing and 107 total yards of offense.
Either Oakland has no pass rush or Miami's pass protection has been stellar. Dolphins quarterback Matt Moore has plenty of time in the pocket. Moore wasn't sacked in the first half. As a result, he's thrown for 92 yards and a touchdown.
Dolphins tailback Reggie Bush is having another great first half. Miami offensive coordinator Brian Daboll is digging into his bag of tricks to get Bush the ball on the outside and it's working. Bush has 73 rushing yards on nine carries. His big gains have come on the perimeter.
November, 15, 2011
11/15/11
6:49
PM ET

New York Jets
Pro Bowl cornerback
Darrelle Revis
doesn't seem too excited to play against the
Denver Broncos
and quarterback
Tim Tebow
Thursday night.
"We can't fall asleep back there in the secondary," said Revis Tuesday,
according to ESPNNewYork.com
. "It can get boring, especially when a team just keeps running the ball, series after series, play after play."
After reviewing the tape, Revis knows he won't get much action this week. Denver ran the football 55 times with its "T-bone" offense. Tebow had nine carries himself for 43 yards and a touchdown.
The Broncos threw the football just eight times and beat the
Kansas City Chiefs
, 17-10. Tebow was 2-for-8 for 69 yards. But his best throw was a 56-yard touchdown to Broncos receiver
Eric Decker
after Kansas City's secondary stopped worrying about the pass.
As Revis warned, New York's secondary can't get caught napping this week when Tebow decides to throw.
November, 15, 2011
11/15/11
1:00
PM ET
»
NFC Stock Watch
:
East
|
West
|
North
|
South
»
AFC
:
East
|
West
|
North
|
South
FALLING
[+] Enlarge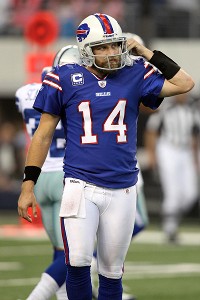 Tim Heitman/US PresswireThe Bills need quarterback Ryan Fitzpatrick to help pull them out of their recent slump.
1. Buffalo Bills:
The Bills are now 2-4 in their past six games. Mathematically, Buffalo is still in the thick of the AFC East and postseason races. But nothing about the Bills' performance the past few weeks suggests this young team is ready to take the next step. The good news is Buffalo (5-4) owns the head-to-head tiebreaker over the first-place
New England Patriots
(6-3). That could make things interesting if the Bills win enough games to make their Week 17 rematch meaningful. But there is plenty of football left and the Bills have to turn their season around quickly to have a chance. The Bills play their next two games on the road against the
Miami Dolphins
and
New York Jets
, games that will define their season.
2. Jets' offense:
It's hard to pinpoint one area. New York's offense as a whole failed to produce against the NFL's worst-rated defense in a 37-16 loss to New England. The Jets went away from the running game, which averaged 4.4 yards per carry. That's on the coaches. Jets quarterback
Mark Sanchez
was sacked five times. That's on the offensive line. And Sanchez made a pair of costly interceptions, including a pick-six in the fourth quarter. That's on the quarterback. But New York doesn't have time to wallow. The Jets have their next game Thursday night against
Tim Tebow
and the
Denver Broncos
.
3. Ryan Fitzpatrick, Bills quarterback:
Fitzpatrick is having a career year. But he has a reputation of being very streaky and is playing his worst football of the season. The Bills are trying to make a playoff push, and Fitzpatrick has thrown for just 337 yards with two touchdowns and five interceptions in his past two games. Yes, Buffalo has other issues. But Fitzpatrick now is the face of the franchise and can expect to get a majority of the blame. It comes with the territory. It's up to the Fitzpatrick to lead the Bills out of this funk with his play. Buffalo has what I think is a must-win game next week against the Miami Dolphins.
RISING
1. New England Patriots:
I was shocked to see so many in our community claim last week
the Patriots were done
. I thought most AFC East fans knew better after watching New England dominate the division the past 10 years. It led me
to write this column
, which wasn't very popular but was the truth. New England continued its trend of dominating the AFC East by sweeping the Jets in convincing fashion. The Patriots have an easy schedule and look poised to cruise the rest of the season.
2. Andre Carter, Patriots defensive end:
New England's defense needed a jolt and
got it from Carter
. The veteran registered a career-high 4.5 sacks against the Jets and stayed in the face of Sanchez the entire night. Carter's sacks have come in bunches. He already has three multi-sack games for New England this season. Carter is fourth in the NFL with nine sacks. He needs just two more sacks to match his career high of 11.
3. Miami Dolphins:
Miami won two in a row for the first time this season. Dolphins coach Tony Sparano deserves a lot of credit for keeping the team motivated during a tough time when his job status is up in the air. I've been saying all season that Miami has talent. The Dolphins are finally starting to show it and can be a dangerous spoiler to watch in the second half of the season. They get a chance to put a huge dent in the Bills' playoff hopes this week at Sun Life Stadium.
November, 4, 2011
11/04/11
3:02
PM ET
We have another great "Poll Friday" question this week in the AFC East blog. We want our community to look into the crystal ball and predict the final record of the 2011
Miami Dolphins
.
So far Miami (0-7) is winless. But the Dolphins have played their best football of the season the past two weeks under embattled head coach Tony Sparano. Miami led after three quarters against the
Denver Broncos
and
New York Giants
but blew those leads late in back-to-back games.
This week Miami will travel to play the AFC West-leading
Kansas City Chiefs
(4-3). The Dolphins are underdogs and will continue to be for the remainder of the season. Here is a look at
Miami's full schedule
.
Using our SportsNation poll, the choices range from an Andrew Luck-securing 0-16 to a potential Sparano job-saving 8-8. You can also share your thoughts in the comment section below.
November, 3, 2011
11/03/11
4:00
PM ET
The
Miami Dolphins
played one of their
best games of the season
in Week 8. But that wasn't enough to convince AccuScore to pick the winless Dolphins to upset the
Kansas City Chiefs
.
Despite coming off a short week, Kansas City (4-3) was picked to win 69 percent of the time by AccuScore. The Dolphins would fall to 0-8 and remain firmly in the Andrew Luck Sweepstakes. It also would mark Miami's 11th consecutive loss, dating to last season.
September, 15, 2011
9/15/11
1:00
PM ET
The
Buffalo Bills
(1-0) will look to stay undefeated with a home game Sunday against the
Oakland Raiders
(1-0). Thursday we look at Buffalo's biggest reason for hope and biggest reason for concern in Week 2.

R
eason for hope: Offense is clicking
The Bills were the second-highest scoring offense in the NFL last week. They dropped 41 points on the
Kansas City Chiefs
. Coach Chan Gailey's offense was equally effective on the ground with tailback
Fred Jackson
(112 yards rushing) and through the air with quarterback
Ryan Fitzpatrick
(208 yards, four touchdowns). Oakland's stout defensive line could provide some problems for Buffalo. But the Raiders are coming off a short week of preparation. Another fast start by the Bills' offense, particularly at home, could be just what Buffalo needs to improve to 2-0.
Reason for concern: Potential letdown
The Bills were tied for the second-worst home record (2-6) in the NFL last season. The
Miami Dolphins
(1-7) were the only team with more home losses. Buffalo is riding high this week after a road win against the defending AFC West champion. There's a slim chance things will be that easy again versus the Raiders. Keep an eye on Oakland's running game. That could keep the game close. The Chiefs averaged 6.0 yards per carry against Buffalo, but couldn't stick to the run because they fell behind early.