June, 14, 2011
6/14/11
1:00
PM ET
Jake Long
or
Joe Thomas
?
It's like deciding between
Tom Brady
and
Peyton Manning
. They're both elite. You can't go wrong with either pick.
But when you belong to ESPN.com's prestigious Power Rankings syndicate, you have to make tough choices.
In this week's left tackle poll, Thomas edged Long by one point. Long was listed first or second on each of the eight division bloggers' ballots. Three of them, including me, placed Long on top. Thomas received one third-place vote, but amassed five first-place votes to come out ahead.
The ballot I submitted:
Jake Long, Dolphins
Joe Thomas, Browns
Jordan Gross, Panthers
Michael Roos, Titans
D'Brickashaw Ferguson, Jets
Ryan Clady, Broncos
Chad Clifton, Packers
Donald Penn, Buccaneers
Doug Free, Cowboys
Andrew Whitworth, Bengals
Choosing between Long and Thomas is splitting hairs. They've been selected for the Pro Bowl every season in the NFL and are the reigning first-team All-Pros. Thomas was the third overall draft pick in 2007, Long the top choice in 2008.
But I gave Long the edge because of the circumstances he has dealt with in Miami.
Thomas has benefited from playing alongside reliable and steady left guard
Eric Steinbach
all four years. Steinbach has started 62 of a possible 64 games. For the past two seasons, first-round pick
Alex Mack
has shined, going to a Pro Bowl last year.
Long has had no such luxuries. He has played next to five left guards in his three seasons:
Justin Smiley
,
Andy Alleman
,
Nate Garner
,
Richie Incognito
and
Pat McQuistan
.
The Dolphins have been just as dicey at center. They should have their fourth different opening day starter in four years after drafting Florida center
Mike Pouncey
. They've used five centers the past three seasons.
Long also played at an All-Pro level last season despite a shoulder injury that had some wondering if he should shut it down.
New England Patriots
fans might be wondering why I didn't include
Matt Light
on my ballot. While he did go to the Pro Bowl as an alternate last year, Stats Inc. blamed him for 10 sacks for 78 yards in losses and four penalties -- all more than his previous two seasons combined.
October, 7, 2009
10/07/09
12:20
PM ET

Posted by ESPN.com's Tim Graham
If you're a
New York Jets
fan and would like to express your gratitude, mail your thank-you notes to:
| | |
| --- | --- |
| | |
| | James Lang/US PRESSWIRE |
| | The Jets traded up with the Browns in this year's draft to select Mark Sanchez at No. 5. |
Cleveland Browns
Attention: Eric Mangini
76 Lou Groza Blvd.
Berea, Ohio 44017
The New York Jets pulled off another trade with their former head coach's new team. The Browns have a general manager, George Kokinis, but Mangini most certainly was involved to a high degree in trading receiver
Braylon Edwards
to the Jets on Wednesday morning.
This, of course, isn't the first time the Jets and Browns brokered a major deal. The Jets made a five-for-one deal to acquire Cleveland's fifth overall draft pick for the purposes of selecting Southern California quarterback
Mark Sanchez
.
So the Jets have acquired the third overall pick from the 2005 draft and the fifth overall pick from this year. And what, really, have they parted with?
Cleveland, clearly in a rebuilding mode, is collecting draft picks for the future. New York is tweaking their roster to win this year.
What the Jets have gotten from dealing with the Browns
Mark Sanchez, quarterback: The Sanchise won the job in training camp and, despite some rookie mistakes, has the Jets 3-1 and tied for first place in the AFC East.
Braylon Edwards, receiver: He had off-the-field problems and was erratic in the Browns' offense, but he's the big-play receiver the Jets were lacking.
What the Browns have gotten from dealing with the Jets
Brett Ratliff, quarterback: He's third on the depth chart behind Derek Anderson and Brady Quinn.
Chansi Stuckey, receiver: Stuckey was the Jets' No. 2 receiver, but didn't seize the job out of camp as much as he was a better option than David Clowney.
Jason Trusnik, linebacker: A depth player and special-teamer, he was undrafted out of Division III Ohio Northern and has an injury history.
Abram Elam, safety: Elam starts for the Browns but would have been a backup for the Jets behind Kerry Rhodes and Jim Leonhard.
Kenyon Coleman, defensive end: Coleman starts for the Browns.
17th overall draft pick (Sanchez trade): The Browns turned another trade, giving the pick to the Tampa Bay Buccaneers, who took quarterback Josh Freeman, for picks Nos. 19 and 191. The Browns then dealt No. 19 to the Philadelphia Eagles for Nos. 21 and 195.

The Browns drafted starting center Alex Mack at No. 19, cornerback Coye Francies at No. 191 and running back James Davis at No. 195. Francies is a backup, while Davis is on injured reserve after a promising preseason.
52nd overall draft pick (Sanchez trade): The Browns kept the pick and selected defensive end David Veikune, who now is a backup inside linebacker.
Two undisclosed draft picks (Edwards trade).
April, 6, 2009
4/06/09
9:30
AM ET
| | |
| --- | --- |
| | |
| | Rich Kane/US Presswire |
| | If Penn State defensive end Aaron Maybin slips to No. 11 in the draft, you could see Buffalo taking advantage. |
Posted by ESPN.com's Tim Graham
Team needs: Offensive line, pass rusher, tight end.
Dream scenario: Buffalo's situation is fluid. Positional needs today might not match their wish list when the front office gathers in Orchard Park, N.Y., for the draft on April 25.
The Bills have holes on their interior line, at tight end and with their pass rush. They cut high-priced left guard Derrick Dockery and tight end Robert Royal early in free agency, but didn't replace them.
The Bills' biggest weakness on their 4-3 defense was their inability to pressure quarterbacks, especially when Pro Bowl defensive end Aaron Schobel went down with a foot injury. There was no help. They registered a paltry 24 sacks.
But the Bills have a brewing situation at left tackle. Jason Peters, a two-time Pro Bowler, held out of all offseason workouts, training camp and preseason games last year because he wants a new contract. He's expected to do so again, with the sides far apart in negotiations. The Bills might be forced to trade him, meaning they could need to fill the second-most important position in football at the draft.
For the second straight year, the Bills own the 11th overall pick. Unless they make a trade, they'll have to wait until the 42nd slot to select again and then 75th. The New England Patriots, meanwhile, will have drafted six times when the Bills have drafted thrice.
But the Bills will conduct a successful draft if they can come away with a pass rusher and a couple of starting offensive linemen. Penn State defensive end Aaron Maybin could slip to No. 11, but if he's not there, then Florida State defensive end Everette Brown should be there for the taking.
The Bills should have opportunity to draft a top-three center at No. 42 and move versatile free-agent signee Geoff Hangartner to left guard. California's Alex Mack and/or Oregon's Max Unger probably will be off the board, but the other could be available and too tough to pass up. Louisville's Eric Wood also projects as a second-round talent.
The Bills also have a chance to snag the best guard in the draft. None are expected to be taken in first round. The best of the bunch include Oregon State's Andrew Levitre and Oklahoma's Duke Robinson.
PollCenter: On the Clock

What is the Buffalo Bills' biggest positional need? VOTE
Plan B: Oklahoma State tight end Brandon Pettigrew is the best player at his position in this year's draft class. He's a strong run blocker, has prototypical size at 6-foot-5 and 263 pounds and has soft hands.
Consensus among scouts, though, is that Pettigrew is not worth the 11th pick. If the Bills want him, they have a valuable asset they can dangle to a team in need of a quarterback, especially if Southern California's Mark Sanchez still is on the board. The Bills can move back a smidge, select Pettigrew and gain a later pick or two.
Scouts Inc. take: "The defensive end need has been put on the back burner by some people, but I think it's huge. This defense is one prominent pass rusher away from being a pretty strong group. I think they'll move that direction on draft day. A guy like Everette Brown will be hard to pass up." -- Matt Williamson, Scouts Inc.
Who has final say: Owner Ralph Wilson signs off after input from chief operating officer Russ Brandon, top college scout Tom Modrak and head coach Dick Jauron.
Now On the Clock: San Francisco 49ers, April 7.
Previous On the Clock: Denver Broncos. The team-by-team series.
March, 28, 2009
3/28/09
8:35
AM ET
March, 17, 2009
3/17/09
9:00
AM ET
March, 7, 2009
3/07/09
8:45
AM ET
Posted by ESPN.com's Tim Graham
Behold the latest compilation of AFC East draft projections from NFL draft cognoscenti.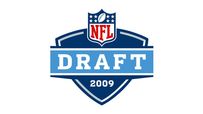 Most of these were freshly updated Friday, so enjoy the mocktastic stylings of ESPN's Mel Kiper and Todd McShay, NFL.com's Pat Kirwan, Charles Davis and Steve Wyche, Sports Illustrated's Don Banks, CBSSports.com's Pete Prisco, NFLDraftScout.com's Rob Rang and Chad Reuter, Chris Steuber of Scout.com and the National Football Post's Wes Bunting.
No. 11 Buffalo Bills
No. 17 New York Jets
No. 23 New England Patriots
No. 25 Miami Dolphins
February, 26, 2009
2/26/09
8:30
AM ET
February, 22, 2009
2/22/09
5:36
PM ET
Posted by ESPN.com's Tim Graham
INDIANAPOLIS -- With center a focal point for the Miami Dolphins and Buffalo Bills, I had the opportunity Sunday to ask NFL Network draft analyst Mike Mayock what he thought of the position after seeing them work out at the scouting combine.
The Dolphins have made replacing Samson Satele a priority. The Bills have been lacking at center. Both of theirs, Duke Preston and Melvin Fowler, are free agents.
Mayock notes the best of this year's center class are Oregon's Max Unger, Louisville's Eric Wood, California's Alex Mack, Penn State's A.Q. Shipley, Alabama's Antoine Caldwell and TCU's Blake Schlueter.
"We didn't get to see Mack, who I really wanted to see a little bit. Wood from Louisville, he's not a fast guy. I didn't expect him to be a fast guy. I think I know what he is. I think Wood and Unger, to me, are the two top centers in the draft.

"But it's a really deep position. I can keep going down that list. I've got A.Q. Shipley from Penn State, who a lot of teams don't like because he has the shortest arms at the combine. Every time I put the tap on, A.Q. Shipley's a good football player. Antoine Caldwell from Alabama, are you kidding me? He had a great Senior Bowl, a better player than I thought. A kid that wasn't even invited here, Blake Schlueter from TCU. I think he can play in the NFL.

"I think the tight end/H-back group, the center group and the outside linebacker group are three of the strongest groups in this draft."
I followed up by asking if any center was worth a first-round pick this year:
"At the end of the first round, if you're a playoff team and your guy is not there, you wanted so-and-so and so-and-so's not there. You've got to have a guy in your back pocket that's probably more of a second-round guy that you know can be a starter, that won't give you any problems and he's going to be good value for the money.

"A lot of times those centers and guards that are the top guys at their position, a high second-round pick, they end up getting [drafted late in the first round]. An Unger or a Mack or a Wood wouldn't surprise me. I got them all in the second round, but if one of those guys jumped up it wouldn't surprise me."
February, 19, 2009
2/19/09
7:48
PM ET
Posted by ESPN.com's Tim Graham
INDIANAPOLIS -- California's Alex Mack is a blue-chip prospect at least two AFC East teams will be watching closely.
| | |
| --- | --- |
| | |
| | Paul Jasienski/Getty Images |
| | Cal center Alex Mack might be a fit in the AFC East. |
The
Buffalo Bills
and
Miami Dolphins
are looking for a center, and Mack is the top-rated player at the position.
Mack, however, won't be running or jumping around Lucas Oil Stadium on Saturday with the rest of the offensive linemen. Cal fullback Will Ta'ufo'ou stepped on Mack's right ankle during a recent workout.
"I got really unlucky," Mack said Thursday. "Just kind of a freak accident. ... No one is more disappointed about it than I was."
Mack still can make an impression this weekend at the combine with his interviews. He already has met with the Bills. Other teams that have interviewed him include the Pittsburgh Steelers, Arizona Cardinals, San Diego Chargers and Atlanta Falcons.
"The Bills was one of those get-to-know-you sessions," Mack said. "I talked to them about the players who are already on the Bills. I know they have Langston [Walker] and Marshawn Lynch. There is a history of Cal people playing there."
Since he mentioned Lynch, this is where we tell you Mack won the Draddy Trophy as the college football's top scholar-athlete and graduated last year with a degree in legal studies. Insert your own zinger.
Mack is a shade below 6-foot-4 and weighs 311 pounds. He's projected as a late first- or early second-round draft pick.
He's probably not elite enough of a prospect for the Bills to draft him at No. 11, but the Dolphins hold the No. 25 selection, a more reasonable spot. The Bills aren't scheduled to pick again until No. 42, but could maneuver if they want him badly enough.
Teams already have had a chance to watch Mack up close at the Senior Bowl, where he also played guard.
"I think the Senior Bowl was really helpful," Mack said. "It was a great experience. It was fun to go out there with some NFL coaches and the scouts and just get a warm-up for this event.
"It also helped me showcase some talents of mine. I got to get some good playing time at guard and show that I can be a versatile lineman and play a lot of positions. So I had a lot of fun at the Senior Bowl."
The AFC East features three teams with 3-4 defenses, the Bills being the lone exception. Mack claimed he can play against the monstrous nose tackles that anchor 3-4 schemes.
"It's going to be a challenge," Mack said. "Anytime you face a tough opponent, every time there is some tough D-lineman, it's a challenge, and technique is something that I used at Cal to help me get there. Using technique can really help you defeat the really heavy guys, the powerful guys. It's about being a technically sound player that really makes you a good lineman."
February, 15, 2009
2/15/09
11:00
AM ET
Posted by ESPN.com's Tim Graham
The top issues facing each team in the division:
Primary issue: The Bills had the weakest pass rush for an NFL team that wasn't an out-and-out doormat. They recorded 24 sacks all season. Only the Cleveland Browns, Cincinnati Bengals and Kansas City Chiefs had fewer.
| | |
| --- | --- |
| | |
| | Brendan Maloney/US Presswire |
| | If available, Texas defensive end Brian Orakpo would fit in nicely with the Bills. |
A significant problem was the loss of Pro Bowl defensive end Aaron Schobel for all but the first five games because of a foot injury. But he managed only one sack when he was available. The Bills haven't gotten anything out of John McCargo, a defensive tackle they traded up to draft 26th overall three years ago. He has started zero times and has notched 2.5 sacks.
The Bills lost defensive line coach Bill Kollar, who accepted a promotion to be Houston Texans' assistant head coach. Fired Green Bay Packers defensive coordinator Bob Sanders has replaced him.
Solution: If Schobel recovers and Sanders can figure out a way to unlock the lackadaisical McCargo, then the Bills' defensive line might spring back nicely. The Bills hold the 11th overall draft choice, and top-rated pass rushers Brian Orakpo of Texas and Everette Brown of Florida State could be available.
Secondary concern: The Bills need to build some goodwill between themselves and their fans. Given the dreadful economy and the team's recent past, even the most ardent Bills supporter has plenty of reasons not to buy tickets. The Bills haven't made the playoffs in nine years. Fans are down on management's decision to stick with head coach Dick Jauron.
Solution: As much as Bills fans despised former general manager Tom Donahoe, they have to admit he knew how to get them excited with high-profile offseason moves such as the Drew Bledsoe acquisition and the first-round Willis McGahee gamble. Would it kill the Bills to provide a little excitement this spring?
---
| | |
| --- | --- |
| | |
| | Mitchell Layton/Getty Images |
| | California center Alex Mack could help solidify the Dolphins' offensive line. |
Primary issue: Miami's interior offensive line was a major source of frustration throughout the season.
At first, the Dolphins weren't happy with the depth, routinely circulating street free agents through the roster. Rookie Donald Thomas won the starting right guard job but suffered a season-ending foot injury on opening day. Left guard Justin Smiley, their top offseason free-agent acquisition, played well but went down with a gruesome leg injury in Week 13. The front office has decided center Samson Satele isn't sturdy enough to handle 3-4 nose tackles.
The Dolphins went into 2008 excited about their running-back tandem of Ronnie Brown and Ricky Williams, but their inability to run inside limited offensive options and forced the Dolphins to try the exotic Wildcat offense, which put two tackles on the same side of the line.
Right tackle Vernon Carey is a free agent. If the Dolphins re-sign him, there's talk of switching him to guard.
Solution: The Dolphins are searching for a center to anchor their offensive line. Free agency is an option, but drafting a center such as Alex Mack of California or Max Unger of Oregon creates a tantalizing proposition of a formidable line that can stay together for years. Satele could shift to guard and provide depth. Thomas will be back. No. 1 draft pick Jake Long went to the Pro Bowl.
Secondary concern: As ownership switched from Wayne Huizenga to Stephen Ross, football operations chief Bill Parcells renegotiated his four-year contract to include a permanent walkout clause with full pay. Parcells can leave whenever he desires for any reason he wants.
Solution: Leave him alone, Steve.
---
Primary issue: The three biggest concerns for the Patriots this offseason are Tom Brady's ACL, Tom Brady's MCL and Tom Brady's knee infections.
| | |
| --- | --- |
| | |
| | Greg M. Cooper/US PRESSWIRE |
| | The Patriots have $29 million in salary-cap dollars tied up between Tom Brady and Matt Cassel. |
Much of the Patriots' offseason -- and beyond -- hinges on Mr. Everything's status for 2009 because roughly $29 million in salary-cap dollars are tied up between him and his insurance policy, Matt Cassel.
That massive allocation will affect how flexible the Patriots can be when it comes to signing free agents or hammering out extensions to players they want to keep around.
Solution: The Patriots must clear Cassel's one-year, $14.65 million guaranteed contract off the books by trading him, but they might not be able to do so. They need to make sure Brady is healthy enough first, and they might not know for months.
Secondary concern: Brain drain hasn't been a problem for the Patriots yet, but recurring defections could catch up to them eventually. Vice president of player personnel Scott Pioli is the Kansas City Chiefs' general manager. Offensive coordinator Josh McDaniels is the Denver Broncos' head coach. Other respected assistants have shuffled about.
Solution: Head coach Bill Belichick has to maintain his remarkable knack for finding and nurturing football minds who always seem to thrive in the Patriots' already-established culture.
---
New York Jets
| | |
| --- | --- |
| | |
| | Rich Kane/US PRESSWIRE |
| | Kellen Clemens, right, will be one candidate to replace Brett Favre as the Jets' quarterback. |
Primary issue:
The chief concern evolved a little on Wednesday, shifting from "How long will the Jets have to wait on
Brett Favre
?" to "How will the Jets replace Brett Favre?"
Management insists it's focusing on the three candidates already on the Jets' roster. But Kellen Clemens has made only eight starts, most of them frightful. Brett Ratliff and Erik Ainge have combined for zero NFL game snaps.
The Jets are downplaying their interest in locating another candidate through free agency or the draft, but banging those drums so soon would be demoralizing to the three hopefuls and possibly short-circuit a budding competition.
Solution: Rookie head coach Rex Ryan is a defensive mastermind, which means this mostly will be Brian Schottenheimer's problem to solve. Ryan said he wants to run an all-weather offense, which emphasizes the run. That should help alleviate pressure on a young quarterback.
Secondary concern: Despite star cornerback Darrelle Revis and impressive safety Kerry Rhodes, the Jets were miserable in defending the pass last season. They ranked 29th in pass defense, allowing 234.5 yards a game. Opponents completed 64.3 percent of their passes and threw for 23 touchdowns.
Solution: The Jets desperately need an effective cornerback to start opposite Revis. Getting sixth-overall draft pick Vernon Gholston playing like the pass rusher they thought he was at Ohio State wouldn't hurt either.
February, 11, 2009
2/11/09
11:15
AM ET
Posted by ESPN.com's Tim Graham
Rob Rang, the senior analyst for NFLDraftScout.com, graciously shared his time and insight with an overview of how the first round might go down for AFC East clubs.

I provided Rang a list of three needs, and he projected who was likely to be available.
The Miami Dolphins are in 25th position. They're in the market for a center. They would like to upgrade at inside linebacker. They're in desperate need of a receiver.
Here is Rang's take:
Rey Maualuga would be the perfect fit at inside linebacker, but he isn't likely to last until the 25th pick. Many will point to Ohio State's James Laurinaitis, but Miami's 3-4 alignment requires a stout defender capable of disengaging quickly from blocks and most scouts feel this is one of Laurinaitis' relatively weaker characteristics. Inside linebacker might be an area that gets filled in the later rounds.

There should be a run on receivers from picks 20 through 40, with several taller, speedy options available. Maryland's Darrius Heyward-Bey has a combination of height and speed that no other receiver in this draft can match, but he might be too much of a "track guy in pads" for Bill Parcells' liking. One player to keep in mind is North Carolina's Hakeem Nicks. He may not have elite speed, but he has the size, soft hands and body control to make an immediate contribution as a possession receiver. Considering Miami's speed outside with Ted Ginn and the emergence of slot receiver Davone Bess, Nicks is a logical option.

The versatile Max Unger from Oregon, who earned All-Pac-10 honors at both left tackle and center, makes some sense for the Dolphins in the first round. With many of Samson Satele's problems coming against bigger, more physical defenders in the AFC East, a stouter center/guard like Alex Mack of California also makes sense.
February, 11, 2009
2/11/09
9:00
AM ET
Posted by ESPN.com's Tim Graham
Rob Rang, senior analyst for NFLDraftScout.com, was kind enough to break down the possibilities for each AFC East club for the first round.

I provided Rang a list of three needs, and he mocked out the likely candidates to be available at that juncture.
The Buffalo Bills own the 11th selection. They'll have all sorts of talent to choose from. High on their list will be a pass rusher, a tight end or an interior offensive lineman, particularly a center.
Here is Rang's take:
There is a possibility that one of the two elite pass-rushing defensive ends in this draft -- Florida State's Everette Brown and Texas' Brian Orakpo -- could be available when the Bills are on the clock at No. 11. Brown is the more explosive pass rusher of the two and is surprisingly refined in his technique. Orakpo is the stronger, more effective run-stuffer and won three of the four major defensive awards (Nagurski, Hendricks, Lombardi) as a senior.

The only tight end considered a likely first-round pick is Oklahoma State's Brandon Pettigrew. He is a terrific blocker, but best in the short to intermediate range due to only adequate straight-line speed. A poor senior season probably pushes him into the latter stages of the first round. Missouri's Chase Coffman and Rice's James Casey are options in the second round.

Similarly, there simply isn't a center worthy of consideration for the 11th pick. This is an unusually talented and deep class of centers, however, so the Bills would likely consider Alex Mack from California or Max Unger from Oregon in the second round.
February, 10, 2009
2/10/09
1:29
PM ET
| | |
| --- | --- |
| | |
| | G. Newman Lowrance/Getty Images |
| | The Dolphins traded Wes Welker to the Patriots for draft picks, one of which Miami used on Samson Satele, who may be out of a starting job. |
Posted by ESPN.com's Tim Graham
Despite a faction of Dolfans who've refused to concede because center Samson Satele just might forge a dominant career, I think we can safely declare a winner in the Wes Welker trade.
The Miami Dolphins got rolled in the parking lot.
As if Welker's 223 receptions and 2,240 yards in two seasons weren't enough to declare the New England Patriots clear victors, the Dolphins are extracting Satele from the middle of their offensive line.
Former Miami general manager Randy Mueller traded Welker to New England for second- and seventh-round draft picks in 2007. The Dolphins selected Satele and linebacker Abraham Wright.
Although the Dolphins waived Wright last spring, Satele had shown promise. He started all 16 games as a rookie, something no Dolphins center -- not even Hall of Famer Dwight Stephenson -- had done. Satele was Miami's first rookie offensive lineman since 2003 to start every game.
But it doesn't look like Satele will be Miami's center anymore, making the Welker trade even more lopsided.
It's becoming common knowledge in the NFL community the Dolphins already have decided Satele won't snap the ball next year because the 6-foot-3, 300-pound Hawaiian isn't physical enough.
An NFL source informed me Bill Parcells, Jeff Ireland and Tony Sparano have made finding a new O-line anchor their priority -- and they don't care if they land one through free agency or the draft. Satele could be rendered a depth player if he doesn't evolve into an effective guard.
The best available free-agent centers are Jeff Saturday, Matt Birk, Jason Brown and Brad Meester. Brown is a four-year pro, while the others have at least nine years of experience.
Draft gurus rank California's Alex Mack and Oregon's Max Unger as the best centers in this year's class.
The Dolphins own the 25th pick, and Mack seems to be in that neighborhood. ESPN's Mel Kiper and Todd McShay predict the Pittsburgh Steelers will take Mack with the 32nd selection. Scouts Inc. ranks him the 32nd-best prospect in the draft.