January, 18, 2014
Jan 18
1:30
PM ET
When Rex Ryan resolved his contract situation Thursday, it triggered a domino effect.
Assistant head coach Anthony Lynn, who coaches the running backs, has reached a deal to return, league sources said Saturday. Lynn's previous contract was expiring. Defensive coordinator Dennis Thurman and defensive line coach Karl Dunbar also have expiring contracts, but their return is expected as well. It's believed they may have already signed new contracts.
This is good news for the Jets, who will have coaching staff continuity for the most part. They lost special-teams coach Ben Kotwica (
Washington Redskins
) and linebackers coach Brian VanGorder (Notre Dame), but most of Ryan's staff will remain intact. That includes offensive coordinator Marty Mornhinweg. Dunbar was a must-keep for the Jets, considering the enormous promise of the young defensive line.
ESPN 980 in Washington D.C. reported Friday that the Jets requested permission from the Redskins to speak with defensive coordinator Jim Haslett, but were denied. It's unclear how -- or if -- that may have impacted Thurman.
The Jets still have at least two assistants with expiring contracts -- offensive line coach Mike Devlin and wide receivers coach Sanjay Lal. The expectation is they're likely to return.
March, 30, 2011
3/30/11
10:39
AM ET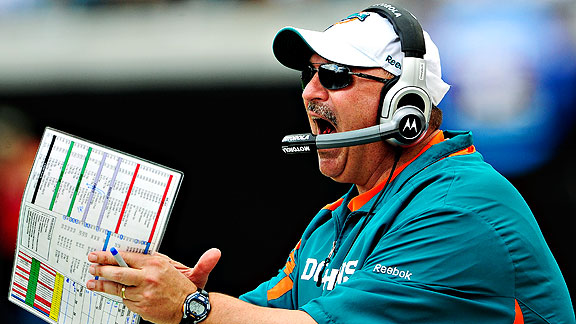 Sam Greenwood/Getty ImagesDolphins coach Tony Sparano felt it was necessary to add former players to his coaching staff.
Miami Dolphins
receiver
Brandon Marshall
scoffed in September that broadcast analyst Sterling Sharpe had no right to judge him.
Marshall claimed Sharpe didn't do enough on the field
to earn the privilege.
Imagine, then, how much disdain Marshall would harbor for criticism from those who didn't play in the NFL at all.
When you consider Marshall's logic and the sort of position coaches he has worked with, you get a sense of how unstable a situation can be.
As a rookie, he learned from former Pro Bowl receiver Steve Watson. But since 2007, Marshall's coaches have been Jeremy Bates, Jedd Fish and Adam Gase with Denver and Karl Dorrell last year with Miami. None of them played in the NFL. Neither Fisch nor Gase played in college.
Probably not the kinds of guys you'd expect to make a connection.
Dolphins head coach Tony Sparano rearranged his coaching staff after last season. He moved Dorrell into the quarterbacks vacancy and promoted Steve Bush from a quality-control role -- usually considered entry-level -- to receivers coach. Bush hasn't been an NFL position coach before. In 2008, the Dolphins hired the one-time Syracuse assistant away from West Genesee High in upstate New York.
Some help was in order, and not just for Bush.
Sparano made it a point to add former players to his coaching staff because he identified a deficiency. He needed more voices to reach his players.
Although the Dolphins parted ways with running backs coach James Saxon, they hired Ike Hilliard to assist Bush and Bryan Cox to coach pass rushing and promoted Dan Campbell from intern to tight ends coach.
"I feel good about the way we were able to put the staff together with the infusion of ex-players onto the staff," Sparano said last week at the NFL owners meeting in New Orleans.
"A little bit of that flavor and that knowledge on your coaching staff helps a lot. Sometimes, as coaches, we can get tunnel vision and forget about what the players' needs are. When you get an ex-player on your staff -- somebody that's really not far removed -- it helps you a lot."
A breakdown of AFC East coaching staffs shows there are multiple philosophies on former NFL players as assistants.
The Dolphins went into last season with two position coaches who played in the NFL: assistant head coach and secondary assistant Todd Bowles and Saxon. They now have four assistants with a combined 557 games.
Buffalo Bills
head coach Chan Gailey has one former NFL player on his staff, but none coaching a position. Former defensive back Adrian White, a veteran of seven seasons, handles quality control.
New England Patriots
defensive line coach Pepper Johnson is the lone member of Bill Belichick's crew to have experienced NFL action. Johnson played linebacker for four teams over 13 years.
Then there's Rex Ryan's staff, populated by six former NFL players with 62 seasons and 829 games. Matt Cavanaugh coaches quarterbacks, Anthony Lynn running backs, Henry Ellard receivers, Mike Devlin tight ends, Mark Carrier defensive line and Dennis Thurman defensive backs.
I reached out to three former coaches who played in the NFL -- Tom Flores, Herm Edwards and Ted Cottrell -- to get their opinions on the significance of having on-field experience on staff.
"It's always been a thing with the players," said Cottrell, an
Atlanta Falcons
linebacker and successful defensive coordinator for the Bills, Jets,
Minnesota Vikings
and
San Diego Chargers
, "where they think in the backs of their minds, 'Well, you haven't played this game. You don't know what we're going through. You haven't done this, Coach.' But if you have some playing experience on your staff, it helps offset that."
As valuable as those players-turned-coaches are, they're difficult to find. The best players don't necessarily make the best coaches because what came to them naturally can't always be conveyed through instruction.
[+] Enlarge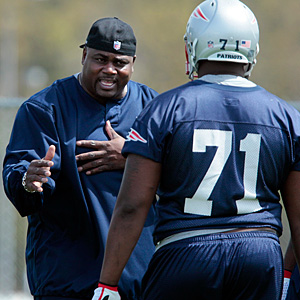 AP Photo/Elise AmendolaPatriots defensive line coach Pepper Johnson is the only member of Bill Belichick's staff with NFL playing experience.
Flores found a way to make it work. He and Mike Ditka are the only two in NFL history to win a Super Bowl ring as a player, assistant coach and head coach. Flores played quarterback for the Bills,
Oakland Raiders
and
Kansas City Chiefs
before guiding the Raiders to pair of Super Bowl titles.
"Some of the young kids coming out have no idea," Flores said. "They think they invented the game. Sometimes you have to bring them back to reality.
"But you also don't want somebody who keeps saying, 'Well, when I played ... When I played ... When I played ...' The player thinks, 'I don't give a damn when
you
played.
We're
playing now.'"
The transition from player to coach is difficult. Many players focus so much on their specific jobs when they're active that they don't become students of the overall game or learn how their roles fit into the overall puzzle. Others find it difficult to stop acting like a player when their careers are over.
Still, the ex-player element can be crucial in various instances.
"Sometimes you need a bridge with a former player," said Edwards, who played cornerback for the
Philadelphia Eagles
and was head coach for the Jets and Chiefs. "His voice is going to speak volumes, especially during the rough times because he's done it; he's been through it. He can give them, 'OK, this is what we gotta do' speech.
"He's going to respect because he played, but can he teach? That's the whole key. Players will figure that out."
Not all coaches are comfortable hiring former players, particularly those fresh off the field. Cottrell claimed there's a fear of subversion, that the former player will relate better to the locker room than the man in charge.
"Who do you think the players on the roster will gravitate towards more?" Cottrell asked. "The guy who played in the NFL and is young, or the older guy who didn't play?"
The former player, I responded.
"Damn right they would," Cottrell said. "That's why some coaches are intimidated to hire them. That's the truth. They don't want that guy around."
Added Edwards: "I've seen that happen. There's no doubt about that. That's when you're paranoid, but there are coaches like that."
Even so, Edwards conceded insurrections aren't an unfounded conspiracy theory.
"If you've got a former player in his positional meeting room, saying, 'Man, the coach doesn't know what he's talking about,' then you've got no shot as a head coach," Edwards said. "That's why you've got to be particular on who you hire."
The Patriots have a more institutional coaching staff. Their message is easy to deliver when players consider Belichick has won three Super Bowls and four conference championships in the past decade.
Rather than rely on former players, Belichick has core assistants such as offensive line coach Dante Scarnecchia (28th season with New England) and running backs coach Ivan Fears (15th season).
Belichick grooms assistants from gophers into coordinators and even head coaches. A steady stream of his acolytes -- Eric Mangini, Josh McDaniels, Brian Daboll, Bill O'Brien, Matt Patricia -- got their NFL starts under Belichick with no pro playing experience.
New England's cyclical process protects organizational doctrine from outside influences. Johnson, the lone ex-player on the staff, played 10 of his 13 seasons under Belichick.
"Belichick has a certain philosophy, and you want everybody to be on the same page," Flores said. "Sometimes, when you bring in guys that have been too many other places, they're not going to be on your page because they've been trained someplace else.
"If you bring up assistants through the ranks, then they'll be trained the way you want them to be. Everybody has to buy into the same program."
At the other end of the spectrum are the Jets.
Ryan obviously values former players. Their presence on the staff contributes to the Jets being an attractive destination for free agents, and Cottrell surmises the Dolphins have noticed.
"From a coaching standpoint, he looks at the Jets and wants to catch them in the division," Cottrell said. "He thinks, 'Rex has six guys that have played the game who are coaching. Uh oh. Rex has got an advantage on me.'
"That's got to be in the back of his mind. You've got to win your division to get into the playoffs, and when you look at your coaching staff, you see you don't matchup in that area."
Or, in the case of adding Hilliard at least, maybe it was as simple as noticing the Dolphins didn't match up with Marshall.
April, 8, 2009
4/08/09
8:50
AM ET
Posted by ESPN.com's Tim Graham
New York Jets fullback Tony Richardson is confident he'll be blocking for somebody.
"There will be a guy in that backfield," Richardson said with a laugh Tuesday. "We'll be fine."
The Jets have two Pro Bowl running backs who want new contracts. While Leon Washington so far has been in attendance for new head coach Rex Ryan's offseason conditioning program, Thomas Jones has been a no-show.
"That's the business side of it, and that's sometimes the dark side," Richardson said of contract disputes. "It'll work its way out one way or the other, and whoever that guy is back there, I've got to go do my job regardless."
Conditioning programs are voluntary, but players generally participate when there've been coaching changes. The Jets also have a new running backs coach, Anthony Lynn.
Washington's situation isn't considered serious. He's entering his contract year anyway and by participating in workouts is demonstrating he won't be a headache.
Jones' absence, meanwhile, has made headlines in New York.
"Unfortunately, so much stuff's been made about him not being here," Richardson said. "Well, it's voluntary. So that's a personal choice. But one thing about T.J., that sucker's going to be in shape. He'll be ready to roll."
Jones is coming off the best season of his career and one of the best in Jets history. He rushed for 1,312 yards and 13 touchdowns.
Jones, who will turn 31 in August, is entering the third year of a front-loaded, four-year contract worth $20 million. His base salary will be $900,000 for the upcoming season.
Richardson has been exchanging texts with Jones and can't get worried about a prolonged impasse, not in April. But Richardson, a 15-year veteran, has seen contract disputes turn nasty.
"I've seen them go all the way out to the midnight hour," Richardson said. "It can go for a long time. It's about taking care of your family. You bust your butt and you want to be rewarded.
"You just trust that guys' hearts are in the right place. I know the organization respects T.J. and what he's done for us, and I know T.J. respects the organization. I know he wants to be a New York Jet."
February, 9, 2009
2/09/09
8:11
PM ET
Posted by ESPN.com's Tim Graham
New York Jets rookie head coach Rex Ryan is placing the final touches on his staff.
The club on Monday announced the expected hire of quarterbacks coach Matt Cavanaugh and assistant quarterbacks coach John DeFilippo.
The Jets also promoted Ben Kotwica from defensive quality control coach to assistant special teams coach and switched Brian Smith from offensive quality control to defensive.
There aren't any major openings left to fill. Ryan retained offensive coordinator Brian Schottenheimer and previously hired Baltimore Ravens linebackers coach Mike Pettine as defensive coordinator. Ryan brought Mike Westhoff back to run special teams.
Cavanaugh spent the past four seasons as offensive coordinator for the University of Pittsburgh. He has been offensive coordinator for the Ravens (1999-2004) and Chicago Bears (1997-98). He played 14 seasons as a quarterback for the New England Patriots, San Francisco 49ers, Philadelphia Eagles and New York Giants.

DeFilippo spent the past two seasons as quarterbacks coach of the Oakland Raiders. He was offensive quality control assistant for the Giants two years before that.
Jets Staff: Who's In, Who's Out?
Position
Who's in?
Where from?
Who's out?
Where to?
Quarterbacks
Matt Cavanaugh
Pitt

Brian Daboll
Browns
Asst. quarterbacks

John DeFilippo
Raiders
--
--
Special teams

Ben Kotwica

Jets

Kevin O'Dea

Unattached

Running backs
Anthony Lynn
Browns
Jimmy Raye
49ers

Receivers
Henry Ellard
Rams
Noel Mazzone
Unattached
Defensive coordinator
Mike Pettine
Ravens
Bob Sutton
Jets
Defensive line
Kerry Locklin

Fresno State

Dan Quinn
Seahawks
Asst. D-line
--

--
Bryan Cox
Browns
Linebackers
Bob Sutton
Jets
Jim Hermann
Giants
Secondary
Dennis Thurman
Ravens
Jerome Henderson
Browns
Asst. secondary
Doug Plank
Falcons
--
--
Defensive quality
Jim O'Neil
E. Michigan
Andy Dickerson
Browns
Defensive asst.
Jeff Weeks
Raiders
--
--
January, 28, 2009
1/28/09
8:16
PM ET
Posted by ESPN.com's Tim Graham
New York Jets head coach Rex Ryan's maiden staff continued to take shape Wednesday. As expected, four assistants were officially announced and last season's defensive coordinator, Bob Sutton, was retained, but demoted to linebackers coach.
The new confirmed staffers were receivers coach Henry Ellard, running backs coach Anthony Lynn, secondary coach Dennis Thurman and assistant secondary coach Doug Plank.
Quarterbacks and defensive line are Ryan's most significant vacancies. He retained offensive coordinator Brian Schottenheimer, offensive line coach Bill Callahan and special teams coach Mike Westhoff.
Jets Staff: Who's In, Who's Out?
Position
Who's in?
Where from?
Who's out?
Where to?
Quarterbacks
Open
--

Brian Daboll
Browns
Running backs
Anthony Lynn
Browns
Jimmy Raye
49ers

Receivers
Henry Ellard
Rams
Noel Mazzone
Unattached
Defensive coordinator
Mike Pettine
Ravens
Bob Sutton
Jets
Defensive line
Open
--
Dan Quinn
Seahawks
Assistant D-line
Open
--
Bryan Cox
Browns
Linebackers
Bob Sutton
Jets
Jim Hermann
Giants
Secondary
Dennis Thurman
Ravens
Jerome Henderson
Browns
Assistant secondary
Doug Plank
Falcons
--
--
Defensive quality
Jim O'Neil
E. Michigan
Andy Dickerson
Browns
Defensive assistant
Jeff Weeks
Raiders
--
--