AFC East:

Antoine Winfield
June, 21, 2011
6/21/11
1:53
PM ET
June, 7, 2011
6/07/11
4:22
PM ET
General consensus says
Pittsburgh Steelers
safety
Troy Polamalu
is the NFL's best defensive player.
He was voted The Associated Press Defensive Player of the Year. ESPN.com's Power Rankings panel made him the unanimous choice when voting on the best defenders last month.
But in a segment for the NFL Network, a pair of opinionated and decorated veterans
didn't rate Polamalu even the best defensive back in the game
.
New Orleans Saints
safety
Darren Sharper
and
Tampa Bay Buccaneers
cornerback
Ronde Barber
assembled their top-10 list of the greatest defensive backs. With one safety and one corner compiling the order, there was no positional bias.
This is what Sharper and Barber came up with:
Darrelle Revis, Jets cornerback
Troy Polamalu, Steelers safety
Ed Reed, Ravens safety
Nnamdi Asomugha, Raiders cornerback
Charles Woodson, Packers cornerback
Champ Bailey, Broncos cornerback
Nick Collins, Packers safety
Adrian Wilson, Rams safety
Devin McCourty, Patriots cornerback
Aqib Talib, Buccaneers cornerback
I believe Revis is the best cornerback in the NFL, but it's a little strange to see him rated higher than Polamalu, who's coming off such a great season.
That's also an impressive showing for McCourty after one NFL season. Sharper and Barber ranked him the fifth-best cornerback ahead of guys like
Asante Samuel
,
Antoine Winfield
and
Tramon Williams
.
April, 19, 2011
4/19/11
1:00
PM ET
Power Rankings should not be a career-achievement award. They are a snapshot of a given moment, the here and now.
Since we're in the offseason -- or purgatory, if you will -- I've been forced to alter the perception of the moment when compiling my positional Power Rankings ballots for ESPN.com's weekly series.
I've taken into account not only last year's production, but also how I perceive players entering the 2011 season.
With that in mind, I can't fathom how
New England Patriots
cornerback
Devin McCourty
didn't get more respect from our panel when rating the NFL's best at his position. He came in eighth on the overall list, one point behind
Tramon Williams
.
I rated him fifth on my ballot. Nobody else had him higher than NFC West blogger Mike Sando at eighth. Three bloggers ranked McCourty ninth, two had him 10th. NFC South blogger Pat Yasinskas didn't list him at all.
Yasinskas reasoned it was because McCourty was a rookie who needs to put together another brilliant season to be considered among the best.
"One great season does not make a great career," Yasinskas said in the story written by AFC South blogger Paul Kuharsky. "Let's see him do it again. I'm not saying he's got to do it for 10 or 15 years. ... But you have to be consistently at the top for at least a few years before you get on a top 10 list."
That's where Yasinskas and I have philosophical differences.
It didn't matter that McCourty was a rookie when the Associated Press voted him second-team All-Pro, when the Sporting News named him first-team All-Pro, when the fans, coaches and players voted McCourty a Pro Bowl starter.
McCourty tied for second in the NFL with seven interceptions. He ranked fourth in team tackles with 83 and led with 17 passes defensed (by the Patriots' count; the NFL had him down for 24). He also recorded a sack and two forced fumbles.
The NFL community clearly considered McCourty elite. That's good enough for me.
Furthermore, he was New England's left cornerback, forced into the critical role of defending the opposition's top receiver when
Leigh Bodden
was placed on injured reserve right before the season began. McCourty performed under pressure.
For the record, this was my ballot:
Devin McCourty, New England Patriots
Most of the list is self-explanatory. Where I was most out of line with the other voters -- aside from McCourty -- was Bailey. I ranked him lower than any other panelist.
Then again, McCourty took one of my lofty spots they were reluctant to give. I also had Winfield sixth, exactly the same as four other panelists.
So Bailey makes sense at No. 7 when McCourty gets a little more respect.
January, 14, 2010
1/14/10
4:41
PM ET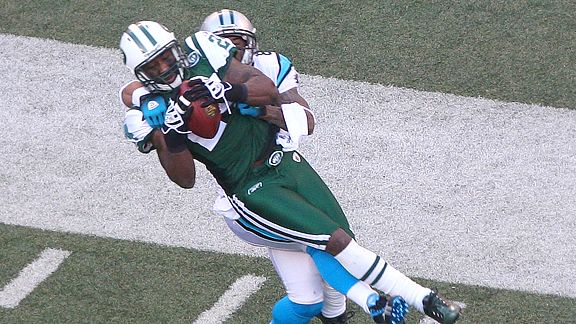 Al Pereira/Getty ImagesDarrelle Revis led the league with 37 passes defensed and recorded six interceptions this season.
The twisting-turning point came down the right sideline. That's when the
Cincinnati Bengals
decided to attack
Darrelle Revis
. That's when they lost.
The Bengals were tied with the
New York Jets
and driving in the second quarter of the Jan. 9 wild-card playoff game in Paul Brown Stadium. Nine plays into their series, the Bengals had advanced to the Jets' 41-yard line. It was third-and-6.
Carson Palmer
took the shotgun snap and got foolish.
Chad Ochocinco
, split right and with the NFL's best cover cornerback playing him heads up, released to get outside and flew. Not even a single move, much less a double move.
Palmer took three steps and fired a back-shoulder throw to Ochocinco that never arrived. Revis, defending the inside, rotated his entire body counterclockwise and snatched the underthrown ball. He spun once more to gather his feet and dashed 20 yards.
Four plays later, the Jets scored a touchdown and took a lead they never surrendered. Revis' play was pivotal -- literally and figuratively.
"When you have a choice, you're going to avoid him like the plague," ESPN analyst Trent Dilfer said. "I was shocked Carson Palmer took that shot. I'm shocked they'd even go there. That's usually a route you use to take advantage of a corner that doesn't belong because you know he can't make the play."
If offenses should know anything about playing the Jets, it's that Revis almost certainly will make the play.
More dominant pass coverage is almost unfathomable. Revis has become the NFL's preeminent lockdown cornerback, drawing comparisons to Deion Sanders and Rod Woodson and propelling the Jets' defense to the top of the charts.
Revis finished the regular season with six interceptions and a league-leading 37 passes defensed. He will be a major concern for the
San Diego Chargers
' prolific aerial attack Sunday in Qualcomm Stadium.
"I don't like the term 'shutdown corner' because I think that's hard to find, and it gets thrown around pretty loosely," Chargers head coach Norv Turner said, "but I think I might use that term with Revis. He's awfully impressive on tape. He just goes after it, and he plays every play like this game is meant to be played, and he is very impressive."
December, 31, 2009
12/31/09
5:46
PM ET
ORCHARD PARK, N.Y. -- Buddy Nix's introductory news conference provided quite a bit of between-the-lines insight on how he plans to approach the Buffalo Bills.

His first major decision will be to hire a head coach, and although he declined to discuss names, it sure sounded like interim coach Perry Fewell won't be the choice.

Here are a few highlights I picked up from Nix's Q&A with reporters Thursday at One Bills Drive.

The Bills want a coach with a proven track record. In outlining the qualities he most values in a head coach, Nix stressed the ability to assemble a staff. Fewell's only head coaching experience will have been the seven games Buffalo gave him after firing Dick Jauron.

"Another thing that's important, more so maybe sometimes than the head coach, is the assistants and the coordinators," Nix said. "If a head coach is a good CEO, then you got good coordinators and good offensive and defensive line coaches, you gotta have a good quarterback coach, somebody that can get that guy better -- and I'm not reflecting on anybody we got -- those are the guys you gotta have, a guy that can put a staff together."

Nix said Fewell will be interviewed for the job when the season is over, but Nix indicated he values experience in that role.

"I believe that a guy that's been a head coach probably has an advantage," Nix said. "There's not a way to prepare for it. It's different. I don't care how good an assistant you are or whatever, when you get to be the head man and got it all, you might be successful and you might not. You're rolling the dice.

"It's not a must that a guy's been a head coach, but it is important, I think."

Don't expect the Bills to dump a lot of cash into the free-agent market. Nix expressed his preference to building through the draft, dedicating money to players already on the roster and supplementing areas of need with mid-range free agents, not superstars.

Nix's philosophies sounded to be in direct contrast to the way the Bills have operated in recent years. The Bills have lost such players as Jason Peters, Pat Williams, London Fletcher, Nate Clements and Antoine Winfield because they refused to pay them.

"I've seen it done both ways over a number of years," Nix said, "but free agency to me should be middle-priced to below-priced guys, not the high-dollar guy that's going to bring you the big bang when you sign him.

"That money ought to go to our guys that played good and you reward them by extending them and keeping them around. We know what we got. Let's build that way. Let's make that team know that we're going to do that.

"Then we take places that we're weak after the draft and plug in guys. They don't have to be star players."

An overhaul in the strength-and-conditioning department could be looming. One of the first moves Bill Parcells made when the Miami Dolphins hired him as football operations boss was to fire the strength and conditioning coaches because of a relentless number of injuries during their 1-15 season in 2007.

Unsolicited, Nix broached similar concerns about the Bills' health problems. They have 19 players on injured reserve.

"To me, there's a lot more to a player being successful than how he was picked or what he was when you picked him," Nix said. "Obviously, the selection process is first, but second you've got to put him in an environment where you can get better.

"You've got to have good medical people, good strength trainers. You've got to have a coach that knows something about teaching. We ought to be getting better. You ought to get better. They're not rookies after about eight games, I mean, they're sophomores. They move up a peg.

"A lot of the things that happened to this team this year injury-wise is unbelievable. And that's a major concern, and I think something you've got to address and see if it's something that we're doing or not doing or whether it's just bad luck. But I think we've had it two or three years in a row. That keeps you from getting better."
December, 8, 2009
12/08/09
3:46
PM ET
No matter what happens to the
New England Patriots
the rest of the year, even if they go down in a screaming ball of fire and don't win another game, they still will be remembered as the best team of the 2000s.
Sports Illustrated has released its choices
for the best teams, players, games, moments and everything else of the decade. Patriots are all over the place.
They were named the best organization. Bill Belichick was named best coach. Scott Pioli was named best personnel man. The 2007 team had the best season.
Randy Moss
from the
Oakland Raiders
was selected as the best trade and
Tom Brady
the biggest draft steal.
On Don Banks' list of
top 10 signature moments of the 2000s
,
Mo Lewis
' hit on
Drew Bledsoe
that opened the door for Brady was No. 1. The Tuck Rule play was No. 7.
Of course, the Patriots also were involved in the biggest upset of the decade, losing to the
New York Giants
in Super Bowl XLII, and the greatest scandal, Spygate.
There were a couple mentions for the other AFC East teams, too.
The Jets were tabbed for the worst trade, sending two first-round draft picks and a fourth-round pick to
Chicago Bears
so they could select defensive tackle
Dewayne Robertson
.
Buffalo Bills
receiver
Terrell Owens
was named villain of the decade. Former Bills defensive coordinator Dick Lebeau was selected coordinator of the decade.
Here are the men with AFC East ties who landed on
Peter King's all-decade team
:
August, 30, 2009
8/30/09
8:00
AM ET

Posted by ESPN.com's Tim Graham
The
Buffalo Bills
never have seemed to grasp the marketplace for starting cornerbacks.
Over the past five years, they've lost
Antoine Winfield
,
Nate Clements
and
Jabari Greer
to free agency.
We'll see if they finally keep one by paying
Terrence McGee
market value.
Buffalo News reporter Mark Gaughan wrote this week the Bills have
opened talks to sign their left cornerback to an extension
. But the club will find out -- if it hasn't already -- the proposition will be expensive.
To me, this will be one of the more intriguing off-field story lines this year. It will show whether the Bills are willing to compensate the most important position in the game behind quarterback and left tackle.
On the surface, McGee might not do much for you as a player. He made the Pro Bowl as a kick returner in 2005, but as a corner he hasn't garnered any serious recognition.
That's neither here nor there. Within the salary structure of the NFL, McGee is due to make a nice chunk of change.
"This would be the best opportunity as far as a contract that I will get in my career," said McGee, who's entering the final season of a four-year, $18 million deal. "This would be it. So we'll see."
If McGee doesn't get his money from the Bills, then he will get it somewhere else. He said he would like to remain with Buffalo, but so did Greer.
When negotiations didn't progress for Greer this past offseason, he signed with the
New Orleans Saints
for a contract that averages $5.75 million over four years. Greer was Buffalo's No. 2 cornerback to McGee.
Gaughan pointed out some interesting comparisons to highly paid cornerbacks
Corey Webster
of the
New York Giants
and
Kelvin Hayden
of the
Indianapolis Colts
.
McGee, who will turn 29 in October, has better stats that either of them, and they're among the NFL's 12 highest-paid cornerbacks. They average about $8.5 million a year.
Football Outsiders, who track such things, noted that McGee was targeted 95 times last year -- more than any other cornerback in the league.
Because of the sheer number of times opponents threw at McGee, his name appears in several categorical rankings by Football Outsiders. By their count, McGee ranked 14th in passes defensed with 17 and second in yardage allowed with 1,341.
But those numbers can be misleading. The Bills had an awful pass rush last year.
St. Louis Rams
cornerback
Ron Bartell
gave up 1,223 yards last year but re-signed for almost $7 million a year in the spring.
April, 2, 2009
4/02/09
10:00
AM ET
Posted by ESPN.com's Tim Graham
What sort of player can the New England Patriots expect with the No. 23 pick in the draft?
I thought reviewing the level of talent each AFC East team's first-round draft slot has yielded over the past decade would prove educational.

In tracking the selections, the caliber of player at No. 23 doesn't seem appreciably worse than No. 17. In fact, the 23rd spot has produced more star power in the picks that hit.
The biggest regrets are cornerback Rashard Anderson (drug issues) and defensive tackle Marcus Tubbs (injuries).
It's too early to label Pittsburgh Steelers running back Rashard Mendenhall because he was sidelined by a shoulder injury last year as a rookie. Two of the three Rashards to play in the NFL were selected at No. 23 within the past decade. How about that?
But there've been several gems otherwise.
1999 Antoine Winfield, CB, Bills: Top-shelf cover man finally made his first Pro Bowl last year for the Vikings.
2000 Rashard Anderson, CB, Panthers: Colossal bust lasted 27 games before getting suspended for violating the NFL's substance-abuse policy.
2001 Deuce McAllister, RB, Saints: Two-time Pro Bowler has rushed for 1,000 yards four times and is considered one of NFL's best backs when healthy.
2002 Napoleon Harris, LB, Raiders: Journeyman career has led him to three teams, with 73 starts in his 100 games.
2003 Willis McGahee, RB, Bills: Went late because he would miss rookie season while recovering from a knee injury, but came 10 yards shy in 2006 of rushing for 1,000 yards his first four active seasons.
2004 Marcus Tubbs, DT, Seahawks: Seattle was forced to cut him last preseason, when recurring knee injuries kept him off the field since 2006.
2005 Fabian Washington, CB, Raiders: Started only three games for the Raiders in 2007, but became the Ravens' starting left corner last year.
2006 Davin Joseph, G, Buccaneers: Pro Bowler has started 40 of his 41 games.
2007 Dwayne Bowe, WR, Chiefs: Big-play threat has 156 catches and 2,017 yards through his first two seasons.
2008 Rashard Mendenhall, RB, Steelers: Shoulder injury ended his rookie campaign after four games.