March, 8, 2011
3/08/11
9:46
AM ET
Plaxico Burress
is scheduled to
get out of the pokey June 6
.
That would give the former
New York Giants
receiver plenty of time to get on a roster and play a full season. If a labor standoff doesn't compress the summer workout schedule, Burress also would have a good chance to learn the new offense by opening day.
Would Burress be a fit in the AFC East?
Before we consider each team, let's project the kind of receiver Burress will be.
His 34th birthday is in August. He hasn't caught an NFL pass since November 2008. Even before he went to prison after accidentally shooting himself at a Manhattan nightclub, his average yards per catch diminished four straight years.
Still, he's 6-foot-5 and always a threat to sky over defensive backs.
"When you look at him on the field, the guy is tall," ESPN analyst
Tim Hasselbeck
said Monday. "He's got long arms. One of the things the Giants loved to do is they'd get on [the opponent's] 45 and take a shot. With the way the rules are set up in the National Football League, it's absolutely perfect for a guy like Plaxico Burress, whose got the long arms, got the reach, who understands how to use his body.
[+] Enlarge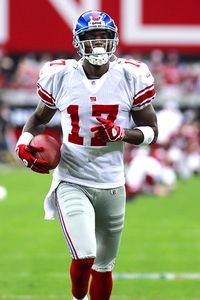 Chris Morrison/US PresswirePlaxico Burress will be 34 and playing for the first time since the 2008 season.
"He's not as fast as he was two years ago. He can still be effective and still can help somebody out if that team ends up trusting him."
Hasselbeck said Burress' employment prospects could be helped by
Michael Vick
's successful return from prison. Vick seemed to have grown from the experience. Maybe Burress did, too.
Next to Hasselbeck on the "NFL Live" set was former Giants linebacker
Antonio Pierce
, who claimed prison might have helped Burress in another way. Pierce won a Super Bowl ring after Burress caught the decisive touchdown to deny the
New England Patriots
' perfect season.
"He was in jail for two years, and that's a lot of time for that body to heal up," Pierce said. "Plaxico had some ankle, some knee injuries. You sit around for two years, your body starts to heal.
"There's some teams out there ... that would love to have his services."
The AFC East could be a destination. I reached out to Scouts Inc. analyst Matt Williamson for his thoughts on the four rosters and whether or not there would be room for a receiver like Burress.
"I really don't know what he will be able to provide," Williamson said. "He obviously will be the same size when he returns and should continue to use his big frame well, especially near the goal line. It is speculation as to what he will be like athletically, but I have to think that his big play ability and suddenness will be greatly compromised."
Buffalo Bills
Their receiving corps looks solid, but it can be upgraded.
Lee Evans
has been a disappointment, but defenses must account for him at all times.
Steve Johnson
had a breakout season with more than 1,073 yards and 10 touchdowns.
Roscoe Parrish
had the best season of his career even though a broken wrist sidelined him after just eight games. Undrafted rookie
David Nelson
stepped up late in the year when injuries provided an opportunity.
Interest in Burress: Low.
Miami Dolphins
The Dolphins have invested heavily in
Brandon Marshall
, and Burress probably offers a similar skill set at this stage. They are tall, possession receivers who don't stretch the field (anymore). The Dolphins also have their slot receiver in
Davone Bess
. While Burress could help the Dolphins' woeful red-zone offense, what they need is a speedster who can help
Chad Henne
blow the top of coverages on occasion and loosen things up for Marshall and Bess underneath.
Interest in Burress: Medium.
New England Patriots
The Patriots, as Williamson noted, are in a similar situation as the Dolphins. The Patriots have
Wes Welker
and
Deion Branch
plus tight ends
Rob Gronkowski
and
Aaron Hernandez
. Their greatest need in the passing game is a lightning bolt to help
Tom Brady
keep defenses honest.
Brandon Tate
and
Taylor Price
are burners, but they are young and haven't established themselves as capable.
Interest in Burress: Low.
New York Jets
The Jets seemingly present the greatest possibility for Burress in the AFC East. "That could be a fit," Williamson said. "I could see them taking the risk. And after free agency departures, Burress might be attractive. Plus, they are in win-now mode." Points well taken. The Jets might not be able to re-sign all of their free-agent receivers:
Santonio Holmes
,
Braylon Edwards
and
Brad Smith
. General manager Mike Tannenbaum and head coach Rex Ryan have shown with Holmes, Edwards and
Antonio Cromartie
they're open to second chances.
Interest in Burress: High.
August, 31, 2010
8/31/10
8:07
AM ET
"NFL Live" host Trey Wingo asked analysts
Darren Woodson
and
Antonio Pierce
which contender from each conference has the most work to do?
Woodson and Pierce chose teams from the AFC East.
Woodson picked the
New England Patriots
:
"I'm curious to see how Wes Welker holds up through the regular season, and I'm also curious to see where Tom Brady's mindset is this year with the contract going on. I want to see how they go about their business."
Pierce picked the
New York Jets
:
"Mark Sanchez is the reason why this team is having one of the worst preseasons. He's been up and down throughout the preseason. ... They have not had a consistent drive where they've been able to punch it in. It's been up and down for him. I think Sanchez is going to go through that sophomore slump. He's going to have a rough time. If they're talking Super Bowl in New York and hoping Sanchez will help them get there? I don't see it happening."
August, 12, 2008
8/12/08
12:38
AM ET
Posted by ESPN.com's Tim Graham
PITTSFORD, N.Y. -- Buffalo Bills linebacker Kawika Mitchell doesn't want to hear about how good their defense can be.
"Potential," Mitchell said, "is like a cuss word to me."
The concept of making colossal strides, however, must not be too vile for Mitchell. After all, he won the Super Bowl with the New York Giants last season and then signed a free-agent contract with the Bills, owners of the AFC's worst defense a year ago.
Unless he's the type to chase a paycheck, he wouldn't have dared to join a team without the potential to be great, right?
"I knew it was a young group," Mitchell said as he unwound his hand wraps after Monday night's soggy practice at St. John Fisher College. "Things are moving along pretty well. We're coming together.
"We've got to have more people emerge as leaders. We've got to see how we face adversity."
The Bills gave up an average of 362.9 yards a game. Only the Detroit Lions yielded more.
A renovation was in order. The Bills made signing Mitchell a high priority. They also landed defensive tackles Marcus Stroud and Spencer Johnson.
The return of middle linebacker Paul Posluszny from a broken forearm in Week 3 is almost like an offseason acquisition. The defensive backfield is young but possesses gobs of that word Mitchell hates.
Mitchell sees similarities in the Bills' defense and the one he won a ring with in February.
"We had some tried veterans on that team last year with Michael Strahan and Antonio Pierce and myself. We have them here, too," Mitchell said. "We have [Pro Bowl defensive end Aaron] Schobel. We have [defensive end Chris] Kelsay. We have [linebacker Angelo] Crowell. We have Stroud and myself.
"We do have a lot of good depth, but we've got to see how we handle that adversity. There's going to be tough times."
Another similarity? Mitchell senses Buffalo's defense is being taken lightly.
"I like it that way," he said. "Nobody gave us respect last year, so I prefer nobody even mention our name. If we can sneak up on everybody every single time we play them, that'd be fine with me."