May, 11, 2011
5/11/11
9:20
AM ET
"NFL Live" analysts Herm Edwards and Cris Carter discuss ESPN.com's ownership Power Rankings from Tuesday.
New England Patriots
owner Robert Kraft was second, and
New York Jets
owner Woody Johnson was 10th.
May, 10, 2011
5/10/11
1:00
PM ET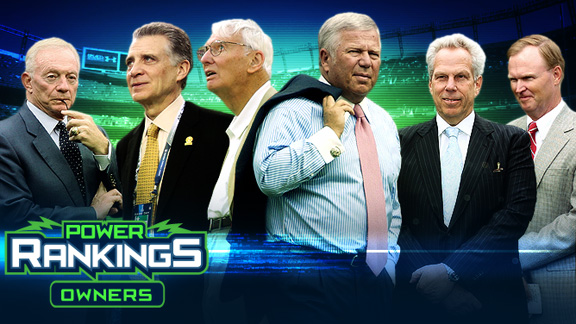 ESPN.com IllustrationThe Rooney family received only first- and second-place votes from our panelists.
There wasn't a whole lot of room for debate at the top.
ESPN.com took its positional Power Rankings series off the field and into the boardroom to rate the owners. None of them are popular fellows these days, but for the purposes of this project, nobody was more respected than the Rooney family.
The
Pittsburgh Steelers
' owners were listed first or second on all eight of the panelists' ballots.
By any definition, Dan Rooney and Art Rooney II qualify as powerful.
They're winners. The Steelers have played in eight Super Bowls and won six of them with three head coaches. The family's success has spanned such a long time that Dan and the late Art Rooney Sr. were inducted into the Pro Football Hall of Fame 36 years apart.
They're transcendent. President Barack Obama selected Steelers chairman Dan Rooney as the U.S. ambassador to Ireland.
They're influential. Dan Rooney was behind the so-called "Rooney Rule," which changed sidelines dramatically by stimulating minority hires. When it comes to the lockout, Rooney is a prominent voice of reason and could help broker the eventual deal.
"The Steelers selection is a no-brainer," ESPN.com senior writer John Clayton said. "The Steelers under the Rooneys have been the model of franchise ownership in sports. They are successful, consistent and supportive.
"They don't undergo the constant changes of other franchises. Plus, the family has been so instrumental in doing things that help advance the league, sometimes at the expense of their own franchise. It's no secret that two Rooneys are in the Pro Football Hall of Fame."
Clayton, AFC North blogger James Walker, AFC West blogger Bill Williamson and NFC South blogger Pat Yasinskas each had the Rooneys atop his ballot.
"The Rooney family is the perfect combination of tradition, consistency and success," Walker said, echoing Clayton's thoughts almost verbatim. "The easiest thing to point out is they've had the most Super Bowl wins and fewest head coaches since 1969. But they also set trends off the field with things like the Rooney Rule. They're very well respected, and there's a special sense of pride about the Steelers from players and fans that you don't see in many places. It starts at the top."
But the Rooneys were not unanimous choices in our ownership Power Rankings.
What about the power of the people?
The
Green Bay Packers
' ownership received three of the four remaining first-place votes. NFC North blogger Kevin Seifert, NFC West blogger Mike Sando and I all listed the Packers first because of their unique kind of power. Rules governing the other 31 franchises don't apply to them.
The Packers are the only publicly owned franchise. Green Bay Packers Inc. is a nonprofit organization formed in 1922. About 112,000 stockholders own roughly 4.75 million shares of the team. A seven-member executive board oversees the team on behalf of the stockholders.
Packers fans never will have to worry about the team being sold or moving away. The Packers are the only franchise that must open its books.
Oh, yeah. They also just won their NFL-record 13th championship.
Seifert explained why the Packers are special.
"My criteria for this category was twofold," Seifert said. "Do the owners fund the team's operations well? And do they operate the team well?
"I think the Packers' arrangement is currently doing both and has none of the baggage that goes along with single-family ownership. Shareholders don't take dividends, so no one is driven by individual profit. All profits go back into the franchise. In my experience, no expenses are spared in operating the team. People might note that general manager Ted Thompson doesn't sign many free agents, but that's a football decision. He's spent plenty on retaining the Packers' own free agents.
"The executive committee has hired a competent president in Mark Murphy, and after a bumpy start on the
Brett Favre
departure, Murphy has facilitated excellent work from the GM and coach he inherited.
"Finally, the Packers' ownership arrangement requires Murphy, Ted Thompson and Mike McCarthy to be more accountable to 112,000 fans than any other NFL official is to his fan base. Shareholders can't make operating decisions, but they have the right to question decisions, to know how money is being spent and to get straight(er) answers than fans of any other NFL team."
Clayton, however, wasn't impressed. He omitted the Packers from his ballot, ensuring they didn't finish second in the Power Rankings despite their three first-place votes.
One gets the impression that if Clayton were to slot all 32 ownerships, he would jot the Packers last.
"I couldn't vote for the Packers because it is a community ownership, not a normal ownership," Clayton said. "It's not as though one owner makes the decisions and has to stand up for the praise or criticism. Assigned the chance to vote for ownership, I felt more comfortable voting for individual owners or family owners."
[+] Enlarge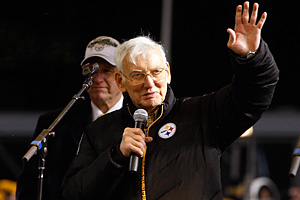 Jared Wickerham/Getty ImagesDan Rooney has been one of the most influential owners in the NFL.
As a result,
New England Patriots
owner Robert Kraft was second overall. Kraft hired Bill Belichick as head coach and has stayed out of the way of football operations. The Patriots have won three Super Bowls in the past decade and went to a fourth. Forbes estimated the Patriots are the third-most-valuable NFL franchise and the world's 10th-biggest sports brand.
AFC South blogger Paul Kuharsky listed Kraft above all. Kuharsky had the Rooneys second and the Packers third.
Kuharsky had the most efficient Power Rankings ballot. He was the lone panelist to vote for all of the owners who finished in the top 10.
"Robert Kraft versus the Rooneys is a close call," Kuharsky said. "I went Kraft because I feel he and his team have done more lately. In many ways, the Patriots -- not the Steelers -- are the standard-setters for the league. And while I prefer the way Heinz Field is in the middle of Pittsburgh, that development around Gillette Stadium has to be the envy of a lot of owners."
New York Giants
co-owners John Mara and Steve Tisch came in fourth,
Philadelphia Eagles
owner Jeffrey Lurie was fifth and
Baltimore Ravens
owner Steve Bisciotti was sixth.
From there, everybody else on the Power Rankings top 10 was omitted from at least one ballot.
Eclectic
Indianapolis Colts
owner Jim Irsay, who was able to help land a Super Bowl in a nontraditional locale, came in seventh. Irsay rated no higher than sixth on any ballot, but he didn't make Williamson's top 10.
"I know it sticks out because I was the only one not to rank him, but if he was in the top three, I'd re-evaluate my reasoning," Williamson said. "But I can live with not voting for the No. 7 finisher. To be frank, I never considered Irsay. I considered 14 ownerships in all. Other than his random tweets, Irsay doesn't stick out to me, good or bad."
When it came to voting, money didn't necessarily equal power for some panelists.
I ranked
Dallas Cowboys
owner Jerry Jones third, higher than any other voter. Sando and Yasinskas didn't rate Jones at all. Jones ended up eighth.
To me, you can't argue with his money or his presence. Forbes ranked the Cowboys the world's fourth-greatest sports brand behind only the New York Yankees, Manchester United and Real Madrid. Their estimated brand value was $128 million more than the NFL average and $15 million more than the Eagles and Giants combined.
Forbes estimated the Cowboys franchise was worth $1.8 billion, nearly $300 million more than the next-closest NFL club, the
Washington Redskins
.
Jones also serves as general manager. That puts him in control of every business and personnel decision. Sando saw that as a drawback.
"Jerry Jones is more involved in football operations than an owner ideally would be," Sando said. "He has shown questionable judgment in hiring head coaches. His involvement in football operations had made those coaches' jobs tougher. Jones dispatched with Tom Landry harshly and later failed to sustain the success Jimmy Johnson orchestrated.
"Also on Jones' watch, the Cowboys have suffered through the practice-bubble catastrophe, a Super Bowl experience that produced poor reviews and a video purporting to show Jones' drunken antics in a bar. Jones also was part of the NFL Management Council Executive Committee when the league agreed to the ill-fated 2006 collective bargaining agreement. Overall, the team hasn't enjoyed enough success recently to say the ends justify the means."
Yasinskas contended that Jones simply is overrated these days.
"If Jerry Jones had continued the success he had with Jimmy Johnson and Barry Switzer back in the 1990s, he'd be at the top of my list," Yasinskas said. "But the fact is the Cowboys really haven't been all that relevant for a long time. Part of that is due to Jones.
"He's done some good things and the new stadium is fabulous, but he's been way too hands-on with that franchise and he's run through lots of good coaches and players without any real results."
Let us know what you think.
May, 20, 2010
5/20/10
12:15
PM ET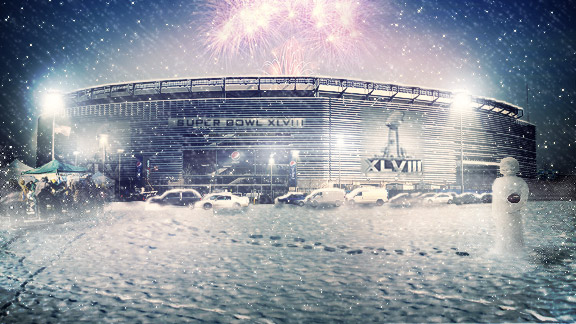 ESPN.com IllustrationThe idea of a Super Bowl in the Meadowlands will be a hot topic of discussion next week.
Next Tuesday in Dallas, NFL owners will assemble for their annual spring meeting and consider having the 2014 Super Bowl in the open air and freezing cold of New York/New Jersey.
Although Tampa and South Florida are competing against New York, offering warmer climates and positive experiences from past Super Bowls, the New York bid is the favorite. A Super Bowl in the new Meadowlands stadium that opens for the
New York Giants
and
New York Jets
this fall could help market unsold premium seats. Former NFL commissioner Pete Rozelle preferred warm-weather, neutral sites for the league's showcase event, but usually once a decade the league would steer a Super Bowl to a northern, cold-weather city with a domed stadium.
The thought of an open-air Super Bowl in February near Manhattan will be a hot topic next week. But should this bid receive such a warm reception? ESPN.com's John Clayton and Tim Graham debate the notion.
John Clayton
: While we can get into the football problems of this bid in a bit, let's be blunt about two things. First, it's a bad idea.
Second, it's going to happen because a Super Bowl in New York would help with the economics of this new stadium. It's big business. When the choice is between cold, hard cash and being out in the cold, the cold-hard-cash side wins.
Where this idea leaves me chilled is how it affects the fans. I remember being at the NFC Championship Game at Lambeau Field a couple years ago, when the temperatures were below zero and the wind chill at times got to 30-below. I did a stand-up for television and almost got frostbite. The conditions were so cold that fans who bought two beers at a time and brought them to their seats had one beer frozen before they could take the first two sips of the beer in hand. I still remember how red Tom Coughlin's face was from being out in the freezing cold for three hours. And that was in January.
A conference championship game in the cold is acceptable because the home fans are used to the conditions. Imagine some San Diego fan flying east to see a Chargers Super Bowl in 2014, paying more than $1,000 a ticket and needing to spend more on warm clothing? That brings chills down my spine.
Tim Graham
: Without a doubt, John, this is about rewarding teams that are able to get stunning new arenas built. Some $1.6 billion was spent to erect the new Meadowlands stadium, and the NFL knows the only way to encourage all of its franchises to pursue new stadiums or significant upgrades is to ramp up competition for Super Bowl bids.
You may view that as a carrot that should be jammed in the middle of Frosty's white, powdery face, but the game isn't about the 82,500 people who will be sitting in the elements. More than 106 million people watched the last Super Bowl and would have whether it was played in a dome, in the desert or on the International Space Station.
Even so, one of the competing bidders for the 2014 Super Bowl is South Florida.
Miami Dolphins
CEO Mike Dee admitted to me at the NFL owners meetings a couple of months back that the new Meadowlands stadium "is a state-of-the-art, beautiful, world-class facility. While it's an outdoor facility, it has a lot of interior club spaces and entertainment spaces for people to mill around. So it's not your conventional outdoor, northern facility." There are plans to heat the concourses and -- just in case -- to provide seat and hand warmers to everyone.
But I'm not too concerned with the fans who would attend the game.
Scant few of those lucky enough to afford the tickets or merely have access to them will care. Most go to the Super Bowl to witness an event. A Super Bowl in the New York area would qualify as a blockbuster.
JC
: I'd rather refer to it as an "ice-blockbuster.'' But is a Super Bowl a three-hour event or a two-week celebration? One of the things Rozelle mandated in coming up with the Super Bowl was a level playing field for both teams. By level playing field, he meant having a warm-weather site that gave both teams a chance to succeed. For the fans, he wanted a quality event.
I'm sure he never fully envisioned how successful it would be as a corporate entity. The reason the Super Bowl isn't played a week after the championship game is because the league wants to give fans a full chance to get to the Super Bowl city, enjoy the festivities and have a memorable experience. If the Super Bowl is given to New York, I contend a lot of the high rollers will be in Tampa or South Florida, holding golf events during Super Bowl week and watching the game on television. We saw that at the Minnesota Super Bowl and the two in Detroit.
What if there is a big snowfall in the 2014 Super Bowl? To have this game qualify as a blockbuster, you might have to hire the "Ice Road Trucker" guys to get fans to the stadium.
TG
: Now hold on a moment. Before you start breaking out Sir Ernest Shackleton references, the weather hasn't been that bad in New York.
The 2014 Super Bowl likely will be played Feb. 2. The Newark Star-Ledger listed the high and low temperatures for the past five years, and it has gotten above 45 three times and has gotten more than 1 degree below freezing once. So we're not talking arctic conditions here.
A level playing field is relative. Back in Rozelle's day, we didn't have a fraction of the technology that's used to maintain these amazing synthetic fields. We're not going to have a reprise of the 1975 Raiders-Steelers AFC Championship Game, where the field was a sheet of ice. And warmer locales aren't immune to weather problems. There was a downpour in South Florida three years ago.
As for the idea there won't be as much to do as in South Florida, Arizona or another warm destination, are you telling me there's no activity in New York? In addition to the usual array of diversions in the Big Apple, organizers plan to hold events at places such as Ellis Island, Liberty State Park and the Museum of Natural History.
Here's what
Atlanta Falcons
owner Arthur Blank said about the possibility of a Super Bowl in the Big Apple:
"You have to ask yourself, are people going to come for three or four or five days and deal with the elements? Are people prepared to come to New York and deal with cold weather? Without a Super Bowl, they do it now."
JC
: Let's put things in perspective here. You made the decision to leave the warmth of South Florida in the past year to be embraced by the chill of Buffalo. You wanted to wear the heavy coat, gloves and snow boots. As you know, I'm a Pittsburgh guy who lives in Seattle, but I don't miss the snow. But let's move from the Weather Channel debate to the football field.
You would have to concede the on-field product for this game will be different in an outdoor venue in the East in February. More and more, the NFL is becoming a quarterback-driven league that excites its fans with passing offenses more than running offenses. You cover an AFC East that has two pure running teams -- the Jets and Dolphins -- who combined for 16 wins last season. I know the Jets made the AFC Championship Game, but the league is set up to reward passers, not runners.
Peyton Manning
beat the run-driven Dolphins even though he had the ball for only 15 minutes last season.
A Super Bowl in the cold would neutralize the passers, which would go against the trends in this league. About the only thing you can say definitively about having a cold-weather Super Bowl in New York is that
Brett Favre
won't have any part of it. He may decide to retire and unretire for a few more years, but he would never sign on for a season that ends in a New York open-air Super Bowl.
TG
: I won't dispute the NFL is a quarterback-driven league and cold weather has a tendency to neutralize a pass attack. But if sterile conditions are so important to deciding a champion, then why aren't the games that determine who reaches the Super Bowl controlled?
If the 2007 NFC Championship Game isn't played in a minus-23 wind chill, maybe the Giants don't win in overtime and then ruin the
New England Patriots
' perfect season. The road to the Super Bowl has gone through Gillette Stadium and Heinz Field a few times over the past decade. Unless every playoff game is moved to a dome, weather can impact the tournament and, therefore, who wins it.
And let's not forget
wintry elements have created some of the greatest memories in NFL history
. The Ice Bowl in Green Bay, the Tuck Rule at Gillette, the Freezer Bowl in Cincinnati, the 1948 title game in a Philadelphia blizzard, the Sneaker Game at a frozen Polo Grounds. In baseball, the players skedaddle when it rains. But football players are supposed to slog through any conditions shy of lightning strikes.
The game is supposed to be played outside and in the elements. The Super Bowl can handle it.
JC
: Now you are using the
Brian Cushing
defense by questioning every thing and every rule. Sure, the Super Bowl can handle a cold-weather game, but why should it? Obviously, it's the money, and that's why this vote is going to pass in favor of New York.
When it comes to Super Bowls, the games should be the memories, not the weather conditions. The best memories are the fourth-quarter comebacks. It's Joe Montana getting that last drive against Cincinnati. It's
Tom Brady
coming back and getting the game-winning, field goal drive against St. Louis. It's
Eli Manning
beating Brady with a late drive.
It's not Tim Graham jumping on a snow-blowing machine and doing spins. I give you your New York Super Bowl next Tuesday. Bundle up, big guy.
TG
: I can guarantee the public overwhelmingly would prefer to watch me drive figure eights on a Zamboni than see you strolling South Beach in your shorts.
Sorry to bring up that mental picture when you conjured some dramatic Super Bowl imagery. Those sure were some fine moments, but you also have 44 years' worth of climate-controlled Super Bowls to draw on.
Who's to say similarly phenomenal memories wouldn't have taken place in the open air of a Northeast winter?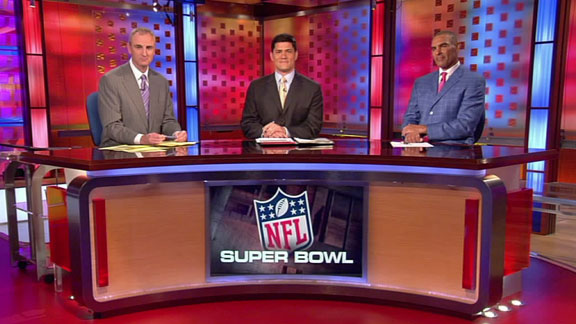 January, 20, 2009
1/20/09
6:08
PM ET
Posted by ESPN.com's Tim Graham
Although we haven't heard officially from Bill Parcells yet, the Miami Dolphins' new owner on Tuesday declared Parcells will remain with the team after helping them pull off one of the greatest single-season turnarounds in NFL history.
Billionaire real-estate developer Stephen Ross declared Parcells will remain with the club despite a walk-out clause that would allow the football operations boss to leave with full pay in the event Wayne Huizenga no longer ran the team.
| | |
| --- | --- |
| | |
| | Marc Serota/Getty Images |
| | New Dolphins owner Stephen Ross might want to hold off before declaring that Bill Parcells will be hanging around. |
Ross on Tuesday finalized his purchase of an additional 45 percent of the team and Dolphin Stadium, leaving Huizenga only 5 percent.
Parcells, who has three years left on a contract worth reportedly $12 million, has 30 days to take the money and run. The clause also allows him to work for another NFL team without compensation to the Dolphins.
"Parcells is in charge, and he is staying," Ross said on a conference call with local media. "We're very fortunate to have someone like Bill Parcells, who I think people have to recognize as probably the best football mind in America.
"I'm very, very happy to have him, needless to say. As everyone has expressed with all the concerns, 'Is he leaving, or is he not leaving?' He's staying, and I'm fortunate to have him."
But Parcells wasn't nearly as definitive Tuesday when speaking casually with three Dolphins reporters in Mobile, Ala., where he is attending the Senior Bowl with general manager Jeff Ireland, head coach Tony Sparano and other Miami scouts.
Parcells refused to state unequivocally he would be back, striking a "You never know" posture.
Ross indicated at several points during the conference call he and Parcells still are getting to know each other, and sounded as though he was operating on assumptions, which can be dangerous when dealing with Parcells.
Ross was asked when Parcells expressly told him he will be back, and Ross' response indicated that conversation hasn't taken place.
"I've been talking to him for some time," Ross said. "I didn't say 'Give me a commitment.' In the conversations it just came out that we were building a relationship.
"I didn't have to say 'Are you staying?' I just wanted to make sure he was happy and [show him] what kind of person I was, and I got to get a better feel for him as a person. I think we are comfortable with that."
Ross "thinks" they're comfortable.
On a follow-up question, a reporter pointedly asked Ross "do you feel it's 100 percent [Parcells] will be back?"
"Yes," Ross replied.
But Parcells has a history of leading teams to believe he's in place only to pull an about face and join another team.
Atlanta Flacons owner Arthur Blank would have said he was 100 percent sure Parcells was joining their front office in December 2007.
Parcells led Blank and the public to believe he would be the Falcons' vice president of football operations. Blank thought both sides had agreed to terms. Parcells signed with the Dolphins two days later.
Or maybe Ross should ask Tampa Bay Buccaneers owners Hugh Culverhouse and the Glazer family how safe it is to operate on assumptions with Parcells.
He toyed with the Buccaneers in 1991 and 2002, enticing them to believe he would be their head coach. The latter instance reportedly led the Buccaneers to fire head coach Tony Dungy to make way. Parcells went to the Dallas Cowboys instead.
Parcells has been declining all on-the-record interview requests, even though he spent a little courtesy time with reporters in Mobile.
The fact Parcells is in Mobile has led to speculation he's there to be seen by the other 31 NFL clubs. He has a known dislike for attending events like the Senior Bowl and the NFL scouting combine, and didn't go last year even though the Dolphins held the No. 1 overall pick.
Maybe as important as scouting draft prospects, the days leading up to the Senior Bowl are like a job fair for coaches, scouts and other football operations people.
"I think deep down in his heart, he still wants to coach," Miami linebacker Akin Ayodele, who also played for Parcells in Dallas, told the Palm Beach Post a few days before this year's playoffs began.
"He can still coach. He goes around, especially the last few weeks, and talks to guys, tells them what they're doing wrong and what they need to do. You come in Wednesday, and he's already watched film and telling you what to expect."
The Dolphins went from 1-15 to AFC East champions in a magical 2008 campaign.
Why would Parcells want to leave?
A significant reason he joined the Dolphins was because of his long friendship with Huizenga. Parcells was comfortable with the business arrangement and new he had full control of football decisions. Huizenga rarely let money affect decisions when there was an opportunity to improve the team.

Parcells' contract specified he would answer only to Huizenga and included a clause that would give Parcells a 30-day window to walk away with his contract paid in full.
Ross, when asked early in the conference call whether Parcells and the club were renegotiating his contract, said, "There is nothing to renegotiate." When asked again at the end of the conference call, Ross said, "Not at this point."
There were reports in early January that longtime Ross associate and former Kansas City Chiefs president Carl Peterson would be joining the Dolphins in some capacity. Peterson was Ross' guest and wore a Dolphins lapel pin at their first-round payoff game against the Baltimore Ravens.
Peterson eventually denied the rumors, and Ross dismissed them Tuesday.
"Carl happened to be there that weekend vacationing, and I invited him to the game," Ross said. "I think everyone knew at that point that I wasn't going to hire Carl Peterson and [he] wasn't going to be part of the Miami Dolphins. I know what I was thinking, and it was never a consideration."
But here's a piece of advice for Mr. Ross: Keep Peterson's number handy, at least for the next 29 days.
December, 25, 2008
12/25/08
12:00
PM ET
| | |
| --- | --- |
| | |
| | US Presswire |
| | Mike Smith, John Harbaugh and Tony Sparano are standout rookie head coaches. Does one merit coach of year?. |
Posted by ESPN.com's Tim Graham, James Walker and Pat Yasinskas
The debate over who should be the NFL's coach of the year begins with three rookies who assumed control of woebegone teams and brought them back to relevancy.

Atlanta Falcons coach Mike Smith, Miami Dolphins coach Tony Sparano and Baltimore Ravens coach John Harbaugh have been sideline miracle workers. The Falcons already have clinched a playoff berth. On Sunday, the Dolphins can claim the AFC East, and the Ravens can clinch the final wild-card berth.

ESPN.com bloggers Pat Yasinskas, Tim Graham and James Walker discuss whom is more deserving of the award, breaking down the debate into the three significant issues: team infrastructure, personnel at their disposal and obliterating expectations.

Which coach had to deal with the most daunting organizational strife?
Tim Graham: The Dolphins blew themselves up at the start of the year. Bill Parcells arrived late in 2007 and didn't see much he liked from a team about to miss the playoffs a seventh straight season. The team was going through the motions of a 1-15 campaign that was even more ridiculously bad than the record indicated. So the Dolphins started from scratch. Parcells fired the general manager, the head coach and got rid of all the captains.
Tony Sparano became the fifth head coach in the past five years, taking over a team that hadn't recorded double-digit wins since the glorious Jay Fiedler era. Dolphins owner Wayne Huizenga, meanwhile, was unloading a good portion of the team, creating a widespread uneasiness at the Davie, Fla., headquarters even in the offices outside of the football operations department.
A good time was not being had by all.
Pat Yasinskas: Sorry fellas, but this one's not even a contest. Yeah, the Ravens and Dolphins had their problems. But let's face it, at the end of last year, the Falcons were the most dysfunctional franchise in the history of football. Their franchise quarterback, Michael Vick, had just gone off to jail.
Their coach, Bobby Petrino, had walked out on them for a more talented roster at the University of Arkansas. The city, which never truly embraced the Falcons, now turned its back on them completely. Even Rich McKay, the team's general manager, president and perhaps only lingering thread of sanity, got pushed out of the football side and into the business side of things. Then owner Arthur Blank did the most daring thing of all and hired Mike Smith, who had never been a head coach before, and Thomas Dimitroff, who had never been a general manager before. It looked as if it was going to be a classic case of the blind leading the blind.

James Walker: Let me add this, Pat and Tim. Much is being made of Miami's 1-15 record last year, but keep in mind which team that victory came against. Yes, it was the Baltimore Ravens. That was a rock-bottom moment, not only for the season but I think for the 12-year history of the franchise.

Baltimore's biggest issue moving forward was where it would go from there. The Ravens' situation was unique in that they had to consider what type of transition to make.

Was Baltimore in need of a complete overhaul or just retooling? Sometimes, that's harder to accomplish in the NFL than what the Dolphins and Falcons did by completely starting over. Those two teams at least knew their direction early on.

The Ravens had to tread a more delicate path in bringing in some new coaches such as Harbaugh and offensive coordinator Cam Cameron, while keeping others such as defensive coordinator Rex Ryan. They brought in some new players to help certain spots and trusted others to bounce back, either from injury or poor performance.

Baltimore also traded down in the draft to land more picks and first-round quarterback Joe Flacco, who was a bigger unknown than Matt Ryan or Jake Long. So there were certainly some issues with the Ravens. It just happened that Baltimore general manager Ozzie Newsome pushed most of the right buttons.
---
TG:
Excellent points, James. You make an intriguing case for the Ravens in this area that I didn't think could be made compared to the Falcons or Dolphins. Mediocrity sometimes is harder to overcome than wretchedness, and the Ravens seemed stuck in neutral.
But let me remind everybody that Cameron was the Dolphins' head coach last year and ran their offense. He also had a huge say in personnel, which included the ill-fated addition of quarterback Trent Green and drafting return specialist Ted Ginn with the ninth overall pick. Cameron has returned to genius status with the Ravens. I think that speaks not to some sort of professional rebirth as much as it does that the infrastructure that was in place. There already was decent talent on the roster and good football people in the front office to lean on. The Dolphins didn't have an Ozzie Newsome.
As for the Falcons, do you mean to tell me, Pat, that overcoming all those travails you outlined are a big deal? Puh-lease. Teams handle that sort of turmoil every year, don't they? OK, maybe not.
PY: All right, I'm going to move on with how the Falcons began to rebuild their infrastructure and this brings up what seems like a very subtle point, but, as much as anything aside from drafting Matt Ryan and signing Michael Turner, it has been a key for the dramatic turnaround. Quite simply, Mike Smith put together an all-star team as a coaching staff.
He got former head coach Mike Mularkey to be the offensive coordinator, quarterback teacher Bill Musgrave to work with Matt Ryan (before the Falcons even knew they had Ryan) and kept defensive backs coach Emmitt Thomas on staff. That was hugely important because Thomas was the guy who coached the team when Petrino left and the players trusted him. Smith completed the roster by getting veteran position coaches such as Paul Boudreau, who has taken very ordinary talent on the offensive line and kept Ryan standing upright and opened all sorts of holes for Turner.
It was kind of the same with Dimitroff, who knew a lot about evaluating players, but had never negotiated a contract. People like to say McKay is completel
y out of the football end of things and assume there's a rift between him and the guy who filled his general manager duties. But that's just not the case. McKay's one of the smartest people in the NFL and it makes some sense to at least let him keep a hand in the football side. McKay's the one who did Ryan's contract and he has been guiding Dimitroff and his staff on other contracts. From what was a totally dysfunctional organization, the Falcons have patched together one that now works very smoothly with good people in every spot.
JW: The Ravens, more than anything, needed a culture change. I think that should definitely be considered when it comes time to vote.

Harbaugh had to come in and quickly tear down the relaxed, country-club atmosphere that Brian Billick left behind. The training camps were harder. The practices were more up tempo, and when you have a lot of strong-minded veterans that were there before the head coach, that can become dicey.

But the leaders in Baltimore's locker room bought into Harbaugh's message early and everyone else fell in line. Once that happened, it was no longer Billick's team. Winning early also helped, but this situation had the potential to be a major challenge that Harbaugh defused early on.

I don't think either Smith or Sparano faced the same issues, because those rosters were gutted and infused with youthful players who were easier to mold.
---
Which coach coped with the worst personnel entering the season?
PY: I remember standing at Falcons training camp and thinking, "This is not an NFL team." I looked out and saw Keith Brooking, John Abraham and Lawyer Milloy as the only big names, and they're all closing in on the end of their careers. The cupboard appeared to be absolutely bare.
I know everyone likes to think the Michael Vick thing is what left the Falcons so short-handed. It really wasn't. When Smith and Dimitroff came in, one of the first things they did was to gut the roster. They unloaded big names such as DeAngelo Hall, Alge Crumpler and Warrick Dunn, so a bad roster suddenly looked even worse. Back on that day in training camp, I played a little game and asked myself how many Falcons could start for another team? My answer was brief -- Abraham and fullback Ovie Mughelli. That's it.
JW: The Ravens had good personnel, but much of it was aging. Baltimore entered the season with seven starters with at least 10 years of experience, and many of those key players were coming off injuries the year before.
So although Harbaugh had veterans such as Ray Lewis, Samari Rolle and Trevor Pryce, the big unknown was how would they hold up for a 16-game season. The Ravens have had injuries this year but they've been fortunate for the most part with their older players, and it's one of the reasons they are having a winning season.
Even though Miami beat Baltimore last year, I would still say the Dolphins' personnel was considered the thinnest coming in. Would you agree, Tim?
TG: Oh, the Dolphins looked thinner than Manute Bol in pinstripes. What strikes me most when reflecting on Miami's training camp was the dearth of significant names on either side of scrimmage. A casual NFL fan couldn't name five guys on their roster, and the most well-known players came with serious question marks.
Ronnie Brown was returning from season-ending knee surgery. His backfield mate, Ricky Williams, is 31 years old and a known head case. Joey Porter was viewed as the NFL's most egregious free-agency error of 2007. Even Chad Pennington, once he arrived, was considered a washout just clinging to a career. Before leading target Greg Camarillo suffered a knee injury in Week 12, Miami's game-day receiving corps consisted of only one player who had been drafted, Ted Ginn. And he's considered a bust by most Dolfans.
---
PY: With such poor personnel, Smith and Dimitroff knew they had to work their tails off to rebuild the roster. It looked as if it might take a couple of years for them to assemble a roster capable of even challenging for the playoffs. Obviously, they've moved far ahead of schedule and that's because they were lucky and good as they went about the process. The first piece of the puzzle was signing Turner. He was viewed as the biggest prize in free agency, so why would he want to go to a team like the Falcons?
After four seasons of playing in the shadows of LaDainian Tomlinson in San Diego, Turner was looking for a place where he could be "the guy." The Falcons told him they'd give him 20 or 30 carries a game. They had him show up at an Arena Football League game and the crowd went nuts. If that didn't make Turner feel welcome enough, the Falcons wouldn't let him leave the building without signing a contract.
As good as Ryan has turned out, it was still a gamble to take any quarterback with the third overall pick and start him right away. But Dimitroff did an enormous amount of homework on Ryan and firmly believed he was exactly whom the Falcons needed to be their new quarterback and face of the franchise. Dimitroff's draft preparation didn't stop there. He traded back into the first round to get left tackle Sam Baker to protect Ryan's blindside, got a defensive quarterback in middle linebacker Curtis Lofton in the second and a third receiver and return man in Harry Douglas in the third. Those four rookies plus defensive back Chevis Jackson each have played huge roles in the turnaround.
JW: Pat and Tim, let me end this with a quick story that relates to both of your teams.

I live in Cleveland and attended the rookie orientation at the Hall of Fame in Canton, Ohio for both of these teams. I was working on a story this summer and picked the brains of about a half-dozen rookies that day such as Long, Chad Henne, Ryan and Baker, and I got the sense early that these were respectful, mature players that appreciated the opportunity to play in the NFL. So I'm not surprised Atlanta and Miami have young talent playing beyond their years.

But what was funny was the number of players that were brought in. The orientation was for rookies only, but I remember thinking the Dolphins and Falcons brought their entire 53-man rosters to Canton. There were at least 15 rookies and undrafted free agents coming off the bus from each team, and it could have been closer to 20 players.

Obviously some rookies and rookie free agents never made it past training camp, but it illustrates the point you two were making about gutting the rosters. In that respect, Miami and Atlanta definitely had a farther starting point than the Ravens.
---
Which coach prompted the lowest expectations?
JW: Without a doubt, all three teams and coaches came in with question marks. Most experts picked the Dolphins, Falcons and Ravens to finish either third or last in their respective divisions at the beginning of the season. But in terms of coaches, Harbaugh was the biggest unknown.

Two years ago Harbaugh was a longtime special teams coach for the Philadelphia Eagles. He was promoted to secondary coach under Philadelphia's Andy Reid for one year before impressing the Ravens enough to lead their team.

There were certainly doubters locally and nationally. The biggest question was can a coach that spent most of his career running special teams handle all the strong personalities as the leader of the Ravens? But Harbaugh had the charisma and intensity to pull it off and was very smart to put together an A-list staff of assistants to back him.

As far as the team, no one knew what to expect from Baltimore. Were the Ravens a five-win team of 2007 or the 13-win team of '06? Maybe they were somewhere in between?

With decent quarterback play, I felt this team could win seven or eight games this year. My prediction was higher than most, but the Ravens have far exceeded even my expectations.
PY: If the expectations in Detroit this year were what they were in Atlanta, Matt Millen would still have a job and Rod Marinelli would be viewed as a decent coach. Seriously, after what happened to the Falcons last year, there were no expectations in Atlanta. Three or four wins and less than three major off-field controversies would have been considered a nice season. People were hoping the Braves went deep enough into the playoffs that there wouldn't be much gap before the Hawks started playing some preseason games because, as far as Falcons fans were concerned, there was going to be no reason to watch the Falcons.
In large part, I think that turned out to be a good thing. The incredibly low expectations allowed the Falcons to decide to start Ryan from Day One because fans wouldn't have the lofty expectations for him that they usually do for a first-round quarterback. Ryan didn't have to start the season under a microscope and that gave him a chance to get comfortable in a hurry. Even at midseason, Atlanta fans still were looking at the Falcons with guarded optimism. It has only been in recent weeks that people have started to even think about the playoffs.
TG: James, I have to disagree with you that Harbaugh was the most unknown of the new coaches. People at least knew him by his last name, his father being a well-known college coach and his brother playing NFL quarterback before embarking on a coaching career of his own. People still think the name of the new Dolphins coach is Tony Soprano.
As for expectations, no sane individual ever would have predicted Miami would finish with double-digit wins or be in position to make the playoffs in Week 17. But that was no more unfathomable than what's transpired in Atlanta.
But here's where Sparano will be taken for granted when it comes time for people to consider coach-of-the-year honors. Parcells, with his mere presence, inflated expectations. Fans weren't bold enough to consider an AFC title, but seven or eight wins was within the realm of possibility. And when people judge Miami's turnaround, the first person they will give credit to is Parcells.
JW: Tony Sparano had the catchy name, he was a Parcells guy, and he came from "America's Team," the Dallas Cowboys. By the time he was hired in Miami, he was on the radar of sports fans. Harbaugh's hiring had people looking through media guides to double-check his pedigree.
We'll just have to agree to disagree, Tim.
But speaking of taking things for granted, let's not overlook the strength of schedule the Ravens had coming into the season. Baltimore had the fifth-toughest schedule in the league that included non-division opponents such as the Tennessee Titans (13-2), Indianapolis Colts (11-4) and the entire NFC East division.
Although some things changed during the course of a season, Atlanta entered the year with the No. 21-rated schedule and Miami's was No. 23.
Baltimore is in control of its playoff chances this week, in part because it went 3-1 against the NFC East, which is a mark the Dolphins and Falcons probably couldn't match if given the chance. Also, if head-to-head meetings have anything to do with coach of the year voting, Harbaugh and the Ravens did go into Miami and beat the Dolphins by two touchdowns in Week 7.
PY: James and Tim, I think we can all agree none of these three guys were household names in comparison to some of the veteran head coaches. But Harbaugh did have the bloodlines of his father and brother and was well-known as one of the league's top special-teams coaches. Sparano wasn't an unknown because the assistants in Dallas are as well known as head coaches most places. Smith was easily the least known of the trio of new coaches.
He'd been a coordinator in Jacksonville, where media attention is minimal, and he spent a bunch of years coaching in some small stops through the college ranks. The only area where Smith stood out was the fact he was tremendously ordinary. Even his name is ordinary.
I remember at the NFL owners' meeting last spring, ESPN's Michael Smith and I had breakfast with Smith. They were joking about having the same names. I remember thinking, "My television colleague is the more famous of these two." With apologies to Michael Smith, it's no longer that way. Mike Smith has become famous because he is the Coach of the Year.
TG: Mike Smith sounds like the name people use when they check into motels that charge by the hour, and I wondered if his coaching career would be measured in the same increments given the circumstances he was headed into.
But when you look at the turnaround of each club, the Dolphins have been the most dramatic. Sparano has overseen one of the biggest one-season improvements in NFL history. No one-victory team has won 10 games the next season, and the Dolphins could finish with 11 and a playoff berth, another unprecedented feat.
The Falcons' and Ravens' turnarounds have been remarkable, but the Dolphins' has been historic.