AFC East:

Aubrayo Franklin
February, 27, 2010
2/27/10
1:55
PM ET
INDIANAPOLIS -- The
New York Jets
are giving
Vernon Gholston
one more season to prove he was worth the sixth overall pick they used on him 2008.
[+] Enlarge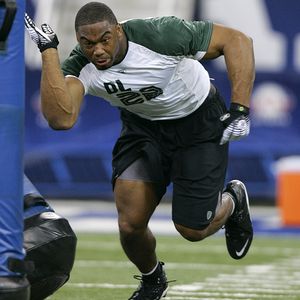 AP Photo/Michael ConroyVernon Gholston had an impressive combine in 2008, but his time with the Jets may be running out.
Two years after Gholston dazzled scouts here at the NFL scouting combine and soared up the Jets' draft board, head coach Rex Ryan agreed that this would be a make-or-break season for the invisible outside linebacker.
A reporter asked Ryan if 2010 would be a "make or break for [Gholston]. The third year, if he's not doing then, you pretty much have to move on?"
"That's an accurate statement," Ryan said. "Generally, by the third year, you've got to see a guy really making strides. I expect Vernon to really make strides this year."
Then again, Ryan made similar statements from the same podium last year in Lucas Oil Stadium. Ryan, new to the job, declared he would make Gholston his pet project.
Of the 23 Jets to record a tackle in Gholston's rookie season, he had the fewest with six total and one solo. He didn't record a sack.
Under Ryan's command, Gholston improved nominally despite starting three games. Gholston made 14 tackles, nine of them solos. He has yet to record his first NFL sack despite his reputation as a pass-rush specialist at Ohio State.
"That's still a work in progress," Ryan said. "But I will say this: When we're going back and looking at our [film], this young man deserves a better chance than we're giving him. We need to give him more playing time. ... We've got to get him in a rotation, playing more in our nickel packages and things like that."
Last year, Ryan compared Gholston to
Baltimore Ravens
linebacker
Terrell Suggs
. Ryan mentioned another former Raven's name Saturday.
"You're waiting to see him come around," Ryan said. "I have
Aubrayo Franklin
... I've had players that take a little time. You know he's got it in him. You've got to be patient.
"He is entering his third year right now, so I think it's more incomplete right now. I can't say that I was right about thinking that he'd make an impact [in 2009] because the impact wasn't there last year. But I think it's a matter of time before we start seeing this young man do some things for us."
February, 25, 2010
2/25/10
5:22
PM ET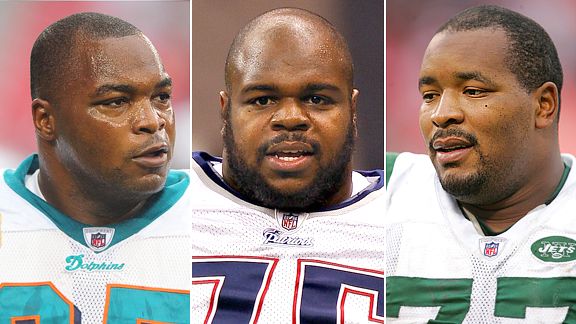 Getty ImagesAFC East nose tackles Jason Ferguson, Vince Wilfork and Kris Jenkins are vital to their team's 3-4 defenses.
INDIANAPOLIS -- Teams that intend to run a 3-4 defensive scheme have an elephantine problem when they're missing the keystone.
Without a nose, the face of the defense disappears.
"If you don't have a good nose guard, you don't have a 3-4 defense," two-time Pro Bowl center
LeCharles Bentley
said at the NFL scouting combine in Lucas Oil Stadium.
"You can build everything else around it. You can have a great pass-rusher. You can have a great safety like
Troy Polamalu
. But if you don't have a solid nose guard? You can't run a 3-4. That's the whole basis of the defense."
Nose guards, nose tackles, those mammoth ogres in the middle -- whatever you want to call them -- never have been a more valuable NFL commodity than they've been this offseason.
For proof, look no further than the AFC East, the only division where all four teams will operate out of a 3-4 design and have concerns at nose tackle.
The
Buffalo Bills
simply need one. They're switching from a 4-3.
Miami Dolphins
nose tackle
Jason Ferguson
is a free agent recovering from a torn quadriceps muscle. The
New England Patriots
placed the franchise tag on
Vince Wilfork
and are trying to negotiate a long-term deal.
New York Jets
stud
Kris Jenkins
is coming off a knee injury.
As more teams convert to the 3-4, the need for nose tackles increases. Fewer of them are available.
"There are only so many big guys walking on this earth," Dolphins general manager Jeff Ireland said. "It's a big priority in any defense. When you find them, you've got to keep them."
How rare are athletic humans who weigh 350 pounds? Rob Rang, the senior analyst for
NFLDraftScout.com
, considers this year's class of nose tackles to be "pretty strong compared to past years" with only three top prospects: Tennessee's
Dan Williams
, Alabama's
Terrence Cody
and North Carolina's
Cam Thomas
.
"There aren't a lot of guys with that kind of size and any speck of athletic ability," Rang said.
Bills head coach Chan Gailey said his criteria in identifying a nose tackle includes "huge, big, fast, nasty." But he might have to settle for whatever he can find.
"Everybody's looking for a certain type of guy," said Gailey, who doesn't seem to have a decent candidate on his roster but owns the ninth pick in April's draft. "There's not a lot of them, to be perfectly honest. You either have to take people that you have and adapt, or you don't have to play the same type of 3-4.
"While we're all looking for that prototypical nose guy, there's a lot of good football players out there that don't fit that prototype, but at the same time can be productive players for you on the field. If you can't get it, you adjust."
To look at their stats, nothing suggests a nose tackle's significance to a defense. They don't register many sacks. They're not among their team's tackle leaders or turnover creators.
Wilfork, for instance, is considered an elite nose tackle. Last season, he had no sacks or quarterback hits and was fifth in tackles for the Patriots. He forced one fumble and didn't recover any.
But what a quality nose tackle does is absorb linemen and disrupt lanes for a defense that's susceptible to the run merely by nature of its design. Before every snap, there are large bubbles over both guard positions to run through. Nose tackles plug those holes.
"A 3-4 defense allows you to create more mismatches," said Bentley, who is covering the combine for
his Web site, O-lineWorld.com
. "You can be as exotic as you want to be. Defensive coordinators can become mad scientists. Bill Belichick and Rex Ryan are prime examples of that. Those blitz packages they can throw at you are unbelievable.
"The nose guard is a one-man show. He makes you play honest football."
No wonder three teams used the franchise tag to keep a free-agent nose tackle from hitting the open market: Wilfork,
Aubrayo Franklin
of the
San Francisco 49ers
and
Ryan Pickett
of the
Green Bay Packers
.
Unless a long-term deal can be negotiated, the franchise tag guarantees a one-year deal for the average of the five highest-paid players at his position. This year's franchise figure for defensive tackles is a shade above $7 million.
"The tag's not outrageous, price-wise," 49ers general manager Scot McCloughan said. "It makes good business sense not only from the standpoint of financials, but also because of the importance of the position."
By using the franchise tag to keep nose tackles from hitting unrestricted free agency, front offices essentially are price-fixing. It's not collusion, per se, but general managers realize the price tag for nose tackles would skyrocket if they went to the auction block.
Teams know a good nose tackle is worth more than $7 million a year even though they don't sell tickets or jerseys.
"They don't want to pay those guys the salaries of the most important guy on the defense," Bentley said. "It's going to be very hard to justify and a very difficult pill to swallow when you're paying your nose guard $9 million a year. People think, 'You don't pay those guys. All they do is take up space.'
"But if you don't have them, you don't have a defense."
February, 20, 2010
2/20/10
10:02
AM ET
With ESPN's Chris Mortensen reporting
San Diego Chargers
cornerback
Antonio Cromartie
has worn out his welcome and is
being shopped for a running back
, several readers -- including Ryan on my
Facebook page, which I welcome you to sign up for
-- asked about the possibility of the
New York Jets
trading
Thomas Jones
for him.
I'd be surprised if the Chargers would make that trade. They need a running back because
LaDainian Tomlinson
will turn 31 years old in June and has nothing left. Jones is a year older than Tomlinson, and while Jones did roll up 1,402 rushing yards and 14 touchdowns, he was worn down and banged up at the end of the year.
The Chargers would be reckless to trade the 19th overall draft choice in 2006 (an All-Pro with a league-leading 10 interceptions in 2007) for an old running back who would put the Chargers' backfield in the same spot a year from now.
---
Josh in Pennsylvania is trying to find out what undisclosed draft compensation the Miami Dolphins received for trading offensive linemen Andy Alleman and Ikechuku Ndukwe to the Kansas City Chiefs in August.
You've stumbled upon one of the great mysteries in the NFL, Josh. In fact, we've been able to find out more about negotiations between the league and the players association than we have the particulars of this trade. There have been reports the Dolphins obtained the Chiefs' sixth-round pick, but we can't seem to confirm it.
I reached out to the Dolphins this week to find out the answer and was told by a spokesman that the team's policy is to not reveal such information. I contacted the NFL, and a spokesman told me they will release the final draft order in April, but the Dolphins were free to tell me if they wished. AFC West blogger Bill Williamson approached the Chiefs and was rebuffed. ESPN.com senior writer John Clayton said this is the only 2009 trade particulars he doesn't have nailed down.
---
Paul in Lexington, Mass., takes umbrage with the notion the New England Patriots are aging, a sentiment expressed by analysts in a recent column I wrote about the Jets having a brighter future than the defending AFC East champs.
As Paul astutely points out, the Patriots have youth all over the place. More than half of the members on their roster had five or fewer seasons of NFL experience in 2009. The Patriots will have their usual bumper crop of draft picks in April. They already have four selections within the first two rounds.
Those are valid points, but the problem is the Patriots are getting older in key positions. I will buy the argument the Patriots' divisional dynasty won't die if someone can convince me they'll turn one of their many draft picks into another
Tom Brady
. Four-fifths of their starting offensive line was born in the 1970s. Star receiver
Randy Moss
turned 33 a week ago. If the Patriots re-sign
Kevin Faulk
, then they'll have three running backs who'll be 33 or older before training camp.
---
Jon in Kenmore, N.Y., wonders what the Buffalo Bills will do at nose tackle because they don't have "a single player on the roster capable of playing the most important spot" as they switch to a 3-4 defense.
Options exist through the draft and -- to a lesser degree -- free agency. How the Bills proceed will depend on how they prioritize their various needs. Will they spend their ninth overall draft choice on an offensive tackle? A quarterback? Will there be enough nose tackles available on the open market?
Let's assume nose tackle will be a main concern. And for the purpose of addressing this question, let's pretend it's their ultimate offseason prize. If they wanted to
draft the best nose tackles in this year's class

, they probably can. Many draftniks rate
Dan Williams
of Tennessee the best of the lot. He still should be on the board at No. 9, but that might be a reach for Williams. The Bills also have the 41st selection and could take a shot at Alabama's Terrence Cody or North Carolina's Cam Thomas there.
Free agency appears lacking because nose tackles are such a commodity. The Patriots and
San Francisco 49ers
are expected to put franchise tags on
Vince Wilfork
and
Aubrayo Franklin
. The
Pittsburgh Steelers
could franchise
Casey Hampton
.
Green Bay Packers
nose tackle
Ryan Pickett
will be unrestricted, but he stated he wants to return -- and could be franchised anyway.
The Bills' best option might be
Jason Ferguson
if the Dolphins part ways with him. Ferguson is a free agent who will turn 36 next season and is coming off a leg injury.
---
Edward in Caldwell, Ind., has a solution to the Pro Bowl problem. He proposes they merge it with the Hall of Fame Game and have the all-stars play the same weekend the new Hall of Fame class is inducted.
I like how you think outside the box, Edward, but I see two hitches with your suggestion.
The first problem is that it would eliminate a game (read: revenues) from the NFL menu. You can throw any two teams together for the Hall of Fame Game and it won't make a difference, so fielding two teams of all-stars would be a wasted opportunity for the NFL to make a few bucks.
The other issue that immediately comes to mind is teams wouldn't want their best players playing outside their supervision so close to the season. When someone gets hurt in the Pro Bowl in February, he has months to rest and recover. A tweaked hamstring or a pulled groin at the start of training camp would be maddening.
Ryan in Coeur D'Alene, Idaho, thinks Rex Ryan's XXXL personality is a distraction for the Jets and wants to know if I agree.
Ryan's behavior has done far more good than harm for the Jets because his players respond to it. The locker room is loyal to Ryan because of he's a charismatic leader who constantly reinforces his faith in the roster. Is he too arrogant? Is he irresponsible? Perhaps, but that loose personality helped propel the Jets to within 30 minutes of the Super Bowl.
January, 30, 2010
1/30/10
11:11
AM ET
For 102 minutes, many of the greatest minds ever to strike up bandwidth convened for a passionate exchange of life-altering philosophies on a wide array of
weighty topics in my weekly AFC East chat
.
If you weren't there, you missed out on what perhaps will be known forevermore as the most significant caucus of all mankind.
Some of the topics discussed included how the Miami Dolphins will approach the offseason, my pick for the AFC East title in 2010, that strange fungus I picked up while hanging out with Paul Kuharsky last weekend in Indianapolis, the candidates for Buffalo Bills defensive coordinator and whether or not I can dunk.
One of the questions that went unanswered because I didn't have the list in front of me was a rundown of the top nose tackles in this year's free-agency class because Dolphins and New England Patriots fans are concerned.
The biggest names include: Casey Hampton (Pittsburgh), Ryan Pickett (Green Bay) and Aubrayo Franklin (San Francisco). But franchise tags could keep any or all from hitting the open market.
One other major topic during the chat was a proposed AFC-NFC two-on-two blogger hoops showdown next week in Miami. Don King has gotten involved and wants to pit Pat Yasinskas and Kevin Seifert against Kuharsky and me, with a winner-drink-all jackpot at stake.
I can neither confirm nor dismiss this as authentic, but "Mel Kiper" dropped by the chat to provide his assessment of the matchup:
Yasinskas has the big body, but only average footwork and a below average jumper. Seifert is small with a quick first step, but doesn't handle the rock well. Kuharsky is slow but has the best aerodynamics. Graham has the biggest upside, but is consistent at missing shots. I think this may be a scoreless game.
"Kiper" might be right.
But if you take the time to read the AFC East chat wrap, you will become a winner -- at life. I guarantee it.

AFC EAST SCOREBOARD
Friday, 8/22
Saturday, 8/23