August, 20, 2013
8/20/13
8:00
AM ET

MIAMI -- It's been a tough week for the Miami Dolphins after
losing starting tight
end Dustin Keller for the season. But the organization will have a terrific and historic Tuesday, as the best team in franchise history will finally visit the White House.
The 1972 Dolphins will meet with President Barack Obama around 2:05 p.m. ET Tuesday to celebrate their undefeated championship season. You can watch the event live on ESPN3.
It's a visit that is 41 years in the making. Miami won this title before visits to the White House became routine for championship teams.
Hall of Fame coach Don Shula and many of his players from the 1972 team will be in attendance this afternoon in Washington D.C. Those Dolphins remain the only undefeated team in NFL history and a huge source of pride for the organization and South Florida.
August, 13, 2013
8/13/13
5:20
PM ET

MIAMI -- It's been 41 years in the making. But the undefeated 1972
Miami Dolphins
are finally making a trip to the White House.
United States President Barack Obama will honor the Super Bowl VII champion Dolphins on Tuesday at 2:05 p.m. ET, according to the team. Miami became an undefeated champion more than four decades ago, but that was before the tradition of White House visits began.
The 1972 Dolphins remain a major source of pride in Miami and will get another chance in the spotlight next week. No NFL team has been able to match Miami's undefeated title run.
August, 7, 2012
8/07/12
12:00
PM ET
CORTLAND, N.Y. --
Bart Scott
just wouldn't stop talking.
The charismatic linebacker's mouth was running 100 miles per hour during
New York Jets
practice this past weekend. Scott got on the Jets' quarterbacks,
Tim Tebow
and
Mark Sanchez
. Scott got on Jets offensive coordinator Tony Sparano. Scott got under the skin of the offensive linemen.

No one was immune in training camp -- and Jets coach Rex Ryan likes it that way.
"The funny thing is when you talk like that, it puts pressure on you to play well," Ryan said. "You can tell that Bart feels great about himself, and he feels great about this team. That is why he is the way he is right now. He is all over everybody -- offense, defense, especially offense."
The Jets were humbled by last season's 8-8 record and late-season implosion. But if Scott's mouth is any indication, it appears this team is getting its swagger back.
There have been no Super Bowl predictions and no preseason talk of supplanting the
New England Patriots
in the AFC East this season. But watching the Jets practice, you sense this team has an edge to it. Sometimes that edginess goes overboard and leads to fighting among the players, which explains the
20-player scuffle
the Jets had Monday and a second fight Tuesday.
The Jets undoubtedly will do damage this year. The question is, will they do more damage to themselves or their opponents? They first must prove that this group is bonding and will no longer be "team turmoil" in 2012.
THREE HOT ISSUES
1. Can the Jets handle the Sanchez-Tebow dynamic?
Even U.S. President Barack Obama has his concerns about the Jets' two-headed monster at quarterback. Obama said he doesn't think Tebow's immense presence will be good for Sanchez. The Jets, however, say they're unfazed by Obama's comments.
"He doesn't play football for the Jets," guard
Matt Slauson
said.
[+] Enlarge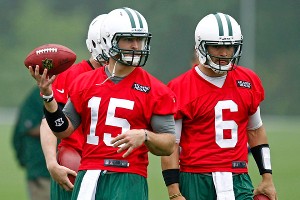 Jeff Zelevansky/Getty ImagesTim Tebow is the backup, but there will be times when Mark Sanchez is the QB in the background.
But it is clear the Jets have to keep an eye on the Tebow effect all season. At the teamwide scrimmage this past weekend, 9,200 fans packed in to watch, and Tebow received by far the loudest ovation. The cheers heard when Tebow entered the huddle for the first time had to bother Sanchez to some degree.
It appears Sanchez and Tebow get along fairly well. But things could become tense if Sanchez struggles early in the regular season.
2. Is chemistry still an issue?
The Jets didn't miss the playoffs last year because they lacked talent. They missed the postseason for the first time under Ryan because they lacked togetherness and chemistry.
Things fell apart for the Jets in the locker room, and it showed on the field. Too often players weren't on the same page, and Ryan admittedly dropped the ball in fixing those issues. It's Ryan's job to make sure those things no longer happen. But there already are ominous signs that the locker room could be combustible again in 2012. In addition to the reported scuffles, cornerback
Antonio Cromartie
created tension by claiming to be the second-best receiver on the team. These things add up. The Jets need to end the in-house silliness now before it shows up in the regular season.
Sanchez, a team leader, wasn't particularly happy about the brawl that went down.
"At this point in camp, especially after the scrimmage, tempers flare," Sanchez said. "That stuff happens; there's no excuse for it. There's no throwing the ball at a teammate. There's no shoving the guy out of bounds into the signs. One, it doesn't look good, and two, it sends the wrong message to our team. We want to take care of our guys."
3. Who is the No. 2 receiver?
Cromartie apparently thinks he's it. But despite his controversial comments, the Jets have to find other players to step into that role full time. Players such as
Patrick Turner
,
Chaz Schilens
,
Jeremy Kerley
and rookie
Stephen Hill
are all competing for the role to start opposite
Santonio Holmes
.
The Jets will rely more on the run than the passing game, but they must make the most of passing opportunities. Holmes' rib injury will allow other receivers to get more reps. This is a golden opportunity for someone to emerge and provide another target for Sanchez.
Hill appears to have the best chance to fill this role long term. But it may take an experienced player such as Turner or Schilens to step up until Hill acclimates to the NFL.
[+] Enlarge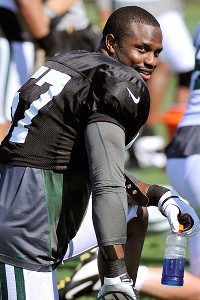 AP Photo/Bill KostrounBart Scott and the New York defense hope to pick up where they left off last season.
REASON FOR OPTIMISM
As noted earlier, New York's defense looks tremendous. The Jets were the most impressive defense of all the AFC East training camps we've visited in the past two weeks. The front seven is allowing few rushing lanes, and the cornerbacks are covering well, as expected.
"I feel great about the defense," Ryan said.
It's easy to forget that New York had a top-five NFL defense last year because the Jets didn't play that way at times. But this defense thinks it can rank No. 1 in 2012. Based on what we've seen, that goal is not out of reach. New York's defense doesn't have many holes.
REASON FOR PESSIMISM
The Jets' passing game appears shaky, which could be a major issue for the team this season.
New York wants to ground-and-pound its way to victories. But the NFL is a passing league, and winning by running the ball 40 times is becoming increasingly more difficult. The Jets at some point will have to air it out if they want to score enough to win consistently. The defense is great. But New York can't win every game 13-10 or 17-14. That puts too much pressure on one side of the ball, and the offense not holding up its end of the bargain is one issue that caused chemistry issues last year.
What if teams stack the box against tailback
Shonn Greene
and Tebow and the Wildcat? Can Sanchez make enough big throws to keep defenses honest? The Jets were 2-5 last year when Sanchez threw the football 35 or more times. Expect opposing defensive coordinators to keep that stat in mind when preparing for the Jets this year.
Sparano wants to play conservatively and win on the ground first. But defenses won't make it easy. At some point this year, Sanchez and his receivers will be forced to win games, and this team might not have enough quality personnel to pass the football consistently.
OBSERVATION DECK
Tebow admittedly never played special teams. But the backup quarterback and former Heisman Trophy winner looks like a natural in the third phase of the game. Tebow will serve as the punt protector, which gives the Jets options on fakes, as Tebow could run or pass on fourth down. Tebow also has been getting work on the kickoff team, and he looks good moving downfield and tracking the ball carrier.

New York's starting offensive line and backups appeared to have been pushed around too often during our camp visit. That should be a concern for Jets fans. New York wants to establish a physical identity on offense, but the line has been unable to establish many running lanes against its defense. Granted, most defenses aren't as good as New York's. Preseason games will provide a better indication of where the offensive line stands.

Hill needs to work on his consistency. There are days in practice when he is a nonfactor and others when he shows why he's a highly touted second-round pick. Hill beat Cromartie and Darrelle Revis on a pair of deep balls in practice in recent days. Yet Hill disappeared in Saturday's teamwide scrimmage. Hill has the physical tools; he just needs to sharpen his routes and bring strong effort consistently. "The route running is still coming. I'm not even going to say I'm perfect on it," Hill said. "I'm still working and still learning on it. Revis and Cromartie are actually helping me on it, because they're noticing I do certain things [to tip them off]."

One of the most impressive players during our visit to training camp was defensive end Aaron Maybin. The former first-round pick of the Buffalo Bills has really come into his own with the Jets. Last year, he recorded a career-high six sacks, and he looks even better in his second year in the system. Maybin says the "mayhem" is back, and it has looked that way in training camp. He had a sack and quarterback pressure in Saturday's scrimmage.

It's difficult to get a feel for new Jets safety LaRon Landry. His action in camp remains limited because of last year's Achilles injury that was never surgically repaired. Landry practices with the team about once every three days to stay fresh. He played in Saturday's scrimmage but wasn't tested much. The Jets have high expectations for Landry, so we're curious to see how well he moves in exhibition games.

Free-agent signing Yeremiah Bell is bringing exactly what the Jets expected at safety. He's made some big hits and solid plays against the run, but he hasn't been great in coverage. The combination of Bell and Landry on the back end means the Jets must do a lot of scheming to protect their safeties. That involves a lot of blitzing to get to the quarterback and playing Bell or Landry in the box.

The backup running back situation is interesting. Joe McKnight entered camp as the favorite because of his athleticism and experience. But relative unknown Bilal Powell has been outperforming McKnight. Powell has been more consistent, and McKnight still has a penchant for fumbling.
August, 3, 2012
8/03/12
8:00
AM ET
Here are the most interesting stories Friday in the AFC East:
Morning take: The President smells a quarterback controversy potentially tearing the Jets apart. Most seem to be in agreement, except the Jets, who feel everything with Tebow and Sanchez will go smoothly this year.
Morning take: The Bills could use depth at safety. Leonhard is a smart player who is familiar with the division. He could help Buffalo off the bench if his knee is healthy.
Morning take: That's not going to happen right away. Miami will go with a veteran to see if it can win with experience at the position first. Then, the rookie will get his chance.
Morning take: The Patriots added this wrinkle in the playoffs last season and it worked. Hernandez is a good athlete who is dangerous with the football.
The AFC East blog will be live with the Jets Friday and Saturday. Be sure to
check our Twitter account
for live updates from Jets practice. We also will have more in the blog this afternoon.
May, 10, 2011
5/10/11
1:00
PM ET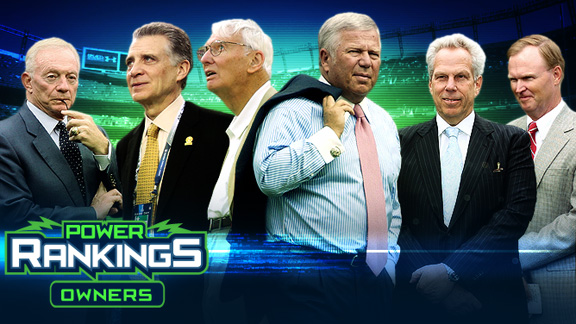 ESPN.com IllustrationThe Rooney family received only first- and second-place votes from our panelists.
There wasn't a whole lot of room for debate at the top.
ESPN.com took its positional Power Rankings series off the field and into the boardroom to rate the owners. None of them are popular fellows these days, but for the purposes of this project, nobody was more respected than the Rooney family.
The
Pittsburgh Steelers
' owners were listed first or second on all eight of the panelists' ballots.
By any definition, Dan Rooney and Art Rooney II qualify as powerful.
They're winners. The Steelers have played in eight Super Bowls and won six of them with three head coaches. The family's success has spanned such a long time that Dan and the late Art Rooney Sr. were inducted into the Pro Football Hall of Fame 36 years apart.
They're transcendent. President Barack Obama selected Steelers chairman Dan Rooney as the U.S. ambassador to Ireland.
They're influential. Dan Rooney was behind the so-called "Rooney Rule," which changed sidelines dramatically by stimulating minority hires. When it comes to the lockout, Rooney is a prominent voice of reason and could help broker the eventual deal.
"The Steelers selection is a no-brainer," ESPN.com senior writer John Clayton said. "The Steelers under the Rooneys have been the model of franchise ownership in sports. They are successful, consistent and supportive.
"They don't undergo the constant changes of other franchises. Plus, the family has been so instrumental in doing things that help advance the league, sometimes at the expense of their own franchise. It's no secret that two Rooneys are in the Pro Football Hall of Fame."
Clayton, AFC North blogger James Walker, AFC West blogger Bill Williamson and NFC South blogger Pat Yasinskas each had the Rooneys atop his ballot.
"The Rooney family is the perfect combination of tradition, consistency and success," Walker said, echoing Clayton's thoughts almost verbatim. "The easiest thing to point out is they've had the most Super Bowl wins and fewest head coaches since 1969. But they also set trends off the field with things like the Rooney Rule. They're very well respected, and there's a special sense of pride about the Steelers from players and fans that you don't see in many places. It starts at the top."
But the Rooneys were not unanimous choices in our ownership Power Rankings.
What about the power of the people?
The
Green Bay Packers
' ownership received three of the four remaining first-place votes. NFC North blogger Kevin Seifert, NFC West blogger Mike Sando and I all listed the Packers first because of their unique kind of power. Rules governing the other 31 franchises don't apply to them.
The Packers are the only publicly owned franchise. Green Bay Packers Inc. is a nonprofit organization formed in 1922. About 112,000 stockholders own roughly 4.75 million shares of the team. A seven-member executive board oversees the team on behalf of the stockholders.
Packers fans never will have to worry about the team being sold or moving away. The Packers are the only franchise that must open its books.
Oh, yeah. They also just won their NFL-record 13th championship.
Seifert explained why the Packers are special.
"My criteria for this category was twofold," Seifert said. "Do the owners fund the team's operations well? And do they operate the team well?
"I think the Packers' arrangement is currently doing both and has none of the baggage that goes along with single-family ownership. Shareholders don't take dividends, so no one is driven by individual profit. All profits go back into the franchise. In my experience, no expenses are spared in operating the team. People might note that general manager Ted Thompson doesn't sign many free agents, but that's a football decision. He's spent plenty on retaining the Packers' own free agents.
"The executive committee has hired a competent president in Mark Murphy, and after a bumpy start on the
Brett Favre
departure, Murphy has facilitated excellent work from the GM and coach he inherited.
"Finally, the Packers' ownership arrangement requires Murphy, Ted Thompson and Mike McCarthy to be more accountable to 112,000 fans than any other NFL official is to his fan base. Shareholders can't make operating decisions, but they have the right to question decisions, to know how money is being spent and to get straight(er) answers than fans of any other NFL team."
Clayton, however, wasn't impressed. He omitted the Packers from his ballot, ensuring they didn't finish second in the Power Rankings despite their three first-place votes.
One gets the impression that if Clayton were to slot all 32 ownerships, he would jot the Packers last.
"I couldn't vote for the Packers because it is a community ownership, not a normal ownership," Clayton said. "It's not as though one owner makes the decisions and has to stand up for the praise or criticism. Assigned the chance to vote for ownership, I felt more comfortable voting for individual owners or family owners."
[+] Enlarge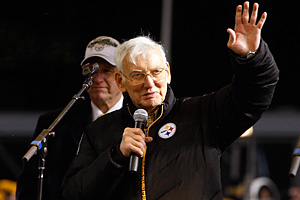 Jared Wickerham/Getty ImagesDan Rooney has been one of the most influential owners in the NFL.
As a result,
New England Patriots
owner Robert Kraft was second overall. Kraft hired Bill Belichick as head coach and has stayed out of the way of football operations. The Patriots have won three Super Bowls in the past decade and went to a fourth. Forbes estimated the Patriots are the third-most-valuable NFL franchise and the world's 10th-biggest sports brand.
AFC South blogger Paul Kuharsky listed Kraft above all. Kuharsky had the Rooneys second and the Packers third.
Kuharsky had the most efficient Power Rankings ballot. He was the lone panelist to vote for all of the owners who finished in the top 10.
"Robert Kraft versus the Rooneys is a close call," Kuharsky said. "I went Kraft because I feel he and his team have done more lately. In many ways, the Patriots -- not the Steelers -- are the standard-setters for the league. And while I prefer the way Heinz Field is in the middle of Pittsburgh, that development around Gillette Stadium has to be the envy of a lot of owners."
New York Giants
co-owners John Mara and Steve Tisch came in fourth,
Philadelphia Eagles
owner Jeffrey Lurie was fifth and
Baltimore Ravens
owner Steve Bisciotti was sixth.
From there, everybody else on the Power Rankings top 10 was omitted from at least one ballot.
Eclectic
Indianapolis Colts
owner Jim Irsay, who was able to help land a Super Bowl in a nontraditional locale, came in seventh. Irsay rated no higher than sixth on any ballot, but he didn't make Williamson's top 10.
"I know it sticks out because I was the only one not to rank him, but if he was in the top three, I'd re-evaluate my reasoning," Williamson said. "But I can live with not voting for the No. 7 finisher. To be frank, I never considered Irsay. I considered 14 ownerships in all. Other than his random tweets, Irsay doesn't stick out to me, good or bad."
When it came to voting, money didn't necessarily equal power for some panelists.
I ranked
Dallas Cowboys
owner Jerry Jones third, higher than any other voter. Sando and Yasinskas didn't rate Jones at all. Jones ended up eighth.
To me, you can't argue with his money or his presence. Forbes ranked the Cowboys the world's fourth-greatest sports brand behind only the New York Yankees, Manchester United and Real Madrid. Their estimated brand value was $128 million more than the NFL average and $15 million more than the Eagles and Giants combined.
Forbes estimated the Cowboys franchise was worth $1.8 billion, nearly $300 million more than the next-closest NFL club, the
Washington Redskins
.
Jones also serves as general manager. That puts him in control of every business and personnel decision. Sando saw that as a drawback.
"Jerry Jones is more involved in football operations than an owner ideally would be," Sando said. "He has shown questionable judgment in hiring head coaches. His involvement in football operations had made those coaches' jobs tougher. Jones dispatched with Tom Landry harshly and later failed to sustain the success Jimmy Johnson orchestrated.
"Also on Jones' watch, the Cowboys have suffered through the practice-bubble catastrophe, a Super Bowl experience that produced poor reviews and a video purporting to show Jones' drunken antics in a bar. Jones also was part of the NFL Management Council Executive Committee when the league agreed to the ill-fated 2006 collective bargaining agreement. Overall, the team hasn't enjoyed enough success recently to say the ends justify the means."
Yasinskas contended that Jones simply is overrated these days.
"If Jerry Jones had continued the success he had with Jimmy Johnson and Barry Switzer back in the 1990s, he'd be at the top of my list," Yasinskas said. "But the fact is the Cowboys really haven't been all that relevant for a long time. Part of that is due to Jones.
"He's done some good things and the new stadium is fabulous, but he's been way too hands-on with that franchise and he's run through lots of good coaches and players without any real results."
Let us know what you think.
April, 15, 2011
4/15/11
2:04
PM ET
Bart Scott
has been playing linebacker for Rex Ryan a long time, first with the
Baltimore Ravens
and the past two seasons with the
New York Jets
.
In a way only Scott can, he described
how Ryan sets himself apart from other head coaches
.
"It's how he talks and says what he's thinking and how he lets us be loose and talk," Scott told New York Metro reporter Kristian Dyer. "People don't think the president is supposed to be black either. They think a president is supposed to look a certain way. It's the same thing with Rex. He doesn't look and act the way other coaches act. And we love him for it."
Scott believes the
New England Patriots
secretly want to be the Jets and points to
Wes Welker
's playful exchange with reporters before their playoff game. Welker made 11 foot-related comments in a nine-minute news conference to poke fun at Ryan's purported foot fetish. Patriots coach
Bill Belichick responded by benching Welker at the start of the game
.
"That doesn't sound right, that kind of talk," Scott said. "That's when you know they're buying into us, when they start sounding like we talk. Wes Welker starts trying to be us, sounding like we do. That's how you know they want to be us."
January, 21, 2009
1/21/09
7:56
PM ET
Posted by ESPN.com's Tim Graham
Tom Brady's interview on Toronto radio station The Fan 590 didn't provide any landmark revelations, but the fact he spoke was newsworthy in itself.
The New England Patriots quarterback consented Wednesday to his first real interview since tearing up his left knee in September.
He was on the air for only 10 minutes. The first part of the interview was devoted to Barack Obama's inauguration and Brady's philanthropic works in Africa, and some of the segment was dedicated to hawking a sports cream, the reason for his interview to begin with.
Still, he spoke and didn't dodge any questions that were set forth, although I was told by someone in the know concessions were made in arranging the interview and certain topics, including girlfriend Gisele Bundchen, were verboten.
He was not asked whether he would be ready for training camp, about the NBCSports.com report his rehab was delayed by an accumulation of scar tissue or if the Patriots would need Matt Cassel to stick around for a while.
Brady showed his interview skills were rusty when he unleashed a curse word not allowed in the U.S. or Canada.
What was it like to watch an entire season and not be able to play?
Tom Brady: You play this game long enough, and [expletive] happens, so to speak. The reality is it happens to everybody. I'm in a new part of my career, and I'm excited about rehabilitation and different challenges. The tough part is you're not experiencing something you love to do. But you get over that and you focus on what you've got to focus on and you just say, "OK, well, it happened. We're moving on."
Could you follow the team closely, or was it too hard?
TB: I watched everything. I was the biggest cheerleader. It's painful when you see our team lose, and I thought we really had a great year, being that we finished 11-5. It was tough enough to not make the playoffs, and a team that's in the Super Bowl, the Arizona Cardinals, we beat by 40 points.
So I was disappointed along with the rest of our team and coaches, but it was what it was. It was a tough competition in the AFC this year. We're going t try to make some improvements this offseason and see if we can make it back to being the division winner next year.
November, 5, 2008
11/05/08
5:18
PM ET
Posted by ESPN.com's Tim Graham
DAVIE, Fla. -- What a great day to be a reporter at the Miami Dolphins facility.
An opposing player, this time Denver Broncos receiver Brandon Marshall, called out Dolphins linebacker Joey Porter the day before. Wednesday was Porter's first chance to respond, and with a day to formulate a response, the material promised to be blog gold.
To make the setup even juicier, Porter conducted a conference call with Seattle Seahawks reporters in advance of Sunday's game before appearing at his locker.
On the call, Porter bemoaned his recent fines for criticizing officials and openly wondered why Jacksonville Jaguars receiver Matt Jones hasn't been punished for being arrested on felony cocaine charges.
"I'm still trying to figure out how a guy gets caught with cocaine in the car and he still plays the game and nothing happens to him," Porter said. "They ain't had no penalty or nothing. I'm trying to figure that out. He got caught with some cocaine in his pockets. Everybody knows it. But Matt Jones is still up there playing football and nothing's ever happened to him. So I'm still trying to figure out how you get away with that, and you're fining people $20,000 for making comments about media or refs."
Those comments sounded like a warmup act for an explosive session with South Florida reporters.
But Porter switched gears. He briefly touched on Marshall's comments, but wanted to talk more about Barack Obama and how there's a belief in the Dolphins' locker room anything can happen in the AFC East race.
The first question was about Brandon Marshall:
Porter: I'm not going to spend no time on this guy. He's not a threat to me. That game is over. They got a game [Thursday], and he's worried about me. I mean, you might want to watch him, though, making comments about another man's muscles. That's not really want you want to be doing in the locker room. You shouldn't want to be making those comments about somebody's muscles.
What about Marshall's comments about you dancing shirtless in clubs?
Porter: I'm over that. Barack Obama. Today's a history day for me. I witnessed something great [Tuesday] night, so I'm not going to let Brandon Marshall mess with my day today. Today is a great day, a day for change. So Peezy's going to change today. I'm going to be the bigger man and turn the other cheek and not even worry about this young dude right here.
Would you like to meet the Broncos in the playoffs to settle this on the field?
Porter: See? That's the problem. We're giving this guy too much limelight right now. We're talking about him. Now we're getting caught in that same trap. Let's not talk about him. We're about to play Seattle. I need to be talking about how I'm going to try and stop Seneca Wallace and thee rest of these guys. I'm not giving [Marshall] no more attention. It worked. You get your little five minutes of fame. You was on TV. Hopefully, everybody in your family seen you on TV. I hope that worked for you. Now let's move on. We're supposed to be brothers! Barack Obama, man.