August, 4, 2012
8/04/12
10:45
PM ET


CANTON, Ohio -- Curtis Martin won his bet to make it through his Pro Football Hall of Fame speech without crying.

Did anyone else?

Martin, in accepting his enshrinement to the Pro Football Hall of Fame, shared details about his life that would wrench the hardest heart: the murders of his grandmother and aunt; the manner in which his father tortured his mother; the time someone held a gun to his head and pulled the trigger seven times, only to have a bullet discharge on the eighth pull, when the gun was pointed elsewhere.

This was as moving a speech as I can recall hearing.

That Martin would survive all this and grow into a man with the wherewithal to nurture his mother to health? That, together, they would forgive his father?

It's a good thing Martin's speech came last. No one could have followed him.

Martin closed by saying he hoped his daughter, when delivering his eulogy years from now, would speak not of the yards he gained, but of the man he became. He hoped she would speak of having sought a man of similar character. He hoped she would, in closing his eulogy, leave mourners with a footnote.

"Oh yeah," she would say, "he was a pretty good football player."

Martin's presenter, retired coach Bill Parcells, spoke of his former player's great balance. Martin's speech showed the same quality. He balanced those emotional reflections with humor. And he showed great wisdom.

Martin busted on fellow enshrinee Willie Roaf for suggesting the Class of 2012 go for pedicures this week. He joked about Cortez Kennedy speaking for so long that God decided to turn off the lights.

Martin again found the right balance when discussing player safety issues, particularly whether he'd feel OK about his own child playing the game, were Martin to have a son.

Two previously enshrined Hall of Famers -- I could not identify them from a distance -- rose and applauded when Martin provided a thoughtful answer. Martin said he never sought football or loved it, but he learned life lessons from it through Parcells, through his former high school coach and through experiences on the field.

"If kids can learn what I learned from playing the game," Martin said in words to that effect, "I'd let him play. It would be worth the risk."

Martin rushed for 102 yards and the winning touchdown in his first regular-season NFL game. Parcells, upon seeing reporters gather around Martin's locker for postgame interviews, let it be known Martin was merely a "one-game wonder."

Before too long, "one-game wonder" would give way to "Boy Wonder" as Parcells' preferred nickname for Martin. The more flattering moniker survives to this day, for good reason. Martin opened his career with 10 consecutive 1,000-yard seasons, an NFL record shared by another Hall of Famer, Barry Sanders.

Martin turned out to be a pretty good football player, all right, and so much more.


February, 3, 2012
2/03/12
7:00
PM ET
INDIANAPOLIS -- The Hall of Fame voting for the 2012 class will commence on Saturday.
Here are some thoughts on the Hall of Fame and the AFC East:
I don't see any sure-fire locks this year, which is rare. Maybe Bill Parcells fits in that category. But the group overall is solid. I'm sure there will be plenty of tough discussions on the Hall of Fame panel, because every spot is pretty much available for the 2012 class.
In terms of the AFC East, I like the chances of former New England Patriots and New York Jets running back Curtis Martin. He missed the cut last year, but this seems like the type of year a great, consistent player like Martin gets in. He is fourth all-time in rushing (14,101 yards), and the three ahead of Martin -- Emmitt Smith, Walter Payton and Barry Sanders -- are all in Canton.
Former Buffalo Bills receiver Andre Reed is a tougher call. This is the sixth time he's been a finalist, and each chance the odds appeared against him. This may be his best chance Reed has. The class is wide open and Reed may be able to grab one of those slots. I am not on the Hall of Fame panel, but my prediction is Parcells, Martin and offensive lineman Will Shields will get in. I think Reed could be fighting for the remaining slots with great players like Cris Carter, Willie Roaf, Chris Doleman and Jerome Bettis.
February, 5, 2011
2/05/11
7:45
PM ET
Andre Reed
and
Curtis Martin
received bad news about their Pro Football Hall of Fame bids.
Reed and Martin were among the 15 finalists for induction, but neither AFC East star made the cut Saturday when the next induction class was determined.
[+] Enlarge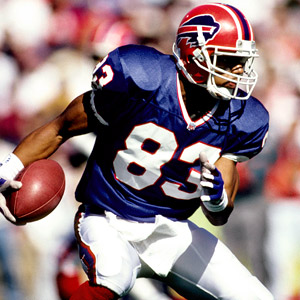 US PresswireAndre Reed has been a finalist five times but the former Buffalo receiver will have to wait to be inducted into the Hall of Fame.
The 2011 class includes running back
Marshall Faulk
, tight end
Shannon Sharpe
, defensive end
Richard Dent
cornerback
Deion Sanders
and NFL Films patriarch Ed Sabol. Senior nominees headed to Canton are linebackers Chris Hanburger and Les Richter.
Reed has been a finalist five times. For the second year in a row, the
Buffalo Bills
legend finished ahead of
Cris Carter
and
Tim Brown
in the selection process, which pares down the group of finalists from 15 to 10. Reed made the top 10, while Carter and Brown did not.
But Reed didn't make the next cut to five. That's the group the selection committee makes a final yea or nay vote on, with 80 percent agreement required for induction. The committee approved all five.
Reed will have to wait to join his former teammates
already honored in Canton: quarterback
Jim Kelly
, running back
Thurman Thomas
, receiver
James Lofton
, defensive end
Bruce Smith
and head coach Marv Levy.
Reed made 951 catches for 13,198 yards and 87 touchdowns and played in four consecutive Super Bowls. He's known as one of the best yards-after-catch receivers in NFL history, perhaps second to only
Jerry Rice
, and among the grittiest over-the-middle threats.
Reed was a seven-time Pro Bowler. He posted 13 seasons with at least 50 receptions, tied for second all-time. He's tied for third in postseason history with five 100-yard games. His 85 postseason receptions rank third.
Martin, a star running back with the
New England Patriots
and
New York Jets
, was on the ballot for the first time. His former coach,
Bill Parcells, advocated Martin be a first-ballot Hall of Famer
.
Martin ranks fourth in all-time rushing yardage behind
Emmitt Smith
, Walter Payton and
Barry Sanders
, a pretty good crew -- if you're into that kind of thing.
Martin rushed for 14,101 yards and scored an even 100 touchdowns, 90 on the ground and 10 more off catches. He ran for 1,000 yards in 10 straight seasons, the second-longest streak in league history. Martin was the 1995 offensive rookie of the year and made five Pro Bowl rosters.
Carter was another Hall of Fame finalist with an AFC East connection, albeit barely. Carter finished his career with the
Miami Dolphins
, catching eight passes over five games in 2002. His 130th and final touchdown was with Miami.
That gave every AFC East club a link to Saturday's selection process.
January, 31, 2011
1/31/11
2:45
PM ET
Curtis Martin
has the credentials to justify induction into the Pro Football Hall of Fame.
[+] Enlarge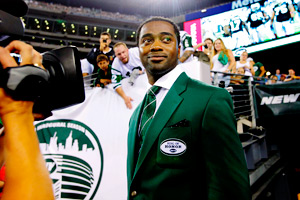 Tony Kurdzuk/US PresswireDo Curtis Martin's credentials qualify him for the Hall of Fame in his first year on the ballot?
But does the popular
New York Jets
and
New England Patriots
running back belong to an even more elite group that that?
Martin is on the Hall of Fame ballot for the first time and will find out Saturday whether he will join the 65 other legends who've gone straight to Canton without delay.
New York Daily News writer Gary Myers examines the
possibility Martin will get the Hall of Fame call Saturday
. Martin's beloved coach, Bill Parcells, asserted Martin should coast into Canton.
"If the idea is to separate yourself, you got the case right there, you can't dispute it," Parcells told Myers. "Come on. That is roller skates."
Martin played 11 seasons and led his team in rushing every time. He finished with 14,101 yards (fourth all-time behind
Emmitt Smith
, Walter Payton and
Barry Sanders
) and 90 touchdowns. Martin added 484 receptions for 3,329 yards and 10 more touchdowns, giving him an even 100.
Martin was Offensive Rookie of the Year in 1995 and made five Pro Bowl teams.
Up to five modern-era candidates will be inducted. But with fellow first-timers running back
Marshall Faulk
and cornerback
Deion Sanders
almost certain to gain approval, essentially three spots are left.
The other 15 finalists include running back
Jerome Bettis
, receivers
Andre Reed
,
Tim Brown
and
Cris Carter
, tight end
Shannon Sharpe
, center
Dermontti Dawson
, tackle
Willie Roaf
, defensive ends
Richard Dent
,
Charles Haley
and
Chris Doleman
, defensive tackle
Cortez Kennedy
and NFL Films patriarch Ed Sabol.
"I haven't been an individual accolades type person," Martin told Myers. "But I have found myself thinking about the Hall of Fame more. I think that it speaks to the intangible qualities that I like to be associated with my name.
"To even be in consideration for the Hall of Fame, you've done a little more than just performed on the football field. It speaks to your dedication, to hard work, the level of competition, the way you compete. Even being mentioned is very humbling to me."
May, 6, 2010
5/06/10
7:37
PM ET
LaDainian Tomlinson
has not accepted any kind of backup role with the
New York Jets
.
That may eventually be the case, but the future Hall of Famer joined the Jets with no preconceived notions heading into the summer.
Tomlinson stopped by the ESPN 1050 studios in Dallas

on Thursday, sitting in with the "Ben and Skin" show and talked about a role that hasn't been finalized. He will compete for carries with sophomore
Shonn Greene
and rookie
Joe McKnight
.
"The thought process is kind of like when you go to college, when you graduate from high school and go to college, you don't look to go in and start," Tomlinson said. "If it happens, it happens. But you go in to find a role on the team, to be a part of something special. That's where I am.
"I think at this point in my career, people put this label and this title on you once you get to a certain age: 'Yeah, he has to be a backup now.' I absolutely don't believe that. You determine your role on the football field, and that's what the Jets have been so great about, allowing me to do that.
"They didn't put a label on me at all. They didn't say 'You know what? You're going to be a backup.' They said 'No, you're going to prove what you can do on the football field,' and that's all I can ask."
Tomlinson, from Texas Christian University, also takes part in a discussion about whether
Emmitt Smith
or
Barry Sanders
was the better back, shares his thoughts on the
Dallas Cowboys
backfield and talks about his greatest single achievement on the field and off.
April, 8, 2010
4/08/10
1:51
PM ET
With 10 days remaining in the NFL's attempt to determine the 75 greatest draft picks of all-time, the league released the top 20 candidates after fans have cast nearly 40 million votes.
The project was put together to celebrate the 75th draft, which begins April 22. NFL.com editors got us started by narrowing
each team's list of candidates down to the top 10
.
Fans can vote through April 18 at NFL.com
. Parts of the list will be revealed on NFL.com and the NFL Network beginning April 19. The top 10 will be saved for the draft telecast.
These 20 players, listed in alphabetical order, have received the most votes so far:
Troy Aikman, Dallas Cowboys (first overall, 1989)
Terry Bradshaw, Pittsburgh Steelers (first, 1970)
Tom Brady, New England Patriots (199th, 2000)
Jim Brown, Cleveland Browns (sixth, 1957)
Dick Butkus, Chicago Bears (third, 1965)
Brett Favre, Atlanta Falcons (33rd, 1991)
Ray Lewis, Baltimore Ravens (26th, 1996)
Ronnie Lott, San Francisco 49ers (eighth, 1981)
Peyton Manning, Indianapolis Colts (first, 1998)
Dan Marino, Miami Dolphins (27th, 1983)
Joe Montana, San Francisco 49ers (82nd, 1979)
Randy Moss, Minnesota Vikings (21st, 1998)
Walter Payton, Chicago Bears (fourth, 1975)
Jerry Rice, San Francisco 49ers (16th, 1985)
Barry Sanders, Detroit Lions (third, 1989)
Deion Sanders, Atlanta Falcons (fifth, 1989)
Mike Singletary, Chicago Bears (38th, 1981)
Emmitt Smith, Dallas Cowboys (17th, 1990)
Lawrence Taylor, New York Giants (second, 1981)
Rod Woodson, Pittsburgh Steelers (10th, 1987)
November, 9, 2009
11/09/09
2:44
PM ET
Is it possible that during the bye week the
Buffalo Bills
reinvented their defense and discovered ways not to get trampled Sunday?
They rank dead last in rushing defense, allowing 173.6 yards a game and 5.1 yards per carry.
Next, they get the
Tennessee Titans
at LP Field. Titans running back
Chris Johnson
leads the NFL with 959 yards and is maintaining an extraordinary average.
Johnson is gaining a league-best 6.7 yards per attempt.
If he can keep that pace for the rest of the season -- and he might very well improve on it against the Bills -- he will finish with the second-highest average in NFL history. Beattie Feathers averaged an obnoxious 8.4 yards a carry for the
Chicago Bears
in 1934.
Only four other running backs have led the league in rushing yards and averaged 6 yards a carry:
Jim Brown, 1963 Browns: 1,863 yards, 6.4 average.
Barry Sanders, 1997 Lions: 2,053, 6.1 average
Joe Perry, 1954 49ers: 1,049 yards, 6.1 yards.
O.J. Simpson, 1973 Bills: 2,003 yards, 6.0 average.
March, 16, 2009
3/16/09
11:41
AM ET
Posted by ESPN.com's Tim Graham
If you were to have asked me two weeks ago to rank the most unlikely Buffalo Bills signings this offseason, these players would have comprised my top five:
Barry Sanders
Steve Wyche of NFL.com has reported Crowell was expected to visit the Bills on Monday if the seventh-year linebacker wasn't able to reach terms with the Tampa Bay Buccaneers over the weekend.
Two sources close to Crowell informed me in January there was no way he would return to the Bills after they placed him on injured reserve right before last season started.
The Bills made the controversial move because Crowell waited so long to decide he was going to undergo arthroscopic knee surgery that would have sidelined him a projected four to six weeks. But the Bills erased their leading tackler for the duration.
The Bills claimed they needed the roster spot. Logic implied vindictiveness.
But the Bills probably hurt themselves in the process. If they bring Crowell back after interviewing Jamie Winborn, Cato June and Freddy Keiaho, it will only underscore how much the Bills could have used him last year.
August, 18, 2008
8/18/08
1:00
PM ET
Posted by ESPN.com's Tim Graham
| | |
| --- | --- |
| | |
| | Andy Lyons/Getty Images |
| | Dan Marino was a rookie All Pro and the youngest quarterback to start a Pro Bowl. |
Readers' pick: Dan Marino, QB
There was no way possible to get this one wrong. Dan Marino is the greatest Dolphin like the Beatles are the greatest band from Liverpool.
Marino finished with the third-highest percentage of any player in our franchise polls. Only by Barry Sanders and John Elway received higher shares.
Take a look at these numbers and then try to justify voting for Bob Griese:
Marino was a first-ballot Hall of Famer who retired as the most prolific passer in NFL history. His records, many since broken by Brett Favre, included most attempts (8,358), completions (4,967), yards (61,361) and touchdowns (420).
Marino was a rookie All Pro and the youngest quarterback to start a Pro Bowl. In his second season, he threw for 5,084 yards and 48 touchdowns. He had six 4,000-yard seasons. He passed for 400 or more yards 13 times and 300 or more yards 63 times, both NFL records. His 37 fourth-quarter comeback drives are second to Elway's 43.
OK, so Griese won a pair of Super Bowls and Marino didn't win any -- the only accomplishment missing from a stellar resume.
Marino never had the runners, never had a Larry Csonka or a Jim Kiick or a Mercury Morris. Year after year, he slung the Dolphins over his shoulder without a complete offense around him.
"The greatest disappointment as a team owner and a Dolphins fan," Dolphins owner Wayne Huizenga said at Marino's retirement announcement in March 2003, "is that you never won a Super Bowl."
That was the only disappointment.