December, 19, 2010
12/19/10
10:06
AM ET
How long has it been since Patriots quarterback
Tom Brady
threw an interception? The Jets were considered the team to beat in the AFC.
If that seems like a long time ago, you're right.
Brady
Brady hasn't thrown an interception since Week 6 against the Ravens, a stretch of 268 attempts. That ranks sixth all-time.
He would climb into second place with 27 more interception-free attempts Sunday night against the Packers.
Here's the list of longest streaks:
Bernie Kosar, 1990-91 for the Browns -- 308
Bart Starr, 1964-65 for the Packers -- 294
Jeff George, 1993-94 for the Colts and Falcons -- 279
Rich Gannon, 2001 for the Raiders -- 277
Jason Campbell, 2007-08 for the Redskins -- 271
Tom Brady, 2010 for the Patriots -- 268
Brady has tied the NFL record with six consecutive games of at least two touchdown passes and no interceptions. In his past eight games he has 19 TDs, zero interceptions and only two ratings under 100.
The Patriots have a league-leading plus-18 turnover ratio and haven't committed any in five straight games, which is an NFL record.
August, 30, 2010
8/30/10
10:17
AM ET
The
Miami Dolphins
head into their final preseason week not entirely settled at linebacker.
Tony Sparano is moving his players around in hopes of finding the right mix. Inside linebackers
Channing Crowder
and
Tim Dobbins
have been battling injuries. So Sparano is trying outside linebacker
Charlie Anderson
on the inside.
[+] Enlarge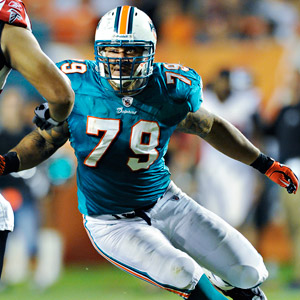 Richard C. Lewis/Icon SMIIkaika Alama-Francis is making a run at one of the starting outside linebacker spots.
An intriguing player to monitor is
Ikaika Alama-Francis
, a converted down lineman who didn't play high school football, has been mounting a summer drive to crack the starting lineup at outside linebacker.
After another solid preseason performance Friday night, Alama-Francis shared first-team reps with rookie
Koa Misi
at strongside outside linebacker in Sunday's practice. Misi still projects as the starter opposite
Cameron Wake
, but Alama-Francis has been a revelation.
"I love it, man," is what Alama-Francis told me at Dolphins camp three weeks ago.
Sparano has been steadily impressed with him at outside linebacker since training camp began. It's important for the Dolphins to find those types of players with
Jason Taylor
and
Joey Porter
signing elsewhere.
"He's a handful in the rush," Sparano said a week into camp. "He set the edge of the defense pretty well, strong guy and very, very smart."
When Sparano said that, Alama-Francis hadn't been an outside linebacker for long, just a handful of practices. But it wasn't the first time Alama-Francis had switched on a whim, and this change brought an opportunity to stick in the NFL after bombing out with the
Detroit Lions
.
Alama-Francis is the son of Joe Francis, who backed up Bart Starr for two seasons with the
Green Bay Packers
. But Alama-Francis didn't play organized football until his sophomore year at Hawaii. He was a basketball walk-on, but football coach June Jones convinced him to convert.
The Lions drafted Alama-Francis 58th overall in 2007. He played tackle and end under D-line specialist Rod Marinelli, but started only two games over two seasons. The Lions cut him at the end of last year's preseason. He remained unemployed until November, when the Dolphins signed him to play defensive end at 6-foot-5 and 290 pounds.
Then, with three offseason workouts to go before summer break, the Dolphins approached Alama-Francis about standing on two feet for the first time. No more springing out of a three-point stance. They wanted him to try outside linebacker.
Sparano and linebackers coach Bill Sheridan saw something in the way Alama-Francis moved for a player his size. Alama-Francis said he had "three good practices" to show he could handle the gig.
"That's not a lot," he said. "When they're throwing things at you to see how you'll react, you have to do the best you can with what's been given to you. But it was an opportunity, and I embraced it. I was thankful."
After those three OTA workouts, Sparano didn't view the move as experimental anymore. Alama-Francis is at about 275 pounds now.
"Moving from a different position, it's a total 180, dropping into coverage," Alama-Francis said. "When you're on the line, you're moving forward. When you're standing up, you see a lot more and you've got to be aware a lot more. Rushing the passer, coming off the edge and dropping into coverage, I'm excited about all that."
February, 16, 2010
2/16/10
12:35
PM ET
Everybody loves a
good quarterback argument
.
[+] Enlarge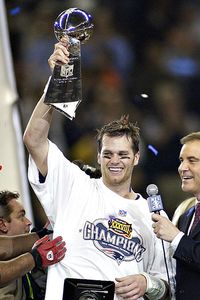 MPS/US PresswireTom Brady is a two-time Super Bowl MVP -- but he hasn't reached legendary status yet, according to one analyst.
Here's a list that endeavors to provide a definitive answer to the following question, but probably will get folks yapping at each other: Who is the greatest Super Bowl quarterback of all time?
Cold, Hard Football Facts kingpin Kerry J. Byrne rolls out all the statistical data from the
20 quarterbacks who've played in more than one Super Bowl
and ranks them purely on how they performed on the biggest stage.
Reputation doesn't matter one iota. That's why Jim Plunkett is slotted waaaaaaaaaaay ahead of John Elway.
Byrne breaks them down into four categories -- Legends, Champions, Cling-ons and Gimps -- and backs up the ranking, complete with a spreadsheet that lists all of their stats.
Legends
1. Joe Montana
2. Terry Bradshaw
3. Jim Plunkett
4. Troy Aikman
5. Bart Starr
Champions
6.
Tom Brady
7.
Brett Favre
8. Roger Staubach
9. Kurt Warner
10. Len Dawson
11.
Peyton Manning
Cling-ons
12. Bob Griese
13.
Ben Roethlisberger
14. John Elway
15. Joe Theismann
Gimps
16. Jim Kelly
17. Fran Tarkenton
18. John Unitas
19. Earl Morrall
20. Craig Morton
August, 13, 2009
8/13/09
8:35
AM ET
Posted by ESPN.com's Tim Graham
When it comes to carrying a team, Tom Brady is the greatest quarterback of the past 35 years.
So says research done by Mark Wald of the underrated and often fascinating ColdHardFootballFacts.com.
Because a high number of pass attempts generally equates to a defeat, Wald wanted to ascertain which quarterbacks have had the greatest success when throwing a lot. He ran the stats from 1960 through 2008, qualifying a game in which a quarterback was asked to "carry the team" as 30 or more passes pre-1978 and 40 or more passes from 1978 on.
Wald's data showed Daryle Lamonica was worthy of his nickname, The Mad Bomber.
Lamonica ranked first with a .703 winning percentage when asked to carry his team. Brady was second at .680. Bart Starr and Bill Nelsen were tied for third at .625.
Big deal, you say?
Then consider this: The average winning percentage is .307 for all quarterbacks in "carry the team" qualifying games.
Some other AFC East quarterbacks of note:
12. Jack Kemp, .490.
14. Dan Marino, .478.
16. Al Dorow, .462.
Wald also listed the quarterbacks with the worst records when asked to carry his team. Here are the quarterbacks with AFC East backgrounds:
2. Joey Harrington, .048.
6. Doug Flutie, .100.
9. Daunte Culpepper, .118.
10t. Steve Grogan, .125.
16. Scott Mitchell, .158.
17t. Gus Frerotte, .176.
17t. Neil O'Donnell, Jets, .176.
August, 18, 2008
8/18/08
1:06
PM ET
Posted by ESPN.com's Tim Graham
| | |
| --- | --- |
| | |
| | Gabriel Bouys/AFP/Getty Images |
| | Tom Brady has guided the Patriots to three Super Bowl titles. |
Readers' pick: Tom Brady, QB
With the exception of young franchises such as the Houston Texans or Baltimore Ravens, active players can be difficult to vote for as the greatest ever. Their careers are still unfolding, their legacies changeable.
Despite 48 years of players, Tom Brady's career towers over all other New England Patriots.
Part of Brady's colossal stature is that only two career Patriots -- guard John Hannah and outside linebacker Andre Tippett -- have been inducted into the Pro Football Hall of Fame.
But even a crowded field would have trouble touching Brady.
Through their first 42 years the Patriots won zero championships. Brady has since guided them to three Super Bowl titles, claiming the game's MVP award twice. That's enough to cement his status as a first-ballot Hall of Famer.
Brady last year directed perhaps the most merciless offense in NFL history. He threw for a record 50 touchdowns and just eight interceptions, propelling the Patriots to an unprecedented 16-0 regular-season record and two playoff victories. His ankle injury in the Super Bowl played a role in their inability to close out their perfect campaign.
He owns the best winning percentage (.782) of any quarterback in the Super Bowl era, higher than Joe Montana, Roger Staubach, Troy Aikman, Terry Bradshaw and Bart Starr. Brady owns the second-highest playoff winning percentage (.824) behind only Starr.
Not many active players can be mentioned in the same sentence as those names.