April, 19, 2011
4/19/11
2:13
PM ET
The NBA admitted it made a mistake by not penalizing Oklahoma City Thunder center Kendrick Perkins for goaltending on the pivotal, go-ahead basket with 65 seconds to play in Sunday's postseason victory over the Denver Nuggets.
That's
one of the hotter topics in sports lately
.
So what's the most controversial call in AFC East history?
There are a number of candidates to choose from. The Tuck Rule comes to mind. While technically not a blown call, it sure didn't look right.
The Patriots had a magical bicentennial season in 1976, but it came to a screeching stop. Defensive lineman Ray Hamilton was called for a highly questionable late hit on Ken Stabler, allowing the
Oakland Raiders
to turn a fourth-and-18 into a touchdown five plays later and eventually eliminate the Patriots from the playoffs.
The Music City Miracle still resonates with
Buffalo Bills
fans certain
Frank Wycheck
made a forward lateral across the field to
Kevin Dyson
. The Bills haven't been to the playoffs in the 11 years since.
In 1998, Bills receiver
Andre Reed
claimed he overheard an official say "Just give it to them" after Patriots receiver
Shawn Jefferson
made a controversial sideline catch with six seconds left, setting up
Drew Bledsoe
's winning touchdown pass to
Ben Coates
.
New York Jets
quarterback
Vinny Testaverde
scored a phantom touchdown against the
Seattle Seahawks
in 1998 on a fourth-down plunge that didn't cross the goal line. The Jets went on to win the AFC East.
Last year, the
Miami Dolphins
lost a potentially season-changing game against the
Pittsburgh Steelers
when officials ruled the video replay couldn't determine
Ikaika Alama-Francis
recovered in the end zone. The Steelers kicked a field goal to win by a point.
Those are just a few that come to mind.
What call do you think is the AFC East's worst of all-time?
June, 22, 2010
6/22/10
1:00
PM ET
»
NFC Big Question
:
East
|
West
|
North
|
South
»
AFC
:
East
|
West
|
North
|
South
What's the worst call to have spoiled the result for an AFC East team?
In the past few weeks, Koman Coulibaly and Jim Joyce made two of the most infamous officiating blunders.
On a global stage,
Coulibaly's no-goal gaffe might cost the U.S. soccer team
a place in the knockout round of the World Cup.
Joyce spoiled baseball history when he blew a call
at first base on what should have completed a perfect game.
[+] Enlarge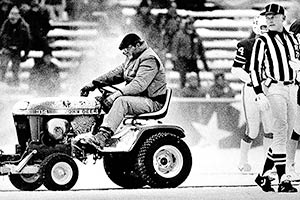 AP Photo/Mike KullenJohn Smith had better footing after a plow cleared away the snow for his game-winning kick.
At least they're not alone in sports history. Plenty of other officials have made dubious calls that have changed the outcome of a big game.
The AFC East has seen its share.
With help from my Facebook friends
, I came up with a short list of controversial calls to consider.
We'll steer clear of the calls that helped an AFC East team win. So forget the Tuck Rule or Vinny Testaverde's phantom touchdown plunge. We're looking for heartbreak here.
With 52 seconds left in their 1976 playoff game,
New England Patriots
defensive lineman Ray Hamilton was called for a highly questionable roughing penalty on
Oakland Raiders
quarterback Ken Stabler. The Patriots were up by four points. The Raiders faced a third-and-18 from New England's 27-yard line. Stabler's pass was incomplete, but the flag gave the Raiders a first down, and they eventually punched into the end zone.
The Patriots defeated the
Miami Dolphins
in the Snow Plow Game in 1982. On a winter wonderland of a field, Patriots coach Ron Meyer ordered a plow onto the field to clear kicker John Smith's placement for a 33-yard field goal with 4:45 to play. Officials didn't prevent it. Final score: Patriots 3, Dolphins 0.
In 1998, a questionable fourth-down conversion immediately followed by a wild penalty in the end zone as time expired infuriated the
Buffalo Bills
so much they didn't line up for the extra point in a vexing loss to the Patriots.
A Hail Mary pass interference
gave New England the ball on Buffalo's 1-yard line. Down by four points,
Drew Bledsoe
tossed to
Ben Coates
for the touchdown.
Bills fans bemoan the Music City Miracle
, one of the most controversial plays in NFL history. The
Tennessee Titans
pulled off what I believe was a perfect lateral to eliminate the Bills from the 1999 playoffs. Despite a video review that seemed to have more interpretations than a Salvador Dali painting, the touchdown stood. The Bills haven't returned to the postseason.
Last year, a Sports Illustrated photo
showed Dolphins receiver
Ted Ginn
stripped
New Orleans Saints
safety
Darren Sharper
shy of the goal line. The ball bounded out of the end zone for what should have been a Dolphins' touchback, but a review upheld Sharper's pick-six, a critical play in a dramatic Saints' victory. Had the Dolphins won, it might have helped them get into the playoffs.
There are so many others to choose from. Please share your thoughts in the comments section.
April, 18, 2010
4/18/10
12:09
PM ET
In case you overlooked it, NFL editor Sheldon Spencer delivered an impressive series in which he assembled the best teams by draft round in NFL history.
The project was considerable, and the results make for a fun read.
A breakdown of AFC East representatives underscores how important a strong draft is to winning championships. All but a handful of those players belonged to a team that was great for a long time.
Five players who made the cut played for the
Miami Dolphins
' undefeated 1972 squad and won multiple Super Bowls.
Seven more played in at least on Super Bowl for the
New England Patriots
, with three joining as free agents.
Three played in four straight Super Bowls for the
Buffalo Bills
.
Before you take a look at the list, check out Spencer's explanation of
how the draft all-stars were selected
.
First round:
Bills defensive end
Bruce Smith
, Patriots defensive end
Richard Seymour
, Chargers linebacker
Junior Seau
(Dolphins, Patriots).
Second round:
Bills running back
Thurman Thomas
(Dolphins), Dolphins center Dwight Stephenson, Dolphins defensive tackle Bob Baumhower.
Third round:
Dolphins running back Mercury Morris, 49ers receiver
Terrell Owens
(Bills), Patriots linebacker
Tedy Bruschi
.
Fourth round:
Bills receiver
Andre Reed
, Patriots cornerback
Asante Samuel
.
Fifth round:
Dolphins running back Jim Kiick, Patriots tight end
Ben Coates
, Dolphins linebacker
Zach Thomas
, Chargers safety
Rodney Harrison
(Patriots).
Sixth round:
Patriots quarterback
Tom Brady
, Jets defensive tackle Joe Klecko, Dolphins defensive end Doug Betters, Ravens outside linebacker
Adalius Thomas
(Patriots).
Seventh round plus:
Dolphins defensive tackle Manny Fernandez, Ravens linebacker
Bart Scott
(Jets).
October, 23, 2008
10/23/08
8:20
AM ET
Posted by ESPN.com's Tim Graham
FOXBOROUGH, Mass. -- I've seen enough halls of fame to know what a great one looks like.
The better ones I always return to. In the past two years I've visited the Pro Football Hall of Fame, National Baseball Hall of Fame, Hockey Hall of Fame and International Boxing Hall of Fame. I've attended induction ceremonies at most.
But the best I've seen belongs to the New England Patriots.
Before Monday night's game in Gillette Stadium, I had the chance to tour The Hall at Patriot Place, a dazzling collection of exhibits, multimedia presentations and high-tech interactive displays on 36,000-square feet.
The Hall at Patriot Place opened last month at a cost of roughly $24 million.
I took the tour with Pro Football Hall of Fame executive director Stephen A. Perry and vice president of communications and exhibits Joe Horrigan. Both were seeing The Hall at Patriot Place for the first time.
"This is first-class, on par with anything we've seen and better than most," Horrigan said. "It's a really remarkable use of space, really creative. Everyone in the industry is going towards a lot of these elements, from the traditional display to the interactive motif. This is what a visitor looks for when he goes to a museum.
"I'm stealing ideas as I go through here. They've scored a touchdown."
Bryan Morry, The Hall at Patriot Place's executive director, explained the vision wasn't a graveyard for artifacts. Patriots president Jonathan Kraft wanted to establish a destination that allowed fans and alumni to embrace the team's tradition.
As I passed through, I found guard John Hannah playing with one of the interactive kiosks. Hannah, in his gold Pro Football Hall of Fame blazer, was at the game for a halftime ceremony to honor linebacker Andre Tippett, who was enshrined in Canton this summer.
Hannah praised the Krafts for building a monument that celebrates the Patriots legacy.
There's plenty to look at: multimedia stations that can engage you for as long as your curiosity of Patriots history can handle, a 150-seat theater and all the standard displays of uniforms and hardware. Hanging from the rafters is the John Deere tractor convict Mark Henderson used to clear a spot for John Smith's infamous field goal to beat the Miami Dolphins in 1982
The Hall at Patriot Place also strives to be a New England football archive, including preps and colleges.
But the most impressive elements are interactive. Educated football fans will leave smarter than when they walked in. A presentation by Bill Belichick insightfully breaks down actual plays from the Patriots' playbook. You pick the play, and Belichick tells you why it works in detail.
Visitors also can listen to offensive coordinator Josh McDaniels relay plays into a quarterback's helmet, step inside an actual-sized Patriots huddle to hear how plays are called and pick up sideline phones to hear how the coordinators communicate with players during the game.
"Museums are no longer a place where you go to view dinosaur bones," Horrigan said. "They expect the dinosaur to move, breathe and shoot fire. That's what happens here."
The Patriots do not have a ring of fame. The Hall at Patriot Place is the ultimate team honor a Patriot can receive.
There are 13 members: tackle Bruce Armstrong, linebacker Nick Buoniconti, kicker Gino Cappelletti, tight end Ben Coates, defensive lineman Bob Dee, quarterback Steve Grogan, Hannah, cornerback Mike Haynes, tackle Jim Lee Hunt, receiver Stanley Morgan, linebacker Steve Nelson, quarterback Babe Parilli and Tippett.