March, 11, 2014
Mar 11
8:00
AM ET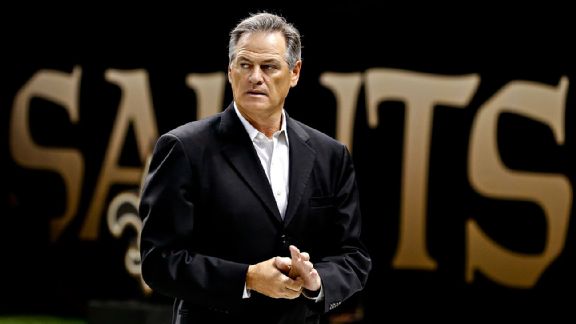 Derick E. Hingle/USA TODAY SportsMickey Loomis hasn't been afraid to make tough personnel decisions as Saints GM.
No, this isn't a fire sale you're witnessing in New Orleans.
The
New Orleans Saints
aren't succumbing to the salary cap.
It wouldn't even be accurate to say they're in a rebuilding mode this offseason. Because much of the new foundation is already in place.
The Saints have remained perennial Super Bowl contenders because they haven't allowed themselves to be paralyzed by their salary-cap predicament.
Instead, they've continued to aggressively spend money in free agency in recent years on new core leaders such as cornerback
Keenan Lewis
, linebacker
Curtis Lofton
and guard
Ben Grubbs
-- not to mention running back
Darren Sproles
when he arrived in 2011.
And they'll likely make one or two similar investments in free agency this year.
Of course it's difficult -- for the fan base and the organization alike -- to see the Saints part ways with so many of their all-time great players. The Saints' recent news releases have read more like the induction of a Ring of Honor class than a series of roster cuts:
Lance Moore
,
Will Smith
,
Jonathan Vilma
,
Roman Harper
and
Jabari Greer
, with Sproles reportedly next.
But the Saints haven't been forced into any of these moves. They've been tough but calculated decisions, made when the Saints feel a player's value no longer matches his salary.
And if anything, the team should be applauded for the way it has planned ahead for these departures.
I'm not saying I love every move the Saints have made. I'm especially leery about the decision to part with Sproles, who will be much harder to replace than anyone else on the list, even if he is starting to slow down at age 30.
I was equally leery about the decision to let left tackle
Jermon Bushrod
get away last year, since New Orleans didn't have a proven alternative in-house. But I appreciate that those decisions were value-based.
It's also worth noting that Bushrod is the only example that comes close to the Saints being burned by a decision to let go of one of their core veteran players during the tenure of general manager Mickey Loomis and coach Sean Payton.
"We're always trying to improve our team," Loomis said earlier this offseason, when I asked him about the way the Saints have stayed aggressive in free agency in recent years despite their cap limitations. "I think the biggest challenge of that is that you just can't afford to make many mistakes. That your margin for error is decreased."
Every year, people tend to determine the free agency "winners" and "losers" by the size of the haul.
But the Saints deserve credit for making so many choices that have panned out in recent years despite such a slim margin for error.
"It's exceptionally hard to do," said Bill Polian, the ESPN analyst and a former longtime general manager who raved last month about the job that Loomis and Payton have done in recent years to continually reshape the roster.
"It is this kind of cap management when you're a good team, a contending team, that is most valuable. And in almost every case it goes unnoticed," Polian said. "[Teams like the Saints that] continue to add good players deserve a great deal of credit."
Polian knows of what he speaks, having previously managed the
Indianapolis Colts
with quarterback
Peyton Manning
as their high-priced centerpiece.
The Saints made quarterback
Drew Brees
the first NFL player to make $20 million per year in 2011. In turn, they entered each of the past two offseasons at more than $10 million over the salary cap.
And now they're poised to make free agent
Jimmy Graham
the highest-paid tight end in NFL history -- likely more than $10 million per year. But I still expect the Saints to keep an aggressive eye on the open market, as they have in recent years.
To do so, Loomis and his staff have had to become masters in mathematics, continually restructuring contracts and back-loading deals to push cap costs into future years.
Sure, the Saints are just delaying the inevitable. But they figure they can wait to pay those bills whenever Brees retires. Their window of opportunity to win titles is now.
[+] Enlarge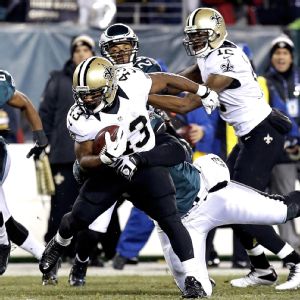 Geoff Burke/USA TODAY SportsThe Saints may have a difficult time replacing Darren Sproles if they decide to cut him.
Not all NFL teams like to approach the cap that way. The
Green Bay Packers
, especially, have never liked to spend big in free agency. And former Packers executive Andrew Brandt, currently an NFL business analyst, has pointed to the way the Saints back-loaded Brees' contract as a reason for all of these recent veteran cuts.
"I was, and am, much more conservative," Brandt said recently. "You know, having
Brett Favre
all those years, I never wanted to leave the team with a big hole based on pro-ration of an old contract. ... You're always going to be either releasing veteran players and/or doing these cap restructures that put more pressure on the future. They're gonna continue to have challenges. I don't think they can continue to be aggressive.
"But they've got this window. And if they keep deleting and pushing out cap, I guess they can."
One thing both Brandt and Polian agreed on is that the Saints, led by Loomis and Payton, have been successful with recent choices made in both free agency and the draft. Player personnel director Ryan Pace, college scouting director Rick Reiprish and football administration director Khai Harley -- as well as others in the front office -- also deserve plenty of credit for that.
The Saints' success with personnel decisions was never more evident than last month, when they bid farewell to longtime defensive greats Smith, Vilma, Greer and Harper. Those moves didn't hurt too much, because their replacements -- Lewis, Lofton and recent first-round draft picks
Cameron Jordan
and
Kenny Vaccaro
-- are already in-house.
Now the Saints are hoping that emerging young offense playmakers such as
Mark Ingram
,
Khiry Robinson
and
Kenny Stills
can help fill the voids left by Sproles and Moore.
Perhaps they're playing with fire. But that's not the same thing as a fire sale.
March, 31, 2010
3/31/10
1:00
PM ET
»
NFC History
:
East
|
West
|
North
|
South
»
AFC
:
East
|
West
|
North
|
South
»
Draft Watch
:
Biggest needs
(2/17) |
Busts/gems
(2/24) |
Schemes, themes
(3/3) |
Recent history
(3/10) |
Needs revisited
(3/17) |
Under-the-radar needs
(3/26) |
History in that spot
(3/31) |
Draft approach
(4/7) |
Decision-makers
(4/14) |
Dream scenario/Plan B
(4/21)
Each Wednesday leading up to the NFL draft (April 22-24), the ESPN.com blog network will take a division-by-division look at key aspects of the draft. Today's topic: History in that spot.

Buffalo Bills:
The ninth spot has been a minefield in recent years. Although it's a premium pick, it hasn't produced a Pro Bowler. The
Washington Redskins
selected cornerback
Carlos Rogers
in 2005. He has been a consistent starter, but missed most of 2007 with a knee injury.
Detroit Lions
outside linebacker
Ernie Sims
started every game in his first three seasons but made only eight last year because of a shoulder injury and has been a disappointment. The
Miami Dolphins
used their ninth pick in 2007 on receiver
Ted Ginn
, a maddening player for Dolfans because he plays small.
Cincinnati Bengals
outside linebacker
Keith Rivers
has played in only 20 games in his two seasons, and
Green Bay Packers
defensive tackle
B.J. Raji
started one game as a rookie last year.

Miami Dolphins:
The 12th selection has been far more rewarding than the ninth over the past five years, producing four players who have been selected to six Pro Bowls. The
San Diego Chargers
found linebacker
Shawne Merriman
there in 2005, followed by
Baltimore Ravens
defensive tackle
Haloti Ngata
, Bills running back
Marshawn Lynch
and
Denver Broncos
left tackle
Ryan Clady
. Last year's No. 12 has a bright future, too. The Broncos grabbed running back
Knowshon Moreno
, who rushed for 947 yards and seven touchdowns as a rookie.

New England Patriots:
Some intriguing players have fallen to the 22nd pick, which the Patriots own. The
Minnesota Vikings
were thrilled to see receiver
Percy Harvin
still on the board last year. The
Dallas Cowboys
snatched
Felix Jones
in 2008, and he could be their featured back this year. Although it didn't work out, the
Cleveland Browns
thought they'd drafted their franchise quarterback when they landed Notre Dame star
Brady Quinn
at No. 22 in 2007. In the two drafts before that, the
San Francisco 49ers
chose defensive end
Manny Lawson
and the Baltimore Ravens landed erratic receiver
Mark Clayton
.

New York Jets:
The 29th overall selection has been good to the Jets before. That's where they picked up All-Pro center
Nick Mangold
in 2006. Other teams haven't been nearly as fortunate in that slot, but the
New York Giants
seem to have found a top prospect last year with receiver
Hakeem Nicks
. The others drafted at No. 29 over the past five years are 49ers defensive tackle
Kentwan Balmer
, Ravens guard
Ben Grubbs
and former Colts defensive back
Marlin Jackson
.