June, 1, 2011
6/01/11
3:00
PM ET
Scouts Inc.'s Matt Williamson breaks down the tight ends of each AFC East team. Today: New York Jets.
Dustin Keller
is a heck of a weapon in the Jets' passing game and needs to be a major factor. His skill set should make him Mark Sanchez's best friend as the young quarterback learns his craft. Keller runs very well, is a good route runner and can make plays after the catch. He can line up in several different positions on the field.

Running behind Keller is a big problem, though. He doesn't have the power, size or tenacity to get a consistent push. And in a way, Keller could be looked at as an underachiever. He hasn't been the red zone factor that his skill set would indicate, and he could be more physical. This past season, he flashed his potential at times and really stood out in the AFC Championship Game. But he also disappeared too often, even though he got a lot of targets throughout the year. Keller started the season strong when
Santonio Holmes
was serving his suspension, but he had way too many drops. Keller didn't score after Week 4. With
Braylon Edwards
and Holmes possibly leaving via free agency, 2011 could be an especially crucial season for Keller. He has a chance to be great.
Ben Hartsock
complemented Keller well in that he is a pure blocker who doesn't frighten anyone as a pass-catcher, but he is no longer on the roster. New York needs either
Jeff Cumberland
or
Matthew Mulligan
to step up in this role. Both players have excellent size, but each tight end has only one career reception on his résumé. Mulligan's game more resembles Keller's rather than Hartsock's.
Scouts Inc. watches games, breaks down film and studies football from all angles for ESPN.com.
March, 2, 2011
3/02/11
7:50
PM ET
One of the NFL's more remarkable careers has come to an end.
New England Patriots
right guard
Stephen Neal
announced his retirement after 10 seasons.
Neal didn't play a down of college football. He was a wrestler at Cal State-Bakersfield and signed as an undrafted rookie project. He didn't make the team, and was signed to the
Philadelphia Eagles
' practice squad. But the Patriots saw enough that they signed him to their active roster later that year.
Offensive line coach Dante Scarnecchia helped Neal evolve into a quality player for several years.
Injuries always seemed to be a problem for Neal. He started nine or fewer games three seasons and just 37 games over his past four seasons. His 2010 campaign came to an end after eight games because of a shoulder injury.
Neal's retirement increases backup
Dan Connolly
's profile on the Patriots' roster and could keep
Nick Kaczur
around.
Connolly started capably at left guard
until
Logan Mankins
ended his contract standoff. Connolly then switched over to right guard for the injured Neal.
Boston Herald beat writer Ian R. Rapoport reported over the weekend that the
Patriots approached Kaczur about a salary cut
, but he refused.
Neal's decision was one of a few AFC East personnel moves Wednesday.
Rapoport also reported the
Patriots extended a qualifying offer to restricted free agent
running back
BenJarvus Green-Ellis
.
The
New York Jets
officially released defensive end
Vernon Gholston
and tight end
Ben Hartsock
.
March, 6, 2010
3/06/10
7:31
PM ET
New York Jets
general manager Mike Tannenbaum was asked on a Friday afternoon conference call whether safety
Kerry Rhodes
would remain with the team.
"We expect Kerry to be here unless something changes," Tannenbaum replied. "We expect Kerry to be here for the offseason program and to be with us next year and beyond."
Something changed.
The Jets agreed in principle Saturday night to trade Rhodes to the
Arizona Cardinals
for a 2010 fourth-round draft pick and a 2011 seventh-round pick. The move comes after the Cardinals' failed attempt to keep safety
Antrel Rolle
.
Rhodes went into last season hoping to
be a star in Rex Ryan's aggressive defense
but fell out of favor.
He looked like a playmaker in 2006 and 2007, recording 165 tackles, seven sacks, nine interceptions, 16 passes defensed and five forced fumbles.
But in 2008, Eric Mangini's last season as Jets head coach, Rhodes looked ordinary while often asked to play centerfield and not get involved as much. He led the Jets with 81 tackles, but he had one sack, two interceptions, five passes defensed, zero forced fumbles and two recoveries.
Rhodes expected to be unleashed, but
he eventually lost his starting job
to
Eric Smith
, breaking a string of 74 starts that began on opening day of his rookie season.
Rhodes seemed to have his greatest impact after he was demoted, recording all of his interceptions subsequently. He finished with 65 tackles, two for losses.
Tannenbaum was asked Friday if he expected his stance on Rhodes to change.
"No, I don't," Tannenbaum said. "But in this business, you see some of the players get let go at the end of the day. Going back to my previous answer, did I think we'd add
Ben Hartsock
or
Braylon Edwards
during the season? No.
"We do expect Kerry here. We expect him to be here for the offseason program."
So much for that.
March, 4, 2010
3/04/10
8:24
AM ET

Buffalo Bills
Potential unrestricted free agents:
DE
Ryan Denney
, LB
Chris Draft
, DB
Todd Johnson
, G
Seth McKinney
, WR
Terrell Owens
, WR
Josh Reed
, S
Bryan Scott
, G
Kendall Simmons
, LB
Josh Stamer
.
Potential restricted free agents:
LB
Keith Ellison
, QB
Gibran Hamdan
, G
Richie Incognito
, TE
Joe Klopfenstein
, TE
Derek Schouman
, T
Jonathan Scott
, S
George Wilson
, CB
Ashton Youboty
.
Franchise player:
None.
What to expect:
The Bills are in a rebuilding mode and shouldn't be in too much of a hurry to sign their free agents. In fact, they took the unusual step of publicly announcing they wouldn't offer Owens, Reed or Denney contracts. The most attractive players are Incognito and Wilson. Most of the rest were bit players and injury replacements.

Miami Dolphins
Potential unrestricted free agents:
NT
Jason Ferguson
, CB
Nate Jones
, QB
Chad Pennington
, OLB
Jason Taylor
.
Potential restricted free agents:
RB
Ronnie Brown
, TE
Anthony Fasano
, OLB
Quentin Moses
.
Franchise player:
None.
What to expect:
The Dolphins have a tough decision to make on Ferguson. He'll turn 36 during the 2010 season and is coming off a serious quadriceps injury. Without him, however, the Dolphins have a massive void in their 3-4 defense at a position that's difficult to replace. Pennington, Jones and Taylor all could be gone.

New England Patriots
Potential unrestricted free agents:
OLB
Tully Banta-Cain
, CB
Leigh Bodden
, OLB
Derrick Burgess
, RB
Kevin Faulk
, DE
Jarvis Green
, P
Chris Hanson
, G
Stephen Neal
, ILB
Junior Seau
, TE
Benjamin Watson
.
Potential restricted free agents:
K
Stephen Gostkowski
, G
Logan Mankins
, OLB
Pierre Woods
.
Franchise player:
NT
Vince Wilfork
.
What to expect:
Several starters are about to go up for bids, and the Patriots can't keep them all. Expect Faulk to be re-signed without much fuss. Neal, Bodden and Banta-Cain comprise a group they'd have trouble replacing. All three could fetch offers the Patriots would rather not match. Don't count on Watson coming back.

New York Jets
Potential unrestricted free agents:
LS
James Dearth
, DE
Marques Douglas
, K
Jay Feely
, LB
Ryan Fowler
, TE
Ben Hartsock
, LB
Larry Izzo
, FB
Tony Richardson
.
Potential restricted free agents:
QB
Kellen Clemens
, CB
Drew Coleman
, WR
Braylon Edwards
, DT
Howard Green
, T
Wayne Hunter
, WR
Brad Smith
, S
Eric Smith
, RB
Leon Washington
.
Franchise player:
None.
What to expect:
As a "final eight" team, the Jets have to window shop until one of their UFAs sign elsewhere. General manager Mike Tannenbaum is creative. Don't be surprised if the Jets use trades to upgrade. The key restricted free agent to monitor will be Washington, who received a second-round tender. His agent has been tweeting alarms the Pro Bowler could sign an offer sheet and dare the Jets to match.
February, 19, 2010
2/19/10
1:19
PM ET
By
Matt Williamson, Scouts Inc.
| ESPN.com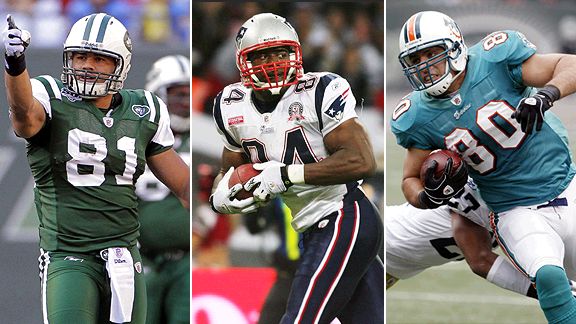 Getty ImagesThe tight ends in the AFC East -- including the Jets' Dustin Keller, the Patriots' Ben Watson and the Dolphins' Anthony Fasano -- are mostly afterthoughts in the passing game.
Note: Thursday and Friday, Scouts Inc.'s Matt Williamson is reviewing key aspects of AFC East teams. Thursday, he reviewed and ranked the division's secondaries from best to worst. Today, he is examining the lack of prominence of the AFC East's tight ends.
The tight end position really seems to be an afterthought in this division.
One reason is three out of the four AFC East defenses play a 3-4 scheme, with the
Buffalo Bills
going that direction in 2010 to make it four out of four. Why should that matter?
The 3-4 emphasizes speedy outside linebackers, so these offenses feel the need to keep their tight ends in to block on pass plays. Along those lines, this is also quite possibly the most physical division in the league. In order to be physical on offense, a team needs a strong, inline blocking tight end to help the running game.
While the Bills and the
Miami Dolphins
have not used prime resources at this position, the same cannot be said for the
New England Patriots
and
New York Jets
. Each team has used first-round draft choices on tight ends: The Patriots selected
Benjamin Watson
, now a pending unrestricted free agent, in the 2004 draft; and the Jets picked
Dustin Keller
in 2008.
Keller is the wild card of the lot. The Jets have been able to use Keller as a pass-catching weapon. They can do this because their offensive line is strong and the Jets also have a good blocking tight end in
Ben Hartsock
. Although Keller is inconsistent, he has a chance to be an asset to quarterback
Mark Sanchez
's development. Keller can attack a defense from many different spots in the formation, giving him the opportunity to match up against linebacker coverage. Keller could break out in 2010.
The Pats and Watson are in a state of flux. Many believe that he will not return to New England. If that is true, the Patriots next option is
Chris Baker
, who is ordinary in all facets. Watson is very athletic, but he's too much of a liability as a blocker, particularly in this division. Considering the uncertain state of the Patriots' wide receiver position, upgrading at tight end would make a lot of sense for New England.
In Miami, I can live with
Anthony Fasano
. Of course he isn't real flashy, but he does sure fit the Bill Parcells mold at the position. He is smart, tough, a hammer in the run game and has been productive near the goal line. The problem here is that Miami is just so weak at wide receiver that Fasano's lack of big-play ability is exposed. But this is a solid football player. Backup
Joey Haynos
gets a lot of playing time, but his role as a blocker is pretty clear. He isn't going to cause any mismatches in the passing game.
Buffalo gets so little out of their tight ends. The threesome of
Derek Schouman
,
Derek Fine
and
Shawn Nelson
were among the worst in the league, and Fine recently was released. The fact that the Bills offensive tackle position is simply horrendous doesn't help the tight ends' pass-catching potential. With the possible exception of Nelson, calling the Bills' tight end corp underwhelming would be a massive compliment.
November, 21, 2009
11/21/09
12:15
PM ET
When it comes to false starts, the
Buffalo Bills
have been finger-choppin' bad.
At his first practice Wednesday, interim head coach Perry Fewell gave an indication of how much tolerance he'll have for false starts. The Bills lead the NFL by far with 23 false starts, about twice the league average.
When an unnamed offensive player jumped, Fewell flipped.
"I started to cut the guy's finger off when he jumped offsides, but [trainer] Bud [Carpenter] told me I shouldn't do that," Fewell joked. "So I kind of got up in their face a little bit and just made my presence felt and just told them, 'Hey men, now it's first-and-15. We've got 5 more yards to hold instead of being first-and-10.'
"It's not acceptable. We've got to focus and we have to concentrate. That's the way we're going to get better."
I wonder what Fewell would have done had he been within range of bird-flipping
Tennessee Titans
owner Bud Adams on Sunday.
If Fewell actually did cut off a finger for every false start, Buffalo's offensive line wouldn't be able to get into a three-point stance.
The Bills are way ahead of the rest of the league. They have committed 44 percent more false starts than the next-worst offenders. The
Oakland Raiders
and
Detroit Lions
are tied for second with 16 false starts apiece. The league average is 11.8.
Bills left tackle
Demetrius Bell
and
San Francisco 49ers
tight end
Vernon Davis
are tied for the NFL lead with six false starts each, but Bell has played in one fewer game because of an injury.
Right tackle
Jonathan Scott
and rookie right guard
Andy Levitre
are next on the Bills' list with three each, a total that would rank first for 17 other teams. Scott has played only four games.
Every member of the Bills' offensive line has jumped at least once. Center
Geoff Hangartner
and reserve
Seth McKinney
are the only ones who haven't done it multiple times.
Around the rest of the AFC East, the
Miami Dolphins
(counting Thursday's game) and
New England Patriots
have committed 12 false starts. The
New York Jets
have jumped 14 times.
October, 14, 2009
10/14/09
3:10
PM ET
| | |
| --- | --- |
| | |
| | AP Photo/Steve Cannon; Steve Dykes-US PRESSWIRE |
| | The New York Jets landed Braylon Edwards in a deal last week; will the Bills ship Terrell Owens out of Buffalo before the trade deadline? |

Posted by ESPN.com's Tim Graham
Unlike trade deadlines in the other major sports, the NFL's closing date doesn't elicit an entertaining barrage of player movement.
Blockbuster deadline deals are rare, but they do happen. Eric Dickerson, Hershel Walker and Jerry Rice were traded at the deadline. Lesser stars such as
Roy Williams
,
Chris Chambers
and
Keenan McCardell
were bartered, too.
This year's trade deadline is Tuesday.
The biggest name being bandied about lately is
Terrell Owens
. The
Buffalo Bills
haven't been able to figure out how to use the future Hall of Famer, who likely will be gone when his contract is up after the season.
With that in mind, here's a deadline preview for all four AFC East clubs.
September, 27, 2009
9/27/09
2:46
PM ET

Posted by ESPN.com's Tim Graham
Both early AFC East games are tight through two quarters.
In a pair of games that will prove educational, the
New England Patriots
are ahead of the
Atlanta Falcons
by a field goal, while the
New York Jets
are ahead of the
Tennessee Titans
by four after taking a two-touchdown lead in the opening minutes.
Patriots quarterback
Tom Brady
isn't having as good of a game as
Matt Ryan
, who's playing in the area for the first time since leaving Boston College.
Brady hasn't utilized
Wes Welker
proxy
Julian Edelman
like last week and is 10 of 18 for 87 yards. Brady twice tried to go long distance to
Randy Moss
but couldn't connect even though Moss had gotten behind the secondary.
Ryan is 11 of 16 for 135 yards and no touchdowns or interceptions.
But the Patriots have gotten their running game ignited compared to the first two weeks.
Fred Taylor
has seven carries for 54 yards and the first Patriots touchdown. That's already the best game by a Patriots back this year -- seven more yards than Taylor's team-high total in last week's loss to the Jets and 22 yards more than
Laurence Maroney
's team-high output in the season opener.
The Jets exploded to a 14-0 lead with a great effort by
Mark Sanchez
for his first NFL rushing touchdown and converted a fumble on the ensuing kickoff into another score, this time a Sanchez toss to tight end
Ben Hartsock
.
September, 5, 2009
9/05/09
5:00
PM ET

Posted by ESPN.com's Tim Graham
Biggest surprise:
A mild surprise at best, the Jets retained running back
Danny Woodhead
and opted to keep only one fullback,
Tony Richardson
.

Jets coach Rex Ryan, when talking about that decision on a conference call Saturday afternoon, reminded reporters the backfield depth chart could change. Then Ryan added about Woodhead "clearly earned that spot. He works every single day. He practices as hard as he can every single day."
Woodhead was the preseason darling. The 5-foot-7 back from Chadron State ran 18 times for 158 yards and two touchdowns in the finale.

No-brainers:
The Jets had to place defensive end
Shaun Ellis
and outside linebacker
Calvin Pace
on the suspended list. Ellis will miss the season opener because of a marijuana arrest, while Pace will be out the first four games for violating the league's policy on performance-enhancing substances. They do not count as part of the 53-man roster until they're activated.

What's next:
The Jets continue to search for a consistent punter and more help at tight end.
The Jets kept punter
Reggie Hodges
, but Ryan clearly isn't satisfied at that position. He said it's "Reggie against the field" of free agents out there.
"Right now he's our punter," Ryan said. "Does that mean he's going to be our punter for the whole season? I'm not sure.
"Punter's an area where I think we need to get better, quite honestly. If Reggie's going to be punting, he has to punt better."
The Jets cut three tight ends Saturday, leaving them with
Dustin Keller
and
Ben Hartsock
, who they signed Thursday.