February, 5, 2014
Feb 5
10:50
PM ET
The
New York Jets
filled the last opening on their coaching staff on Wednesday night, hiring former LSU special teams coordinator Thomas McGaughey for the same position. He replaces Ben Kotwica, who left after the season to become the
Washington Redskins
' special teams coach.
The Jets identified McGaughey as their man more than a week ago, but they agreed to keep it under wraps until national signing day was complete on Wednesday, so it wouldn't hurt LSU's recruiting effort.
McGaughey, 40, becomes the Jets' third coordinator in three years. He has no NFL experience as a special teams coordinator, but he's not a newbie to the pro game. He served as an assistant for the
New York Giants
(2007-2010),
Denver Broncos
(2005-2006) and
Kansas City Chiefs
(2002). In 2007, he won a Super Bowl ring as a member of the Giants' coaching staff.
At LSU, McGaughey's special teams were dynamic, but he was blessed with tremendous talent. His returners included
Morris Claiborne
,
Tyrann Mathieu
and Odell Beckam, Jr. LSU scored six special-teams touchdowns in three seasons under McGaughey. In 2013, the Tigers allowed a 100-yard kickoff return.
This hiring is a bit unusual because Rex Ryan went outside his coaching tree, but he took that same leap last year by hiring Marty Mornhinweg as offensive coordinator. The Jets' special-teams job was kept in the family, so to speak, from 2001 to 2012, with Mike Westhoff (2001 to 2012) and Kotwica, an assistant under Westhoff. Ryan's decision to hire McGaughey, as opposed to a recycled NFL coordinator, shows he was seeking someone with fresh ideas.
January, 15, 2014
Jan 15
3:30
PM ET
Ben Kotwica, who spent six seasons with the
New York Jets
as a special-teams assistant and last season as the coordinator, has left the team to become the special teams coach of the
Washington Redskins
.
The Redskins confirmed the move Wednesday afternoon.

Kotwica was one of at least six assistants on Rex Ryan's staff with an expiring contract. Kotwica received a contract offer from the Jets, according to a league source, so his departure is a bit puzzling. It's possible he felt there was more security with the Redskins, who will have a new staff under recently hired head coach Jay Gruden.
Kotwica, a West Point graduate, interviewed for Army's head-coaching job in late December. That job went to Jeff Monken, formerly the Georgia Southern head coach.
Ryan's uncertain contract status could be a concern for members of his staff. He has only one year remaining on his deal and, although there has been speculation about a one-year extension, nothing has been finalized. Ryan has told friends that he'd like to keep his staff together, and it's believed that most, perhaps all of the soon-to-be-free-agent assistants have received contract offers.
Kotwica, originally hired by Eric Mangini in 2007, took over the special teams after the venerable Mike Westhoff retired after last season. The one bright spot was place-kicker
Nick Folk
, who enjoyed a career year. Otherwise, the special teams were fair to middling, based on league rankings. The lowpoint came in Week 15, when the Jets suffered a blocked punt that changed the momentum in a 30-20 loss to the
Carolina Panthers
. Kotwica used a strategic wrinkle -- three gunners instead of two -- to contain punt returner
Ted Ginn Jr.
, but it left them vulnerable in the line, resulting in the block.
Westhoff, 66, held the job from 2001 to 2012. Now the Jets will have their second special teams coach in as many years.
What about a Westhoff comeback? He's said to be happy in retirement, working as a football analyst for local media outlets (including ESPN New York 98.7). He has received feelers from other teams, but it sounds like he'll continue his post-coaching career. Then again, he's always been a never-say-never guy, so you never know.
October, 24, 2013
10/24/13
6:00
PM ET
FLORHAM PARK, N.J. -- Special teams coordinator Ben Kotwica, commenting for the first time on the
New England Patriots
' illegal "push" play, refused to confirm or deny he warned the officials beforehand to watch out for the tactic. Kotwica was more expansive on Bill Belichick's accusation that the
New York Jets
used it, too.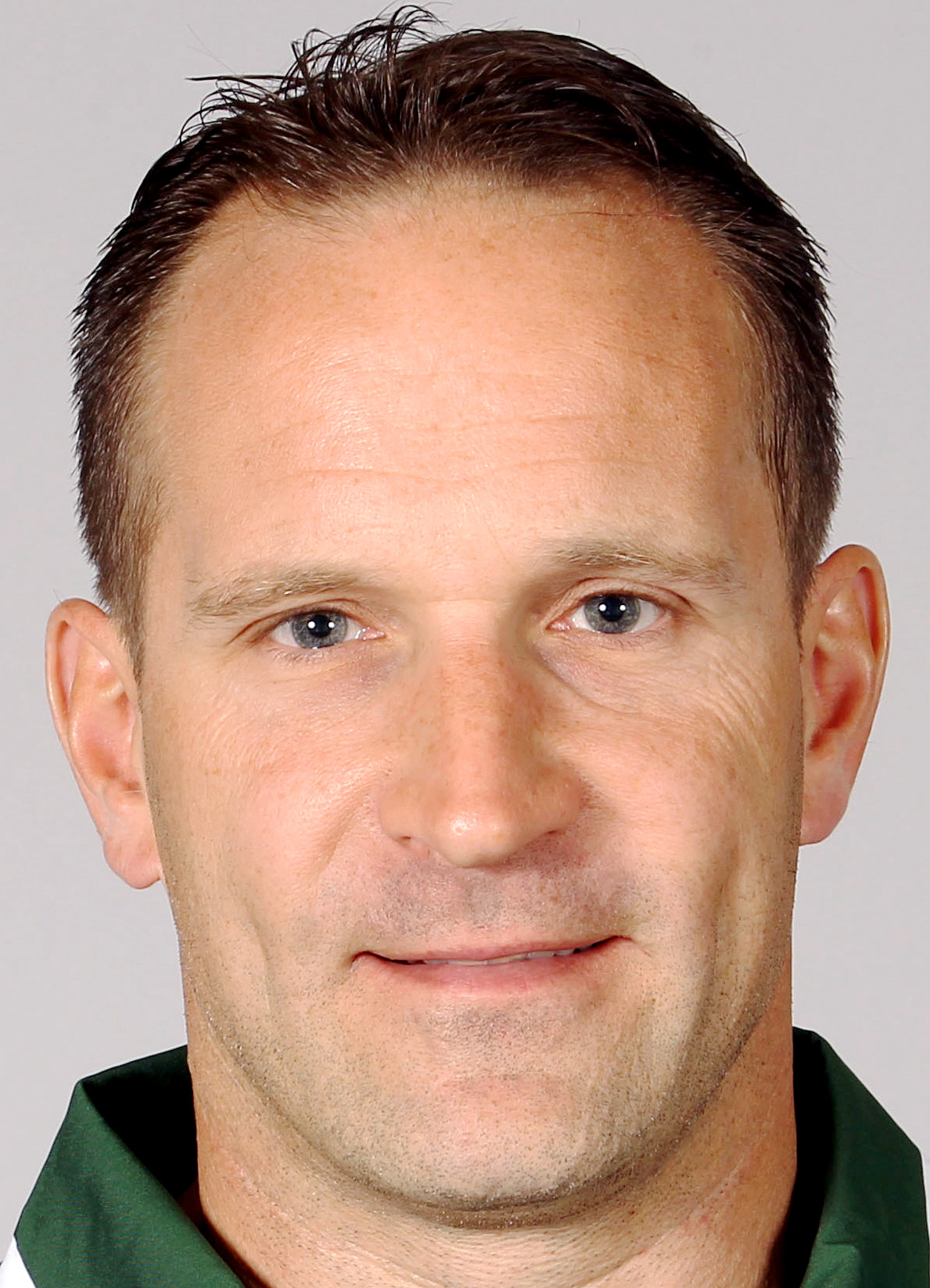 Kotwica
No way, Kotwica said.
"We don't coach pushing or anything along those lines," said Kotwica, adding: "I don't know what they were trying to do. I just know this: We teach a technique and a scheme on how to block field goals and it's within the regulations of the game."
Kotwica echoed Rex Ryan, who fired back at Belichick Wednesday by saying the allegation is "not true." It appeared that
Quinton Coples
gave teammate
Muhammad Wilkerson
a one-armed push on
Stephen Gostkowski
's field goal at the end of regulation. It was "incidental contact," according to Kotwica.
Kotwica said he took no offense to Belichick calling out the Jets.
"No, I don't take it personally," he said. "I've got a lot of respect for Coach Belichick and what he's done for the game. That's his opinion. I wouldn't take it personally."
On Tuesday, ESPN.com reported the Jets' sidelined tipped off the officials during the game. It probably was Kotwica, who routinely speaks with officials during the week and before each game. Publicly, the Jets haven't confirmed that they alerted officials to the Patriots' previous use of the push play.
Kotwica cleverly danced around questions, saying he always communicates with the league office during the week to discuss rules and points of emphasis. He also speaks with the umpire before every game to discuss "different formations you have, different guys that are eligible ... and anything else that might happen during the game."
Asked point-blank if he brought up the subject last Sunday, Kotwica he preferred to keep those conversations private.
Everybody knows what happened.
Nick Folk
's field-goal miss from 56 yards in overtime was nullified because the Patriots'
Chris Jones
was penalized 15 yards for pushing a teammate into the Jets' formation. On his second try, from 42 yards, Nick was successful, lifting the Jets to a 30-27 upset.
"My initial reaction (to the penalty) was, 'I hope it's on them,'" said Kotwica, claiming he had no idea it would for pushing.
July, 24, 2012
7/24/12
1:02
PM ET

We have yet another wrinkle in the
Tim Tebow
saga.
The
New York Jets
, who traded for Tebow this offseason, plan to use him as many ways as possible this season. In addition to working Tebow as a punt protector in minicamp, Jets assistant special teams coach Ben Kotwica told
the New York Daily News
the team also is considering using Tebow on the kickoff team.
"I think there might be some value there on kickoff returns," Kotwica told the Daily News. "It's something that we've talked about. I don't think there's any option with Tim that we've taken off the table."
Is this a good idea?
I'm all for the Jets getting the most out of Tebow. Despite criticism of his throwing ability, Tebow is a solid football player who is strong and athletic. But using Tebow on the kickoff team might be going too far.
Many of the NFL's biggest collisions and subsequent concussions take place on kickoff returns. That number decreased last year with the new kickoff rules, but subjecting a backup quarterback to that is risky. Tebow will take enough big hits this year running the ball in the Wildcat offseason. The Jets need to protect him to some degree.
Physically, Tebow probably could get the job done on the kickoff team. But there are plenty of players on the Jets' 53-man roster who can run 60 yards down the field and make a tackle. The Jets should leave that to players who are fighting for roster spots. Tebow has more important roles to worry about.
July, 5, 2012
7/05/12
9:28
AM ET
By
ESPN.com staff
| ESPN.com
Buffalo Bills
What can the Bills expect
to get out of first-round draft choice Stephon Gilmore this season? GM Buddy Nix thinks the rookie cornerback will make an impact. "From what I've seen, I'd say he definitely can [be a difference-maker]," said Nix. "He's done more than we thought he'd do with what we've exposed him to. So nothing surprises him. He's a very patient guy. He doesn't bite on every move. He's smart and has deceiving strength and great speed."
Erie County executive Mark Poloncarz gave NBC affiliate WGRZ-TV
an update Wednesday on the county's stadium lease negotiations
with the team. "[The Bills] want more than I think they know they're going to get," Poloncarz said. "But we're not going to give away the store to keep the team here. We're going to ensure that this team is economically viable and is kept here for many years. But it's my goal that the Bills contribute to part of the construction costs associated with the stadium. They know that, because they heard that directly from me, and I feel confident that when all is said and done that we're going to get a lease that is fair for all, and keeps the Buffalo Bills in this community, so that they're the Buffalo Bills, not the Los Angeles Bills."
Miami Dolphins
Dolphins rookies Olivier Vernon and Lamar Miller are
homegrown players who have played in South Florida their whole lives
. "It was crazy, we never really thought about that before," Vernon said to Izzy Gould of the South Florida Sun-Sentinel. "We never really thought it was gonna happen. ... We never would have thought we would have been where we are right now, but we're just enjoying it, taking it in stride."
Receiver Chad Ochocinco, who was live-tweeting his wedding Wednesday, wrote "going through text messages,
Marvin Lewis message is making me tear up a lil bit
and I didn't even see the bride yet ..."
New England Patriots
In his mailbag, ESPNBoston.com's Mike Reiss looks at what might be
the holdup in the contract negotiations
between the team and receiver Wes Welker.
Arkansas offensive coordinator Paul Petrino saw former Razorbacks quarterback Ryan Mallett this spring, and
the coach raved about Mallett's conditioning
, a sore spot that dogged Mallett at times during his collegiate career, reports the Boston Herald's Jeff Howe. "He's really down in weight," Petrino said. "He looks in great shape. He looks like he's keeping himself in great shape, because he still comes around here quite a bit."
New York Jets
Jets coach Rex Ryan decided to
ditch the idea of having game captains
this season, writes the New York Post's Brian Costello.
A tweet from Darrelle Revis' Twitter account Wednesday cursed his representatives for "getting [him] traded," reports The Sporting News. The tweet was later deleted and
Revis claimed his account was hacked
.
Jets assistant special-teams coach Ben Kotwica was among a group of current and former coaches
taking part in a joint NFL-USO trip
to the Persian Gulf to celebrate the Fourth of July with members of the armed forces, reports ESPNNewYork.com.
January, 25, 2010
1/25/10
6:36
PM ET
The
New York Jets
no longer are the same team that came within a half of reaching the Super Bowl.
A transition to 2010 already has begun. The club on Monday
parted ways with four assistant coaches
and a consultant.
The changes won't impact the infrastructure of Rex Ryan's staff and mostly eliminates overkill. All of the aides answered to a primary position coach.
Gone are special teams coach Kevin O'Dea, assistant secondary coach Doug Plank, assistant quarterbacks coach John DeFilippo and defensive quality control assistant Brian Smith.
Plank, the most recognizable name and the inspiration for Buddy Ryan's 46 defense, was fired. The other three assistants didn't have their expired contracts renewed.
Plank helped secondary coach Dennis Thurman. DeFilippo, who coached the
Oakland Raiders
' quarterbacks for two seasons before joining the Jets, was an underling to quarterbacks coach Matt Cavanaugh. Jets offensive coordinator Brian Schottenheimer also is an accomplished QB guru.
O'Dea became redundant last year, when venerable special-teams coordinator Mike Westhoff returned from a brief retirement driven by medical issues. The Jets also have special-teams assistant Ben Kotwica.
Quality control coaches are tantamount to entry-level assistants. Smith had been with the Jets three seasons in that capacity.
Also leaving is pass-rushing consultant Chuck Smith, whom outside linebacker Clavin Pace credited with his big season. The former
Atlanta Falcons
defensive end helped out in training camp and was asked to stick around. He's leaving to become the University of Tennessee's defensive line coach.
May, 22, 2009
5/22/09
10:54
AM ET
Posted by ESPN.com's Tim Graham
New York Jets
Buffalo Bills
Miami Dolphins
New England Patriots
February, 9, 2009
2/09/09
8:11
PM ET
Posted by ESPN.com's Tim Graham
New York Jets rookie head coach Rex Ryan is placing the final touches on his staff.
The club on Monday announced the expected hire of quarterbacks coach Matt Cavanaugh and assistant quarterbacks coach John DeFilippo.
The Jets also promoted Ben Kotwica from defensive quality control coach to assistant special teams coach and switched Brian Smith from offensive quality control to defensive.
There aren't any major openings left to fill. Ryan retained offensive coordinator Brian Schottenheimer and previously hired Baltimore Ravens linebackers coach Mike Pettine as defensive coordinator. Ryan brought Mike Westhoff back to run special teams.
Cavanaugh spent the past four seasons as offensive coordinator for the University of Pittsburgh. He has been offensive coordinator for the Ravens (1999-2004) and Chicago Bears (1997-98). He played 14 seasons as a quarterback for the New England Patriots, San Francisco 49ers, Philadelphia Eagles and New York Giants.

DeFilippo spent the past two seasons as quarterbacks coach of the Oakland Raiders. He was offensive quality control assistant for the Giants two years before that.
Jets Staff: Who's In, Who's Out?
Position
Who's in?
Where from?
Who's out?
Where to?
Quarterbacks
Matt Cavanaugh
Pitt

Brian Daboll
Browns
Asst. quarterbacks

John DeFilippo
Raiders
--
--
Special teams

Ben Kotwica

Jets

Kevin O'Dea

Unattached

Running backs
Anthony Lynn
Browns
Jimmy Raye
49ers

Receivers
Henry Ellard
Rams
Noel Mazzone
Unattached
Defensive coordinator
Mike Pettine
Ravens
Bob Sutton
Jets
Defensive line
Kerry Locklin

Fresno State

Dan Quinn
Seahawks
Asst. D-line
--

--
Bryan Cox
Browns
Linebackers
Bob Sutton
Jets
Jim Hermann
Giants
Secondary
Dennis Thurman
Ravens
Jerome Henderson
Browns
Asst. secondary
Doug Plank
Falcons
--
--
Defensive quality
Jim O'Neil
E. Michigan
Andy Dickerson
Browns
Defensive asst.
Jeff Weeks
Raiders
--
--