February, 19, 2010
2/19/10
1:19
PM ET
By
Matt Williamson, Scouts Inc.
| ESPN.com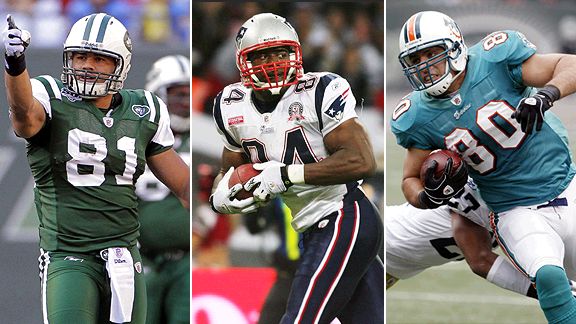 Getty ImagesThe tight ends in the AFC East -- including the Jets' Dustin Keller, the Patriots' Ben Watson and the Dolphins' Anthony Fasano -- are mostly afterthoughts in the passing game.
Note: Thursday and Friday, Scouts Inc.'s Matt Williamson is reviewing key aspects of AFC East teams. Thursday, he reviewed and ranked the division's secondaries from best to worst. Today, he is examining the lack of prominence of the AFC East's tight ends.
The tight end position really seems to be an afterthought in this division.
One reason is three out of the four AFC East defenses play a 3-4 scheme, with the
Buffalo Bills
going that direction in 2010 to make it four out of four. Why should that matter?
The 3-4 emphasizes speedy outside linebackers, so these offenses feel the need to keep their tight ends in to block on pass plays. Along those lines, this is also quite possibly the most physical division in the league. In order to be physical on offense, a team needs a strong, inline blocking tight end to help the running game.
While the Bills and the
Miami Dolphins
have not used prime resources at this position, the same cannot be said for the
New England Patriots
and
New York Jets
. Each team has used first-round draft choices on tight ends: The Patriots selected
Benjamin Watson
, now a pending unrestricted free agent, in the 2004 draft; and the Jets picked
Dustin Keller
in 2008.
Keller is the wild card of the lot. The Jets have been able to use Keller as a pass-catching weapon. They can do this because their offensive line is strong and the Jets also have a good blocking tight end in
Ben Hartsock
. Although Keller is inconsistent, he has a chance to be an asset to quarterback
Mark Sanchez
's development. Keller can attack a defense from many different spots in the formation, giving him the opportunity to match up against linebacker coverage. Keller could break out in 2010.
The Pats and Watson are in a state of flux. Many believe that he will not return to New England. If that is true, the Patriots next option is
Chris Baker
, who is ordinary in all facets. Watson is very athletic, but he's too much of a liability as a blocker, particularly in this division. Considering the uncertain state of the Patriots' wide receiver position, upgrading at tight end would make a lot of sense for New England.
In Miami, I can live with
Anthony Fasano
. Of course he isn't real flashy, but he does sure fit the Bill Parcells mold at the position. He is smart, tough, a hammer in the run game and has been productive near the goal line. The problem here is that Miami is just so weak at wide receiver that Fasano's lack of big-play ability is exposed. But this is a solid football player. Backup
Joey Haynos
gets a lot of playing time, but his role as a blocker is pretty clear. He isn't going to cause any mismatches in the passing game.
Buffalo gets so little out of their tight ends. The threesome of
Derek Schouman
,
Derek Fine
and
Shawn Nelson
were among the worst in the league, and Fine recently was released. The fact that the Bills offensive tackle position is simply horrendous doesn't help the tight ends' pass-catching potential. With the possible exception of Nelson, calling the Bills' tight end corp underwhelming would be a massive compliment.
July, 8, 2009
7/08/09
11:12
AM ET
February, 2, 2009
2/02/09
10:30
AM ET
Posted by ESPN.com's Tim Graham
On Thursday, I asked New England Patriots fans to take part in a bit of offseason whimsy by responding to the following question:

If money, contracts and salary-cap restraints were no object, and you could choose any player in the NFL to add to your team, whom would you acquire?
I solicited nominations from the fans of all four AFC East clubs, and Patriot Nation came out strong. A solid majority went defense, with Pittsburgh Steelers safety Troy Polamalu and Oakland Raiders cornerback Nnamdi Asomugha eliciting the most attention.
Here is a sampling of the responses that were left in the comments section and in my AFC East mailbag:
Ed in Ohio writes: As a patriot fan, and one living is Steeler country, I would have to go with Troy Polamalu. He would toughen up the secondary, and I'd love to see the ways that Bill would use him.

Allie in Fredericksburg, Va., writes: Hey Mr. Graham, I love your blog on the AFC East, it is the greatest. Well, if price were not an obstacle, I think that the Patriots would need to look at their defense. The offense is productive, even if Ben Watson is not the best. I liked the suggestion of Troy Polamalu. Or what about Ed Reed? I think he'd be a great addition as well.

th0mas33 writes: Asomugha is a FA, the Pats should make a serious run at him. He is a classy, smart guy and fits the "Patriots" mold. Plus Asomugha is tough, physical corner like they use to have.
(flashbacks of Ty Law pushing Marvin Harrison around)

Los in Boston writes: Id definately say Asomughua. Put Hobbs back at 2 where hes more solid, and let Asomughua shut down ANYONE one on one. Then we can really get our pass rush on. Our offense is set anyway.

merlion_8 writes:

Semi-finalists:Offense: Adrian Peterson
Defense: Mario Williams, Ed Reed, DeMarcus Ware, James Harrison, Troy Polamalu and Nnamdi Asomugha,
Special Teams: Leon Washington
Finalists: Adrian Peterson, Mario Williams and DeMarcus Ware
Winner: DeMarcus Ware (slightly over Mario Williams)
Most realistic for Pats: Nnamdi Asomugha
Top needs are the defensive secondary and applying pressure to the QB. I think if they could get more sacks and pressure, that would help their secondary. Unfortunately, I would not be surprised if they can only pick up a corner, perhaps Nnamdi Asomugha

beachbumjk writes: Julius Peppers. The pass rush would be awesome plus he drops back in coverage really well. Offensively were fine over powering when healthy. The D needs help Mid line backer or corner but if you have tht pass rush off both ends with speed how much corner do you need and remember the rookies are another year wiser. Peppers would be nice.
The Patriots' defense never filled the void created by Asante Samuel's free-agency departure. A lockdown cornerback to start opposite Ellis Hobbs clearly was how the readers wanted to go in our little daydream scenario.
In the AFC East Blog's Plus One, the Patriots select Nnamdi Asomugha.
September, 17, 2008
9/17/08
4:43
PM ET
| | |
| --- | --- |
| | |
| | Stew Milne-US PRESSWIRE and Lisa Blumenfeld/Getty Images |
| | Joey Porter, right, appears to have given away the Dolphins game plan: "... Throw the kitchen sink at [Cassel]. That's what we're going to do." |
Posted by ESPN.com's Tim Graham
DAVIE, Fla. -- Grab a thumbtack, Patriots Nation.
Miami Dolphins OLB Joey Porter has some bulletin-board material for you.
Porter, who has a stellar track record for throwing verbal salvos at the opposition, fired some jabs Wednesday at New England Patriots QB Matt Cassel.
"I just know he's not a Tom Brady," Porter said. "So if it's not Tom Brady, it shouldn't be that hard."
The Patriots have won 21 straight regular-season games. The Dolphins have lost 20 of their past 21 games. The Patriots destroyed the Dolphins last year by a combined score of 77-35.
Yet Porter said "It'll be good to go out there and get our first victory."
Porter announced the Dolphins defense is going to come after Cassel.
"You treat him like you treat a backup," Porter said. "How do you prepare for a backup? He don't get that many snaps, right? So you throw the kitchen sink at him. That's what we're going to do."
Cassel became the Patriots' starting quarterback in Week 1, when Tom Brady suffered a season-ending knee injury. Cassel came off the sideline and beat the Kansas City Chiefs. He started last Sunday's victory over the New York Jets. The last time Cassel had started at QB was as a high school senior in 1999.
"He's a guy we'll prepare for, but that was his first start since high school," Porter said. "So you can take all the reps you want to. This is a totally different game, a totally different league. He's only had one start in the NFL. Take that for what it's worth. He won it, but if you compare him to Brady, there's no comparison.
"You can say whatever you want to put with it. Those are just the facts. That's what it is. It means what it means."
As for defending against the same targets Brady enjoyed (Randy Moss, Wes Welker, Jabar Gaffney and maybe Ben Watson), Porter said: "The receivers are still going to be the same receivers. But they can't get the ball like they were used to getting it when Brady was there."
While there's an NFL tradition to publicly bemoan the loss of an opposing starter and talk about wanting to go up against the best players each week, Porter said he won't turn down victories against second-stringers.
"I want to win the game," Porter said. "It doesn't matter who they have back there, throwing the ball, running the ball. ... We'll take a victory around here any way you can get it.
"I'm not going to be mad because [Brady] ain't out there and we get the backup. If we get a victory for the rest of the season against all backups, I'll take 14 wins against 14 backups and feel good about it."
September, 4, 2008
9/04/08
10:40
AM ET
Posted by ESPN.com's Tim Graham
I'm not above stealing a good blog idea when I see one. So with props to AFC North reporter James Walker and NFC South reporter Pat Yasinskas, here is the inaugural preseason All-AFC East offense.
The defense and special teams -- all the way down to the holder -- will be unveiled Friday and Saturday.
QUARTERBACK: Tom Brady, Patriots.
Even if Brett Favre, the NFL's greatest statistical passer, were 31 years old, Brady still would get the nod. Brady has won three Super Bowls. He won with a pedestrian receiving corps, and once he had elite targets, he rewrote the season record book.
RUNNING BACK: Marshawn Lynch, Bills.
Of all the backs in the division, Lynch possesses the best combination of talent, toughness and youth. Ronnie Brown would be the choice if he weren't coming off a reconstructed right knee and showing a proclivity for appearing on injury reports.
FULLBACK: Tony Richardson, Jets.
The 14-year vet still has it. Richardson went to the Pro Bowl last season after blocking for his sixth 1,000-yard rusher. He has cleared pathways for Adrian Peterson, Chester Taylor, Larry Johnson and Priest Holmes.
WIDE RECEIVERS: Randy Moss, Patriots, and Lee Evans, Bills.
The first selection was simple, to say the least. Moss is the greatest receiver in the game and maybe the best ever. Laveranues Coles, who has grabbed 90 passes twice and rolled up 1,000 yards thrice, would be the other selection if not for his injury problems. Wes Welker's gaudy stats as a slot receiver make him an interesting candidate. But Evans is a special talent who has been overlooked. He's coming off a down year because a sputtering offense allowed opponents to double cover him. But Evans is a Pro Bowl talent and the second-best No. 1 receiver in the AFC East.
TIGHT END: Chris Baker, Jets.
This was a tough one. Ben Watson might be the most physically gifted, but the Patriots' red-zone target can't seem to stay on the field because of injuries.. Baker is coming off a career season of 41 catches for 409 yards and three touchdowns for a team that scored 14 points or less in games. But by the end of 2008 his teammate, rookie Dustin Keller, might emerge as one of the NFL's more dangerous receiving ends. Anthony Fasano could have a breakout year for the Dolphins now that he's no longer behind Jason Witten in Dallas.
LEFT TACKLE: Matt Light, Patriots.
Put an asterisk on this one. Bills holdout Jason Peters would be the pick if he weren't twiddling his thumbs. Light is one of the NFL's elite blindside protectors. He has made the past two Pro Bowls and was a first-team All Pro last year.
LEFT GUARD: Alan Faneca, Jets.
Every AFC East team has an imposing left guard. Derrick Dockery (Bills), Justin Smiley (Dolphins) and Faneca were among the most coveted players in their free-agent classes. Logan Mankins (Patriots) is a budding star. But Faneca has played in seven straight Pro Bowls. He was a first-team All Pro last season.
CENTER: Dan Koppen, Patriots.
Nick Mangold (Jets) and Samson Satele (Dolphins) can be franchise keystones, but Koppen is more established. Koppen went to his first Pro Bowl last season as a key member of a line that allowed only 21 sacks.
RIGHT GUARD: Brandon Moore, Jets.
The most anonymous AFC East position is right guard. Donald Thomas (Dolphins) is a rookie who didn't start until his senior year at UConn, where he walked on. Brad Butler (Bills) became a starter last year. Billy Yates (Patriots) wasn't drafted and has five career starts in five NFL seasons. Moore wasn't drafted either, but he has started 57 straight games for the Jets.
RIGHT TACKLE: Vernon Carey, Dolphins.
Jets newcomer Damien Woody is the most decorated player among this year's AFC East right tackles, but he has barely played the position, going to one Pro Bowl as a center and winning three Super Bowls with the Patriots as a center and guard. Carey is moving back to his natural right side after a season on the left. He's the most established of the bunch.
September, 3, 2008
9/03/08
4:27
PM ET
Posted by ESPN.com's Tim Graham
DAVIE, Fla. -- How's this for refreshing?
The Miami Dolphins just passed out their first injury report of 2008, and there's not a single name on it. Nary a player, even though we know some are battling various bumps and bruises.
For instance, OLB Joey Porter has a sore lower back. RB Ronnie Brown has a right thumb injury.
So perhaps it's an act of defiance, a way of telling the New York Jets, "Buckle up, boys, because we're lining up."
The Jets, meanwhile, list WR David Clowney (shoulder) as out. Limited in practice Wednesday were DB David Barrett (shoulder), WR Laveranues Coles (thigh), DE Shaun Ellis (hand), WR Marcus Henry (calf), DB Justin Miller (foot) and RT Damien Woody (shoulder).
The Patriots, infamous for their injury report Tom Brady foolery, had four players who didn't practice: WR Sam Aiken (knee), OL Dan Connolly (knee), DL Le Kevin Smith (knee), TE Ben Watson (knee). OL Russ Hochstein (groin) was limited. Brady was listed as participating fully, but he was labeled as having right shoulder and foot injuries.
July, 26, 2008
7/26/08
8:29
AM ET
Posted by ESPN.com's Tim Graham
Buffalo Bills
Miami Dolphins
New England Patriots
New York Jets