September, 15, 2011
9/15/11
3:30
PM ET
The
Miami Dolphins
(0-1) will try to get in the win column Sunday against the
Houston Texans
(1-0). Here are Miami's biggest reasons for hope and concern in Week 2:

Reason for hope:
Chad Henne
/offense
Was it a one-game wonder? No one knows for sure. But quarterback Chad Henne and Miami's offense looked pretty good in a Week 1 loss to the
New England Patriots
. Despite some struggles on third down and in the red zone, Miami registered 488 total yards. Henne threw for a career-high 416 yards and produced three touchdowns (two passing, one rushing). Miami can win its share of games if Henne continues to play at this level. Miami also is getting healthier at running back. Rookie
Daniel Thomas
and fullback
Charles Clay
might both return Sunday from hamstring injuries. More depth could help spell
Reggie Bush
, who played every snap last week.
Reason for concern:
Pass defense
Miami's defense was pretty good last season. The Dolphins ranked sixth in yards allowed in 2010. But I don't know if this group could play any worse than it did Monday night against New England. Yes,
Tom Brady
(517 yards, four touchdowns) was amazing. But Miami's missed tackles, blown coverages and lack of pass rush cannot be ignored. Miami made one casualty from that performance. Former Dolphins cornerback
Benny Sapp
was released and they added veteran corner
Will Allen
. Coming into the season, I considered Miami's defense the strength of the team. The Dolphins don't appear to be a team built to win high-scoring shootouts. It's going to be hard for Miami to avoid a slow start if the defense can't quickly round into form.
September, 14, 2011
9/14/11
9:28
AM ET
Just a couple days after getting torched by the
New England Patriots
, the
Miami Dolphins
brought back a familiar face to the secondary with cornerback
Will Allen
. ESPN's Adam Schefter reports Allen agreed to
a one-year contract
.

Here are some thoughts on the signing.
Allen was released before the regular season when the Dolphins cut their roster down to 53 players. But Allen remained on Miami's short list. The move was made at the time more for financial reasons than performance-based ones. Allen had a history of injuries and the Dolphins did not want to guarantee his $1.5 million salary in 2011.
Allen, when healthy, is an upgrade over Benny Sapp. Other than a tipped ball that led to an interception, Sapp struggled against New England. He gave up several plays and was the victim during Patriots receiver Wes Welker's 99-yard touchdown catch in the fourth quarter. The Dolphins released Sapp on Tuesday.
Allen should be able to make an immediate impact. He was with the Dolphins all through training camp and spent the past five years with the team. He knows the playbook well. The Dolphins are looking for answers. So don't be surprised if Allen plays an important role behind starting corners Sean Smith and Vontae Davis Sunday against the Houston Texans.
September, 13, 2011
9/13/11
6:50
PM ET
Sapp
Cornerback
Benny Sapp
has been released by the
Miami Dolphins
, Sapp's
agent tweeted Tuesday
evening. This isn't a major surprise after Miami gave up 517 passing yards to
New England Patriots
quarterback
Tom Brady
on "Monday Night Football."
Sapp was the victim on Patriots receiver
Wes Welker
's 99-yard touchdown catch in the fourth quarter. That play helped seal the game for New England (1-0).
Meanwhile, the Dolphins (0-1) are searching for answers defensively. They have another strong passing team -- the
Houston Texans
-- coming to town in Week 2.
March, 15, 2011
3/15/11
11:03
AM ET
Monday on the AFC East blog,
dropped interceptions were a hot topic
.
Today, I want to broach a totally different subject: dropped interceptions.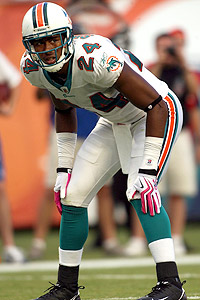 Marc Serota/Getty ImagesMiami's Sean Smith tied for the league lead with five dropped interceptions last season.
We already know
New York Jets
quarterback
Mark Sanchez
threw the most passes defenders dropped.
But which defender dropped the most? He's from the AFC East, too.
Football Outsiders research shows
Miami Dolphins
right cornerback
Sean Smith
tied for the league lead with five dropped interceptions last year even though he didn't re-assume his starting role until Week 9.
Smith's proxy,
Jason Allen
, also dropped two, giving the Dolphins seven at that position alone.
The NFL average for an entire defense was 6.3 dropped interceptions last season. The Dolphins had 19 of them. The
Green Bay Packers
were next with 14.
Dolphins free safety
Chris Clemons
dropped three interceptions, tying him for sixth in the league. Cornerback
Benny Sapp
dropped two. Defensive ends
Phillip Merling
and
Kendall Langford
, outside linebacker
Koa Misi
, inside linebacker
Karlos Dansby
, cornerback
Nolan Carroll
and safeties
Reshad Jones
and
Tyrone Culver
had one apiece.
The Dolphins actually snagged 11 interceptions. Only three teams recorded fewer.
Think defensive coordinator Mike Nolan tore out his hair much?
The other three AFC East teams combined didn't have nearly as many dropped interceptions as the Dolphins did.
In fact, the rest of the AFC East had just as many as Smith, Allen, Clemons and Sapp alone.
The Jets and
Buffalo Bills
each had five dropped interceptions. Strong safety
Donte Whitner
was the only defender on either team with two. Bills cornerback
Drayton Florence
didn't have any drops one season after leading the league with five.
The
New England Patriots
were incredibly fortuitous when it came to interceptions. They had 25 picks, but dropped only two: inside linebacker
Jerod Mayo
and cornerback
Darius Butler
.
March, 4, 2011
3/04/11
1:08
PM ET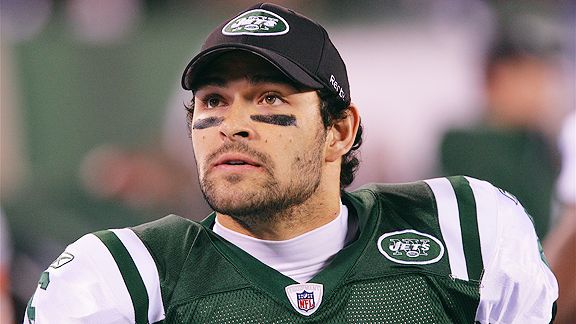 Richard A. Brightly/Icon SMIMark Sanchez is set to earn $14.75 million in base salary next season, the most in the AFC East.
Sports labor squabbles often are described as billionaires arguing with millionaires over money.
While that's a catchy rhyme that sums up fan frustration, the phrase is not entirely true.
Inspired by a blog entry from the
minister of all things AFC South, Paul Kuharsky
, I looked at NFL Players Association files to count up the number of AFC East players scheduled for $1 million base salaries in 2011.
Granted, up-front bonuses and incentives can make base salaries misleading. But base salaries are the only figures that create a common ground, player for player.
You'll see a vast majority of NFL players make much less than $1 million a year. Although many will make seven figures before they walk away from the game, careers are short and treacherous. They'll never see that kind of cash again for the rest of their lives.
That's why they're fighting for every dollar now.
Of the 226 players under contract in the AFC East, only 62 of them (27.4 percent) will make base salaries of $1 million or more.
The NFLPA hasn't acknowledged any franchise tags that have been signed. Those players are marked with an asterisk and not factored into the totals.

Buffalo Bills
Base salaries of $1 million or more:
19
Players under contract:
54
Percentage of roster making $1 million or more:
35.2

Miami Dolphins
Base salaries of $1 million or more:
15
Players under contract:
55
Percentage of roster making $1 million or more:
27.3

New England Patriots
Base salaries of $1 million or more:
14
Players under contract:
60
Percentage of roster making $1 million or more:
23.3

New York Jets
Base salaries of $1 million or more:
14
Players under contract:
57
Percentage of roster making $1 million or more:
24.6
October, 31, 2010
10/31/10
4:26
PM ET
A few thoughts on the Dolphins'
22-14
win against the Bengals:


What it means:
The Dolphins remained undefeated through four road games and pulled within a game of -- at least -- second place despite more offensive problems. The
New York Jets
were shut out at home and slipped to 5-2. The
New England Patriots
played at 4:15 p.m.
Red-zone trend:
The Dolphins got inside the Bengals' 25-yard line five times, but managed only one touchdown, a 1-yard
Ricky Williams
run in the fourth quarter.
Carpenter on fire:
Miami's inability to score touchdowns meant another big day for kicker
Dan Carpenter
. For the second straight week, he converted five attempts to keep Miami in the game. He made a 54-yarder at the end of the first half to pull Miami within two points.
Clutch play:
Sean Smith
, who lost his starting right cornerback job to
Jason Allen
just before the season started, recorded his first NFL interception to kill a 15-play Bengals drive at the Dolphins' 7-yard line late in the fourth quarter.
Defensive containment:
The Dolphins didn't record a sack or force a fumble. They had only one tackle for a loss. Their leading tackler was slot corner
Benny Sapp
. But they kept the Bengals in check. Bengals running back
Cedric Benson
averaged 3.5 yards a carry.
Carson Palmer
passed for only 156 yards and completed less than 50 percent of his passes.
What's next:
The Dolphins will visit M&T Stadium to play the
Baltimore Ravens
, who will be coming off their bye.