AFC East:

Bernard Pollard
January, 21, 2013
1/21/13
9:30
AM ET

The key third-quarter
drop by Pro Bowl receiver
Wes Welker
certainly wasn't the only reason the
New England Patriots
lost in the AFC Championship Game to the
Baltimore Ravens
. There was plenty of blame to go around.
Here are several key plays and players that crushed New England's hopes to advance to Super Bowl XLVII:
Baltimore outplayed New England in just about every facet of this game. This is further proof that you always have to be at your best in the playoffs.
January, 21, 2013
1/21/13
12:34
AM ET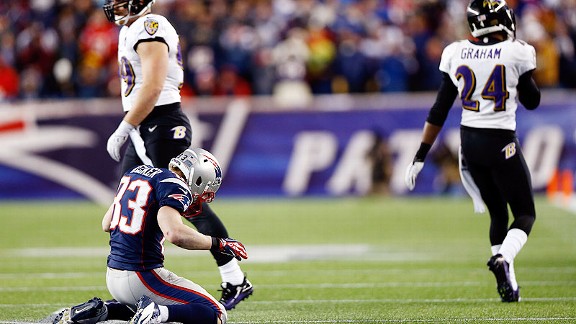 Jared Wickerham/Getty ImagesWes Welker will be a polarizing figure this offseason as the Patriots decide whether to sign him to an extension or to let him walk as a free agent.
FOXBOROUGH, Mass. -- There were so much media surrounding
Wes Welker
's locker Sunday night that the diminutive, 5-foot-9 receiver had to raise his voice to clear a pathway.
"Can I get to my locker, please?" Welker said tersely. "Thank you."
The stern tone of his voice was telling. Welker was clearly frustrated after the
New England Patriots
suffered a
28-13 home loss
to the
Baltimore Ravens
in the AFC Championship Game.
Welker's final stats look solid. He had eight catches for 117 yards and a touchdown. But for the second year in a row, Welker had another infamous postseason drop that will go down in Patriots lore.
On third-and-8 with New England leading 13-7, the Patriots drove to the Ravens' 34-yard line aiming to take control of the game. New England quarterback
Tom Brady
found Welker wide open to his left that would have been another first down. Instead, Welker dropped the pass and forced New England to punt.
The game went downhill for the Patriots after that. New England didn't score the rest of the way and the Ravens recorded 21 unanswered points to advance to Super Bowl XLVII against the
San Francisco 49ers
.
Welker's drops have a way of propelling other teams to victory in the playoffs. His fourth-quarter drop in last year's Super Bowl led to the New York Giants' game-winning drive and more heartache for the Patriots.
On Sunday, Welker played well otherwise. But he was roughed up in an important third quarter. Ravens safety
Bernard Pollard
put a helmet-to-helmet hit on Welker and was flagged 15 yards just three plays before his drop.
"Yeah, I was fine, I was fine," Welker said, not making any excuses. "It was just, you know, a missed opportunity."
The once sure-handed Welker has had a lot of "missed opportunities," as he calls it, since Super Bowl XLVI. In fact, Welker led the AFC with 11 drops during the regular season, according to ESPN Stats & Information. Based on that trend, it wasn't a surprise Welker's hands failed him again in a big spot in Sunday's AFC title game.
Welker is now an unrestricted free agent and will enter the offseason as a polarizing figure. Will Patriots fans most remember Welker's five 100-catch seasons, or the two huge drops in the Super Bowl and AFC title game? That's also a question for the Patriots to answer at the negotiating table.
Welker's production will command a large extension and big annual salary. It's difficult to imagine New England's offense without him. However, it's also difficult to imagine the Patriots overpaying for a receiver who will be 32 in May, especially after recently paying large extensions to tight ends
Aaron Hernandez
and
Rob Gronkowski
.
The franchise tag also seems unlikely. New England paid Welker a one-year franchise tender of $9.5 million to retain him this season. But that number goes up to $11.4 million in 2013. That is too expensive for a one-year rental and would eat up New England's salary cap.
It appears it's either a multi-year extension or bust for Welker and the Patriots, who both have about five weeks to make a decision before the Pro Bowl receiver hits the open market.
"I'm really not worried about it at all," Welker said of his contract status. "This is a tough loss and I'm just trying to get over it at the moment. Like I said, I'm not worried about any of it."
New England was outplayed in just about every facet. Baltimore was much better in the red zone and won the turnover battle 3-to-1. Welker's drop was a major turning point, but Patriots players and coaches refused to talk about just one play Sunday night.
"There are a lot of plays in the game; there's a lot of things we could have done better -- all of us," Patriots coach Bill Belichick said. "It really wasn't good enough. It wasn't as good as the Ravens tonight. That's why they're moving on and we're not. They were just better than we were in really everything."
Welker dressed slowly at his locker Sunday night. You imagine the emotions going through his head after a tough loss and wonder whether this was his final shot to win a title with the Patriots.
The final question asked to Welker was how will he get over this game under tough circumstances.
"Same way I did last time," Welker explained. "The sun will come up tomorrow and you just try to move on."
But has the sun set on Welker's career in New England? That is the multimillion dollar question.
January, 24, 2012
1/24/12
8:21
PM ET
By
ESPN.com staff
| ESPN.com
Ravens safety
Bernard Pollard
says he hopes the Giants thrash the Patriots in the Super Bowl.
September, 12, 2009
9/12/09
4:18
PM ET
| | |
| --- | --- |
| | |
| | Jim Rogash/Getty Images |
| | After a layoff of 20 months, Tom Brady finally gets another chance to finish a football game. |

Posted by ESPN.com's Tim Graham
Carl Cheffers tweeted his referee's whistle to start the 25-second play clock.
At that moment,
Tom Brady
was just another man.
His three Super Bowl rings, two Super Bowl MVP awards and four Pro Bowl selections didn't matter a smidgen. Brady had been aided off the field because of a knee injury. He'd been replaced by a backup.
The contest, only three series old, went on without him. So did the
New England Patriots
' next 15 games. Brady watched them on television from his home.
"The game doesn't stop for anybody. It just doesn't," Brady said in a recent interview with ESPN. "You get hurt, the doctors come out, they wheel you off the field and the ref blows the whistle for play and the game continues. That's exactly what should happen.

Tom Brady
#12 QB
New England Patriots
2007 STATS

CMP%
YDS
TD
INT
RAT

68.9

4,806

50

8

117.2
"This game is bigger than any player that's ever played this game. You realize how fortunate you are to be a part of it when you can't participate."
On Monday night, for the first time since
Kansas City Chiefs
safety
Bernard Pollard
crashed into his left knee on opening day 2008, Brady will play a game that counts. The Patriots will host the
Buffalo Bills
in Gillette Stadium on the season premiere of "Monday Night Football."
The game will feature plenty of storylines and pageantry.
Terrell Owens
will make his Bills debut. The teams will wear throwback uniforms to mark the AFL's 50th anniversary. The Patriots will introduce their all-time team at halftime.
Brady has been waiting a long time for this. The last time he finished a game was 20 months ago in Super Bowl XLII, where the
New York Giants
stunningly denied the Patriots their perfect season.
Brady acknowledged this week that the loss still haunts him, but he doesn't need a reminder to prevent him from overlooking the long regular season ahead.
When you go from observant passer to passive observer -- leg propped on a pillow while you watch your teammates move on without you on TV -- a realization sets in.
"You've got to earn it every week," Brady said. "If you think you're entitled to anything in this job, go sit out a year and tell me about the entitlement.
"There's nothing guaranteed, and you've got to go out there and earn the respect of your coaches and your teammates so that you have the right and the privilege to go out and lead them."
One of the greatest quarterbacks of his generation is motivated, but he has been trying to downplay his eagerness for Monday night to arrive.
Unlike last summer, when a foot injury kept him from taking a preseason snap, Brady played in all four exhibitions to help him cope with the mental aspect of his recovery. He had two knee ligaments reattached and needed to feel some heat, take a hit, make some throws.
Brady called the preseason work "critical" to his return.
"It's invaluable for a quarterback," Brady said. "We don't get hit in practice, and the important part is you've got to get used to guys being around you so you can understand how long you can hold onto the ball. ... You want to hold it as long as you can to allow your receivers time to get open to be able to make the throw.
"You get a feel for that in the preseason games and the movement in the pocket that you need. That's been really important."
He suggests he has gotten past any jitters pertaining to the knee, but that doesn't mean Patriots fans are equally secure with their team's tenuous quarterback situation.
Last year's Patriots went 11-5 with
Matt Cassel
at quarterback, losing the AFC East title to the
Miami Dolphins
on a tiebreaker and becoming the first team in 23 years to win 11 games and not make the playoffs. It's safe to assume a healthy Brady would have made enough of a difference to edge the Patriots into the postseason.
If Brady goes down again this year, the Patriots' season will crumble with him. Cassel now plays for the Chiefs, and the Patriots have chosen to keep only two quarterbacks on their active roster.
Brady's backup is undrafted rookie
Brian Hoyer
.
Isaiah Stanback
, a former
Dallas Cowboys
receiver who hasn't played quarterback since he left the University of Washington two years ago, is on the practice squad.
| | |
| --- | --- |
| | |
| | Geoff Burke/US Presswire |
| | The Patriots had a brief scare this preseason when Albert Haynesworth took down Tom Brady, who fell awkwardly on his shoulder. |
The delicate nature of Brady's condition was driven home Aug. 28, when he was driven into the ground by
Washington Redskins
mammoth
Albert Haynesworth
. Brady fell awkwardly on his throwing shoulder. Patriots fans held their breath.
Any uneasiness, however, is overridden by the anticipation of an encore performance Brady didn't have the chance to deliver last year. Brady bombed the NFL record book in 2007 and guided the Patriots within one drive of a 19-0 season.
Further capturing the imagination of fans and fantasy owners is the fact 2007 was
Randy Moss
' and
Wes Welker
's first year in New England's offense.
In May, both Moss and Welker expressed their excitement over grand possibilities now that they've mastered the Patriots playbook and Brady's back.
"The sky's the limit for this offense," Moss told ESPN.com. "I think that we could be a little bit better than two years ago.
"I'm very excited for us as an offense. I'm excited for us as a team. There's a lot of good things about Tom Brady coming back that excites the people, the fans, the coaches and the players around here.
"All we can hope is to come out with smoking guns."
Patriots coach Bill Belichick put the kibosh on any more such braggadocio. Moss hasn't granted an interview since then. Follow-up questions about matching 2007's gaudy statistics have been answered diplomatically.
"We were really blessed a couple years ago to have the year we did," Brady said on Wednesday's conference call. "But it's an entirely new year with different challenges, different teams we're facing, different schemes. We're running different plays. We have different players. A lot of things had to come together two years ago."
A few ticks after 7 p.m. Monday, the Patriots' most important component will be back in the huddle and surrounded by his teammates again.
All those anxieties and hopes will pulsate under the gloaming at Gillette Stadium.
Then referee Scott Green will blow his whistle to start the play clock.
May, 26, 2009
5/26/09
4:56
PM ET
Posted by ESPN.com's Tim Graham
The same day Tom Brady makes his first public appearance in the New England Patriots' huddle, Sports Illustrated will hit the newsstands and get folded into your mailbox with a cover story about his anticipated return from a season-ending knee injury.
The story, written by Peter King, was posted on SI.com Tuesday. King sat down with Brady for his first meaningful interview since his left knee caved in Sept. 7.
Brady's comments should further encourage Patriots fans and concern the rest of the AFC East. King described the interview as "impassioned, fiery, a little defiant -- it was a side of Tom Brady the public hasn't often seen."
Brady said he's "as confident as anyone could be that I'll be ready to play, back to playing normally, when the seasons starts. I've done everything I could to push myself, sometimes too hard. Right now, I'm doing everything. Literally everything. There's nothing I can't do."
Brady also claimed "Throwing never was a problem. I've really felt comfortable throwing since two months after surgery."
In the feature, Brady declares his goal is to play 10 more years, that he was to blame for the staph infection that developed soon after his initial surgery and that he harbors zero resentment toward Bernard Pollard, the safety who buckled Brady's knee on opening day.
March, 24, 2009
3/24/09
4:44
PM ET
Posted by ESPN.com's Tim Graham
| | |
| --- | --- |
| | |
| | AP Photo/Winslow Townson |
| | Bernard Pollard's hit below the knees of Tom Brady would incur a 15-yard penalty this season. |
DANA POINT, Calif. -- Tom Brady won't get his lost season back, but the NFL has clarified its roughing-the-passer rules to include the hit that wrecked the New England Patriots quarterback's left knee.
On opening day last year, Kansas City Chiefs safety Bernard Pollard tried to fight through a Sammy Morris block and lunged into Brady's knee as the ball was thrown.
NFL director of officiating Mike Pereira explained Tuesday afternoon at the St. Regis Hotel, site of the annual owners' meeting, that rules have been clarified to classify Pollard's hit as roughing the passer for a hit below the knee.
"If you go to the ground, you can't forcibly lunge," Pereira said.
Pereira said the quarterback "has a strike zone from the shoulder to the knees" where all hits are allowable. But below the knee, a defender cannot lead with his helmet or shoulder. That will be a 15-yard penalty.
Pereira did say defenders may wrap up or swipe at a quarterback's lower legs to bring him down.
September, 10, 2008
9/10/08
4:57
PM ET
Posted by ESPN.com's Tim Graham
The Boston Globe is reporting New England Patriots QB Tom Brady suffered tears to the anterior-cruciate and medial-collateral ligaments in his left knee when Kansas City Chiefs S Bernard Pollard hit him Sunday.
The story, citing unnamed sources, states Brady suffered no additional damage to other ligaments or cartilage on the buckling hit.
Boston Globe reporter Shira Springer goes on to describe the normal course of action for such injuries. The MCL is given four to six weeks to heal before the ACL is reconstructed. Recovery takes six to nine months.
September, 8, 2008
9/08/08
4:45
PM ET
| | |
| --- | --- |
| | |
| | AP Photo/Robert E. Klein |
| | Patriots QB Tom Brady will miss the rest of the season. |
Eli Whitney, the pioneer who popularized interchangeable parts, just sent a text message from the Great Beyond.
OMG! Just got done watching Bill Belichick. Does he realize this is Tom freaking Brady?!?!? ROFL!
Yes, it was ridiculous. The
New England Patriots
coach stood at a lectern in Gillette Stadium and tried to pretend it's no more a big whoop Brady will miss the rest of the season with a left knee injury than it would be if they'd lost a backup tight end.
Belichick at the top of his news conference matter-of-factly announced his superstar quarterback had been placed on injured reserve. Then Belichick droned on and on about how well the New England Patriots played in the red zone Sunday against the
Kansas City Chiefs
and how pleased he was with how they stood tall in the fourth quarter and how every team's improving in September and now they're looking forward to the Jets, who also played well in their opener and ...
Did he expect the first question to be: "So, Bill, how do you plan to contain
Leon Washington
?"
Brady's injury is catastrophic to New England's aspirations. Chiefs safety
Bernard Pollard
, who had been blocked to the ground by running back
Sammy Morris
lunged as Brady stepped into a throw. Brady's knee -- and Patriots Nation -- buckled.
Matt Cassel
, who hasn't started a game since 1999, when he was in high school, now assumes control of a team that went 0-4 in the preseason without Brady and barely held on to beat the lowly Chiefs.
Belichick played the role of the impervious coach, as if making believe it will be business as usual without the face of the franchise.
"We all just have to do our jobs," Belichick said. "That's what every player has to do. Each guy has a job to do, a coach, a player. They have a job to do and they need to do it as well as they can. That doesn't change.
"He played one position, and he played it very well. There will be somebody else playing that position now. I have a lot of confidence in Matt, and everybody else has to continue to do their job as they always have."
September, 8, 2008
9/08/08
11:59
AM ET
Posted by ESPN.com's Tim Graham
New England Patriots
Buffalo Bills
Miami Dolphins
New York Jets

AFC EAST SCOREBOARD
Friday, 8/22
Saturday, 8/23