February, 3, 2011
2/03/11
12:35
PM ET
New York Jets
Buffalo Bills
Miami Dolphins
New England Patriots

December, 26, 2010
12/26/10
8:32
PM ET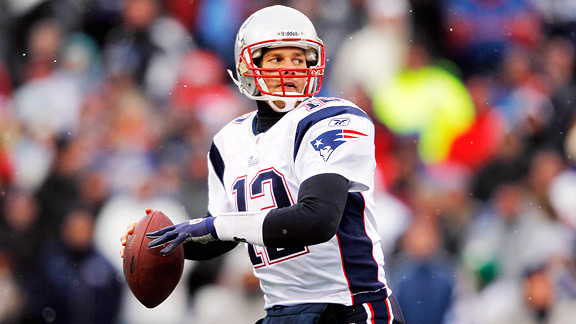 AP Photo/Mike GrollTom Brady has thrown for 3,701 yards and 34 TDs with four interceptions this season. His rating is 109.8.
ORCHARD PARK, N.Y. -- As I approached
New England Patriots
running back
Fred Taylor
at his locker stall, I prefaced a question about
Tom Brady
by wondering if anything new can be said about one of the greatest quarterbacks in football history.
Taylor shrugged with an expression that indicated he doubted there have been praises left unsung. There wasn't much more to add.
And then Taylor compared Brady to a super robot from a Japanese science-fiction cartoon.
"I've played with a lot of quarterbacks in my career," Taylor said. "If you put all of them together and form a Voltron, they
might
be as good as he is."
So apparently Brady can keep pushing the limits of description.
Brady wasn't prolific but was nonetheless in command Sunday, guiding the Patriots to a
34-3
pillaging of the
Buffalo Bills
in snow-sprinkled Ralph Wilson Stadium.
The Patriots clinched their eighth AFC East title in 10 seasons, and Brady cemented himself as the league's most valuable player ahead of
Michael Vick
.
By any measure, the MVP discussion comes down to Brady versus Vick. True enough, Vick is enjoying a magical season, the best of his career. His controversial history, however, is what sets him up as an inspirational story of redemption that skews the debate.
"He's having a pretty good season, but it's been magnified because of the stuff that he's done," Taylor said. "He's handled himself well, though."
Brady's campaign could rank as the most impressive of his decorated career. He's not approaching the obnoxious stats he posted in 2007, but circumstances are what set this season apart for the three-time champion and five-time Pro Bowler.
Brady's the conductor of the NFL's most dominant offense. They've flourished minus
Randy Moss
and with
Wes Welker
's knee still in recovery for much of the year. And then there's rookie tight ends
Rob Gronkowski
and
Aaron Hernandez
and castoff running backs
BenJarvus Green-Ellis
and
Danny Woodhead
.
The Patriots aren't that dynamic spread offense that operates out of the shotgun anymore. They've morphed into another team.
"There wasn't any lapse," Bills linebacker
Paul Posluszny
said. "The transition was seamless from one right to the other.
"When they had Moss, you had to worry about him so much as the deep threat. Now, the Patriots pick you apart a little at a time, working their way down the field."
And that's the scariest part. If you're a
New York Jets
,
Miami Dolphins
or Bills fan waiting around for the Patriots to go through a rebuilding phase, then you've already missed your chance. It happened this year.
Brady has carried a team with a flawed defense to the league's best record and home-field advantage throughout the playoffs. The Patriots rank at or near the bottom of the NFL in several defensive categories and have one of the all-time worst third-down defenses.
The Patriots are on pace to allow 5,987 yards. Comcast SportsNet New England reporter Tom E. Curran pointed out this week that teams that have allowed 6,000 yards since the turn of the century have gone a
combined 80-179, with no winning records or playoff appearances
among them.
Why are the Patriots the anomaly?
Brady.
Green-Ellis and Woodhead moved the offense Sunday. They rushed for a combined 197 yards and one touchdown.
But there was no doubt who was in control. Brady's numbers were modest because they didn't need to be garish. The Bills committed seven turnovers.
Brady left the game one possession into the fourth quarter and with the game locked up. He completed 15 of his 27 passes for 140 yards and three touchdowns -- two to Gronkowski -- with no interceptions.
Brady has completed 66 percent of his passes for 3,701 yards and 34 touchdowns with four interceptions. He owns a 109.8 passer rating.
Brady broke
Bernie Kosar
's 19-year-old record for consecutive attempts without an interception. Brady is at 319 passes and counting since he threw a pair of interceptions against the
Baltimore Ravens
on Oct. 17.
He has gone nine straight games without an interception, and the Patriots have gone an NFL-record seven games in a row without a turnover of any kind. He has notched at least two touchdown passes and no interceptions in an NFL-record eight straight games.
"What he does, nothing is shocking," Patriots center
Dan Koppen
said.
Brady has thrown fewer than eight interceptions only twice in his career: his rookie season when he played in one game, and in 2008 when he threw 11 passes before undergoing reconstructive knee surgery.
With nothing left on the line, Brady likely won't air it out in the regular-season finale against the Miami Dolphins at Gillette Stadium. He should finish with the second-lowest interception percentage in NFL history. He's at 0.84 percent.
Damon Huard
holds the record at 0.41 percent (one interception on 244 attempts) in 2006.
You probably could throw Huard into that Voltron assembly of Taylor's and it still wouldn't measure up to Brady.
"Sometimes you have to choose your words right when you talk about him," Taylor said. "He's just special."
December, 26, 2010
12/26/10
4:01
PM ET
ORCHARD PARK, N.Y. -- The
New England Patriots
mopped up Ralph Wilson Stadium with the
Buffalo Bills
,
wringing them 34-3
.
What it means:
The Patriots clinched the AFC East championship and home-field advantage throughout the playoffs. The Bills suffered their worst loss of the season after winning four out of their previous six games.


Hero:
Local boy
Rob Gronkowski
had four catches for 54 yards and two touchdowns. Gronkowski's performance was more notable because tight end
Aaron Hernandez
, who had a pair of touchdowns in last week's victory over the
Green Bay Packers
, was deactivated because of a hip injury.
Goat:
Bills quarterback
Ryan Fitzpatrick
committed five turnovers -- three interceptions and two fumbles. The Patriots converted the first three into 21 points. Fitzpatrick had a fumble and an interception in the Patriots' red zone in the first half. Fitzpatrick's streak of games with a touchdown pass ended at 15, three short of Jim Kelly's franchise record.
Brady bumps Bernie:
Patriots quarterback
Tom Brady
broke Bernie Kosar's 19-year-old record for consecutive attempts without an interception. Kosar's record was 308 straight. Brady is at 319 and counting.
What's with Wes?
Midway through the third quarter, possession receiver extraordinaire
Wes Welker
had three drops and two receptions for 12 yards. Welker's first two drops were in the Bills' red zone in the second quarter. The other should have converted a third down in the third quarter.
What's next:
The Bills will wrap up their season against the
New York Jets
at the Meadowlands. The Patriots will welcome the
Miami Dolphins
to Gillette Stadium.
December, 26, 2010
12/26/10
2:32
PM ET
ORCHARD PARK, N.Y. -- Some halftime thoughts from Ralph Wilson Stadium, where the
New England Patriots
lead the
Buffalo Bills
24-3:
New England has 163 rushing yards. BenJarvus Green-Ellis and Danny Woodhead each have at least 66 yards already.
The out-of-town scoreboard isn't helping the Bills much. The New York Jets lead the Chicago Bears at Soldier Field, maintaining the Patriots' importance for beating the Bills.
The Bills have had their moments, but didn't seize opportunities. On an impressive opening drive, the Bills had to settle for a field goal. Ryan Fitzpatrick made an astute audible call and lobbed a nice pass into the end zone for Steve Johnson, who couldn't get his feet down in bounds. Johnson also failed to come down with what would have been a nice catch on the next play.
Bills running back Fred Jackson has eight carries for 61 yards, with 27 coming on the first play.
Fitzpatrick demonstrated his risk-reward tendencies on the third drive. Rather than take a first-down sack at the Patriots' 20-yard line, Fitzpatrick fumbled while trying to unload a pass. The Patriots recovered and eventually converted the turnover into seven points for a 14-3 lead. Fitzpatrick threw a bad interception right before halftime.
Patriots linebacker Gary Guyton had the strip sack. He's compiling a nice season and has stepped up with rookie starter Brandon Spikes suspended for violating the NFL's policy on performance-enhancing substances.
Rookie tight end Rob Gronkowski knows how to stage a homecoming. The suburban Buffalo native had a 23-yard reception and scored an 8-yard touchdown on a drive early in the second quarter. He should've had a 77-yard touchdown on the Patriots' first play of the game, breaking wide open up the seam. Tom Brady underthrew him for an incompletion. Gronkowski, who played in Pittsburgh his senior year of high school, had three TD catches at Heinz Field in Week 10.
The Patriots are holding off the Bills' pass rush just fine without right guard Dan Connolly (concussion). Brady has 23 seconds to pass every time he's in the pocket.
Woodhead, the greatest player out of Chadron State since former Bills receiver Don Beebe, ripped a 29-yard touchdown run in the first quarter.
Brady avoided throwing an interception on his 15 attempts. He needs three more to break Bernie Kosar's record of 308 consecutive passes without an interception.
December, 22, 2010
12/22/10
7:16
PM ET
New England Patriots
quarterback
Tom Brady
is 17 attempts away from breaking the NFL record for most passes between interceptions.
Brady has thrown 292 straight without an interception and could break
Bernie Kosar
's 19-year-old record Sunday against the
Buffalo Bills
in Ralph Wilson Stadium.
"It's unbelievable," Bills quarterback
Ryan Fitzpatrick
said. "I mean, for there not to be a batted pass at the line or a fluke ... Whatever it is, that's unbelievable.
"It's mind boggling to have a statistic like that and to go that long without throwing an interception."
Brady has thrown only four interceptions this year, the last two coming Oct. 17 against the
Baltimore Ravens
.
He has thrown at least two touchdown passes and no interceptions in seven straight games, an NFL record. Odds suggest he will extend his streak Sunday. The Bills have recorded just 10 interceptions this year, tied for 27th in the league.
The Patriots lead the NFL with a plus-20 turnover margin.
"If you look at their team one thing that you can point to is that they don't turn the ball over," Fitzpatrick said. "It is amazing how well they've taken care of the ball this year, and that's something that you learn from, too. You learn from a team like this that's so successful, and one of the reasons being that they don't give the ball away."
December, 19, 2010
12/19/10
10:06
AM ET
How long has it been since Patriots quarterback
Tom Brady
threw an interception? The Jets were considered the team to beat in the AFC.
If that seems like a long time ago, you're right.
Brady
Brady hasn't thrown an interception since Week 6 against the Ravens, a stretch of 268 attempts. That ranks sixth all-time.
He would climb into second place with 27 more interception-free attempts Sunday night against the Packers.
Here's the list of longest streaks:
Bernie Kosar, 1990-91 for the Browns -- 308
Bart Starr, 1964-65 for the Packers -- 294
Jeff George, 1993-94 for the Colts and Falcons -- 279
Rich Gannon, 2001 for the Raiders -- 277
Jason Campbell, 2007-08 for the Redskins -- 271
Tom Brady, 2010 for the Patriots -- 268
Brady has tied the NFL record with six consecutive games of at least two touchdown passes and no interceptions. In his past eight games he has 19 TDs, zero interceptions and only two ratings under 100.
The Patriots have a league-leading plus-18 turnover ratio and haven't committed any in five straight games, which is an NFL record.
October, 9, 2009
10/09/09
2:10
PM ET
| | |
| --- | --- |
| | |
| | Getty Images |
| | Bill Belichick made a number of unpopular moves as Cleveland's head coach while compiling a 37-45 record there. |
Cleveland Browns
fans loathed Bill Belichick.
Nick Caserio grew up a Browns fan in suburban Cleveland. And while I'm not calling Caserio a liar, let me just say I completely understand why he would choose to be diplomatic when asked what his impressions were of Belichick back then.
Caserio now works for Belichick as the
New England Patriots
director of player personnel.
"I was a Browns fan growing up," Caserio said this week on a conference call. "I wouldn't really say that I had formed an impression of Bill. I know that they went -- I can't think of whenever that year was -- they went 11-5 and ended up making the playoffs. Obviously some things happened, whether it was the following year when the organization kind of ...
"I mean, I wouldn't be able to comment on anything directly as far as my impression of Bill. I just knew that the team was successful and they won games and they went to the playoffs. So that's probably about the extent of it from my perspective."
Actually, Belichick went 37-45 with the Browns and won a single playoff game.
| | |
| --- | --- |
| | |
| | Jed Jacobsohn/Getty Images |
| | Josh McDaniels credits Belichick as having the biggest influence on his success. |
But I put Caserio on the spot. It was a dastardly move from a Baldwin-Wallace College grad. Caserio went to Cleveland crosstown rival John Carroll University, where he was a teammate of Josh McDaniels, the former Patriots offensive coordinator.
McDaniels and Caserio were at John Carroll during Belichick's tenure in Cleveland. When the Browns hired Belichick in 1991, he was 38 years old, the youngest coach in the NFL.
McDaniels is the 34-year-old rookie head coach of the surprising
Denver Broncos
. He will match wits with his mentor on Sunday afternoon, when the Patriots visit Invesco Field at Mile High for a noteworthy AFC game.
The Broncos overcame substantial offseason turbulence to start the season 4-0. Their offense has choked out only 79 points, but their defense has allowed a league-low 26.
In McDaniels' eight years as a Patriots assistant, perhaps Belichick imparted a lesson or two about how to establish credibility quickly in a locker room occupied with players from your generation and, in some cases, older.
In finding anecdotes to drive home a point, Belichick could find plenty of material to draw from. There were some wonderful examples to follow, but there were plenty of mistakes to avoid repeating.
"Anytime you go into a new situation," Belichick said on a conference call this week, "everybody has to establish [and] gain the respect of the other people that are on the new team."
Belichick declined to give specifics about what sort of philosophical guidance he imparted to McDaniels. But Belichick said once it became apparent to him McDaniels was destined to be an NFL head coach -- after calling the plays for a team that darn near ran the table in 2007 -- they often discussed the responsibilities that go with being a head coach.
"We both asked questions, exchanged information and talked very freely about it," Belichick said. "There were a lot of things that came up when we talked for hours and hours about that stuff, going both ways, so it was good."
McDaniels, preferring to speak in generalities, is similarly guarded when asked how Belichick has mentored him.
"Bill's helped me out in many different ways in terms of my knowledge about the game, in terms of my understanding of some of the things you need to do as an organization to be successful," McDaniels said. "He's helped me out in personal areas of my life.
"I've had a lot of conversations with him, some of which I'll definitely keep to myself in private. But, he's been the biggest influence on my success and I will always be indebted to him."
One would have to assume McDaniels asked Belichick about Cleveland and the pressure of accepting that first head-coaching gig at an age when many men still are trying to figure out what to do with their lives.
McDaniels and Caserio, both considered among the league's brightest football minds, certainly were mature and savvy enough to develop an outsider's opinion of Belichick's methods in Cleveland.
Is it unfathomable to picture Caserio and McDaniels shooting each other quizzical glances while watching the Browns on a TV in the college dining hall?
In his 2007 book "The GM,'' former Browns executive Ernie Accorsi recounted a conversation he had with Belichick right after he took the Patriots job. Belichick told him "I really screwed up that thing up in Cleveland, Ernie.''
Belichick's moves were a public relations catastrophe. He made unpopular personnel moves such as benching beloved quarterback Bernie Kosar and felt he owed no one outside the organization an explanation. Belichick honked off his players. Receiver Reggie Langhorne demanded to be traded.
It was almost as though "How to Make Enemies and Alienate People" was Belichick's operations manual.
Somebody might want to check with the Denver public library to see if McDaniels borrowed that book after he was hired.
When word got out McDaniels had pursued a trade for Patriots backup quarterback
Matt Cassel
, the city practically revolted. Pro Bowl quarterback
Jay Cutler
was so insulted he forced his way off the team. Star receiver
Brandon Marshall
tried to do the same.
But McDaniels, with four players on his roster his age or older, managed to gain his team's trust despite the turmoil.
"Age is never a big thing for me, whether it was the head coach of Cleveland or any of those assistant jobs," said Belichick, who was only 23 his first season on Ted Marchibroda's 1975 Baltimore Colts staff. "It was more about doing the job.
"The players feel like, as a coach, you can help them, and you know what you're talking about, and you can tell them things that'll make them better and help prepare them because they want to prepare. They want do well, and they want to improve.
"If you can show them you can do that, then they respect you. If you don't -- I'm not saying they're disrespectful -- but they don't listen carefully. They're not as attentive because I don't think they feel like they are getting information or the assistance that they're looking for and what they've been used to getting in the past."
August, 7, 2009
8/07/09
2:00
PM ET
| | |
| --- | --- |
| | |
| | George Gojkovich/Getty Images |
| | After amassing 200 sacks over a 19-year NFL career, Bruce Smith will enter the Pro Football Hall of Fame on Saturday . |
If the speech Bruce Smith gave the afternoon the Buffalo Bills added his name to their Wall of Fame is any indication, then the legendary defensive end will proclaim his greatness again Saturday night, when he's inducted into the Pro Football Hall of Fame.
Smith hasn't been shy about
declaring himself the greatest
pass-rusher who ever lived.
2009 Hall of Fame Induction Coverage
Saturday in Canton, Ohio, six men will be hailed as the latest members of the Pro Football Hall of Fame. Bruce Smith, Rod Woodson, Ralph Wilson, Randall McDaniel, and posthumous honorees Derrick Thomas and Bob Hayes form the Class of 2009. The ceremonies will air live, beginning at 7 p.m. ET, on ESPN and ESPNHD. Follow ESPN.com's coverage.
" Our future HOF nominees: Story | Podcast


" Chat: Hall of Fame inductee Rod Woodson

" Chat: Hall of Famer Warren Moon

" Wickersham: Wilson valued for impact
" Scouts Inc.: Top 5 CBs in the NFL today

" Walker: Is Rod Woodson the best CB ever?
" Graham: Bruce Smith, Sackmaster
" Blogs: More Hall of Fame coverage
Funny thing is, Smith's temerity is unnecessary. His numbers speak for themselves.
Smith is a first-ballot Hall of Famer. Since the NFL made sacks an official stat in 1982, no other player has amassed more sacks than Smith's 200. He played 19 years, his final four with the Washington Redskins. He recorded double-digit sacks a record 13 seasons. He played in four Super Bowls. He twice was the Associated Press' Defensive Player of the Year. He was a first-team All-Pro eight times, a Pro Bowler 11 times. The NFL selected him for two all-decade teams.
Not a bad career if you're into that kind of stuff.
Smith has had his problems off the field. After two previous drunken-driving arrests that didn't lead to convictions, he was found guilty of it last month in Virginia Beach, an incident that has tempered the Hall of Fame merriment somewhat. Virginia Beach canceled festivities to honor Smith.
But Smith will take center stage in Canton, where he will assume his place among the all-time greats. He's the greatest No. 1 overall draft pick who didn't play quarterback.
And he'd probably tell you so.
Rather than speak to Smith about how remarkable he was, it's more insightful to speak with those who competed with him and against him.
Tony Paige, Virginia Tech teammate and former New York Jets running back:
"When he visited Virginia Tech, I was the guy that hosted him and showed him around the campus. He was one of the top recruits in the country. We played basketball that weekend, and this defensive lineman was dunking. He was 6-4, about 285 pounds coming out of high school, a phenomenal athlete. I think he a ran a 4.6 [in the 40-yard dash]. Any time you get a 6-foot-4, 285-pound man running the court like that, you knew right away this guy was going to be special."
Chris Spielman, former Detroit Lions and Bills linebacker:
"There've been two players in my career that every single week they did something that made me rewind the film 10 times. That would be Barry Sanders and Bruce Smith."
Jim McNally, former NFL offensive line coach and Buffalo native:
"He was so slippery. He could make himself small by dipping and turning and lowering his hips. He didn't stand up and come at you like a lot of guys. He was slithery."
Paige:
"He pushed guys around him because he practiced hard, played hard, studied the game. That's why he's going into the Hall of Fame. He wasn't just a gifted athlete. He always wanted to be better. He had that something on the inside you can't teach, a passion to succeed on every snap."
Jim Ritcher, former Bills left guard:
"When he arrived, he had so much talent. I've never seen a guy so quick off the ball. Recently, I was just showing one of my sons how quick Bruce was. I was showing him film on Bruce. Just as fast as that ball was coming back, that's how fast Bruce was coming off the ball. It was amazing."
Richmond Webb, former Miami Dolphins left tackle:
"He took no plays off. It was going to be 60 minutes of hell."
Steve Tasker, former Bills special-teamer:
"There was no question there were times he was not only the best defensive end, but maybe the best player at any position in the NFL."
Spielman:
"He'd do something that would make you say 'Come on now. Seriously. You're not doing that to an NFL player, are you?' He was something."
Merlin Olsen, Hall of Fame defensive tackle:
"Bruce was very, very quick coming off the line and coming up field far enough to force that offensive tackle to move violently to try to stay with him. Once you get those tackles moving, you have the chance to do all kinds of things with him. Not only did he have incredible quickness, he was so powerful. He could bull rush you if he wanted to. The offensive tackle knew that was possible
, so he couldn't get on his heels."
Ken O'Brien, former Jets quarterback:
"He had everything going on. He was big. He could power a guy. He could head slap him. He could swim move him. He could spin. He did all these things naturally. You have to figure however many sacks he finished with, two-third of those he was double- and triple-teamed."
Ritcher:
"Every day I had to practice against him was an eye-opener. Being able to study Bruce every day, I can imagine it would be a nightmare for other teams. I practiced against him so much. It was an all-day sucker going against Bruce."
O'Brien:
"We always had a guy that would come up with some injury that week."
Tasker:
"He'd get a shot on the quarterback that would cripple a horse."
Ritcher:
"That had to be terrifying for a quarterback, to know that no matter who they had at tackle -- and he could be a great tackle -- Bruce was going to get to you at some point. That had to be pretty terrifying to know, going into the game, this guy on your blind side is coming at you."
O'Brien:
"If you wanted to block him with one guy, there really was no way. He was going to expose that. It took a while for some people to pick up on it, that traditional methods of blocking weren't going to work."
McNally:
"Whoever was facing him the next game was nervous all week. They double-teamed him with guards, with running backs. Back when you could still get away with it, receivers were chipping him."
Tasker:
"We just got beat in a playoff game in Cleveland, the game when Ronnie Harmon dropped the ball. We were in the locker room, sitting there after a shootout, Bernie Kosar versus Jim Kelly, both teams over 30 points and we dropped a touchdown. So the score should have been even higher. He was getting dressed in his suit, kind of all by himself. I was standing near him. Now, we'd been around the block. We'd been the Bickering Bills. There'd been turmoil on the club, the last three or four games being the turning point for our organization. But Bruce said out loud to nobody in particular, 'You know it was the defense that lost it today. We let them score 40 points. That was our fault.' He was bumming out that the defense had done that, not that we dropped a touchdown. I'll never forget that. He took that loss hard. He also took some responsibility on his own shoulders. He knew there was responsibility that went along with being a great player."
Bill Belichick, New England Patriots coach and former New York Giants defensive coordinator:
"You had to game plan for Bruce Smith like you had to game plan for [Lawrence] Taylor. ... He was slick. A lot of times you look at the play and you say, 'OK, it looks like we got him blocked.' And then he gets off it somehow and is pressuring the quarterback. Similar to Taylor, even when they got blocked, they didn't stay blocked."
Olsen:
"In terms of having to set a game plan, he's exactly the same kind of person as Lawrence Taylor. If you didn't account for him, you were going to have trouble."
Tasker:
"I used to chuckle because he'd be in great shape and come into training camp and be injured and not practice. There was nothing wrong with him. He just didn't like training camp. They were built for veteran players and still Bruce would take the first three weeks off. That doesn't mean he wasn't ready."
Ritcher:
"He was named defensive player of the year a number of times, and when he wouldn't show for camp, we'd smile and know that was Bruce going for his money. Your career is so short. Bruce played 19 years, which is incredibly long, but most guys had to get the money while they could get it, and he was at the top of his game."
Spielman:
"He and [head coach] Marv Levy had an understanding. They were a perfect match. Marv had a saying, 'I don't need you to beat the Bills.' Bruce did what he had to do to get ready. He came to play."
Webb:
"You knew when you went to Buffalo you weren't going to hear snap counts. The thing that really stood out was I knew that he had to be one of the favorite players. If the game was tight and they would go to a TV timeout, when they would come back and blow whistle, he would make this quick motion with his hand, and the noise in the stadium was deafening. I was always amazed he could make that one little hand gesture and the crowd was right with him. That's not right."
O'Brien:
"He had a great sense of humor. He and Tony Paige would joke around. Therefore, Bruce Smith and I would joke around on the field. He was funny. I don't know if you're old enough to remember 'The Gong Show.' He used to have a little dance he used to do. He did it the week before and down at the line of scrimmage, he came up to me and said, 'Gene Gene, huh?' "
Tasker:
"We used to laugh at him. He'd say it when he was playing because, man, the guy would back it up. We go into New York on a Monday night. He gets four sacks and a forced fumble and just tears the New York Jets up. In the game, he unveiled this spin move nobody had seen before. I know there were a lot of left tackles watching the game that night and spitting their coffee out. 'What are you supposed to do with that?!' There's no defense for that. You have to expect that move to stop it. It was unbelievable. It was like a pitcher throwing a perfect game and then, all of a sudden, he throws a pitch he's never thrown in the middle of it. It was like Nolan Ryan throwing knuckleballs for strikes."
O'Brien:
"We tried to run some sort of reverse to maybe get him to bite with a pass rush. It was a quarterback's dream, where I get to block him and take him out. The play got stopped while I'm running outside toward him. He started laughing and said, 'Kenny, what are you doing to do? This reverse isn't going to work.' He would tell you about each formation and dissect the play as it went on. I always thought he would make an excellent coach if he ever had the inclination."
Webb:
"Bruce was probably known more as a pass-rusher and not so much against the run, but I think what he did as time went on, he worked on another area of his game. If they said he couldn't do it, he went out and proved them wrong. I liken it to Michael Jordan. When he came into the NBA, it was offense, dunks, blowing people's minds away as an entertainer. Then he started working on his defense and became defensive MVP, and as he became older he worked on that fadeaway shot. Just like Jordan, Bruce was a great athlete and a student of the game."
Spielman:
"I played with Bruce at the tail end of his career. What I remember is how he reshaped his body to go from 300-plus pounds to the point when I played with him in Buffalo and he was about 270. That was amazing, and it probably extended his career to be a dominant player at a much lighter weight."
Jay Fielder, former Dolphins quarterback:
"By the time I was playing it was little more toward the end of Bruce's career with the Redskins. He still was a great player. He wasn't defensive-player-of-the-year material like he was in the early or mid-'90s, but he was a guy you still had to keep an eye on."
Tasker:
"When he said that he's the best defensive end ever in the National Football League, I agree. In the time that we played, and I remember thinking this while we were playing, there were times he was the best player at any position in the league."