AFC East:

Best of the NFL summer 2011
June, 30, 2011
6/30/11
1:00
PM ET
»
Best of NFC
:
East
|
West
|
North
|
South
»
AFC
:
East
|
West
|
North
|
South
As part of Best of the NFL Week on ESPN.com, here are five bests for the AFC East:
Best tailgating, Ralph Wilson Stadium:
The crowd outside Sun Life Stadium provides the best scenery for male fans, but that's not what we're breaking down here. I know people who have no intention of walking through the turnstile for
Buffalo Bills
games but show up to tailgate with their friends in the same lot spaces they've occupied for years. The festivities start early and last all day.
[+] Enlarge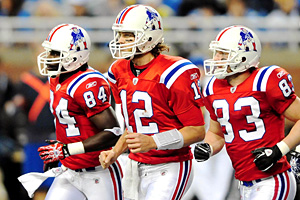 Andrew Weber/US PRESSWIREWith the Bills out of the picture this season, the Patriots have the division's top throwback.
Best mascot, Pat Patriot:
Slim pickings here. The
Miami Dolphins
have T.D. the Dolphin. The Bills have Billy Buffalo. The
New York Jets
have, uh, Fireman Ed, I guess? None of them is inspiring. But at least Pat Patriot is the team's classic helmet character come to life. And that leads us to ...
Best throwback uniforms, New England Patriots:
In past years, I would select the Bills and their standing red buffalo on the white helmet -- such a clean and classic look. But the Bills announced last week that they wouldn't use throwbacks in 2011 because they want to wear their new uniforms every game. The Patriots' retro duds are a close second in my book anyway. So they leapfrog to the front. I would appreciate seeing the green Jets' helmets for a game or two, though.
Best celebrity fans, Dolphins limited partners:
The Dolphins have a star-studded board room: Marc Anthony, Venus and Serena Williams, Fergie and Gloria Estefan. Jimmy Buffett couldn't get as involved because he has casinos in his business portfolio, but he was behind Land Shark Lager sponsoring the stadium in 2009. Other teams might have more famous fans, but none of them has a piece of the club.
Best team facility, New York Jets:
The Jets spent $75 million for their headquarters in Florham Park, N.J. It's by far the nicest stand-alone facility in the division and stacks up favorably around the league. The Patriots are the only AFC East club that makes its home within its home stadium. So I guess I could've subtracted points from the Jets for not having 69,000 seats. But their facility is stand-alone remarkable.
June, 29, 2011
6/29/11
2:00
PM ET
»
Best of NFC
:
East
|
West
|
North
|
South
»
AFC
:
East
|
West
|
North
|
South
As part of the Best of the NFL Week on ESPN.com, here are five bests for the AFC East:
Best at telling it like it is, Chan Gailey:
Many would expect the Jets' Rex Ryan to be my pick here. But Ryan uses the microphone to talk up his players too often -- even when they don't deserve it. Ryan has fawned over
Vernon Gholston
and has a tendency to hype up unproven youngsters. But the Bills' Gailey has demonstrated a refreshing candor when evaluating his players. He has no patience for silliness and has publicly criticized outside linebacker
Aaron Maybin
and cornerback
Leodis McKelvin
. Before the 2009 draft, Gailey said he wanted to draft a scatback. The Bills selected Clemson running back
C.J. Spiller
ninth overall.
[+] Enlarge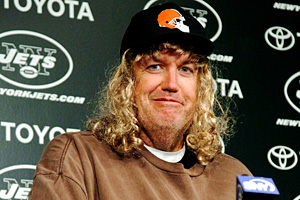 Jeff Zelevansky/Icon SMIRex Ryan showed off his sense of humor during a media conference by dressing as his twin brother Rob of the Cleveland Browns.
Best sense of humor, Rex Ryan:
He steps to the lectern for news conferences with one-liners jotted down and ready to fire, frequently quotes his favorite comedies and can hold his own with David Letterman. Ryan's rapier wit likely was sharpened by daily debates growing up with twin brother Rob Ryan. Before facing Rob Ryan and the
Cleveland Browns
last season, Rex Ryan wore a wig to publicly ridicule his brother. What makes Rex Ryan's brand of comedy even more endearing is that his favorite punchline is himself.
Best grinder, Tony Sparano:
For these Best of the NFL blog posts, we were provided a list of categories we could choose from. And every time I see the word "grinder," I immediately think of Miami's Sparano because when NFL Network reporter Albert Breer and I get together we have a running joke that's probably humorous only to us and annoying to everyone around us. I do a poor impersonation of Sparano that cracks us up, and in it, Sparano talks about how proud he is that his guys are grinding. I just did a search of "Sparano" and "grind" in my email archives, and it turned up in 19 Sparano interview transcripts dating back to June 2009.
Best coach-GM tandem: Bill Belichick and Bill Belichick:
You can't argue with the track record. While the
New York Jets
' tandem of Ryan and Mike Tannenbaum has been highly successful, reaching the AFC Championship Game in back-to-back seasons, no other AFC East coach or GM has won a Super Bowl. Belichick has won three titles while, in effect, handling both roles.
Best ego manager, Rex Ryan:
The other three coaches don't have much tolerance for egos. Ryan, on the other hand, welcomes personalities big and small -- just as long as they can play. Ryan encourages players to be themselves and to express their opinions. Ryan has taken on players other teams couldn't handle anymore, namely receivers
Braylon Edwards
and
Santonio Holmes
and cornerback
Antonio Cromartie
.
June, 28, 2011
6/28/11
2:00
PM ET
»
Best of NFC
:
East
|
West
|
North
|
South
»
AFC
:
East
|
West
|
North
|
South
As part of the Best of the NFL Week on ESPN.com, here are five bests for the AFC East:
Best hands, Davone Bess:
Just to get a rise out of everybody, I could have gone with
New York Jets
receiver
Braylon Edwards
here. After all, he dropped only one ball last season on 98 targets and 53 receptions. But I couldn't bring myself to do it based on his track record. So I'm going with Bess, the
Miami Dolphins
' slot receiver, who drops one on occasion, but that's expected given his volume. The past two seasons, Bess has dropped 10 passes -- but on 233 targets and 155 receptions.
[+] Enlarge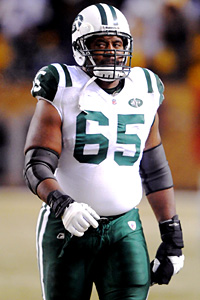 Kirby Lee/US PRESSWIREJets offensive lineman Brandon Moore, a.k.a. Meat.
Best celebrator, Steve Johnson:
The flamboyant receiver endeared himself to
Buffalo Bills
fans with his breakout 2010 season. He caught 82 passes for 1,073 yards and 10 touchdowns. But his signature moment -- well, his
positive
signature moment -- came in Week 11 against the
Cincinnati Bengals
. He caught eight passes for 137 yards and three touchdowns. He further showed up the self-proclaimed "Batman and Robin" duo of
Terrell Owens
and
Chad Ochocinco
. Johnson scored a TD and triumphantly lifted his jersey to reveal a T-shirt with a line from the Joker: "Why so serious?"
Best trash talker, Channing Crowder:
Not many players would get into a verbal sparring match with an NFL coach, but the Dolphins linebacker gleefully engaged Rex Ryan two summers ago. Crowder's diatribes are enthralling, although sometimes dotted with malapropisms. After he accused
Baltimore Ravens
fullback
Le'Ron McClain
of spitting in his face, Crowder went on a rant that invoked Anne Frank when trying to mock officials for being blind. He meant Helen Keller.
Best nickname, Meat:
That's what the Jets call right guard
Brandon Moore
. Why is it the best nickname? I don't know. Because it makes me laugh when I hear it, I guess. Maybe because it reminds me of the dialogue between Crash Davis and Nuke LaLoosh in "Bull Durham."
Best intimidator, Darrelle Revis:
He's not a snarling, frothing menace on the other side of scrimmage. But when it comes to eliminating top receivers, Revis is the best in the business -- and the opposition knows it. He causes dread in coaches, quarterbacks and receivers the week they play the Jets.