December, 15, 2010
12/15/10
7:23
PM ET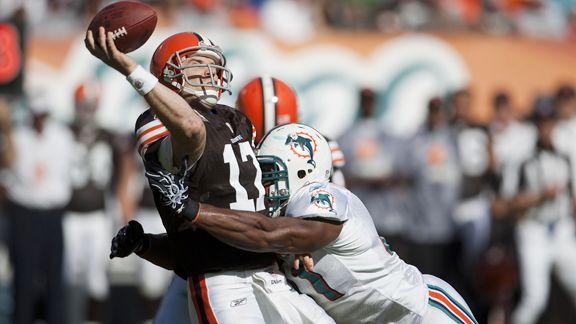 Jonathan Brownfield/US Presswire"It's hard to explain in words what it means," said Cameron Wake of his NFL-leading 14 sacks.
Last weekend,
Miami Dolphins
linebacker
Channing Crowder
said something unbelievable.
What else is new, right?
Crowder made a surprising claim that sent
Cameron Wake
to the Internet. Wake logged onto NFL.com and clicked on the stats page.
"I actually checked," Wake said, "and there my picture was."
Wake saw his own face staring back at him. The photo accompanies the list of sacks leaders. He didn't know he was on top until Crowder informed him.
All at once, Wake's long, bizarre football journey reached another milestone in just his second NFL season.
The undrafted player who couldn't get invited to training camp as a rookie, who spent two years working as a mortgage agent and a fitness trainer, who underwent a name change along the way, who went to play in the Canadian Football League and then who, once making it to the NFL, got ripped by a star teammate for not being good enough, leads the league with 14 sacks.
"It just ... It's hard to explain in words what it means," said Wake, "coming from a guy literally sitting on the couch and watching games on Sunday and believing in the deepest part of your heart 'I can play this game and need an opportunity.'
"I thank the stars and my angels every day the Miami Dolphins gave that opportunity. Every time I step on that field I treat it as a blessing."
[+] Enlarge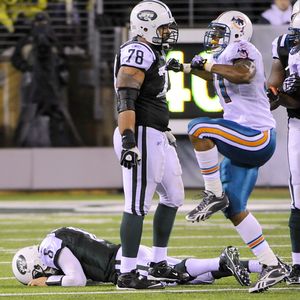 AP Photo/Bill KostrounCameron Wake recorded sacks on two of the New York Jets' final three plays on Sunday in a 10-6 victory for the Dolphins.
He has been an impact outside linebacker all season. Wake recorded sacks on two of the
New York Jets
' final three plays to close out a 10-6 victory Sunday at the Meadowlands. He forced a fumble on the first sack, but Jets guard
Brandon Moore
recovered.
Wake's certainly headed for his first Pro Bowl and will be considered for the NFL's defensive player of the year.
"He might actually be the best option for defensive player of the year," Scouts Inc. analyst Matt Williamson said. "Some of the other top guys like
Trent Cole
and
Clay Matthews
have slowed down, but Wake continues to get better."
Wake will have a great opportunity to pad his sack total Sunday against the
Buffalo Bills
. He collects a majority of his sacks from the offense's right, and that side of the Bills' line has been caved in.
"He is very, very quick, and he's relentless," Bills head coach Chan Gailey said. "He has a good feel for it. He understands when he has leverage on a tackle, whether it's underneath the leverage or outside leverage. He's able to take advantage of it."
Wake turns 29 years old next month. That means he's entering his prime, but in many ways he's still in the developmental stage because of his strange but inspiring path to the NFL.
He went by the name Derek Wake when he was a linebacker and a captain at Penn State, aka Linebacker U.
But he wasn't much of a pro prospect despite raw athleticism. Nobody drafted him in 2005. The
New York Giants
signed Wake as a rookie free agent to play 4-3 stack linebacker. After one set of organized team activities in shorts, the Giants cut him.
Bill Sheridan, the Giants' linebackers coach at the time, can laugh (a little) about their gross misjudgment. Sheridan is Wake's position coach with the Dolphins now.
"I bet we never got to see him do one pass rush in that entire OTA," Sheridan said of Wake's brief look with the Giants. "We were trying to teach him how to play linebacker and pass drop. He never had a chance to demonstrate any of this.
"Obviously in hindsight that was very foolish on our part because we let him go."
You know who looks
really
foolish these days?
Joey Porter
.
Porter went on a media rampage the week before the Super Bowl 10 months ago, ripping into the Dolphins' organization for daring to give Wake some situational snaps last year ahead of him and
Jason Taylor
.
The Dolphins had no choice but to dump the inflammatory Porter. He eventually signed with the
Arizona Cardinals
and is tied for 38th in the NFL with five sacks. Taylor is tied for 55th with four sacks.
"If I got a dollar for all the naysayers and doubters that I've encountered in the last two, three years, I'd be a very, very wealthy man," Wake said. "I've had people that claim to be close to you, claim to be your friends, your family, coaches, teammates, everybody at some point all along the line has had something to say.
"But at the end of the day I had to stick to my goal, stick to my dream. I didn't really care if Joey Porter or anybody else said I couldn't do it. It was about me and going out there and saying 'I believe I can' and going out there and showing everybody I can."
[+] Enlarge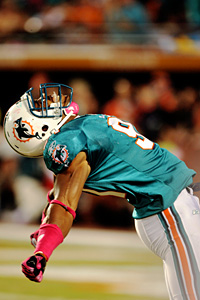 Douglas Jones/US PresswireThe Dolphins can feel vindicated by choosing to keep Cameron Wake, above, and ousting Joey Porter and Jason Taylor. Wake ranks first in NFL sacks, Porter is tied for 38th and Taylor is tied for 55th.
The Dolphins certainly feel vindicated in their decision to catapult Porter from the roster.
They took a gamble with the swap. Wake was an unproven NFL commodity, while Porter led the Dolphins in sacks the previous two seasons. In 2008, Porter topped the AFC with 17.5 sacks.
"When you make a move like that and you move out veteran players and you put a guy into the lineup that obviously hasn't played a lot," Dolphins head coach Tony Sparano said, "from a coaching standpoint, it's always good to see him validate your convictions.
"We were just convinced the more than Cameron would play the better he would get. We just felt getting a young player in there with that kind of energy and athleticism was the right thing to do."
Wake arrived in Miami as a project, but an intriguing one. He was a superstar pass-rusher in two Canadian Football League seasons with the BC Lions, amassing 39 sacks and earning its defensive player of the year award both times. The Dolphins outbid the Bills,
Indianapolis Colts
and
Denver Broncos
for his services, giving him a five-year deal that was the richest in CFL-to-NFL history.
"Ability-wise, there aren't going to be too many guys in the league more blessed than Cam," Sheridan said. "But he can be a more dominant player on a down-in, down-out basis."
Wake's run-stopping and pass-coverage skills remain, as Sparano said, "a work in progress." But Sparano also said Wake's development in those areas "has been really remarkable."
That's why Wake can't be considered a situational player. He is an every-down player on the NFL's fifth-ranked defense.
"He is exceptional," Williamson said. "His run defense was a big problem before this season, but he has corrected that. And he is a stud pass-rusher. He turns speed into power very effectively, has a nice array of moves and is very quick and agile while also consistently hustling to the whistle. He's a real handful."
On a weekly basis, the NFL is discovering just that.
Even if he wasn't aware how great his sack numbers were until Crowder told him, Wake is showing how -- all along -- he knew more about himself than a lot of others assumed.
He can do this.
"It's been a crazy road, a long road," Wake said. "I just enjoy playing football and living the dream."
August, 30, 2010
8/30/10
10:17
AM ET
The
Miami Dolphins
head into their final preseason week not entirely settled at linebacker.
Tony Sparano is moving his players around in hopes of finding the right mix. Inside linebackers
Channing Crowder
and
Tim Dobbins
have been battling injuries. So Sparano is trying outside linebacker
Charlie Anderson
on the inside.
[+] Enlarge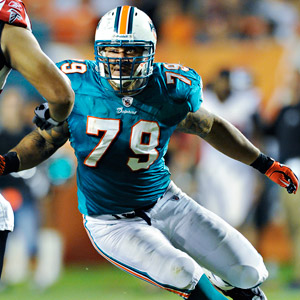 Richard C. Lewis/Icon SMIIkaika Alama-Francis is making a run at one of the starting outside linebacker spots.
An intriguing player to monitor is
Ikaika Alama-Francis
, a converted down lineman who didn't play high school football, has been mounting a summer drive to crack the starting lineup at outside linebacker.
After another solid preseason performance Friday night, Alama-Francis shared first-team reps with rookie
Koa Misi
at strongside outside linebacker in Sunday's practice. Misi still projects as the starter opposite
Cameron Wake
, but Alama-Francis has been a revelation.
"I love it, man," is what Alama-Francis told me at Dolphins camp three weeks ago.
Sparano has been steadily impressed with him at outside linebacker since training camp began. It's important for the Dolphins to find those types of players with
Jason Taylor
and
Joey Porter
signing elsewhere.
"He's a handful in the rush," Sparano said a week into camp. "He set the edge of the defense pretty well, strong guy and very, very smart."
When Sparano said that, Alama-Francis hadn't been an outside linebacker for long, just a handful of practices. But it wasn't the first time Alama-Francis had switched on a whim, and this change brought an opportunity to stick in the NFL after bombing out with the
Detroit Lions
.
Alama-Francis is the son of Joe Francis, who backed up Bart Starr for two seasons with the
Green Bay Packers
. But Alama-Francis didn't play organized football until his sophomore year at Hawaii. He was a basketball walk-on, but football coach June Jones convinced him to convert.
The Lions drafted Alama-Francis 58th overall in 2007. He played tackle and end under D-line specialist Rod Marinelli, but started only two games over two seasons. The Lions cut him at the end of last year's preseason. He remained unemployed until November, when the Dolphins signed him to play defensive end at 6-foot-5 and 290 pounds.
Then, with three offseason workouts to go before summer break, the Dolphins approached Alama-Francis about standing on two feet for the first time. No more springing out of a three-point stance. They wanted him to try outside linebacker.
Sparano and linebackers coach Bill Sheridan saw something in the way Alama-Francis moved for a player his size. Alama-Francis said he had "three good practices" to show he could handle the gig.
"That's not a lot," he said. "When they're throwing things at you to see how you'll react, you have to do the best you can with what's been given to you. But it was an opportunity, and I embraced it. I was thankful."
After those three OTA workouts, Sparano didn't view the move as experimental anymore. Alama-Francis is at about 275 pounds now.
"Moving from a different position, it's a total 180, dropping into coverage," Alama-Francis said. "When you're on the line, you're moving forward. When you're standing up, you see a lot more and you've got to be aware a lot more. Rushing the passer, coming off the edge and dropping into coverage, I'm excited about all that."
July, 29, 2010
7/29/10
11:34
AM ET
Buffalo Bills
Miami Dolphins
New England Patriots
New York Jets