December, 24, 2010
12/24/10
4:00
PM ET
»
NFC Final Word
:
East
|
West
|
North
|
South
»
AFC
:
East
|
West
|
North
|
South
Five nuggets of knowledge about Week 16:
Notable Miami Dolphins could experience their final games at Sun Life Stadium.
Teams never remain exactly the same from year to year, but the Dolphins might experience more turnover than most organizations before next season. Thanks to a 1-6 home record entering Sunday's game against the
Detroit Lions
, head coach Tony Sparano's job carries no guarantees. Offensive coordinator Dan Henning likely will be gone. Defensive coordinator Mike Nolan should be considered for head coaching vacancies. Running backs
Ronnie Brown
and
Ricky Williams
also will leave the field not knowing if they'll be back.
[+] Enlarge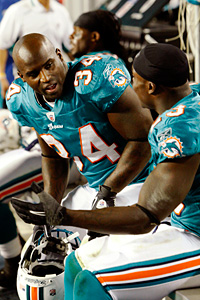 AP Photo/Wilfredo LeeSunday could be the final Dolphins home game for Ricky Williams, 34, and Ronnie Brown.
Mark Sanchez's shoulder injury is disconcerting.
Reports out of New York indicate Sanchez will play Sunday against the
Chicago Bears
at Soldier Field, but the mere idea his status is in question reminds us who the Jets' backup quarterback is.
Mark Brunell
is 40 years old. Since 2006, he has started one game and attempted 31 passes. The Jets are on the cusp of clinching a playoff berth. Although Sanchez is rated 28th among all NFL passers, he makes improvisational plays with his legs a rusty quadragenarian cannot. The Jets' chances would diminish substantially if Brunell were forced to take over.
The New England Patriots are in a "hat and T-shirt game."
ESPN analyst and former Patriots linebacker
Tedy Bruschi
emphasized the importance of donning division championship regalia, which the Patriots can do with a victory or tie against the
Buffalo Bills
in Ralph Wilson Stadium (or if the Jets don't win in Chicago).
"Those hats and T-shirts mean something. It means you've accomplished something," he said
in the latest "Bruschi's Breakdown" at ESPNBoston.com
. "There have been plenty of teams that have been wild-card teams and gone to the AFC or NFC Championships and have nothing to show for it -- no division title or anything. When you win your division, it says something, right there on the hat and T-shirt: 'Division Champs.' I was always proud to put those T-shirts on, and you want a set of three -- division, conference and you all know what the last one is. It starts with that first one, though."
Buffalo's defense deserves some credit.
The Bills' defense has been ranked at or near the bottom of the league all season. But it has quietly put together some impressive performances. The Bills have allowed more than 16 points in regulation time just once since Thanksgiving and have given up only 20 points over their past two games. Encompassing the entire season, Buffalo still has the NFL's worst run defense. But take away
Cleveland Browns
bulldozer
Peyton Hillis
' first five carries on the opening drive in Week 14, and the Bills have held Hillis, Ricky Williams and Ronnie Brown to 118 yards on 31 carries.
AFC East players are approaching some milestones.
With two games left, it's appropriate to take a look at some season stats. Bills receiver
Steve Johnson
needs two touchdown receptions to set the team record. Bills running back
Fred Jackson
needs 189 yards to hit 1,000 in back-to-back seasons.
Ryan Fitzpatrick
is seven touchdown passes away from 30, which would trigger a promise from
Buffalo News columnist Jerry Sullivan to run down Hertel Avenue in his underwear
. Dolphins receivers
Brandon Marshall
and
Davone Bess
need three catches to break the team record for two receivers set by Mark Duper and Mark Clayton in 1984.
Cameron Wake
needs 4.5 sacks to tie the Dolphins record of 18.5 held by Bill Stanfill and
Jason Taylor
. Patriots quarterback
Tom Brady
must average 219.5 passing yards to hit 4,000 for the fourth time. Patriots running back
BenJarvus Green-Ellis
is 176 yards from hitting quadruple digits.
Wes Welker
needs 17 receptions to get 100 a fourth straight season. Jets running back
LaDainian Tomlinson
is 114 yards from reaching 1,000 for the first time in three seasons.
June, 30, 2010
6/30/10
1:00
PM ET
Notable players:
QB Bob Griese, QB Earl Morrall, RB Larry Csonka, RB Mercury Morris, WR Paul Warfield, C Jim Langer, G Bob Kuechenberg, G Larry Little, DE Bill Stanfill, MLB Nick Buoniconti, SS Jake Scott, FS Dick Anderson.
[+] Enlarge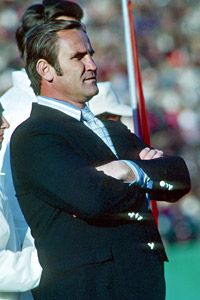 Malcolm Emmons/US PresswireDon Shula guided the 1972 Dolphins to a 17-0 record.
Analysis:
As it turns out, you can argue with perfection.
The obvious choice for the greatest team in
Miami Dolphins
history is 1972, the historic season in which they went undefeated and claimed their first championship.
But some important members of that team have claimed the 1973 edition was even better, although it lost two games against better competition before closing out the season with its second straight Super Bowl victory.
"The question is, do I think my team is better than it was a year ago?" coach Don Shula said after the follow-up title. "There's no question about it. I think we're a better football team than we were a year ago at this time. I think we've gone one step beyond last year's football team. Even though we were 17-0, a perfect season, going back-to-back on Super Bowls is more meaningful."
With all due respect to Coach Shula, perfection won't take a backseat here.
The '72 Dolphins played a pretty feeble schedule, but they ranked first in total offense, scoring offense, total defense and scoring defense. They beat their opponents by an average margin of 15.3 points in the regular season despite losing Griese to a broken ankle in October.
In the playoffs, they dispatched a pair of teams with double-digit victories, the
Cleveland Browns
and
Pittsburgh Steelers
.
The Dolphins easily beat the NFC's top-seeded
Washington Redskins
in the Super Bowl and would have shut them out if not for Garo Yepremian's flubbed field goal that turned into the Redskins' only points.
Most impressive win:
Down 10-7 in the third quarter and on the road against the Steelers in the AFC Championship Game, Griese replaced Morrall and directed a pair of touchdown drives in a 21-17 victory.
Forgiving schedule:
The Dolphins feasted on a schedule that was one of the weakest in NFL history. In the regular season, they played no playoff clubs and just two that finished with winning records. Six opponents won four or fewer games. The combined record of their regular-season foes was 70-122-4.
Honorable mention
1973:
Some assert Miami's back-to-back championship team was better than the one that went undefeated. It held opponents to single-digit points eight times, including the
Minnesota Vikings
in the Super Bowl.
1984:
Dan Marino
threw for 5,084 yards in propelling the Dolphins to a 14-2 record and the AFC championship. Marino's lone Super Bowl appearance ended in a miserable loss to the
San Francisco 49ers
.
1971:
Miami's motivation for its historic 1972 season was losing the Super Bowl to the
Dallas Cowboys
after going 10-3-1 and shutting out the Baltimore Colts in the AFC Championship Game.
1983:
Marino's rookie season was electric. He took over for David Woodley, who had guided the Dolphins to the Super Bowl in a strike-shortened season. Even more impressive was the No. 1-rated Killer B's defense.
June, 5, 2010
6/05/10
11:56
AM ET
By
ESPN.com staff
| ESPN.com
April, 16, 2010
4/16/10
4:11
PM ET
This must be some sort of record.
In three straight posts, I mention NFC West blogger Mike Sando.
The guy's all over the place.
Sando has completed a project to determine the
five greatest draft classes since 1967
, when the NFL and AFL combined for a common draft.
Sando, using a criteria that sorts through individual awards and championships, concluded the best were 1983, 1996, 1981, 1969 and 1985.
A lot of AFC East stars played roles in making those drafts great.
Jim Kelly, Dan Marino, Ken O'Brien and Tony Eason were among that glorious quarterback class of 1983. Miami Dolphins receiver Mark Clayton and Buffalo Bills outside linebacker Darryl Talley also were selected that spring.
Dolphins linebacker Zach Thomas, found in the fifth round, was a highlight of the 1996 class.
The 1981 class included New York Jets running back Freeman McNeil, New England Patriots tackle Brian Holloway and outside linebacker Hugh Green, who later played for the Dolphins.
Bills running back O.J. Simpson was the first pick if the 1969 draft. Ten picks later, the Dolphins took defensive end Bill Stanfill.
Another notable No. 1 Bills pick started off the 1985 draft: defensive end Bruce Smith. The Bills also snagged receiver Andre Reed in the fourth round. Special-team ace Steve Tasker was a ninth-round pick for the Houston Oilers before making seven Pro Bowls for Buffalo. Another big name that year was Jets receiver Al Toon.
November, 4, 2008
11/04/08
5:00
PM ET
Posted by ESPN.com's Tim Graham
I think it's safe to say AFC East quarterbacks want Brandon Marshall to shut up.
Most Sacks By a Dolphin Through
First 8 Games (Since 1982)
Through the first eight games of the 2008 season, Joey Porter has the most sacks by a Dolphins player. Here's how he ranks in team history:
Player
Year
No.
Total
1. Joey Porter
2008
11.5
?
2. Trace Armstrong
2000
11.0
16.5
3. Bryan Cox
1992
10.0
14.0
4. Jeff Cross
1990
9.0
11.5
Adewale Ogunleye
2003
9.0
15.0
Most Sacks In the NFL Through
First 8 Games (Since 1982)
Player, Team
Year
No.
Total
1. Michael Strahan, NYG
2001
14.0
22.5
2. La'Roi Glover, N.O.
2000
12.0
17.0
Kevin Greene, Carolina
1998
12.0
15.0
4. Joey Porter, Miami
2008
11.5
?
Now.
The Denver Broncos receiver was a verbal target for Miami Dolphins outside linebacker Joey Porter on Sunday. The Dolphins won 26-17, holding Marshall without a catch in the first half and to just two for the game.
Marshall publicly responded to Porter on Tuesday. The Broncos and Dolphins won't play each other again (unless they both make the playoffs), but given the fact Porter converts trash talk to into fuel, upcoming opponents can't be too thrilled.
Porter is having an epic campaign and, with a strong homestretch, could wrangle defensive player of the year honors.
Porter leads the NFL with 11.5 sacks,
already a career-high for the three-time Pro Bowler. He is on pace to break Michael Strahan's NFL season sacks record of 22.5.
Since sacks became an official NFL stat, Porter is off to the best start among any Dolphins player through eight games. That's saying something for a franchise that's featured such defensive stars as Jason Taylor, Trace Armstrong, Bryan Cox, Doug Betters and Bill Stanfill.
Even when including Miami's unofficial sack leaders before 1982, Porter is on pace to obliterate the franchise record. Stanfill and Taylor share it with 18.5 sacks.
Porter has at least a half-sack in each of his past six games and a full sack in four straight games.
October, 27, 2008
10/27/08
10:00
AM ET
Posted by ESPN.com's Tim Graham
| | |
| --- | --- |
| | |
| | Joel Auerbach/US Presswire |
| | Miami's Joey Porter is on pace to break Michael Strahan's single-season sack record. |
MIAMI -- Maybe Brett Favre can lie down for Joey Porter this year.
Porter, with an NFL-leading 10.5 sacks, is on pace to break Michael Strahan's record for most in a season. If Porter maintains his pace, he will finish with 24.
Strahan finished 2001 with 22.5 sacks for the New York Giants, a half more than Mark Gastineau had with the New York Jets in 1984. Strahan broke the record when Favre infamously fell down in the season finale.
The Dolphins visit Favre and the New York Jets in the season finale.
Porter had a mammoth performance Sunday to help the Dolphins beat the Buffalo Bills, 25-16. He registered two sacks (one that led to a safety), forced two fumbles and recovered a fumble.
The season so far has been vindicating for Porter, who faced criticism after signing a five-year, $32 million contract last year and then finished with only 5.5 sacks. Former Dolphins defensive coordinator Dom Capers couldn't figure out how to use Porter, but new coordinator Paul Pasqualoni hasn't had much trouble.
"I told you, 'If you really watch football and know football you would understand it,' " Porter said Sunday. "But y'all just pen pushers. So all y'all see is 'Joey, 5 1/2 [sacks], that's not good enough.' Now you're understanding the defense and what we're doing out there.
"I told you, you get me in a 3-4 defense, 10 sacks is a given for a good outside linebacker. If you want to consider yourself good, nine or 10 is just what you're supposed to get. It's not even a big deal."
Porter's 10.5 sacks match his career-high set in 2000 and equaled in 2005 for the Pittsburgh Steelers. He has been to three Pro Bowls and named All Pro once, but you wouldn't have known it by watching him last year.
"I've never really been in a system to where a lot of the defense I'm featured," Porter said. "They put me in position to make some plays. They put me in position to make plays a lot, and I put that on myself to go out and make the plays.
"It's a player-friendly defense, puts me in a lot of opportunities to have one-on-one with the back, one-on-one with the tackle. I'm isolated in a lot of situations. It's on me to win those matchups."
The Dolphins' record for sacks is 18.5 by Bill Stanfill in 1973 and Jason Taylor in 2002.
Porter lined up against Pro Bowl left tackle Jason Peters on Sunday. Porter beat Peters with an inside move on the sack that forced Trent Edwards to fumble, leading to a crucial fourth-quarter safety.
"He's still a good tackle," Porter said. "Take nothing way from him. He's still in the top three tackles in this game. Today, he was just put in some situations where I had the chance to make some plays on him."