December, 17, 2014
Dec 17
1:02
PM ET
DAVIE, Fla. – The
Miami Dolphins
began their practice week in preparation for Sunday's game against the
Minnesota Vikings
.
Here are some notes from Wednesday's session:
Both starting linebackers Koa Misi (hamstring, knee) and Jelani Jenkins (foot) returned to practice. The Dolphins definitely missed their starters in Sunday's 41-13 loss to the New England Patriots. Misi and Jenkins practicing on Wednesday is a good early sign for Miami. Backup linebacker Jonathan Freeny (hamstring) also is practicing for the first time in four weeks.
Dolphins starting right tackle Dallas Thomas did not practice during the portion open to the media. Thomas injured his ankle in Sunday's game against New England. Backup right tackle Jason Fox would be first in line if Thomas cannot play. Rookie Billy Turner also will get reps during the practice week.
Backup running back Daniel Thomas (ankle) also did not practice in portion open to the media. Backup offensive lineman Nate Garner (illness) was not present.
The Dolphins changed their practice schedule this week. They will hold Thursday and Friday sessions partially open to the media.
September, 17, 2014
Sep 17
6:28
PM ET
DAVIE, Fla. -- The
Miami Dolphins
(1-1) completed their second practice of the week in preparation for the
Kansas City Chiefs
(0-2).
Here is an update of Miami's latest injuries:
Did not participate:
LB
Koa Misi
(ankle), DL
Terrence Fede
(knee), RB
Knowshon Moreno
(elbow), G
Shelley Smith
(knee)
Limited participation:
LT
Branden Albert
(shoulder), TE
Charles Clay
(knee), S
Louis Delmas
(calf), LB
Jelani Jenkins
, C
Mike Pouncey
(hip), LB
Jordan Tripp
(chest), G
Billy Turner
(foot), LB
Philip Wheeler
(thumb)
Full participation:
WR
Brian Hartline
(back), S
Walt Aikens
(hand), DT
Randy Starks
(toe)
Analysis:
The Dolphins added several new injuries following their Week 2 loss to the
Buffalo Bills
. Albert, Delmas and Jenkins are among the starters who were banged up in that game. Pouncey practiced for the second day in a row and appears to be making progress. If he doesn't return Sunday, Miami's following game on Sept. 28 against the
Oakland Raiders
looks like a possibility. Moreno will not play and Misi's chances aren't looking good. For Kansas City, star running back
Jamaal Charles
(ankle) and safety
Eric Berry
(ankle) did not practice Wednesday.
September, 10, 2014
Sep 10
1:25
PM ET
DAVIE, Fla. -- The
Miami Dolphins
(1-0) continue their preparation for Sunday's matchup against the
Buffalo Bills
(1-0).
Here are some notes and observations from Wednesday's portion of practice open to the media:
August, 19, 2014
Aug 19
1:30
PM ET
The
Miami Dolphins
are halfway through their preseason, and we've seen both good and bad.
Here is a look at whose stock is rising and falling in Miami:
Falling
1. Dallas Thomas, guard:
Thomas earned his way into the starting lineup with a strong spring and summer in Dolphins camp. But he erased many of those good vibes with an awful outing Saturday against the
Tampa Bay Buccaneers
. Thomas was manhandled by Tampa Bay defensive tackle
Gerald McCoy
in Miami's 20-14 win. Thomas allowed a sack, a tackle for loss, another hit on the quarterback and had a false start. Thomas has yet to start a regular season game and now has major questions if he's ready to handle the grind of a 16-game season. Other competition for Thomas' position include rookie third-round pick
Billy Turner
and veteran free-agent guard
Shelley Smith
.
Miller
2. Running game:
Two weeks into the preseason, it's still unknown if Miami has improved its 26th-ranked running game from a year ago under new offensive coordinator Bill Lazor. The Dolphins are getting little push up front and running backs are being hit early near the line of scrimmage. Miami starting running back
Lamar Miller
finished with 3 yards on three carries against Tampa Bay. The Dolphins as a team had minus-5 rushing yards at intermission when starters and key reserves were in the game. Miami's passing game is having success this preseason. But if opponents eventually figure out the Dolphins can't run effectively, that will make Miami very predictable and easier to stop on offense.
3. Secondary's tackling:
Miami's secondary, in general, is not a concern. However, the poor display of tackling raised some eyebrows and particularly caught the attention of Dolphins head coach Joe Philbin. Starting safeties
Jimmy Wilson
and
Louis Delmas
both displayed poor tackling on Saturday. Some of it was due to poor fundamentals and some due to overaggressiveness. Delmas said after the game that Miami's defense will have a chip on its shoulder. This group must shake the tackling rust before the regular season.
Rising
Moore
1. Matt Moore, backup quarterback
: Give Moore a lot of credit. Last week, the Dolphins shook things up by adding competition (Brady Quinn) for the No. 2 quarterback job. Moore, who suffered from a shoulder injury most of training camp, didn't seem all that thrilled by the addition. But Moore responded like a true professional by going out and having a strong preseason game against Tampa Bay. Moore led a pair of scoring drives and was 13-of-19 passing for 158 yards with one touchdown. Moore virtually solidified the No. 2 quarterback job behind starter
Ryan Tannehill
with one preseason outing.
2. Receiver depth
: Something has to give at receiver for Miami. The depth has this position has shown up constantly during training camp, and we also saw it in the Dolphins' second preseason game. Backup receivers
Brandon Gibson
,
Jarvis Landry
,
Rishard Matthews
,
Damian Williams
and
Armon Binns
combined for 11 receptions Saturday night. Not everyone in this group will make the team. The Dolphins might want to consider trading one of these backup receivers in order to gain depth at a weaker position. Wide receiver should not be an issue for Miami this season.
3. Terrence Fede, defensive end
: Fede makes this list for the second week in a row. He continues to flash to the point where I believe the rookie seventh-round pick will make Miami's 53-man roster. Fede recorded two tackles, a sack and a tackle for loss against the Buccaneers. He also is showing his worth on special teams as an athletic big man who can run the field. The motor and athleticism are there. If Fede can get his technique down, he could develop into a contributor.
August, 17, 2014
Aug 17
12:00
PM ET
The NFL can be a cruel proving ground -- and
Miami Dolphins
guard
Dallas Thomas
found that out the hard way this weekend.
Thomas
Thomas
drew the tough assignment
of
Tampa Bay Buccaneers
Pro Bowl defensive tackle
Gerald McCoy
in Saturday's 20-14 exhibition win. It was a chance for Thomas, who has zero career starts, to prove he can handle the starting job at right guard against some of the league's best defensive linemen.
However, Thomas failed that test considerably against McCoy. He allowed a sack and fumble by McCoy, another hit on Dolphins quarterback
Ryan Tannehill
and a tackle for loss. Thomas also jumped offside in the second quarter when McCoy was not in the game. Things got so bad that "#DallasThomas" was trending on Twitter during the first half.
Thomas worked his way into the starting lineup with a good offseason. But he hasn't secured the job, and Saturday's performance could put his starting spot in jeopardy.
Granted, McCoy gives plenty of guards trouble. But Thomas' lack of resistances makes you wonder if the former 2013 third-round pick can hold up this season against other quality defensive tackles.
This is the NFL, and the Dolphins will face a stud defensive lineman or two every week during the regular season, including Pro Bowlers
Vince Wilfork
(
New England Patriots
) and
Kyle Williams
(
Buffalo Bills
) in Week 1 and Week 2, respectively. Miami's coaching staff must know if Thomas can handle the grind before the games count in the standings.
The Dolphins have other options. Rookie third-round pick
Billy Turner
is one possibility, as well as veteran free-agent pickup
Shelley Smith
. Head coach Joe Philbin said after the game against Tampa Bay that he hasn't decided on a starting lineup. Therefore, Turner and Smith could get a look in practice this week.
July, 30, 2014
Jul 30
4:00
PM ET
DAVIE, Fla. – A daily review of the hot topics coming out of
Miami Dolphins
training camp:
It was another sloppy day for the offense. The Dolphins are experiencing growing pains learning an up-tempo scheme under first-year coordinator Bill Lazor. This was one of those sessions where the Dolphins had poor throws, numerous drops and offensive line issues. I counted at least five drops by Miami receivers in what was probably the worst practice by the offense since the opening day of training camp. "I obviously haven't looked at the film yet, but my instincts tell me that the defense had the upper hand," Dolphins coach Joe Philbin admitted.
The center position is starting to become a major concern. For the second day in a row, Shelley Smith had two errant snaps to quarterback Ryan Tannehill. The second bad snap was a ground ball that skipped past Tannehill in team drills. Soon after, backup center Nate Garner finished practice on the first team. Miami tried several different combinations in an effort to find the best five on the line. In addition to Garner, rookie guard Billy Turner also worked with the first-team offense at times on Wednesday.
The play of the day goes to Dolphins wide receiver Brian Hartline. Early in team drills Hartline beat cornerback Jamar Taylor deep for a 60-plus yard touchdown reception. Miami's offense protected Tannehill enough for him to throw a pretty deep ball that Hartline caught in stride. To Taylor's credit, he responded with an interception of Tannehill and had a couple of tipped passes.
The three punt returners Wednesday were receivers Marcus Thigpen, Jarvis Landry and Rantavious Wooten. Thigpen is the incumbent but must compete to keep his job with punt and kick returns.
On the injury front, Dolphins receiver Mike Wallace had the day off. He said earlier this week his hamstring was tight. Backup center Sam Brenner, who was carted off the field Tuesday, did not practice but spent time on the sideline watching the offensive line. Pro Bowl center Mike Pouncey (hip) and running back Knowshon Moreno (knee) continue to be on the physically unable to perform list and worked on the side with a team trainer.
The Dolphins will continue their training camp Thursday at 8 a.m. ET.
June, 13, 2014
Jun 13
11:00
AM ET
DAVIE, Fla. -- The 2014 organized team activities (OTAs) are coming to a conclusion this week for the
Miami Dolphins
. There will be mandatory minicamp next week. Then, the Dolphins will take more than a month off before training camp.
ESPN.com's Dolphins page has attended every OTA open to the media. Here are some takeaways from the past three weeks:
Thomas

The surprise player from spring practices has been second-year offensive lineman Dallas Thomas. The former third-round pick didn't contribute anything during his rookie season. Not much was expected of Thomas, especially after the Dolphins drafted a similar player in 2014 third-round pick Billy Turner. But Thomas showed up for offseason workouts in good shape and is flashing good athleticism. He's done enough to earn the inside track on the starting left guard position next to Pro Bowl left tackle Branden Albert. Thomas' next task is to hold off Turner when the pads come on in training camp and the preseason.
Speaking of Turner, early impressions are he still has a lot to learn. Turner played left tackle last season at North Dakota State and is still working on improving leverage. From what I've seen, Turner still stands a little high at times and looks like a left tackle playing guard. Turner also needs to work on his punch. These are things that should improve with experience. But Turner is running out of time if he wants to be a Week 1 starter.

Thigpen

The more practices that go by, the more I think Dolphins return specialist Marcus Thigpen won't make the 53-man roster. Thigpen has been Miami's primary kick returner the past two seasons. But with rule changes and less emphasis on kick returns, Thigpen's value has decreased and he doesn't offer much in other areas. The Dolphins have moved Thigpen from running back to wide receiver this offseason, but Thigpen isn't making plays. If Miami can find a decent alternative to return kicks this preseason, Thigpen could be on the outs. Other possibilities include receivers Damian Williams and rookie Jarvis Landry.
Bill Lazor's new offense is getting rave reviews in Miami. Many of the concepts the Dolphins' first-year offensive coordinator is implementing make sense and are an improvement over last season's offense under Mike Sherman. But one thing I noticed that could be risky is the amount of pressure Lazor's scheme puts on the offensive line. There are a multitude of passing plays that involves four and five options. More eligible receivers mean less protection for the quarterback. Lazor is relying on his quarterback to make quick reads and get rid of the football, which is an area Ryan Tannehill must improve.

Finnegan

Cortland Finnegan is starting to establish his role on the defense. He currently has the inside track to start at cornerback opposite Pro Bowler Brent Grimes. But Finnegan also is getting a look inside as the nickel cornerback on obvious passing downs. Finnegan is a physical cornerback, and the Dolphins believe those traits can help get the defense off the field on third down. Other possibilities for the nickel corner include versatile defensive backs Jimmy Wilson and Michael Thomas.
The Dolphins will wrap up their offseason program with mandatory minicamp June 17-19.
June, 3, 2014
Jun 3
1:30
PM ET
DAVIE, Fla. -- The
Miami Dolphins
held their second practice during organized team activities that were open to the media Monday. ESPN.com's Dolphins page was there to take in all of the action.
Here are some additional observations from Monday's practice:
Keep in mind that it's very early, but I've been pleasantly surprised so far with the development of second-year guard Dallas Thomas. The Dolphins are playing Thomas with the first team at left guard, and he's holding his own next to Pro Bowl left tackle Branden Albert. Thomas suffered through injuries and looked mostly confused last year as a rookie playing guard and offensive tackle. But he's healthy and more experienced this year. Thomas has to hold off rookie third-round pick Billy Turner in training camp.
Speaking of Turner, he looks a little raw in the two practices I've seen him. Turner still plays a bit high, which is understandable because he was a left tackle at North Dakota State. The stance at guard is much different. Turner also needs to work on some of his footwork and fundamentals, such as his punch, at the NFL level.
New Dolphins offensive coordinator Bill Lazor is trying many new things, which is refreshing to see. Miami's offense was stale and predictable last year under former offensive coordinator Mike Sherman. But Lazor is doing several creative things, such as moving No. 1 receiver Mike Wallace around and using a lot of motion and tempo to dictate to the defense.
Miami head coach Joe Philbin said the team should have about 85 percent of the new offense installed by the end of this week. One of the biggest storylines to watch this offseason is how quickly third-year quarterback Ryan Tannehill and the rest of the group can pick up the offense. This week's practice was more crisp that last week's session.
One interesting wrinkle I saw in practice Monday was Miami using Knowshon Moreno and Lamar Miller in the same backfield. There are plenty of possibilities with that pairing.
Dolphins' second-year defensive end Dion Jordan continues to impress with his athleticism. This week he ran Miami tailback Mike Gillislee down from behind. Keep in mind Jordan is 265 pounds. Miami must find a way to get Jordan on the field. He looks ready for increased responsibility.
May, 24, 2014
May 24
9:30
AM ET
DAVIE, Fla. – The mammoth size was apparent on the first day of
Miami Dolphins
rookie camp. So was the youthful exuberance.
First-year offensive linemen
Ja'Wuan James
and
Billy Turner
looked the part of two major building blocks in Miami's 2014 draft class. The Dolphins invested first- and third-round picks, respectively, in hopes that James and Turner can fix Miami's struggling offensive line.
[+] Enlarge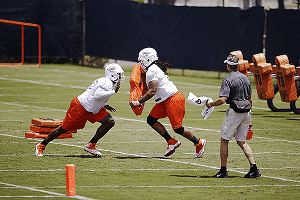 AP Photo/Wilfredo LeeRookies Ja'Wuan James, left, and Billy Turner are aiming to be immediate contributors on Miami's rebuilt offensive line.
James and Turner have the potential to become Miami's dynamic rookie duo in the trenches. Both were in shape and ready to begin competing for starting jobs when the veterans returned for organized team activities next week.
"It felt good to get back out here," James said after Friday's practice. "I haven't played football in a long time. We've been practicing to be track stars through this whole draft process. So it's good going out there and competing."
Dolphins first-year general manager Dennis Hickey was left with an empty cupboard on the offensive line when he joined the team in January. On the field, Miami's offensive line allowed a franchise-record 58 quarterbacks sacks and had an inconsistent running game that was ranked 26th in the NFL. There also was a bullying scandal off the field involving three starters: center
Mike Pouncey
and former guards
Richie Incognito
and
John Jerry
.
A major overhaul of the offensive line was needed, and Miami could have as many as four new starters this season. Hickey and the Dolphins are hoping James and Turner are NFL-ready rookies. Both are former team captains and four-year starters with 105 combined collegiate starts.
"Well, I know those guys are talented players, and through our research we felt like they had the makeup that could contribute and help our team," Hickey said. "So, obviously, that's why we drafted them. They played a lot of football. They're both smart and they're both tough and we're excited to have them. They've done an outstanding job so far."
Turner will have the hardest time of the two rookies to win a starting job. Miami has an opening at one guard position, but there are a lot of competitors with more NFL experience. Holdovers
Nate Garner
,
Sam Brenner
and
Dallas Thomas
are all potential competitors for Turner this summer, and the coaching staff will not play favorites.
We will know more about Turner's game once he puts the pads on in training camp. At North Dakota State, Turner was known for his mean streak and dominant play against small-school competition. He will try to translate that style to the NFL level.
"I like to hit people. That's why I play the game, that's why I play offensive line," Turner said. "I'm an aggressive guy. ... Coming off the ball being as aggressive as I can is how I play."
May, 23, 2014
May 23
10:00
AM ET
»
NFC Wrap:
East
|
West
|
North
|
South
»
AFC:
East
|
West
|
North
|
South
»
Grades

With free agency and the draft in the rearview mirror and training camp just a couple of months away, we assess the
Miami Dolphins
' offseason moves.
[+] Enlarge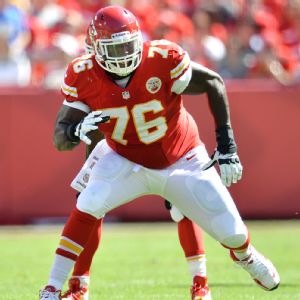 Peter G. Aiken/Getty ImagesThe Dolphins are counting on Branden Albert to help solidify their offensive line.
Best move:
The Dolphins made their first offseason move their best one. On the first day of free agency, Miami signed Pro Bowl left tackle
Branden Albert
to a $47 million contract. It was a hefty price to pay, but the Dolphins were forced to do something dramatic to improve their offensive line. Miami allowed a franchise-record 58 sacks last season. Albert is one of the best tackles in the NFL and will immediately solidify protection on quarterback
Ryan Tannehill
's blind side. Miami is expected to have four new starters on its offensive line this season.
Riskiest move:
The Dolphins took on a pair of major medical risks in their secondary. Miami signed projected starting safety
Louis Delmas
and potential starting cornerback
Cortland Finnegan
, who both come with durability issues. Delmas and Finnegan have missed a combined 17 games the past two seasons with various injuries. Yet, the Dolphins are counting on both to stay healthy and provide a veteran presence in the secondary. The good news is Miami signed Delmas and Finnegan to one-year, "show-me" contracts to see if both players can stay healthy. Delmas and Finnegan will be motivated to prove critics wrong during contract years.
Most surprising move:
First-year general manager Dennis Hickey was expected to make a big splash. However, Hickey had a low-key draft that surprisingly included five of eight players from non-BCS schools. The Dolphins drafted players from North Dakota State, Montana, Liberty, Coastal Carolina and Marist. Prospects such as offensive lineman
Billy Turner
, cornerback
Walt Aikens
, linebacker Jordan Tripp, receiver
Matt Hazel
and defensive end
Terrence Fede
all come to Miami with a lot to prove. Hickey proved that he is more focused on "traits" than big names. Whether that works for the Dolphins remains to be seen.
Competition is rising:
The AFC East got stronger due to the offseason aggressiveness from Miami's division rivals. The
New England Patriots
made a pair of bold moves to sign cornerbacks
Darrelle Revis
and
Brandon Browner
. The
New York Jets
signed former Pro Bowl tailback
Chris Johnson
and wide receiver
Eric Decker
. The
Buffalo Bills
were aggressive in trading up to draft dynamic wide receiver
Sammy Watkins
and trading for veteran receiver
Mike Williams
. The Dolphins have struggled within the division. They are just 4-8 against the AFC East the past two years.
May, 10, 2014
May 10
6:49
PM ET
»
NFC wrap-ups
:
East
|
West
|
North
|
South
»
AFC
:
East
|
West
|
North
|
South
DAVIE, Fla. -- A wrap-up of the
Miami Dolphins
' draft.
Click here
for a full list of Dolphins draftees.
[+] Enlarge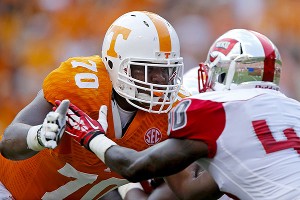 AP Photo/Wade PayneThe Dolphins targeted right tackle Ja'Wuan James, and they got him with the 19th overall pick.
Best move:
The Dolphins, as expected, plugged their biggest hole of need in the first round. Miami spent the No. 19 overall pick to select former Tennessee right tackle
Ja'Wuan James
. He was a durable, four-year starter whom Miami believes will be ready to play in Week 1. The only question with this pick is whether
Miami had to take
James at No. 19. The Dolphins were talking to other teams about trading down to acquire more picks and perhaps could have landed James in the 20s, but Miami says it was safer to take James, whom general manager Dennis Hickey says was the best player on the board. If James turns out to be a quality starter for a long time, no one will care that James was taken at No. 19 instead of later in the first round. James will pair with Pro Bowler
Branden Albert
as Miami's two new offensive tackles in 2014.
Riskiest move:
The Dolphins didn't make a lot of risky moves in this draft, but fourth-round pick
Walt Aikens
comes with a red flag. Aikens was kicked out of Illinois after his arrest for felony possession of stolen electronics in 2010. According to Aikens, he bought a laptop from a teammate that turned out to be stolen. Aikens pleaded guilty to misdemeanor theft and was forced to leave Illinois. He continued his career at Liberty and worked his way into a fourth-round pick. The Dolphins did their homework into Aikens' background and felt he was worthy of the selection. According to NFL.com's Gil Brandt, Aikens was the first player drafted who wasn't invited to the NFL combine. Aikens said Saturday that he wants to compete for a starting job right away, but his best chance most likely is to compete on special teams.
Most surprising move:
After playing it safe on Day 1, the Dolphins
were wheeling and dealing
on Day 2. Hickey produced three trades with the
San Diego Chargers
,
San Francisco 49ers
and
Oakland Raiders
in the second and third rounds, respectively. Miami traded down twice and moved up once. The result was the Dolphins drafting LSU wide receiver
Jarvis Landry
at the end of the second round and offensive lineman
Billy Turner
near the top of the third round. Both players are expected to add depth to Miami's roster. But it was surprising to see Hickey, in his first draft, do a complete 180 in terms of aggressiveness on Friday.
File it away:
Leadership was a major issue in Miami in 2013. The Dolphins went through a bullying scandal that caused a media firestorm and suffered a late-season collapse while having a chance to make the playoffs. Five of Miami's first six drafted players -- James, Landry, Turner, tight end
Arthur Lynch
and linebacker
Jordan Tripp
-- were team captains for their respective college teams. That was not a coincidence. Hickey made it a point to acquire natural leaders to place in Miami's locker room. The Dolphins are putting a heavy emphasis on character at the top of this draft as they work to remake their locker-room image.
May, 10, 2014
May 10
12:05
AM ET
DAVIE, Fla. -- On Friday, the major complaint in South Florida was that the
Miami Dolphins
didn't pull off a trade to move down in the first round of the NFL draft for more picks. General manager Dennis Hickey, in his first year, went the conservative route by staying at No. 19, where he took right tackle
Ja'Wuan James
. Many felt Hickey played it too safe.
But "Conservative Dennis" morphed into "Trader Dennis" on Day 2. Hickey resembled a busy stock trader on Wall Street by unexpectedly working out three deals in one day.
[+] Enlarge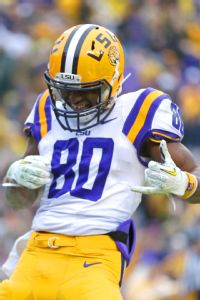 AP Photo/Gerald HerbertThe Dolphins' Day 2 haul included LSU receiver Jarvis Landry.
Here is the breakdown:
The Dolphins traded their initial second-round pick (No. 50 overall) to the San Diego Chargers for their second-rounder (No. 57) and fourth-rounder (No. 125).

Miami then traded again in the second round (No. 57) with the San Francisco 49ers for their second- and fifth-round picks (Nos. 63 and 171). The Dolphins selected former LSU wide receiver Jarvis Landry in the second round.

Finally, Miami quickly moved up in the third round (No. 67) to select North Dakota State offensive lineman Billy Turner after trading their third- and fourth-round picks (Nos. 81 and 116) to the Oakland Raiders.
By the end of the night, Hickey traded with every NFL team in the state of California. It was a bold move from Miami's first-year general manager and a complete 180 from the strategy we saw Thursday.
"Productive day; it felt like a day on the trading floor," a relieved Hickey said Friday night after finally catching his breath. "A lot of movement. I really have to say a special thanks to the people in the draft room working the phones. For every trade that's consummated, there's about 12 to 15 calls that are made before you actually get one. It's a lot of work."
Hickey was Miami's mystery man coming into this draft. He was on the staff of the
Tampa Bay Buccaneers
for 18 years under different regimes and never had final say on personnel. Therefore, it was difficult to pinpoint how much credit Hickey deserved for Tampa Bay's hits and misses over that span.
We learned much more about Hickey's draft personality in the past 48 hours. He's not afraid to play it safe, which he did in Day 1. Hickey also isn't afraid to shake things up, as evidenced by three Day 2 trades in a matter of hours. That kind of flexibility is a good trait for a general manager.
Of course, all of this wheeling and dealing means little if Hickey doesn't hit on these selections. He says he believes he drafted a competitive and reliable receiver in Landry, who played second fiddle to college teammate and first-round pick Odell Beckham Jr. at LSU. Asked to describe his role in LSU's receiving corps compared to Beckham's, Landry said, laughing, "I was the reliable guy."
Turner comes from a small school but has flexibility to play guard and offensive tackle. His best shot for playing time is at guard, where he can compete with
Sam Brenner
, Nate Garner and
Dallas Thomas
for a starting job.
Time will tell if both Day 2 rookies pan out for the Dolphins. But Hickey deserves credit for manipulating the draft board to get players he covets.
May, 9, 2014
May 9
10:01
PM ET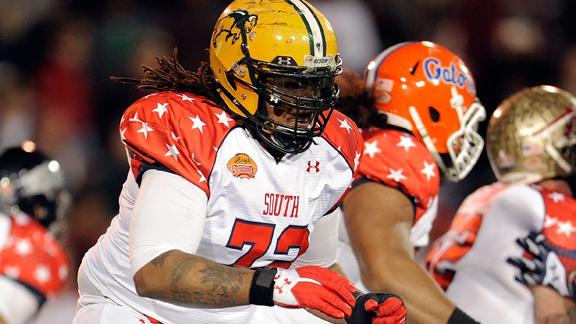 DAVIE, Fla. --
The picks:
Billy Turner
, OL, North Dakota State
My take:
The Dolphins made their third trade of the day to pick Turner at No. 67 overall in the third round. Miami worked out a trade with the
Oakland Raiders
to move up near the top of the third round. Turner played offensive tackle in college but will probably have his best chance to play with Miami at guard in the NFL. The Dolphins continue their offensive line makeover with Turner and also first-round pick
Ja'Wuan James
.
What's next:
Barring another trade, the Dolphins are presumably done on Day 2. Miami will have a bevy of picks on Day 3 to add depth. Miami could use additional depth on the roster at linebacker, safety and tight end.