July, 6, 2011
7/06/11
1:58
PM ET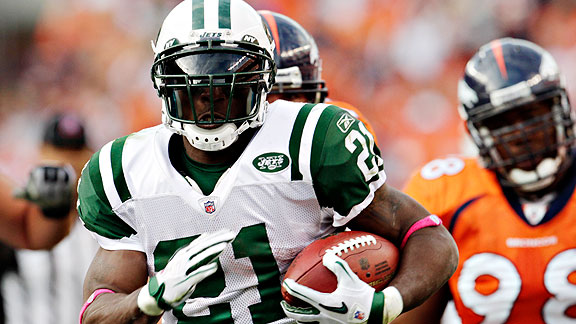 AP Photo/Joe MahoneyThe gloves LaDainian Tomlinson wore when he scored two fourth-quarter touchdowns in a win over the Denver Broncos in Week 6 last season are for sale.
For sports card collectors, perfection is the goal. All four corners must be sharp. The photo needs to be centered. It has to be
just so
. Thankfully, there's hasn't been threat of bubblegum stains for decades.
In today's memorabilia market, however, cardboard is about as mundane as it gets. There are bigger thrills than busting open a pack to find another high-gloss Rated Rookie who might never crack a starting lineup.
Jarrod Oldridge looks for a bigger jolt. He buys his memorabilia by the shipping container.
"You open that box up and the smell comes out, the aroma of the unwashed apparel with the grass and mud and blood," Oldridge said. "You smell the game.
"You get goose bumps. Your heart's pounding."
Oldridge is involved in one of the hottest segments of the memorabilia industry -- game-used equipment.
He
owns J.O. Sports Co. in Las Vegas
and has exclusive contracts with several NFL teams to sell helmets, jerseys, spikes, gloves, game balls and just about everything else you can imagine from the field. Three of his clients are the
Buffalo Bills
,
Miami Dolphins
and
New York Jets
.
Oldridge's website isn't quite as personal as Mean Joe Greene throwing his jersey at a kid in exchange for a Coke, but fans have access to the fabric of the game. Many of the game-worn jerseys -- and in some cases full uniforms -- are unwashed. That's the way collectors prefer them.
"You want the thing ripped off the guy's back," said Oldridge, who pitched for Emporia State. "It's a new wave of collecting. When I was a kid collecting baseball cards, I'd get a Mark McGwire rookie or a Bo Jackson. That was the best feeling you could have as a collector. You got the prized possession.
"Back then, you never could've thought you could own the jersey
Adrian Peterson
's wearing on his card."
Rich Mueller, managing editor of Sports Collectors Daily
, can't think of another way collectors can get closer to the action than game-used equipment.
I suppose a hobbyist can make the experience more personal by collecting DNA samples. Then again, much of Oldridge's inventory is suitable for forensics inspection. Perhaps the next step is scraping some blood off a jersey to clone an NFL star and watch the game with him in your man cave.
[+] Enlarge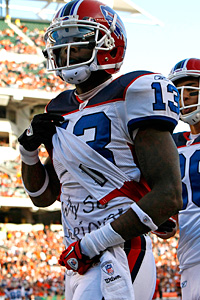 AP Photo/Ed ReinkeThe jersey from Steve Johnson's three-touchdown game against the Bengals last season is available for purchase.
"If you've got in your hands the uniform the guy was wearing when he broke the tackle to score the touchdown and win the game, how much closer can you get than that?" Mueller said. "That's part of the allure. Collectors want a tangible memory of a game.
"And a lot of them are one-of-a-kind items. The T206 Honus Wagner card is one of the rarest collectibles on the market, but there are 75 to 100 of those in existence.
Brett Favre
wore only one helmet from his final game. That's a piece of NFL history."
Of particular interest to AFC East fans might be the jersey Bills receiver
Steve Johnson
wore when he scored three touchdowns against the
Cincinnati Bengals
. He lifted that jersey to expose his "Why so serious?" T-shirt underneath. The jersey
Lee Evans
wore when he caught three touchdowns against the
Baltimore Ravens
is for sale, too.
Also available are jerseys All-Pro center
Nick Mangold
wore last year against the Dolphins, the gloves Jets receiver
Jerricho Cotchery
wore when he snagged a touchdown to help beat the
New England Patriots
in Week 2 and the gloves Jets running back
LaDainian Tomlinson
wore when he scored two fourth-quarter touchdowns in a four-point victory over the
Denver Broncos
in Week 6.
Dolphins material is limited because J.O. Sports Co. reached its agreement with them a couple weeks ago. As for the Patriots, Oldridge might need to strap on a helmet to protect his forehead from repeatedly striking a wall.
"Every team is different," Oldridge said. "The Patriots have just been notoriously difficult when it comes to their uniforms."
The big four sports handle game-used equipment differently, much to Mueller's wonderment. These items are commodities. Leagues presumably would maximize revenues if they handled them internally. Major League Baseball does, hiring on-site authenticators to affix holograms to merchandise for resale.
The MeiGray Group, a company
founded by a pair of passionate collectors in 1997
, has worked out deals to sell game-used NBA and NHL items. They also dominate the minor-league hockey ranks.
And to think clubs used to recycle uniforms until they fell apart, would pass them along to farm teams or sell them to sandlot groups. Mueller wrote about a pile of 1938 New York Yankees jerseys given to a church softball team for $9 apiece. In the bunch
were game-worn Lou Gehrig pinstripes
.
Today, uniforms are scooped up almost the minute they land in the hamper or fall to the locker-room floor as a player walks to the showers.
"It may sound sick," Oldridge said. "But as a man who played sports, the collectors, everybody who ever slid into second base or got his bell rung on the field, it's just great."
February, 25, 2011
2/25/11
4:36
PM ET
INDIANAPOLIS -- What is the best running back in the draft worth these days?
Last season, the NFL's leading rusher,
Arian Foster
, wasn't drafted. The
New England Patriots
' backfield featured undrafted runners
BenJarvus Green-Ellis
and
Danny Woodhead
.
The
Buffalo Bills
drafted Clemson running back
C.J. Spiller
ninth overall last April. He gained 440 yards from scrimmage. Undrafted veteran
Fred Jackson
was the featured back after the Bills traded another recent first-round pick,
Marshawn Lynch
.
[+] Enlarge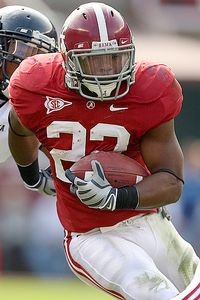 Kevin Liles/US PresswireMark Ingram is projected to be the first running back selected in April's draft.
Running backs appear more interchangeable than ever before. That might not bode well for Alabama star
Mark Ingram
, but it could help out the
Miami Dolphins
or New England Patriots.
Teams might be hesitant to use a first-round pick on a running back, causing Ingram to slide.
"I just want to go out and show what I have," Ingram said Friday at the NFL scouting combine. "If somebody wants to pull the trigger and likes what I do, likes the way I present myself and likes the way I compete ... I'm just going to go out there and do what I know how to do."
Ingram is a popular mock-draft prediction
for the Dolphins with the 15th pick. The Dolphins are in need of backfield help.
Ronnie Brown
and
Ricky Williams
are about to become free agents.
In the past 30 years -- not counting a baseball-driven Bo Jackson -- Rashaan Salaam in 1994 was the only Heisman Trophy running back to be drafted later than 14th.
Dolphins general manager Jeff Ireland described what he wants from a running back.
"We're looking for versatility, for sure," Ireland said Thursday at Lucas Oil Stadium. "We're looking for guys that can run, catch, block, all those things. We're looking for the guys that can do it all."
Ingram considers himself the total package.
"I'm a complete, all-around back," Ingram said. "I can be in the game first down, second down, third down, goal line, short-yardage, pick up pass protections, go out of the backfield and catch the ball.
"I'm a complete back."
The Patriots draft 17th and 28th. Green-Ellis and Woodhead gave them impressive combo production, but each had his limitations.
In the Patriots' playoff loss,
New York Jets
head coach Rex Ryan found ways to force them into throwing when Green-Ellis (not a good receiver) was on the field and running when Woodhead (an inferior runner to Green-Ellis) was out there.
Ingram played for Nick Saban at Alabama. Saban is a close friend of Patriots head coach Bill Belichick. Ingram's father was a wide receiver for the
New York Giants
when Belichick was defensive coordinator.
Ingram's dad also spent two seasons with the Dolphins.
January, 10, 2011
1/10/11
10:16
AM ET
The
Buffalo Bills
were wary of the possibility
Marshawn Lynch
could make them look bad for trading him away.
While Lynch still was on the Bills' roster, an NFL source told me
fears Lynch would play well in another team's uniform
were a reason why he hadn't been dealt yet. He's only 24 years old.
In October, the Bills traded Lynch, the 12th pick of the 2007 draft,
to the
Seattle Seahawks
for a 2011 fourth-round choice and a conditional sixth-round pick in 2012.
Lynch had a quiet season with the Seahawks, but Saturday's highlight-reel run to beat the
New Orleans Saints
was the kind of play the Bills dreaded.
Lynch, one of the NFL's hardest runners, looked like Tecmo Bowl Bo Jackson, breaking about 36 tackles on a 67-yard rumble that some observers are calling perhaps the greatest run in NFL postseason history. That play alone probably was worth a fourth-round draft choice. It made sure the underdog Seahawks advanced to the next round, and it will be shown on highlight reels forever.
Then came the kicker via Fox Sports insider Jay Glazer. He reported the Saints wanted Lynch and would have offered a third-round draft choice had the Bills shopped him around.
Most Bills fans couldn't stand Lynch by the time he departed. He wore out his stay with off-field transgressions, suspension and unwillingness to participate fully in the offseason program. The Bills also had
Fred Jackson
and prized rookie
C.J. Spiller
on the roster.
Even so, what we saw and learned over the weekend opens the door for second guessing on how the Bills played their hand.